The best bedroom radiator picks
We might say it regularly, but it is as true as ever that the absolute wealth of designer radiator options on the market nowadays can make it difficult to know where to begin in identifying the right style for your home.
And with a commitment to helping our customers embrace the mantra to 'make heating cooler' and view radiators as home décor rather than a means to simply heat the home, BestHeating are always delighted to shine a spotlight on some of the very best styles available for each room.
As you're here, you're probably wondering, what are the best bedroom radiators to go for?
In this article, we take a look at some of the finest and most sought after bedroom radiator designs to keep you toasty warm throughout winter, and with a tip-top wall art aesthetic even when they aren't in use.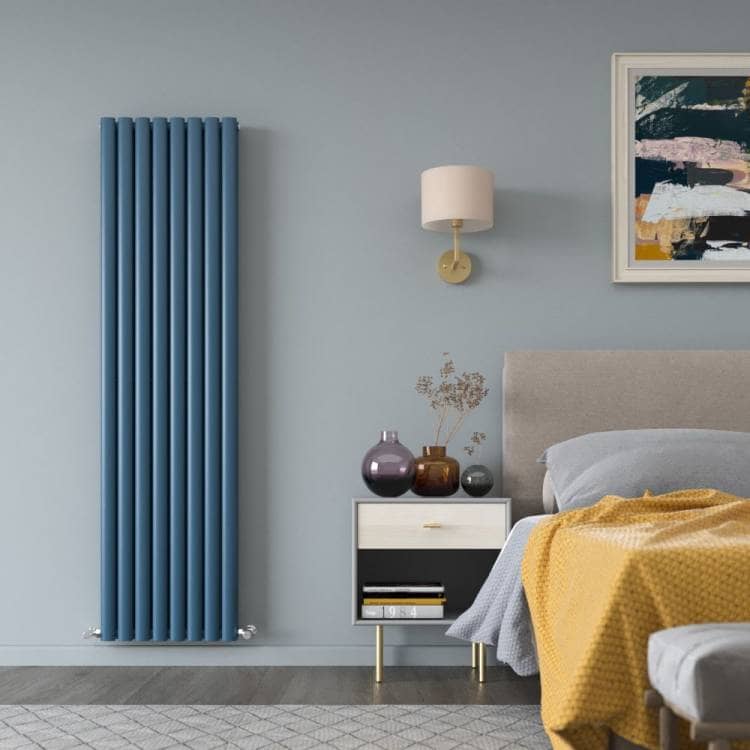 A wide selection of bedroom radiators
No matter if you are replacing a radiator, or starting from scratch introducing a new heating system to the bedroom, it's always a good idea to understand the nuances of various different types to work out which is the best fit for your space specifically.
It might be quite a departure to swap a standard convector radiator for an all-singing, all-dancing ultra-modern model, and ideally, you'll look to find a design that teams practicality and functionality with strikingly eye-catching looks for the best of both worlds.
Of course, there's a few fundamental questions to ask when broaching the idea of a new bedroom radiator, such as which size is appropriate and able to adequately heat the space – our BTU Calculator can help you work this out in no time.
Also, it's best to consider which material you would prefer; although the properties of cast iron radiators might suit what your bedroom needs in terms of heat output, if their heavier profile and often traditionally patterned look is a deal breaker for you, you can eliminate them from your thinking right away. There's no point falling asleep nearby something you don't like the look of in any case!
Furthermore, orientation is another significant decision to be taken on probably from the outset, choosing between vertical and horizontal radiators. And also, which actual type of bathroom radiator you want – electric radiators are an obvious popular choice in the current uncertain climate regarding spiralling energy costs, but plumbed rads are still a viable option for many people's circumstances, especially if these radiator efficiency tips can be followed to curtail rising bills.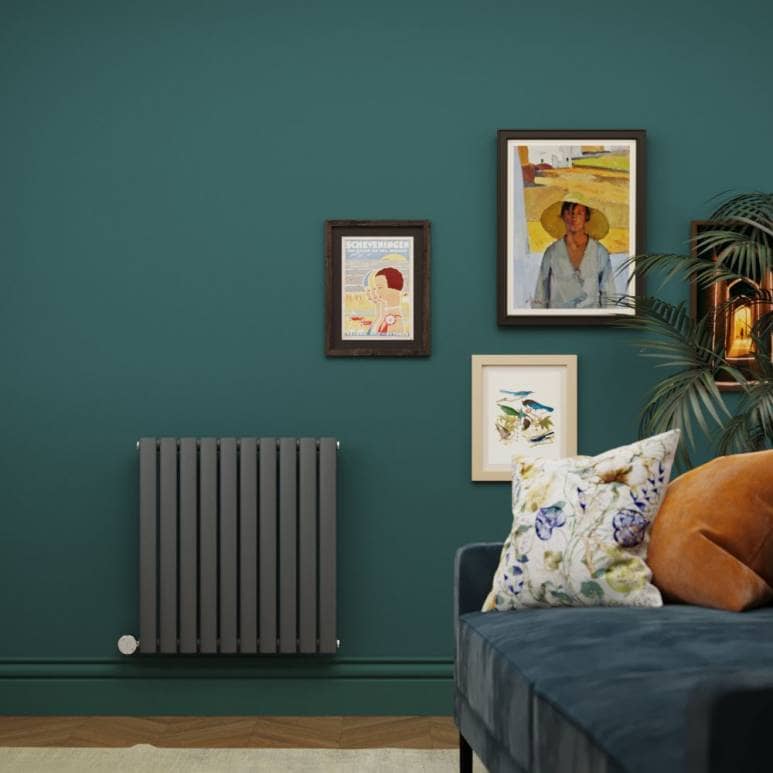 What are the different types of bedroom radiators?
As alluded to, one of the biggest differentials in bedroom radiator types exists between plumbed and electric versions, and your choice might depend on the existing setup in your home and how your heating is powered in alternate rooms.
The majority of UK households incorporate a central heating system for the warming of their hot water radiators, but in truth, that could be an irrelevant fact if you do prefer electric rads, as these can be easily fitted independent of the central heating.
However, depending on their proximity to the likes of bed sheets, rugs or even clothing such as dressing gowns, electric models might not necessarily be the most sensible selection for a bedroom. If your bedroom is an especially large space with plenty of room between the planned radiator installation point and any potential hazards though, then have right at it.
There's even the opportunity to combine heating sources in the form of dual fuel heating which draws power from both plumbed and electric reserves, allowing a more precise level of control over your devices as and when required.
And don't be afraid to consider heated towel rails as a viable alternative for a bedroom if you so wish, and space dictates as such. These typically more diminutive designs could prove ideal for narrow gaps in a compact bedroom, or even as an en-suite addition if you're lucky enough to have an adjoining bathroom in the area.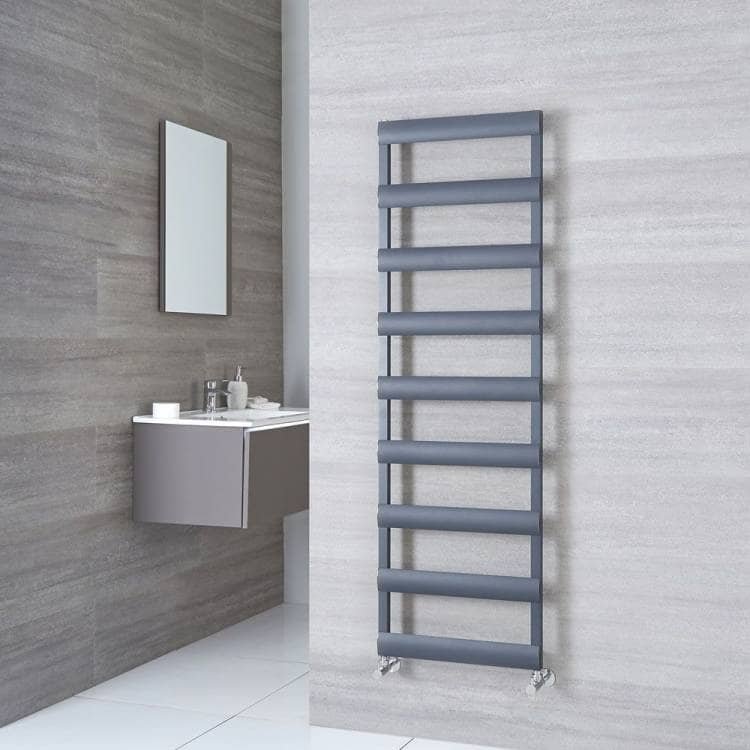 Electric bedroom radiators
The concerns surrounding electric bedroom radiators have been raised earlier in this article, but that notwithstanding, they can be an appropriate solution for many bedroom spaces. As such, it's well worth providing an overview of the rad type.
Firstly, and wholly unsurprisingly, electric bedroom radiators work via – you guessed it – mains electricity. The BestHeating collection of electric radiators are exclusively supplied pre-filled with glycol, which features rust resistant anti-corrosive properties, and in accompaniment with an electric heating element which typically fits at the base.
Providing great style, a durable and efficient performance and available in such an extensive choice of stunning designs and multiple sizes, electric radiators in general are a supreme selection for the warmer months where you might only want to heat a single room (the bedroom) rather than the whole house. It is recommended that any bedroom radiator installation is performed by a professional electrician, though their fitting should be much easier and less costly than a more invasive plumbing job could prove.
Plumbed bedroom radiators
Plumbed bedroom radiators are operational via the use of hot water from a central heating system or boiler to deliver warmth around the room. And typically, they can be controlled by the same means in terms of as and when they are switched on and the temperature level they are working at.
Usually, it is a relatively easy process to replace a radiator when swapping like for like plumbed versions, even if you are upgrading to a much more modern model. But if a plumbed bedroom radiator is being purchased as a separate entity and adding to the workload of an existing boiler, it is prudent to consider the overall effect it will have on your central heating.
The majority of BestHeating's expansive selection of designer radiators are made to work in conjunction with boilers without any compromise on style whatsoever; indeed our plumbed bedroom radiators include coloured radiators as well as mirrored radiators and a variety of other eyecatching designs.
Dual fuel bedroom radiators
With dual fuel bedroom radiators, the features of both plumbed and electric versions combine; dual fuel rads incorporate a similar heating element to electric radiators, but also connect to a plumbed central heating system as well.
As such, you can use a dual fuel radiator as an extra component of your central heating setup, whilst also utilizing the rad as an independent entity in light of its electrical features.
Possibly the best example of how to make the most of dual fuel radiators relates to seasonal trends – the central heating side will likely be used much more in the colder winter months, with the electric power perfect for heating up a single space, like the bedroom, in warmer summer climes.
There's an excellent choice of dual fuel towel radiators that will save space and enhance the décor of any bedroom or bathroom area, and a detailed insight into selecting the best styles for your home in our dual fuel towel rail guide.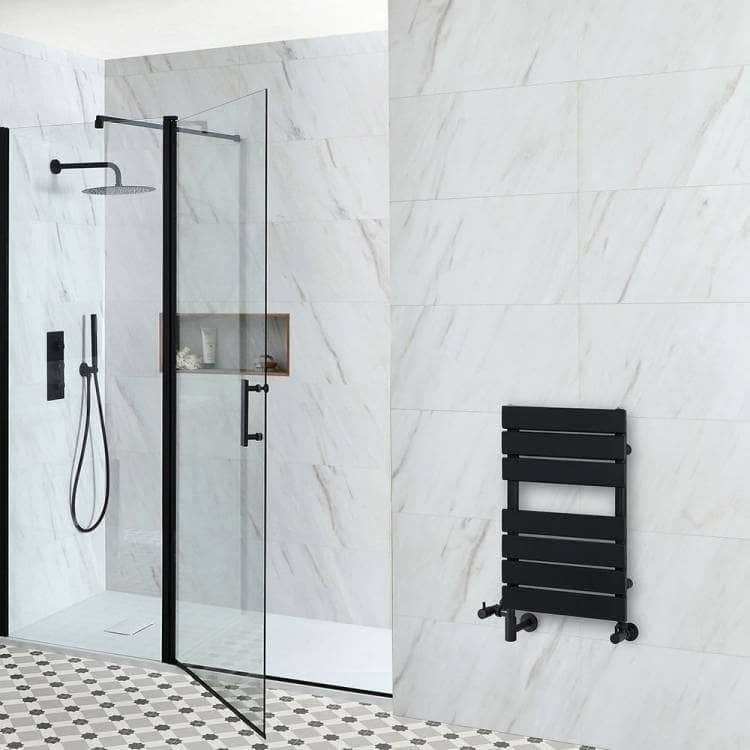 What size bedroom radiator do you require?
As briefly aforementioned earlier in this article, a BTU calculation is a simple and easy means to gain a rough estimate of the right size bedroom radiator for the requirements of your specific layout.
However, other influencing factors must be taken into account as well, as the depth, height and especially the material of a bedroom radiator can affect its heat output. A deep aluminium radiator with a compact horizontal design might emit a very similar level of heat as a tall, narrow vertical designer radiator, for instance.
And if you have an especially spacious bedroom, you might decide that the addition of multiple radiators, or heated towel rails, is the way to go to achieve what you consider to be an adequate heat output, whilst also providing more decorative features to your wall space.
Each of our bedroom radiators include information such as BTU outputs within their product listings for plumbed models, and wattage outputs for all radiators that feature electric elements.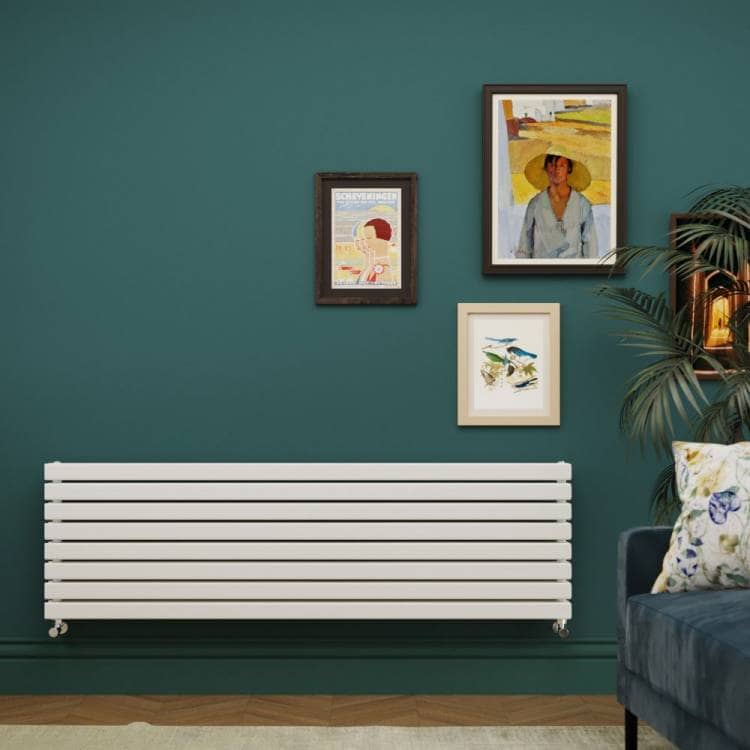 What are some of the most stylish bedroom radiators?
Of course, your personal preference will ultimately dictate what sort of bedroom radiator design you want to adorn your wall space in lieu of other factors like required heat level, size and orientation.
Luckily, BestHeating provide an excellent selection of bedroom radiators in a vast array of supremely stylish styles, and we've listed some of the very most attractive and popular bedroom heating devices below…
The first bedroom radiator recommendation hails from our coloured rad collection, and will bring an effervescent sense of designer flair to your bedroom heating regardless of which shade you opt for.
Coming supplied in a choice of single and double panel designs, the Aruba incorporates a premium quality powder coated finish in blue, green, red, yellow, orange, pink and purple, so there's a style to mesh well with practically any bedroom décor.
You might want to mix it up with a contrasting radiator colour to your wall tone for a bold and daring look, or keep things simple with a matching appliance that keeps in theme with the rest of the space. If you're that way inclined, you might even opt for the radiator colour that best suits your personality traits.
Offering an ideal fusion of practicality and aesthetics, the Milano Skye anthracite vertical designer radiator will deliver eyecatching style as well as a comfortable level of warmth to a bedroom area.
Incorporating a space-saving design that includes middle connection valves so as not to impact on surrounding fixtures, this gorgeous anthracite radiator can enhance virtually all types of bedroom interiors.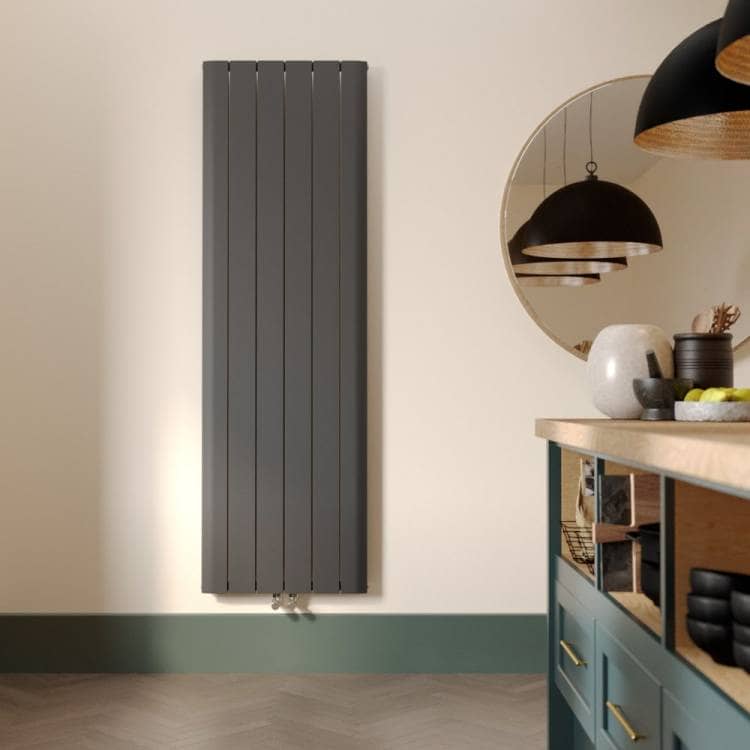 Why not combine two key bedroom elements in the form of a mirror and heating device with the ultra-modern Milano Icon vertical mirrored radiator.
Dripping in standout contemporary style, this mirrored designer radiator is another model designed to maximize room in a compact bedroom, and with a width of just 265mm, can be fit into the narrowest of crevaces. That said, it's reflective central panel still offers all the necessary functionality for you to check you're looking in tip-top shape for the day ahead. Or at the very least making a decent effort of hiding your hangover!
If you would like further information or inspiration about some of the very best mirrored rads we have to offer, meanwhile, a browse of our ultimate mirrored radiator guide comes highly recommended.
Not for the faint hearted, this eye-popping heated towel rail will deliver a vivacious sense of flair to any bedroom design scheme.
Whether you're looking to further accentuate a busy and vibrant bedroom wall, or inject a more subtle space with a statement heating appliance, the Lustro's sunset orange finish is sure to do the trick. It can provide a wonderful piece of wall art that packs a more powerful punch than you might expect in terms of heat output for a device so diminutive.
Finishing off with a more traditional entry, this Milano Windsor in no way lacks in style and will actually suit classic and contemporary interiors equally as well.
The triple column radiator comes supplied in an excellent choice of metallic finishes, with bronze, copper, silver and gold styles all available to enhance any interior, and bring a touch of classy elegance to the bedroom.
Potential buyers can also choose from a wide variety of different sized models for accommodation in bedrooms big, small and medium sized.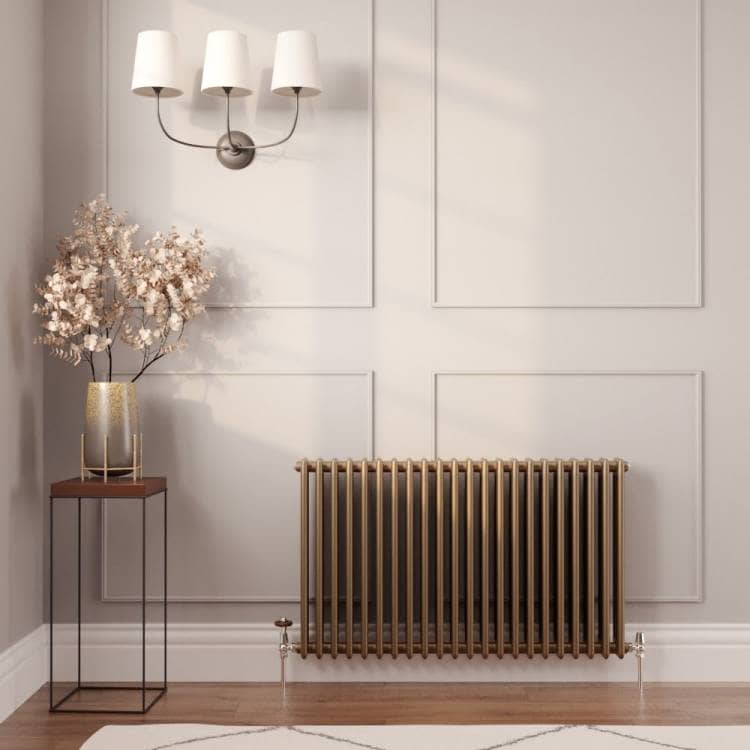 Shop bedroom radiators online with BestHeating
Now you've an idea of what to look for in a bedroom radiator, and seen some of the very most wanted styles we have to offer, you can set about identifying the ideal model for your home.
We've barely scratched the surface with regards to the sheer wealth of bedroom radiator options we stock, so be sure to look around for your dream design that will ensure you subscribe to our profession to ensure your bedroom heating is made much cooler.
If you would like any further information or advice surrounding bedroom radiators, or extra inspiration to select the right style, don't hesitate to get in touch with us. You can do so by leaving your thoughts in the comments section below, or by contacting us via Instagram, Facebook or Twitter.
With a background in sports journalism, John counts content writing amongst his key passions. He's always peppering our Advice Centre feed with reasoned and researched home heating tips, and providing expert solutions to the questions you want answering. Fine football and music connoisseur. In his own head, at least.