Vertical or horizontal radiators, which is better?
We've said it many times before and I'm sure we'll say it again, but radiators are no longer just the hot metal box under the window that kicks out heat to warm your home.
Modern radiators – be they horizontal radiators or vertical radiators – are increasingly seen as decorative items that offer so much more than just a source of warmth; they make style statements, create a focal point and can transform the look of a space.
Vertical radiators tend to be thought of as a little snazzier than horizontal installations – although both styles can be equally 'different' when compared to standard convector radiator designs – but which one is the right type of radiator for your room – Horizontal or Vertical?
Let's have a look, shall we…
Does it matter if I have vertical or horizontal radiators?
In terms of heating a room, it doesn't really matter whether the radiator you choose is horizontal, vertical or shaped like a dinosaur.
They each serve the same purpose – to bring warmth and comfort to your space and to help keep away the cold on those frosty winters nights.
That said – in terms of design and how your space looks and functions – a dinosaur radiator is something of a departure from traditional radiator styles and is a barometer for the advances that have been made in how we try and bring heat to our homes.
New styles and designs are being developed all of the time and I wouldn't be surprised if you have come across a heap of weird and wonderful styles.
Modern radiators are available in just about every shape you can conceive of and come in a range of materials too, so it's really no wonder that more and more people see them increasingly as a style statement rather than just a functional piece of kit.
But whether you opt for a vertical designer radiator or a more traditional horizontal radiator style, the main factor behind your choice is usually whether the radiator you select will get hot enough to heat the space.
After all, what is the point of a radiator that doesn't adequately heat a room?
Use our BTU Calculator to ensure you have an accurate picture of how much heat you'll require – and a figure you can use to search for the perfect radiator.
Once you know your BTU requirements, the choice of vertical or horizontal can be made based on the aesthetic of the room and what you are trying to achieve in terms of design and style.
The key to this decision is to follow these quick and easy steps:
Plan out where all your furniture/doors/windows will be
Calculate the BTUs you need to adequately heat the space
Find the smallest wall space that you need in the room to provide you with the BTUs you need
Sometimes the smallest and most efficient wall space to use is underneath a window which means a horizontal radiator. Other times it's a jutting out wall keeping up the wall between a new extension and the old house, this would mean a vertical radiator would be best.

Fresh Start Living – Interior Designers & Home Renovation Experts –View Instagram Profile
Why choose a horizontal radiator?
If you are looking for a quick upgrade for your home's heating, more often than not, it is easier to select a like-for-like swap of the radiators you already have in place.
For example – provided a new radiator offers around the same in terms of heat output – you can find a more modern-looking design of the same dimensions and have it installed in the same place as your old one.
This can be done with minimum fuss and – provided you're a relatively competent DIY-er – you should be able to do-it-yourself with the help of our how-to videos.
It will help you to save money on installation costs – as you won't need to move pipework – and you could probably have it done in an afternoon.
This is a great way to add a new look to a room and one that shouldn't break the bank, provided you don't end up having to tear up an entire floor.
Combine it with some sleek new valves to finish off in style and you'll have completely changed the way the space looks and feels, by simply upgrading your existing radiator.
We love how @our_home_interior_3 swapped their standard white convector radiator for a modern Milano Alpha. The clean lines and anthracite finish complement the contemporary monochrome interior and create a stylish statement piece in the hallway.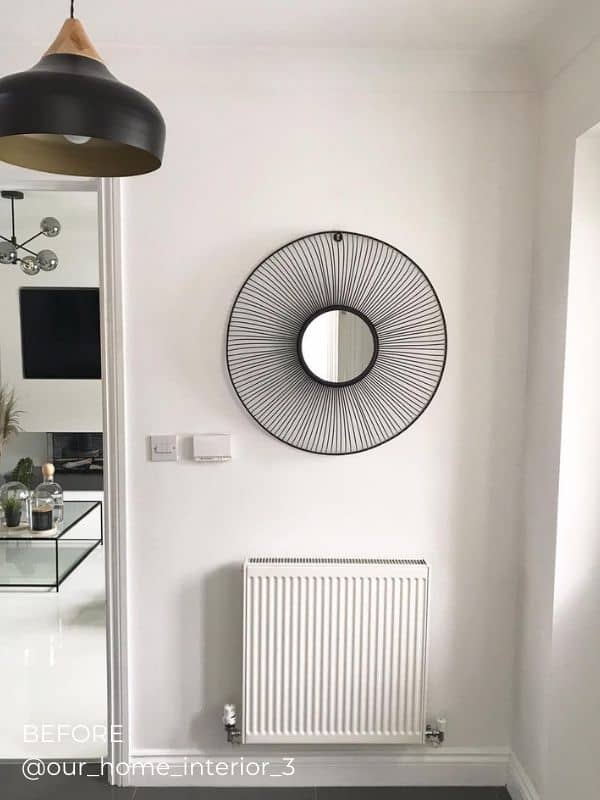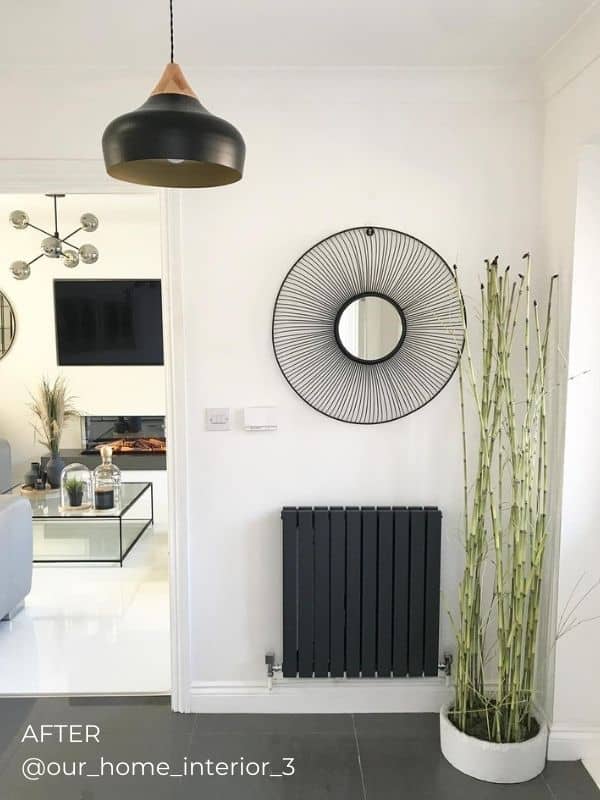 Interior blogger Laura @the_indigo_house was not feeling the basic convector radiator that used to live in her hallway. So much so, she used to disguise it as best she could!
But now, the vintage-inspired columns of the white Milano Windsor complement Laura's cosy boho decor and she is proud to have her radiator on display and part of the beautiful gallery wall.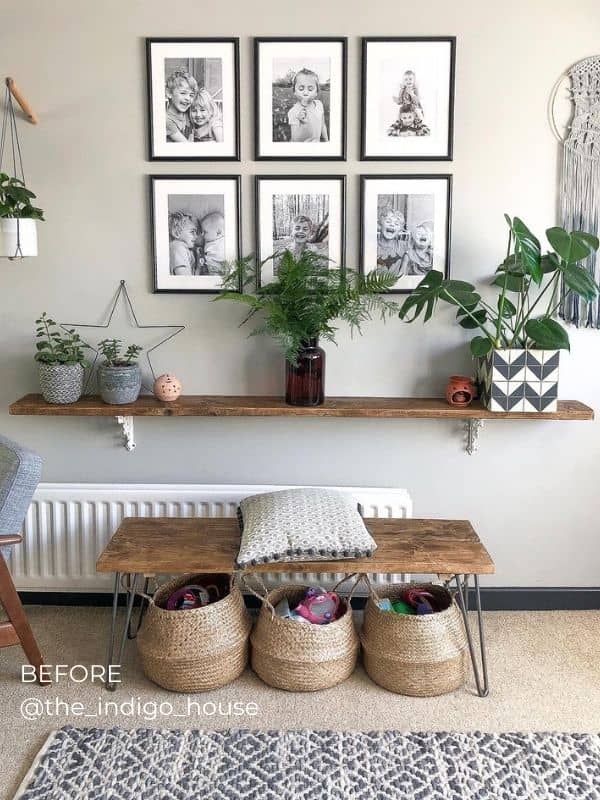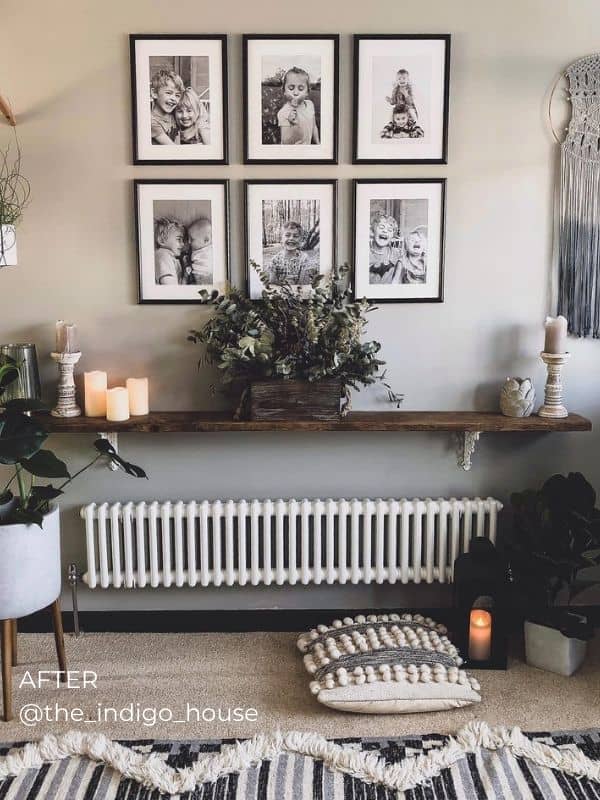 Mel over at @my_grey_place totally transformed her bathroom into a modern Scandi spa and swapped her chrome towel rail for a classic column Windsor to match the cosy boho vibes. It is hard to believe this is the same room!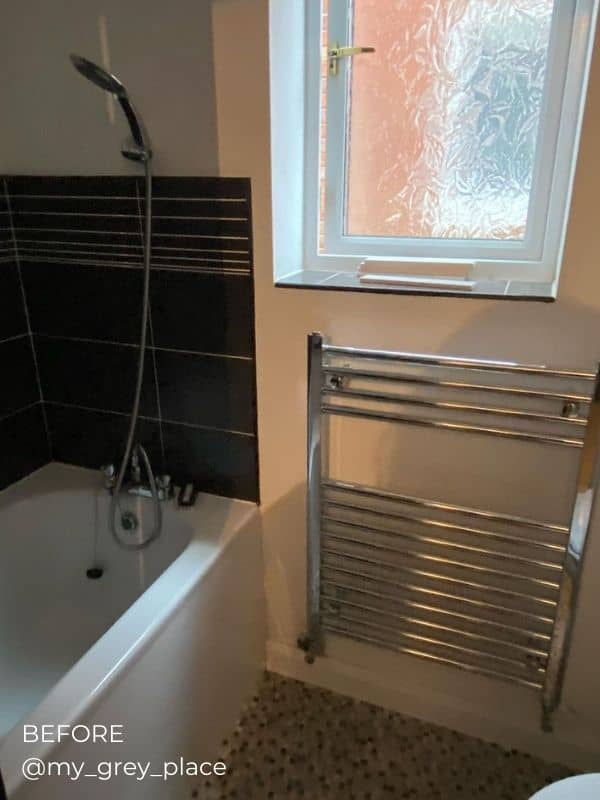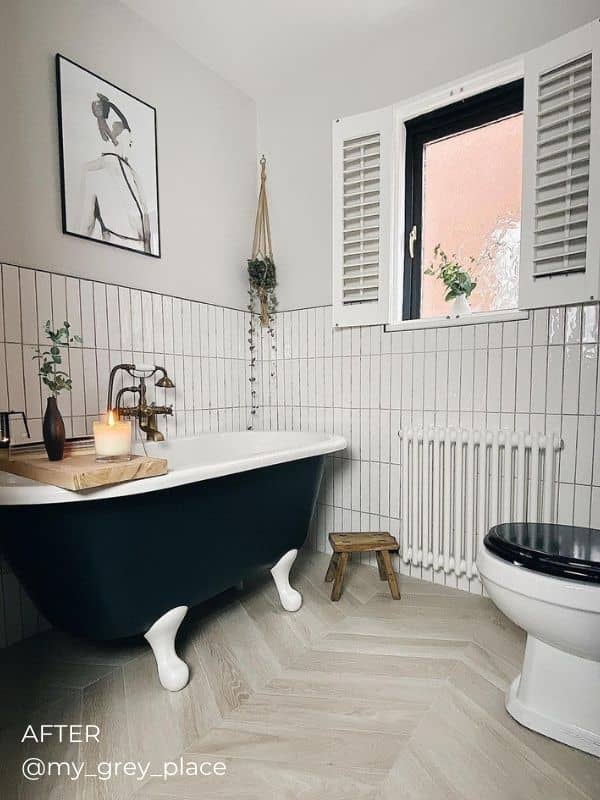 Why choose a vertical radiator?
As we can see above, swapping out your old convector radiator or towel rail for something a little more stylish is pretty simple, but if you really want to make a statement with your home's heating – and do something totally different with the room – what you really need is a vertical designer radiator.
A vertical radiator that offers the same heat output as a horizontal style is a great heating solution for most rooms of your home.
Because of the vertical proportions, the new radiator won't take up as much wall space as the one you're replacing but will still offer the same amount of heat to ensure space is adequately heated.
A simple comparison between the two different styles – and the impact they have on the room – can be seen below.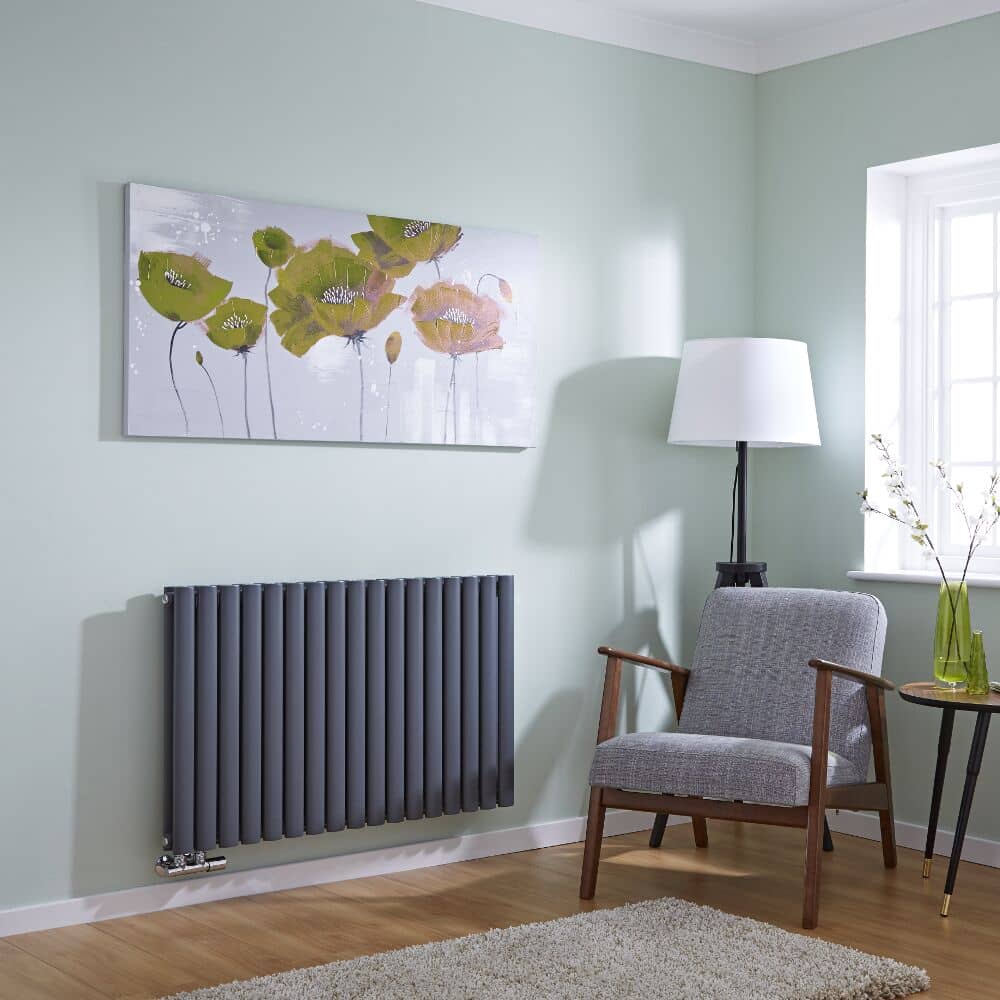 This horizontal Aruba Flow central connection radiator – from heating specialists, Milano Heating – measures at 1000mm wide and offers a heat output of 6049 BTUs.
Though not a huge radiator, it would take up a considerable amount of wall space if the room you were heating was only small – meaning that you would be pretty restricted as to where other furniture could go and how adventurous you could be with your decor.
When it comes to wall space though, you would have a little more to play with if you were to install the vertical design instead of the horizontal radiator.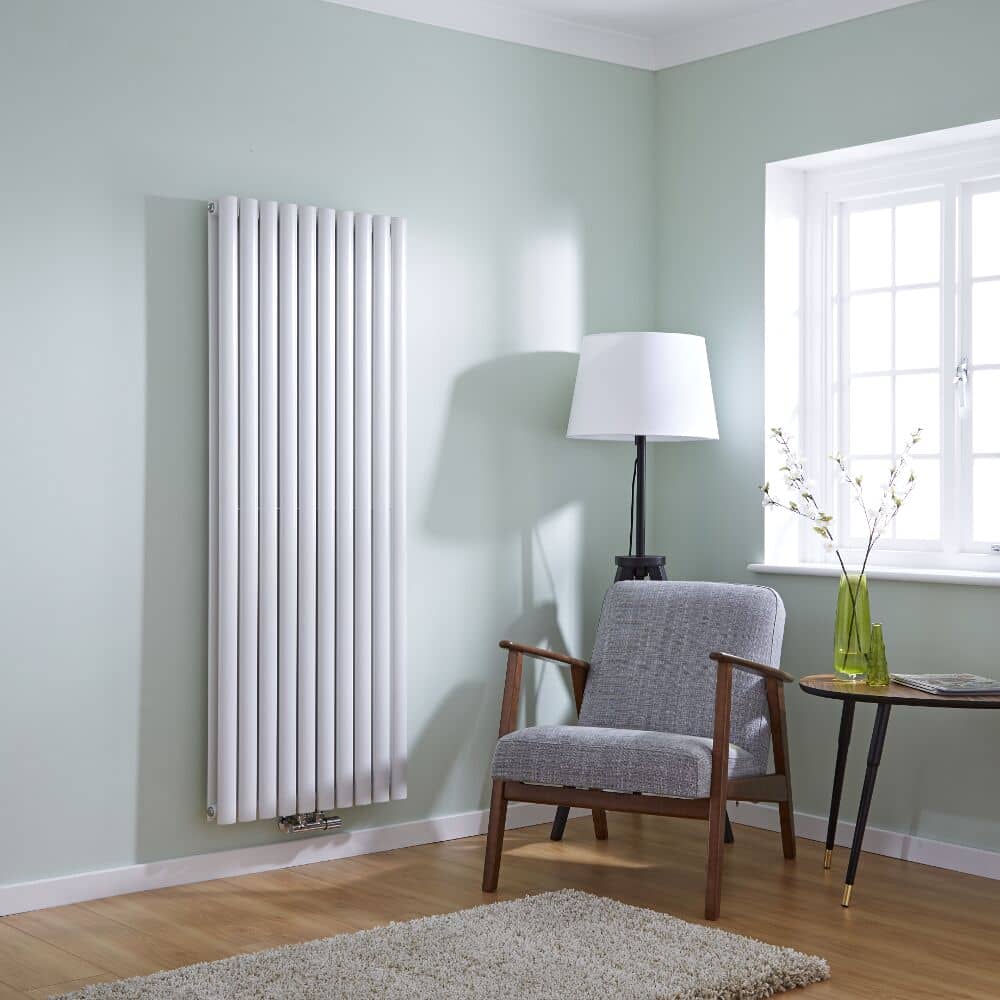 In the two examples above, you would have about an extra two feet (590mm) of wall space to play around with if you opted to heat the room with a vertical designer radiator, as opposed to the horizontal kind.
If you put that into context – and your radiator is on a wall that is three metres long – you are actually reclaiming a fifth of the wall space back from the radiator that you otherwise would not have had.
So in a room that perhaps requires a little more space for manoeuvre, a vertical radiator may be the best heating option.
Another great reason for opting for a vertical radiator is the scope you have for making changes to how a room works.
For example, say you were planning on extending your dining room and were looking to knock a wall out through to the kitchen, this gives you a great opportunity to really free up a little wall space and utilise the area at the side of the entrance to your new kitchen.
Mel over at @banish_the_beige_ transformed her kitchen and swapped a standard convector from under the window for a classic Milano Windsor vertical column radiator. The vertical design not only makes clever use of the narrow wall space, but it also complements Mel's cosy, period style decor.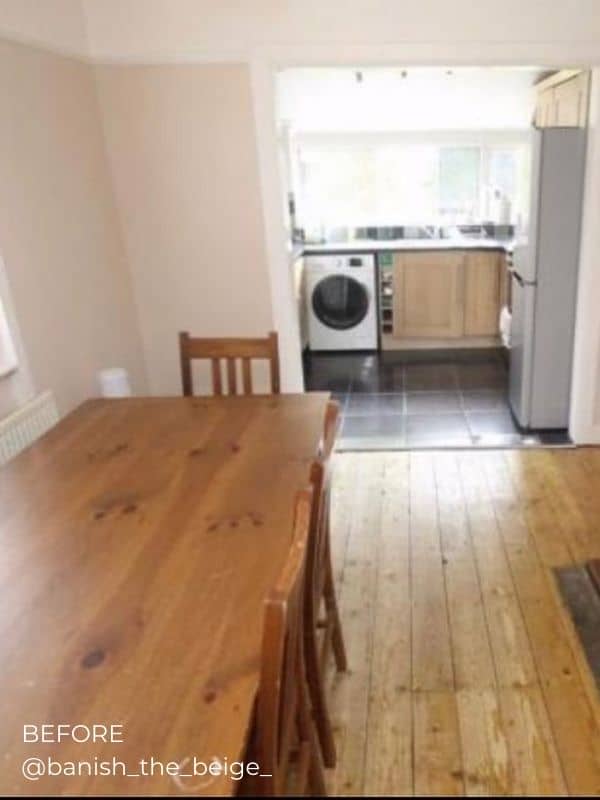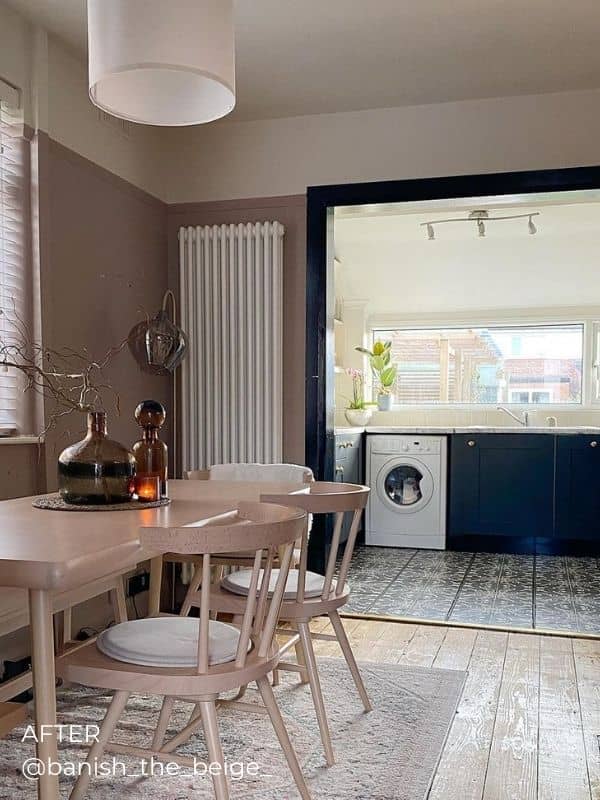 In adding an extension to the back of his home, BestHeating customer Stefan took the opportunity to move the position of his radiator and opted for a vertical installation with a high heat output.
This allowed him to open the space up and create a much larger kitchen-diner without losing out on any warmth.
This particular model – the eye-catching Milano Viti – offers a huge 8174 BTU output (at Delta 60), ensuring that the now larger and more spacious kitchen-diner benefits from plenty of additional heat.
It's also important to point out that Stefan has placed this radiator in what is likely to be the coldest part of the room – next to an exterior door and near an exterior wall.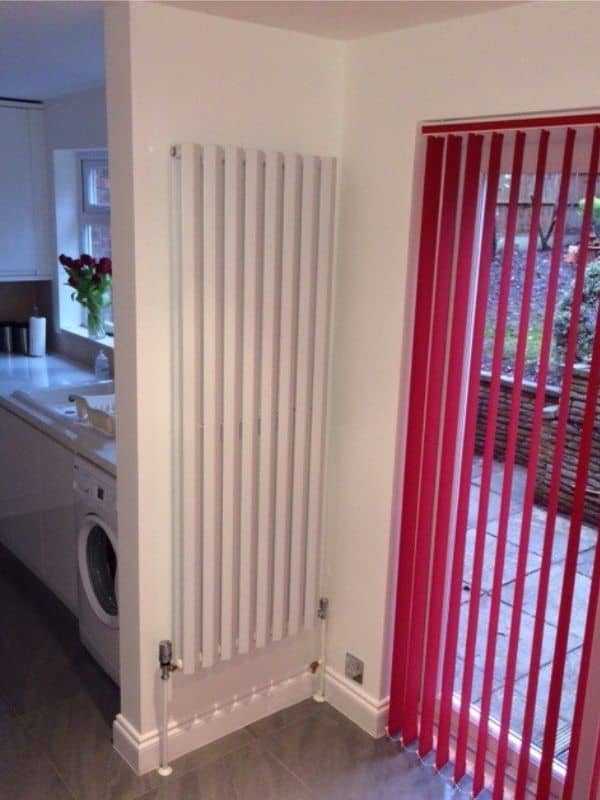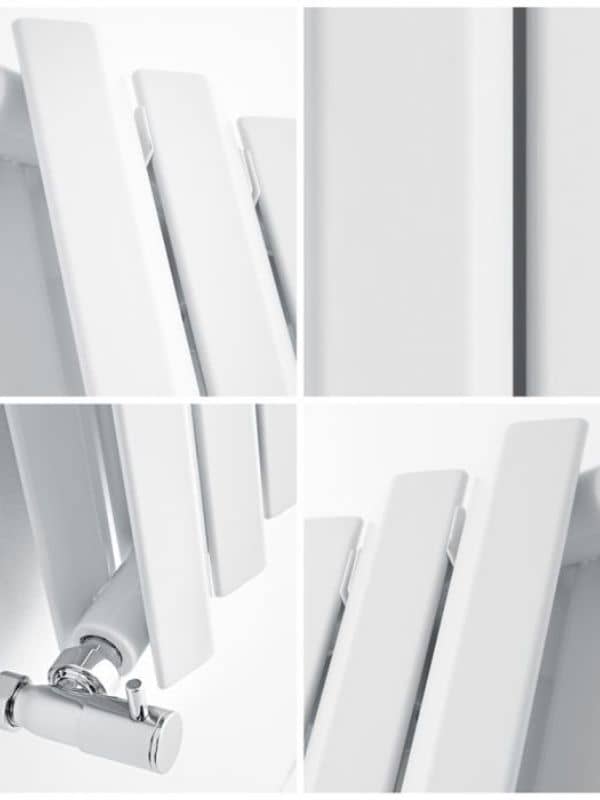 But what if you just want to make a little more room?
Well, if you aren't looking to go to the length of adding an extension to your property yet you're still giving your kitchen a makeover, you could always choose to install a vertical radiator and create more space for units, as Graeme Barker has done.
A simple pipework adjustment, to move the position of the radiator along the wall, has helped Graeme to free up a considerable amount of wall space for his new kitchen units.
Now, unfortunately, Graeme didn't tell me exactly how much space he created, but his new Milano Java vertical radiator is a mere 354mm wide, so it really is a space-saving appliance.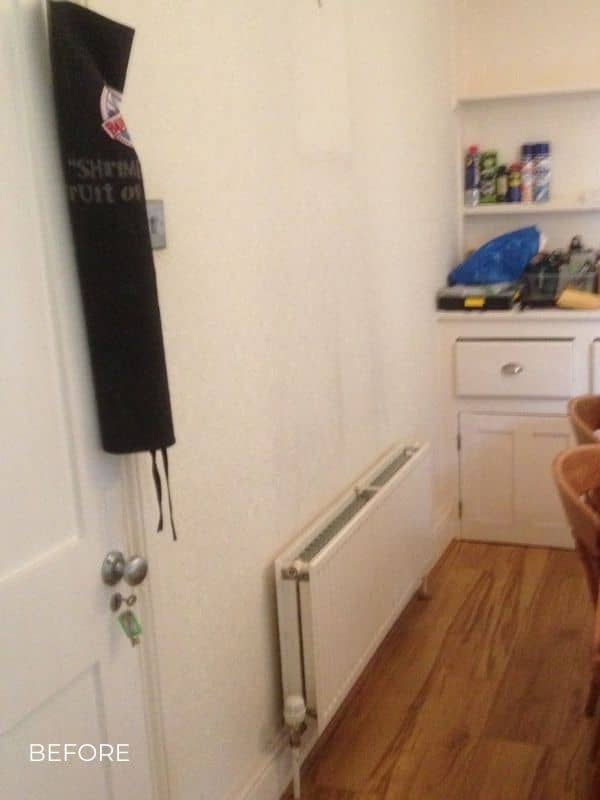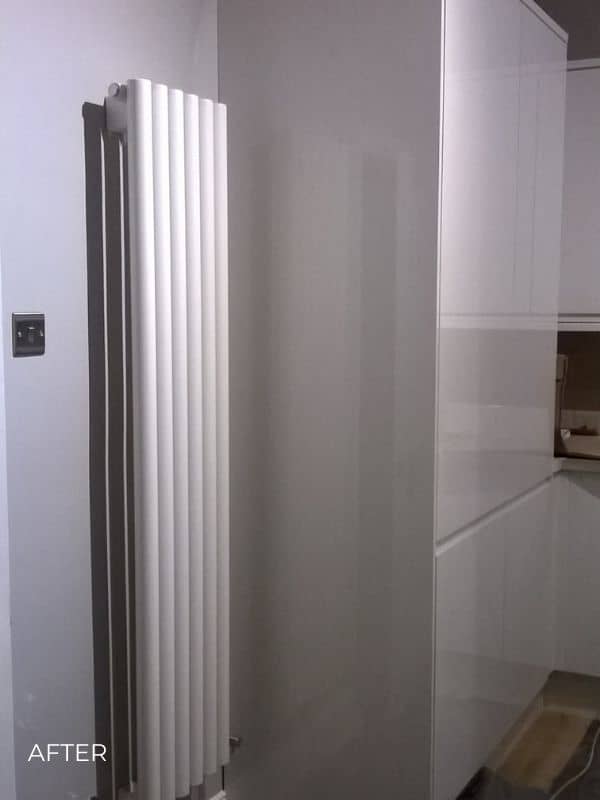 Looking at the before and after images above, it's clear to see that Graeme has created plenty of room for his shiny new kitchen unit and even more obvious that the new radiator he has chosen to install matches it perfectly.
He has taken the step to make more room and add more value to his kitchen space, without compromising on heat output – a very commendable approach to updating and improving his kitchen experience.
Horizontal or vertical radiators – What are the benefits?
At BestHeating we offer practically every style and design of radiator in both horizontal and vertical variations.
Regardless of their orientation, they provide the same function and service; to bring you warmth and comfort and add style and value.
To decide which is more suitable, a careful evaluation of the size, shape and function of a room will help you to decide which is best to choose.
But there must be more to it than that, mustn't there?
What are the benefits of a vertical radiator?
These days, talk of vertical designer radiators and all they have to offer is becoming ever louder and more commonplace, and there is one simple reason for this.
When compared to a horizontal alternative, the vertical designer radiator is the funky new kid at school, the cool kid, the one that everybody wants to get to know.
They are beginning to be the first thing that people think about when it comes to choosing radiators – at least that's what we find with our customer base – they really are at the head of the pack in terms of stylish, modern-looking heating solutions.
With a somewhat minimalist look, sleek lines and slim-fitting styles, vertical radiators are designed to make a statement in your space.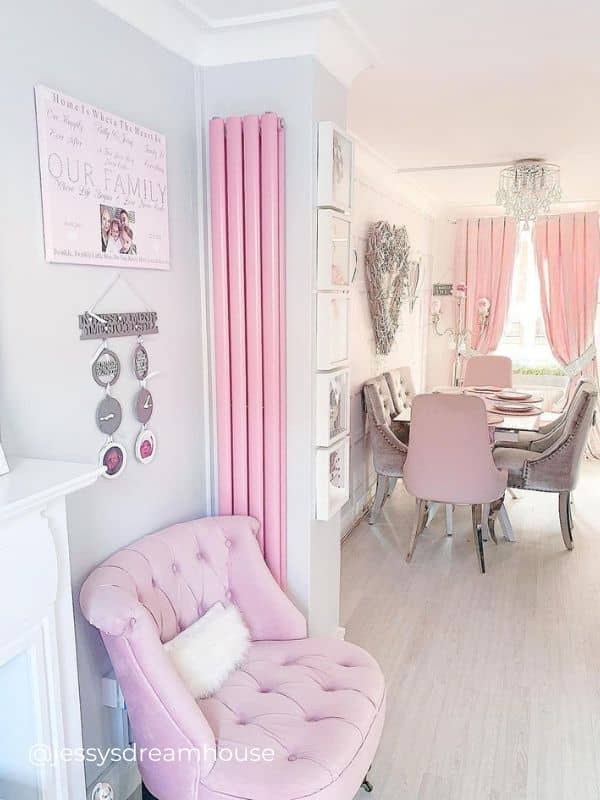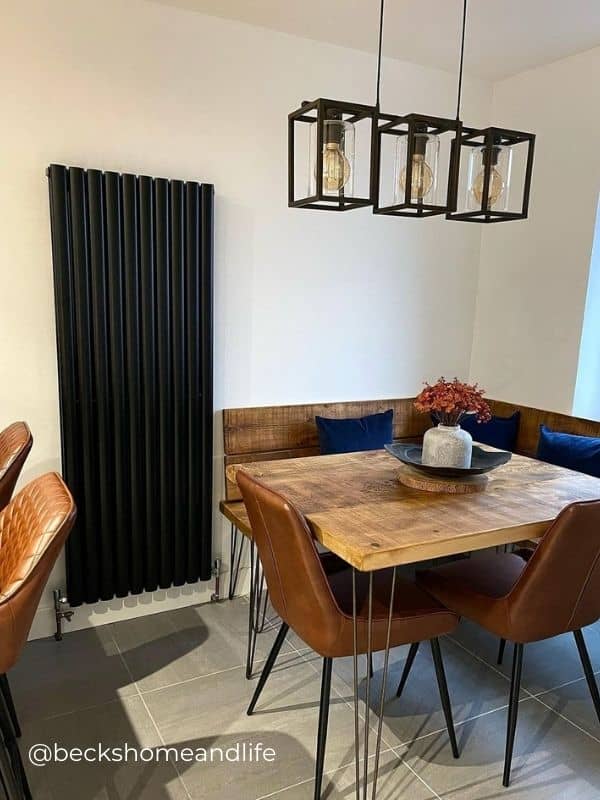 Soaring upwards – sometimes way above the normal level of a conventional horizontal radiator – vertical designer radiators can appear quite imposing and are often thought of as more of an interior design solution than a heat source.
From a practical point of view – thanks to their unconventional dimensions – vertical radiator units are an excellent option for a smaller room, as they take up a lesser amount of wall and floor space.
It's not uncommon to overlook unused wall space in any room, but when you begin to think vertically, you do begin to see things differently.
To this end, they are considered to be a good option for smaller bedrooms, kitchens, hallways and even staircases – the latter of which is proved in no uncertain terms by our customer, David Smith-Haughton.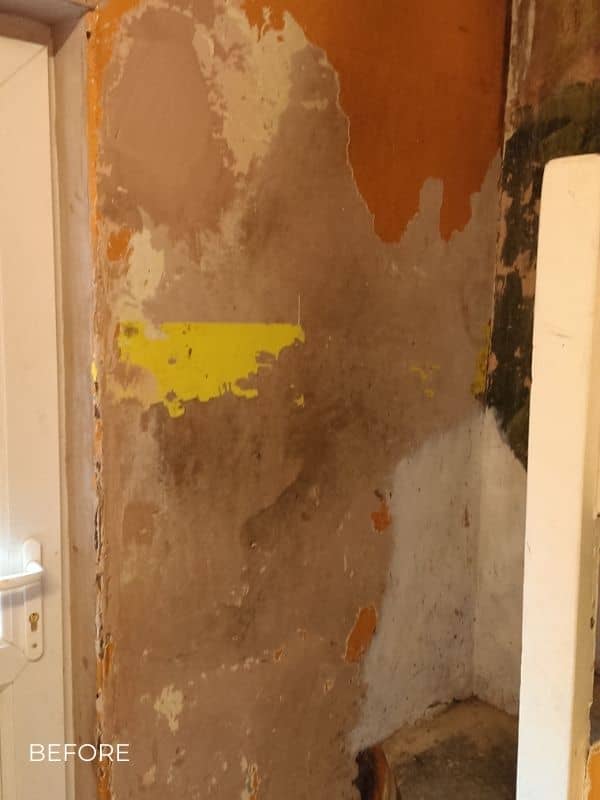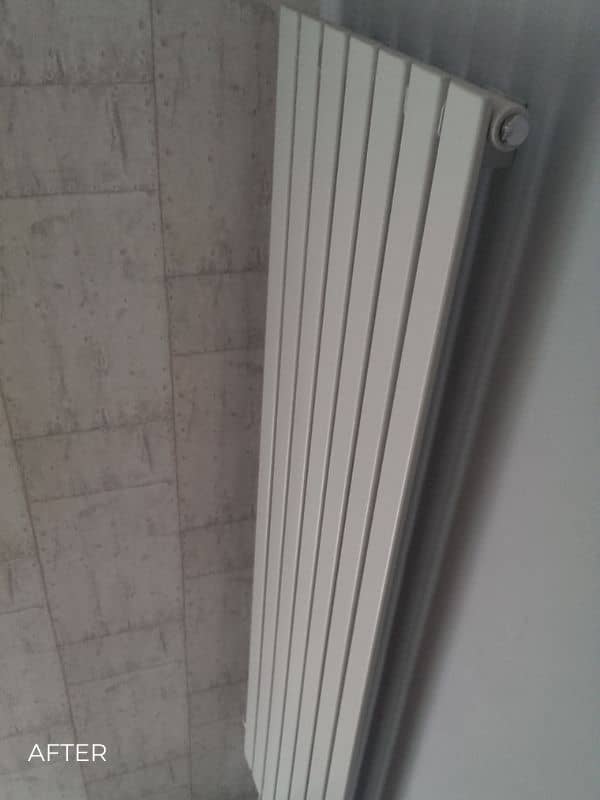 David was trying to maximise the space he had in his kitchen/diner and had the ingenious idea to place this white Milano Alpha vertical designer radiator at the base of his stairs.
There will be some residual heat lost to the space upstairs, but it has a high enough heat output to ensure his kitchen space is adequately heated and frees up a load of room for additional furniture and appliances; making the most of his limited wall space.
Unusual place for a radiator, we'll admit to that, but it still does the job and looks great too.
So the main points to remember about vertical radiators are –
A great heating choice for rooms with limited wall and floor space.
Catches the eye to create a striking focal point.
Perfect if you're trying to create a minimalist look & feel.
Creates more room for furniture or other units.
Adds value to your home.
What are the benefits of a horizontal radiator?
Replacing your existing radiator with a new horizontal one is a more traditional option, even if you invest in a modern-looking design that could be considered more of a design feature, they are far more commonplace than a vertical style.
Normally placed in the coldest part of the room – traditionally under a window – horizontal radiators work in exactly the same way as a vertical installation.
The placement of them under a window means that they don't take up wall space elsewhere in the room, so they won't intrude upon where you place furniture.
This does mean, however, that they are a little limited in where they can go.
So, if you're planning on moving your radiator from under the window for any reason, you may want to seriously consider a vertical radiator instead.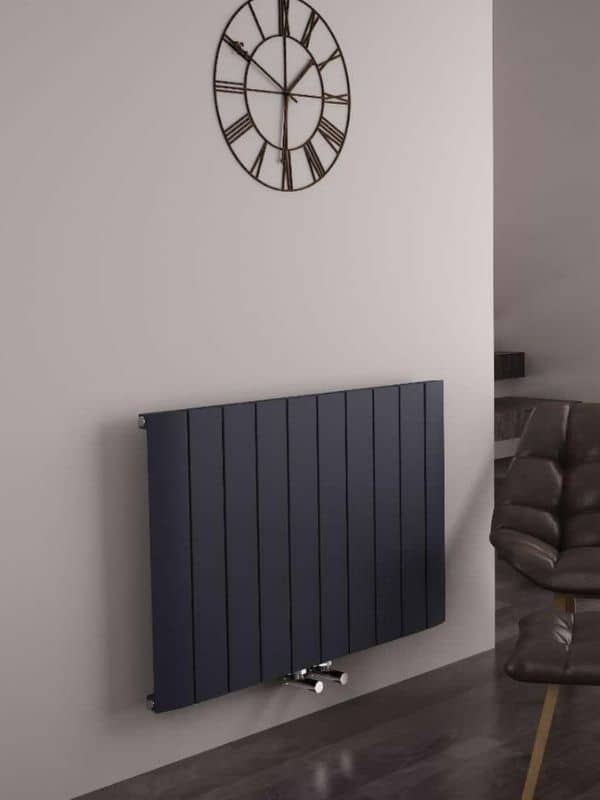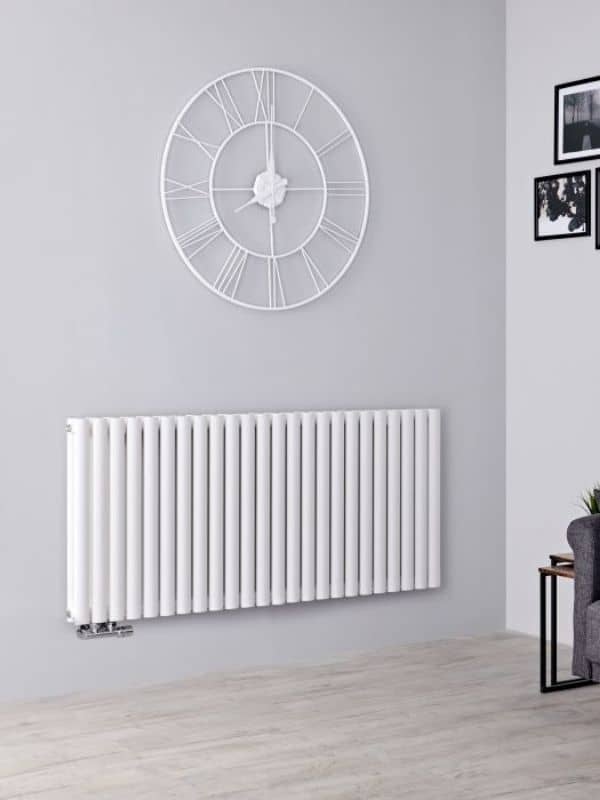 That said, if you 're dead set on sticking with a horizontal radiator, there are alternatives that allow you to save a bit of space.
The horizontal middle connection designs – like the one above – do mean that you don't have to worry about leaving any extra space at the side of the radiator to accommodate pipework and valves, but it is still very likely to be wider than a vertical design that offers an equal amount of heat output.
If what you're looking to do is simply update the look of a room, then swapping out your old convector for a shiny new horizontal one is probably the best option.
Though pretty much anything on the face of the earth is better than the carnage you can see in the 'before' picture below – from our customer William Goodwin – it is a good example of how selecting the right radiator (or in this case radiators) can help to add a new look to a room.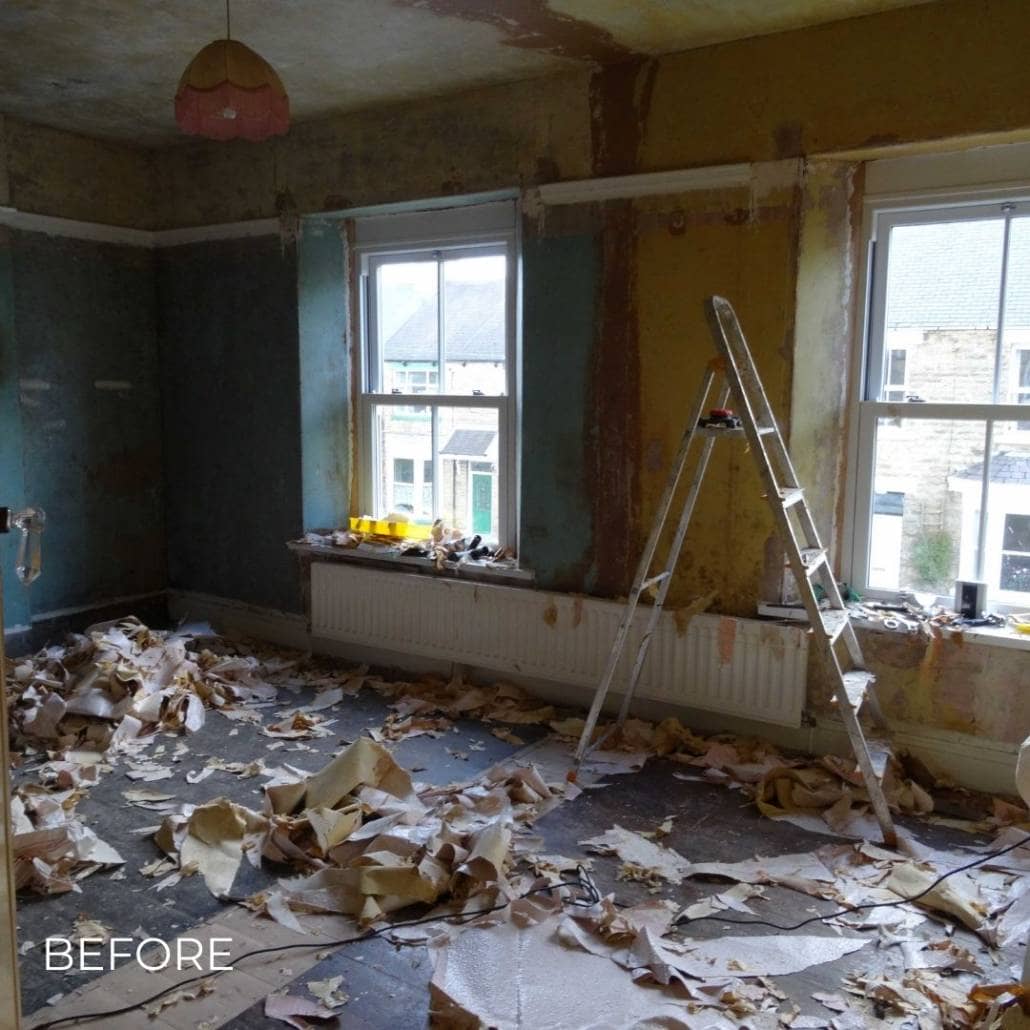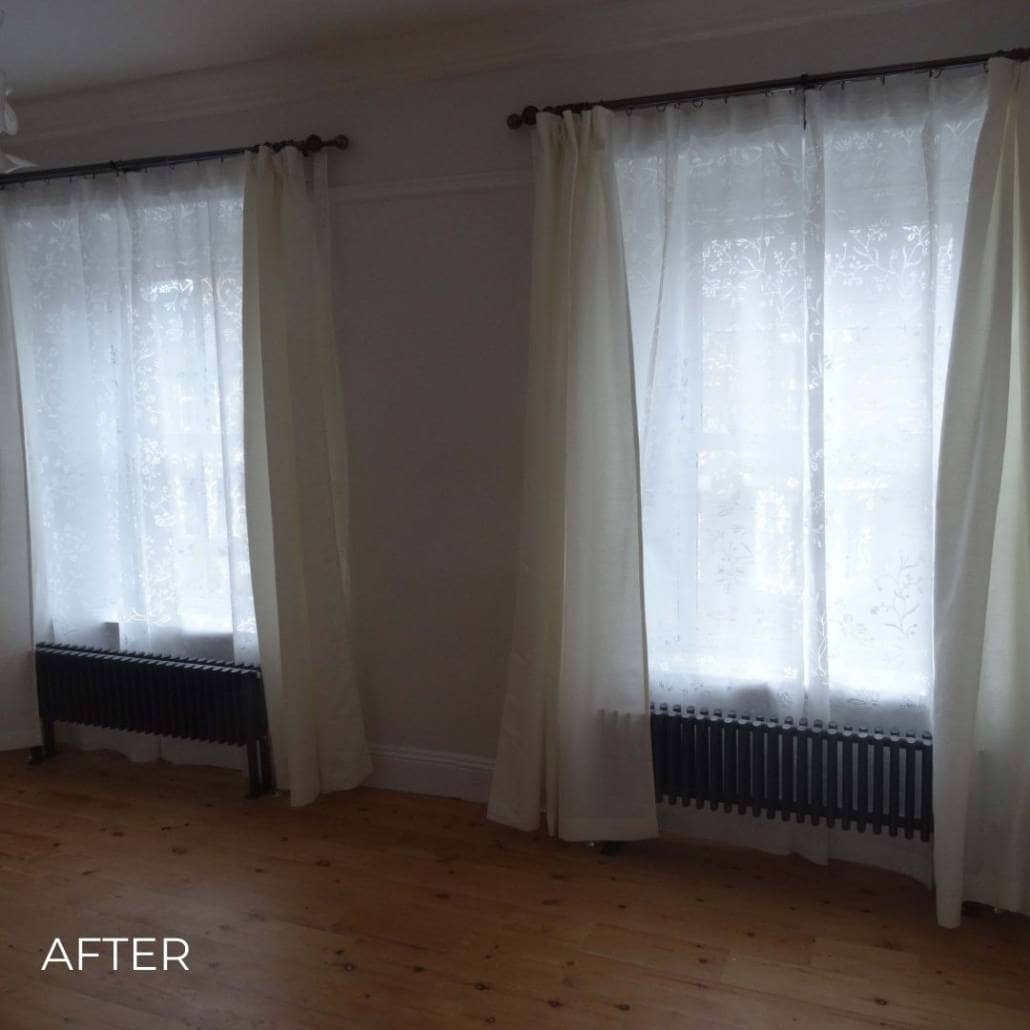 It really is a truly impressive transformation!
Obviously, it looks a lot better with the new flooring and drapes – and without all of the old wallpaper on the floor – but the radiators just add an extra style edge that William would not have achieved had he stuck with the old convector radiator.
For me, the radiators make the room appear larger – and I'll bet it is a good bit warmer in there now, too.
The only real drawback with horizontal radiators, particularly in a market in which you can buy a huge range of vertical alternatives, is the fact that they do limit where you can place furniture.
Making use of a room's 'vertical' space – by installing a tall radiator – frees up a bit of room for another armchair or table, but with a horizontal radiator, you simply don't have this luxury.
And it's not like you can just put your sofa up against the radiator to create space elsewhere in the room, as this will block the heat and make the entire place feel cold.
So it's important to remember that – if you do plan on sticking with a horizontal radiator – you don't block it off with furniture and that you allow it to be exposed to the air in the room.
This is the best way to ensure that it adequately and efficiently heats the space – not wasting energy and costing you money.
So the main points to consider when sticking with/purchasing a horizontal radiator, are –
Great for installing under a window, where space is already dead to most furniture.
More traditional in design.
Likely to be easier to install (no need to move pipework if you buy like-for-like)
Be careful not to place furniture in front of them – if you want more space, buy vertical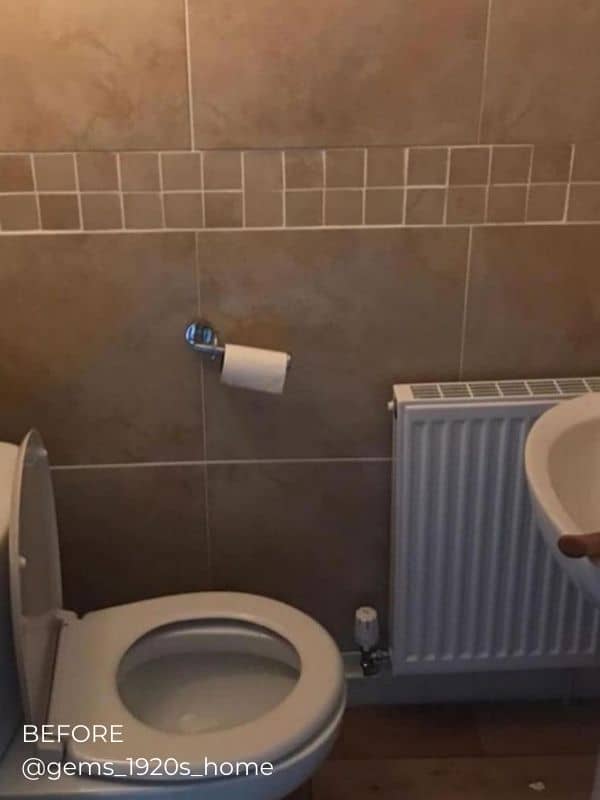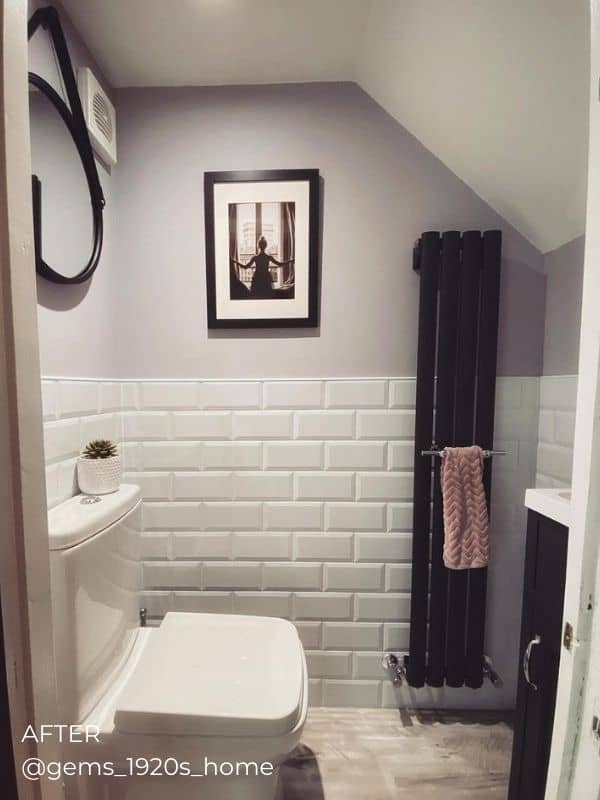 Short and wide or tall and slim, the choice is yours…
Like with much interior design decision-making, selecting whether to heat your room with a vertical or an electric radiator will be dictated to you by the shape of the space you are trying to make warm.
A room with plenty of wall space – and with a radiator already under a window – may benefit from a straight swap, as this is much easier than having to pull up floorboards and change pipework around.
Simply find out what heat output your current radiator offers and select one from our store with an equal or higher output – or maybe visit our radiator buying guide for even more help and advice on how to choose the best radiator for each room of your home.
Remember – If you are looking to increase the size of a radiator in your home, be sure to check that your existing central heating system is powerful enough to accommodate a larger appliance. Boilers have a limit to how much water can be used during their operation, so you don't want to go to the trouble of buying a big new radiator, only to find that it won't get hot!
At the end of the day – despite all of the points I have made above – when it comes down to making a decision about Horizontal or Vertical radiators and which one you feel is more suitable for your home, a lot will come down to personal choice and your own style and feel for the space you're trying to make warm.
Some people have even gone to the trouble of installing a radiator halfway up a wall, and I saw one in a public bathroom in Germany that was on the ceiling, so sometimes it's ok to just go with what you feel is right.
In a nutshell, if your room is smaller, with restricted space and you're trying to make a visual statement, your entire existence should be focussed on finding a VERTICAL radiator for that room.
Conversely, a more traditional and understated look is more easily achieved by sticking with or installing, a HORIZONTAL radiator.
But that doesn't mean you have to be run-of-the-mill – there are loads of styles out there that can instantly transform the space – meaning you can be brave with your choice of styles to create a memorable space that is the envy of your family and friends.
The choice, as they say (whoever they are), is yours – so go and make it and start benefitting from some shiny new and modern heating that adds value, style and a great focal point to any room of your home.

John trained in journalism before finding his way to the BestHeating Advice Centre team. He uses his journalism skills to meticulously research heating topics and bring you the latest news and views on all things home heating related. He'll also beat you at any sport that involves a cue!