"Mirror, mirror on the wall, how great you'll look heating my hall"…
That's (unfortunately) not a direct quote from Snow White, but we'd love to see a radiator-influenced Disney film in the near future.
I mean, we've had cars, mermaids and even brain cells talking in Disney flicks, so surely the time will come when radiators and towel rails get their moment in the limelight!
Anyway, I digress (and we haven't even started properly yet) – you came here to learn more about mirrored radiators didn't you, so let's get on with that!
What is a mirrored radiator?
A mirrored radiator can be one of two things.
It can be a radiator with an integrated mirror, or a reflective radiator with a mirrored surface.
Radiator with integrated mirror
Reflective mirrored radiator
Here at BestHeating we stock both variations of mirrored designer radiators.
What's the difference between a mirrored radiator & a reflective radiator?
While a radiator with a reflective surface can be considered to be a "mirrored" radiator, it's very simply a standard radiator design with a reflective surface.
A radiator with an integrated mirror has an "actual" mirror incorporated into its design – meaning the mirror is not part of the radiator, rather it sits on or inside of it.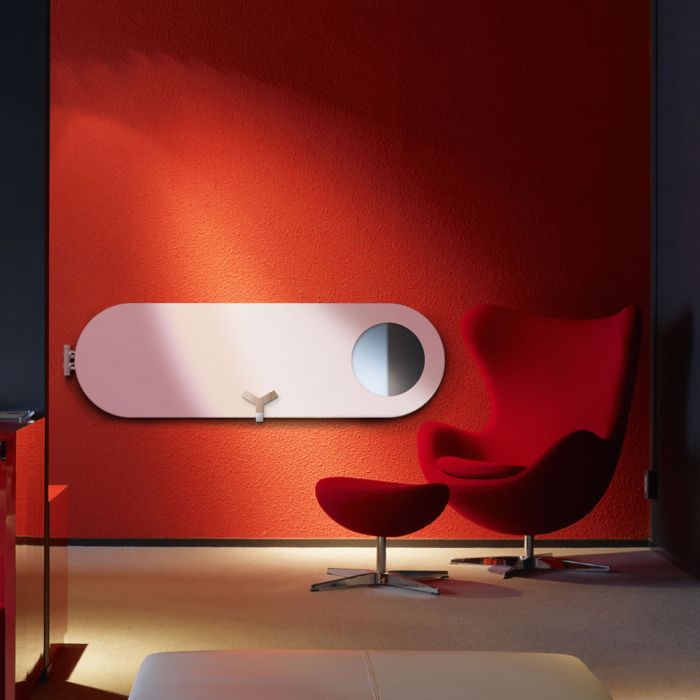 The latter is both a heating appliance AND a mirror at the same time, whereas the former is (just) a reflective heating appliance that has a mirrored surface.
Due to the size of the mirrors used with these types of radiator, you'll find many vertical mirrored radiators at BestHeating, and these mirror radiators are ideal for bathrooms, hallways or bedrooms, where a full length mirror is a great addition to the space.
That said, you can install them horizontally (as in the picture above) if you prefer that style for your space.
Are mirrored radiators any good?
You might think that adding a mirror to a radiator would have a big impact on the performance and heat output of the appliance, but that's not really the case.
Despite the addition of a mirror to some of our most popular vertical designer radiators, there's very little difference in the BTU output of the mirrored varieties.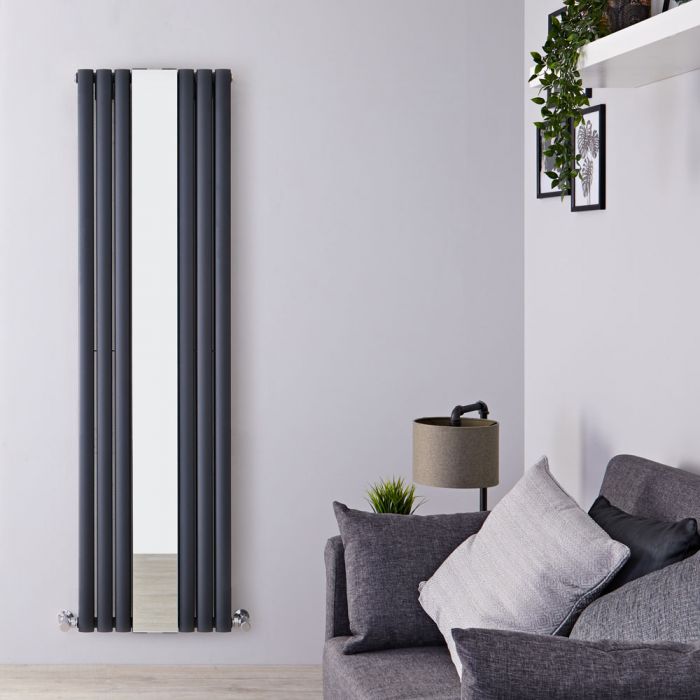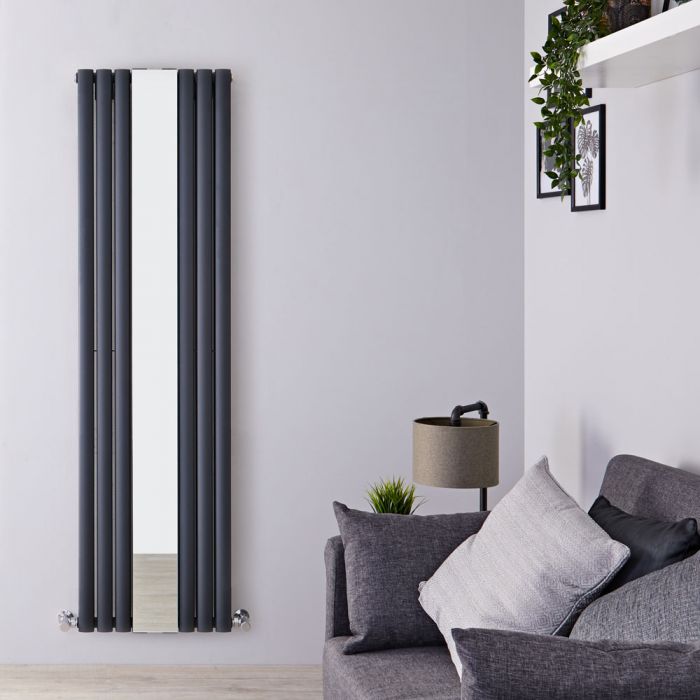 This Milano Aruba vertical mirrored radiator for example boasts a BTU output of 4343 @ Delta T50, while the equivalent sized Aruba without the mirror comes in at 5000 BTUs.
So, not only do you still get a good amount of heat from the mirrored Aruba designer radiator, you also benefit from a full length mirror too.
The same can be said for the reflective mirrored radiators too.
This white Milano Alpha tips the BTU scales at 2373 BTUs @ Delta T50, while the reflective chrome mirrored version of the same radiator produces 1581 BTUs.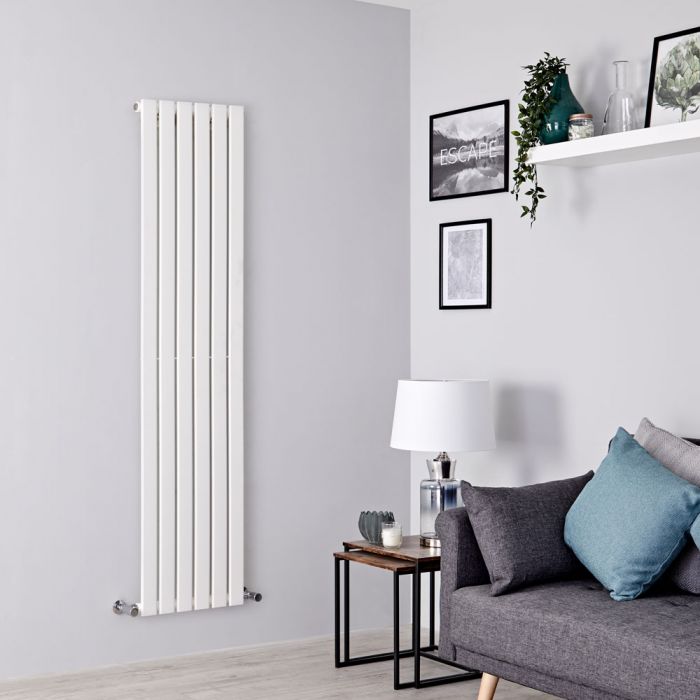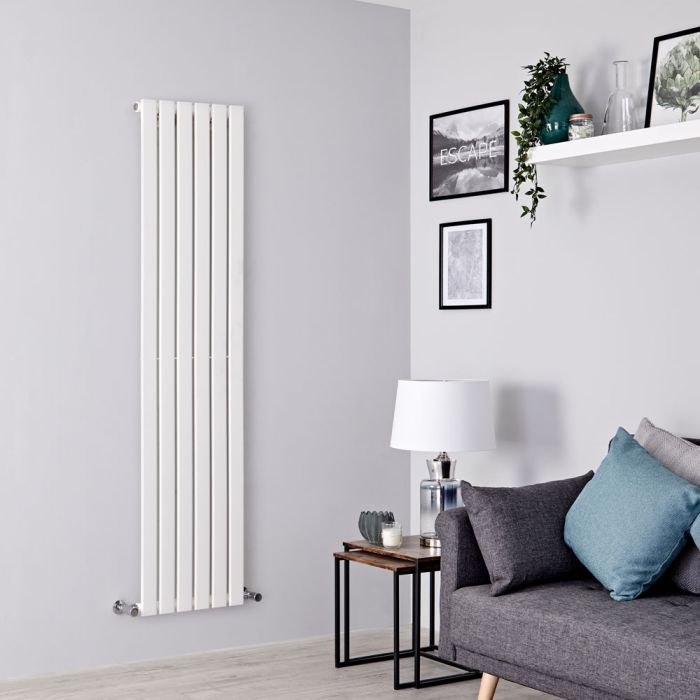 So, to answer the question of whether mirrored radiators are any good, we can safely say that the drop in heat output is around 600-700 BTUs or so for the mirrored versions – which isn't much at all.
So in terms of giving out enough heat to keep your room warm and cosy there's no issue, but what other reasons are there for opting to go "mirrored" with your radiators?
Why buy a mirrored radiator?
As anyone that's been here before knows, designer radiators have been popular for some time now.
With so many variations on the designer radiator style, it's natural that updates and upgrades are going to occur – and mirrored designer radiators are one of those updates to the range.
But what is it that sets a mirrored radiator apart from the rest of the designer radiator pack?
Check out some of the main reasons why designer mirrored radiators are becoming so popular with radiator lovers up and down the UK.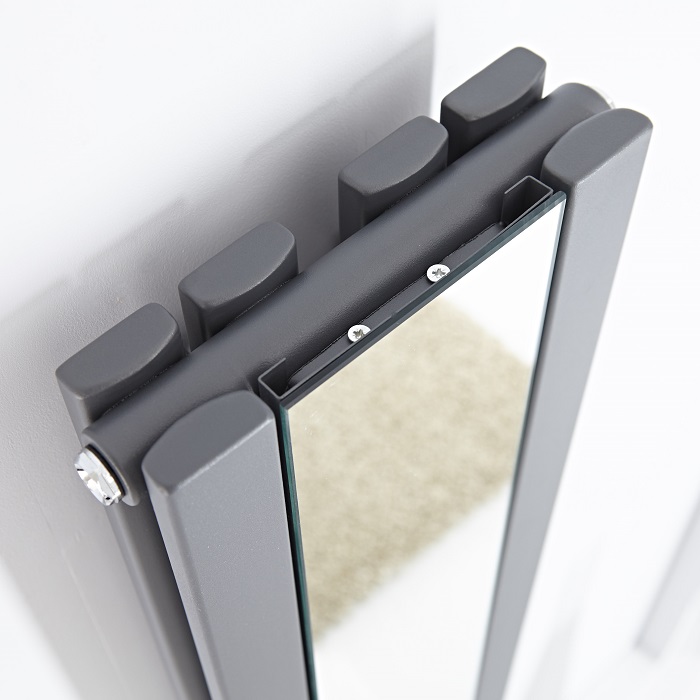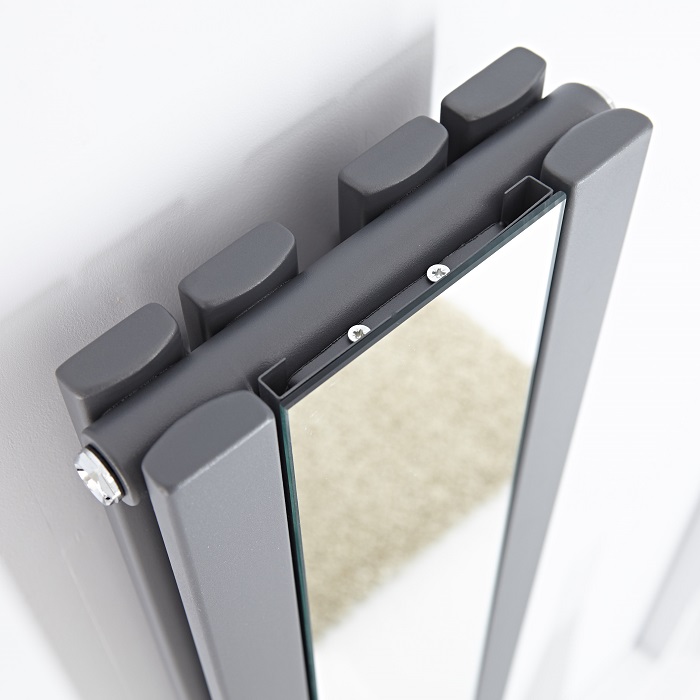 Mirrored radiators are multi-functional
In essence, a mirrored designer radiator is a kind of "two-for-one" deal – you get a radiator that heats your space effectively and efficiently, while also getting to enjoy the added bonus of a full length mirror on your wall too.
This means that they'll heat your home when you need them to, but also provide your hallway, bathroom or bedroom with a practical element that is undeniably stylish.
So they serve a purpose even when you don't have them switched on; and how many other appliances in your home can you say that about?
Mirrored radiators give your home more light
Not every room of your home will be blessed with bucket loads of natural light, which is another reason for choosing to buy a mirrored radiator.
They'll help to reflect any available light back into your room, making them particularly helpful in bathrooms with no windows or in a living room with low natural light.
This helps to promote the feeling of spaciousness in your room – and the more spacious and "roomy" your room looks, the more welcoming and comfortable it will be!
A mirrored radiator is space saving
As all mirrored radiators at BestHeating come in a vertical profile they will help to save that extra bit of space on your wall.
This is particularly helpful in small bathrooms and en-suite spaces, as their tall designs mean you have a little extra room for all the other bathroom essentials.
The same can be said for your hallway and bedroom spaces too.
Here, a vertical mirrored radiator offers you the chance to add an additional piece of furniture to the space, or perhaps allows you to rethink the layout of the room – all while giving you the heat you need with the added bonus of an extra bit of practicality too.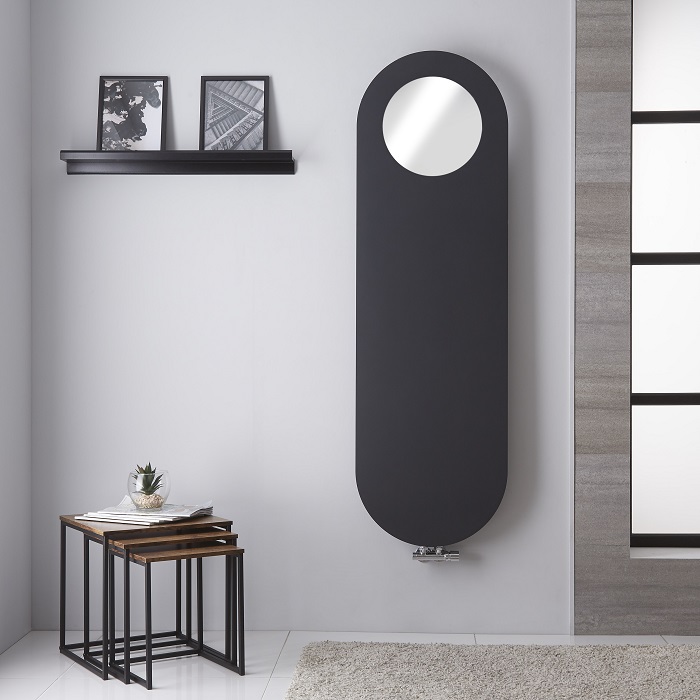 Vertical mirrored designer radiators at BestHeating
At BestHeating we have a great range of mirrored designer radiators that are ideal for any room of your home, but to help you find the perfect one, we've put together the below list of our top 5 mirrored radiators to help you transform your home.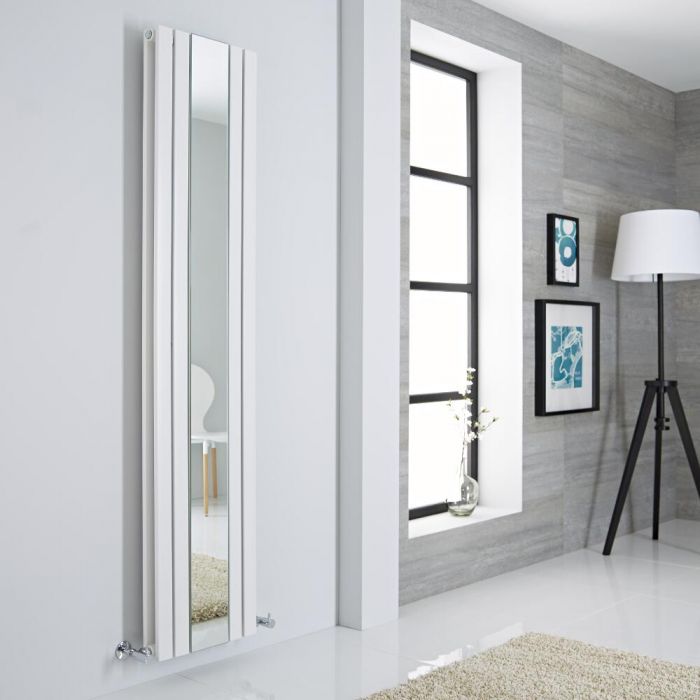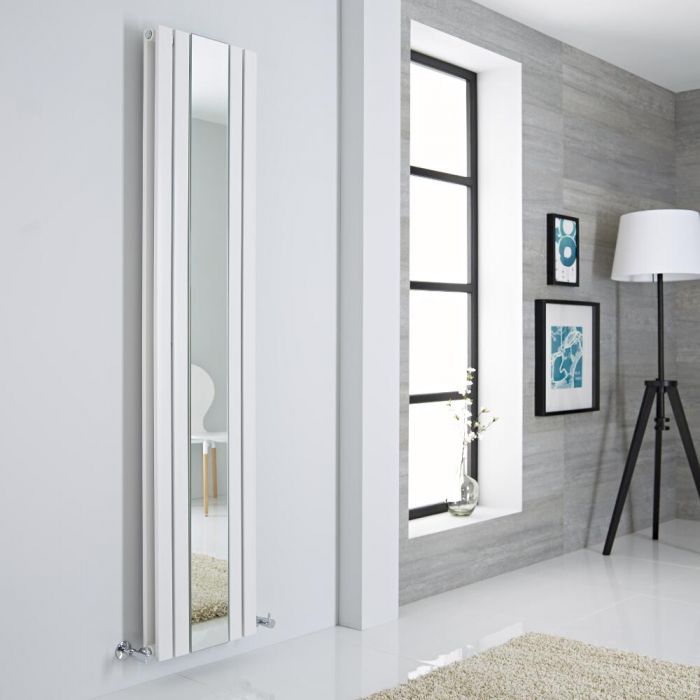 An instantly stylish update to a bathroom, bedroom or hallway, the Milano Icon mirrored vertical designer radiator oozes contemporary cool.
With an impressive heat output of 5,092 BTUs (1,492 Watts), this tall mirrored radiator is sure to heat your space quickly and efficiently.
The centralised full-length mirror is 146mm wide (about 6 inches) which is ample viewing space for anyone wanting to check themselves out before a night on the town.
Available in cool white or trendy anthracite finishes, there's an Icon for every style of home!
What Our Customers Say About The Milano Icon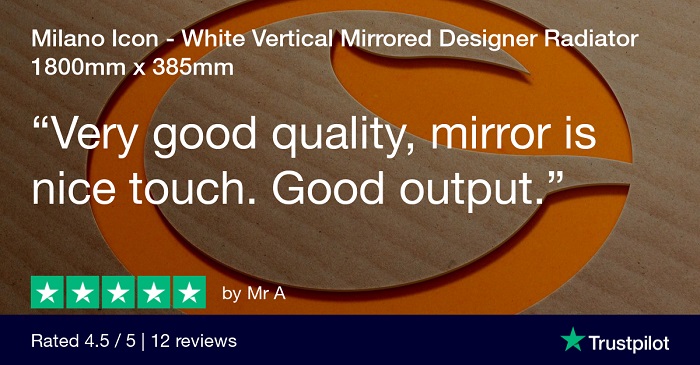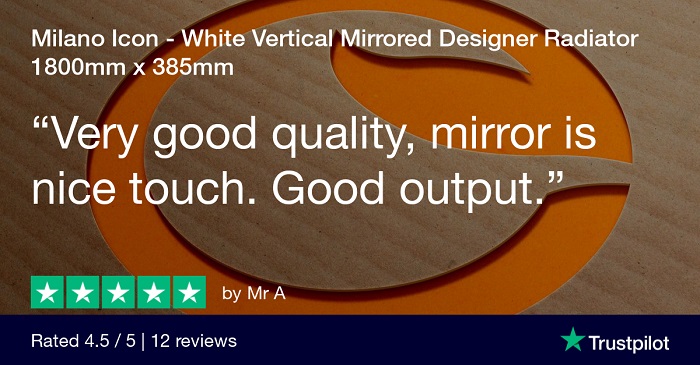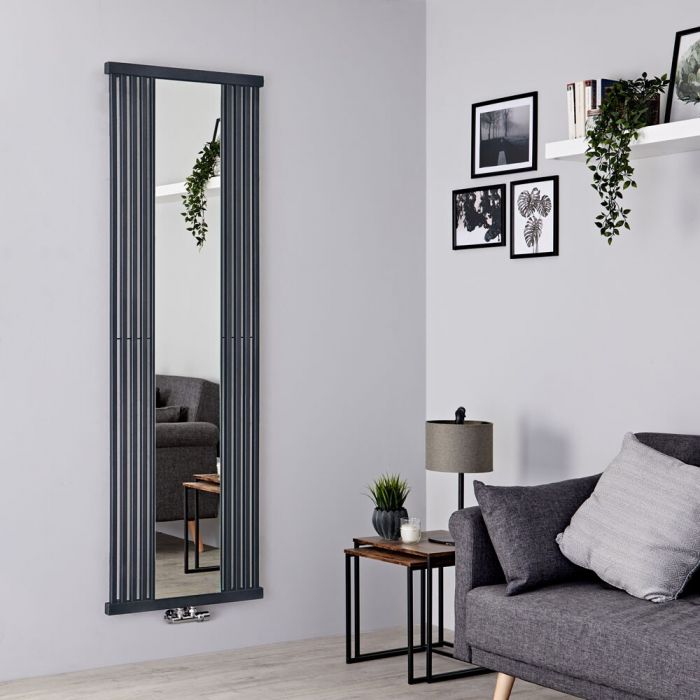 With its durable stone finish, the Terma Intra mirrored vertical designer radiator makes a stunning style statement in any room of your home.
Featuring a wider central mirror than the Milano Icon but with a slightly lower hourly heat output, the Intra will reflect more light while still warming a hallway or a smaller sitting room to a comfortable temperature.
Complete with centrally located valve inlets that help to reduce this radiator's footprint on the wall, the Intra is great for rooms with limited floor and wall space.
Check out the full range of Terma Radiators for more information.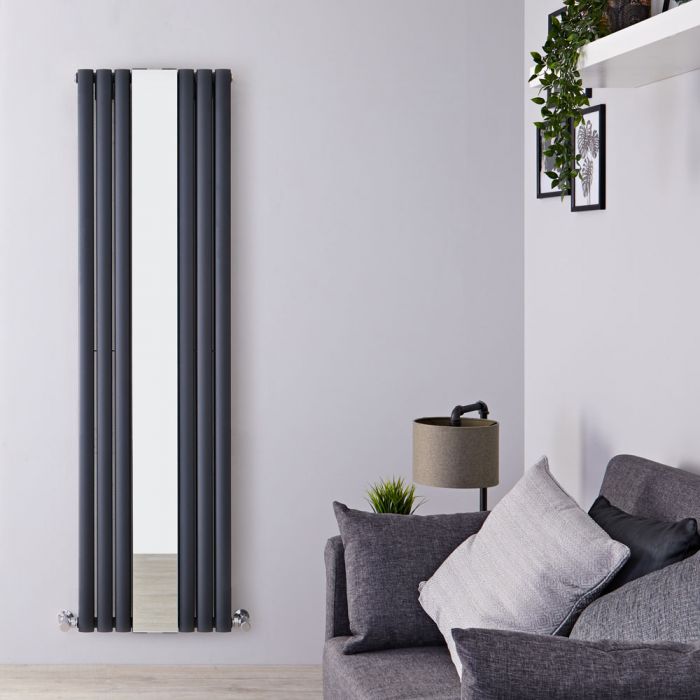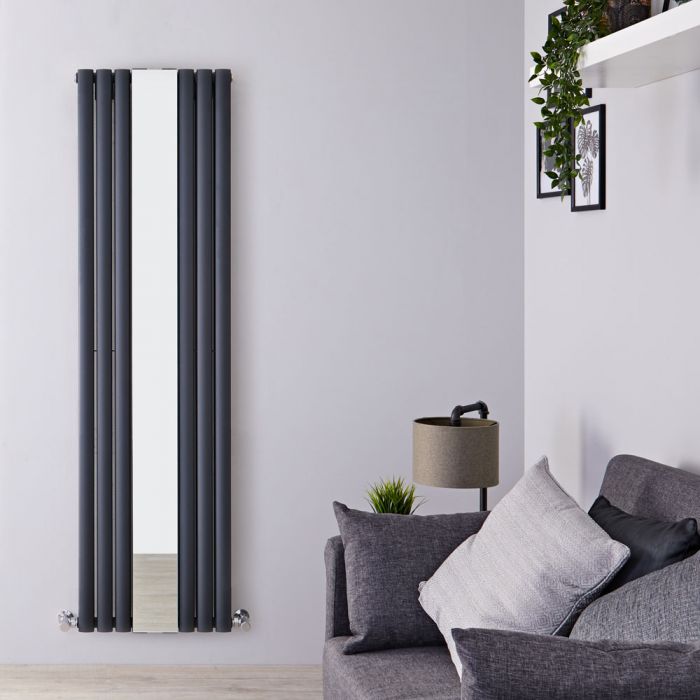 One of the most popular radiator designs at BestHeating, the Milano Aruba has long been a must-have heating accessory for contemporary-styled homes.
The mirrored Milano Aruba offers the same stunning designer looks of the standard vertical radiator versions, but with the added bonus of a central mirror.
At 145mm wide, the mirror offers a good amount of viewing space and the sleek modern design is perfect for hallways, bedrooms and bathrooms – with radiator accessories available to make life even easier for you.
What our customers say about the mirrored Milano Aruba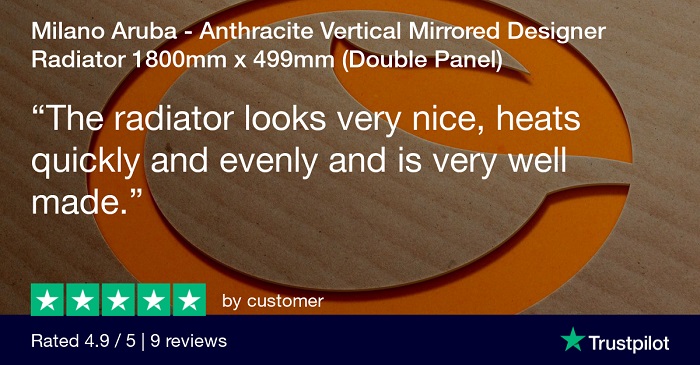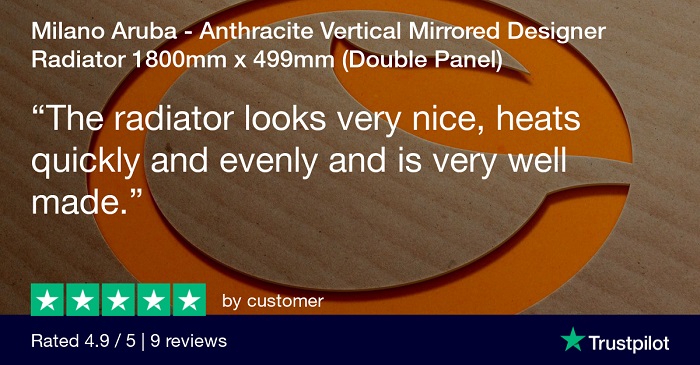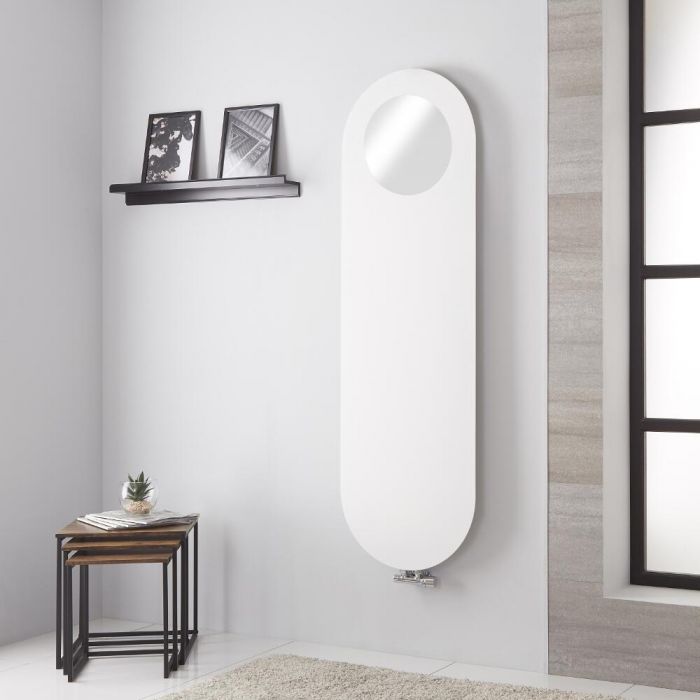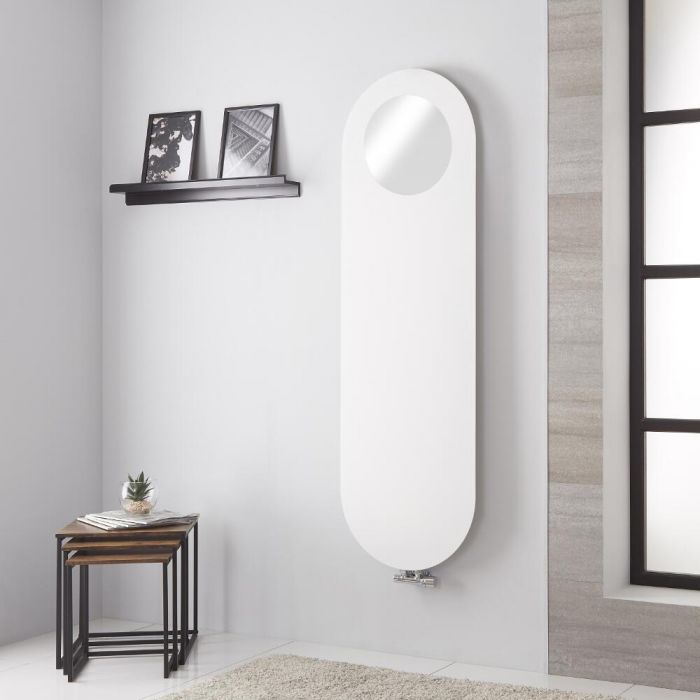 With an inspiring design and unusual shape, the Vulcano mirrored vertical designer radiator is sure to make a design statement in any room of your home.
Sold with and without a mirror attachment, you could argue that the Vulcano shouldn't make it into our list of top vertical mirrored radiators, but we feel it's just too damn stylish to leave out.
Featuring curved edges and middle connection valve inlets, the Vulcano is as modern a radiator as you're likely to find at BestHeating.
Available in both mineral white and anthracite finishes, the Vulcano boasts a mid-range heat output of 2751 BTUs (806 Watts) which is ideal for standard UK bathrooms or larger en-suite spaces.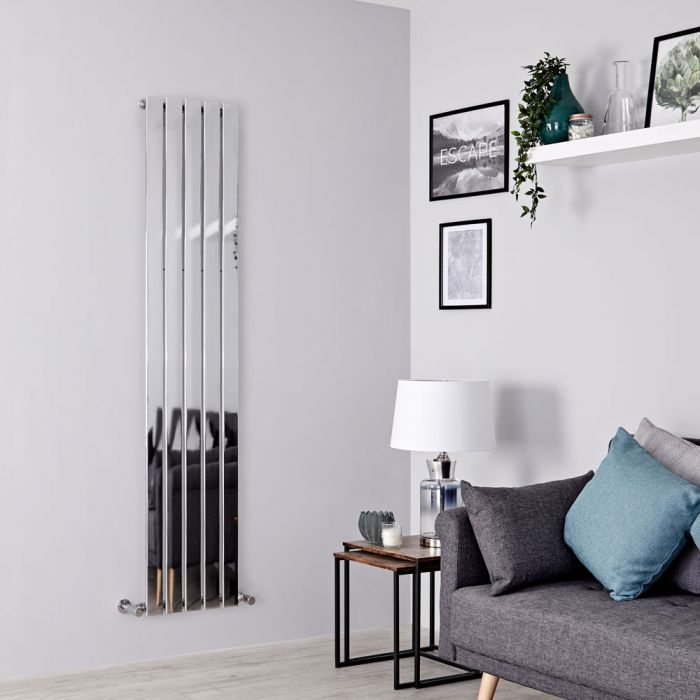 A full length reflective mirror radiator like the Alpha from Milano is a practical and stylish addition for a bathroom or en-suite.
With an impressive heat output of 2120 BTUs (621 Watts), this modern designer radiator is powerful enough to heat a small bathroom space to a nice comfortable temperature.
Although not technically "mirrored", the reflective design of the finish is clear and crisp, and will help to reflect light back into your space.
With a tall design that will help to draw the eye upwards, this vertical mirrored radiator is great for rooms with limited wall space and is sure to add a touch of the "wow" factor to your home.
What our customers say about the mirrored Milano Alpha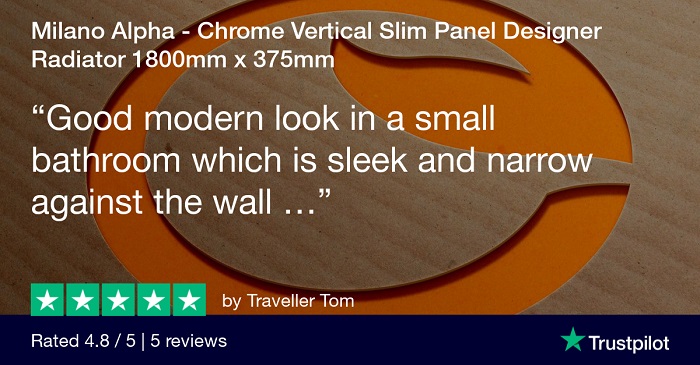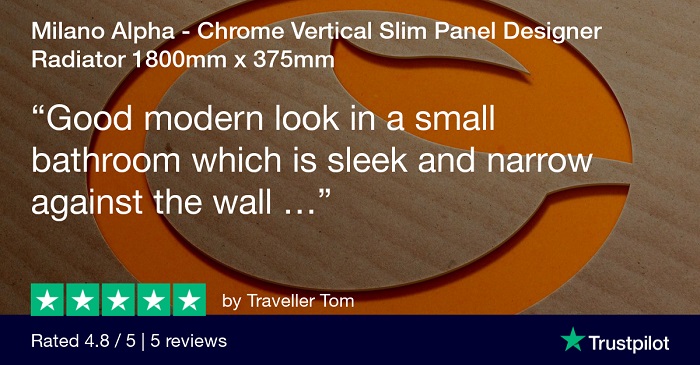 Where do mirrored radiators work best?
Unlike radiators without an integrated mirror, a mirrored radiator is best placed in a part of your home in which the mirror serves a purpose.
It's great buying a radiator for the way it looks, but there's very little point in installing a mirrored radiator in a room where the mirror never gets used.
We find that our customers tend to place their mirrored radiators in hallways, staircases and (in some cases) the lounge; all locations where the mirror plays its part best.
In a hallway, a mirror radiator serves the double purpose of heating the space and providing you with somewhere to check out how you look before you leave the house.
Bathroom mirrored radiators do a similar thing, only in a bathroom the light they reflect can also help to make a room that is usually quite cluttered appear bigger than it actually is.
That's not to say that you couldn't use a mirrored radiator in a bedroom or a dining area – as you can put it wherever you want (within reason) – it's just that hallways and bathrooms often call for the double feature of heating and reflection.
Mirrored radiators in our customers' homes
Buy mirrored radiators at BestHeating
At BestHeating our radiator specialists are on hand to help you make the very best heating choices.
If you're struggling to find the perfect mirrored radiator for your home, just drop us a line on 0344 417 2563 or email info@bestheating.com and one of our expert team will help you with any questions you may have.
Stay safe and happy (mirrored) heating!

John trained in journalism before finding his way to the BestHeating Advice Centre team. He uses his journalism skills to meticulously research heating topics and bring you the latest news and views on all things home heating related. He'll also beat you at any sport that involves a cue!