Whether you are planning a full bathroom remodel, or a simple style refresh, choosing the right bathroom radiator for your space will make a big difference to the look and feel of the room.
In this comprehensive bathroom radiator buying guide, we'll help you find the best radiator or heated towel rail for your bathroom by exploring the different design, functionality and installation options.
Central heating, electric, or both?
Before you think about potential bathroom radiator designs, it is a good idea to think about which type of heating system you have and which options are available to you.
Plumbed radiators
Plumbed radiators or hot water radiators are connected to your central heating system and are heated up by hot water that flows through the pipes from the boiler. This is the most common type of home heating.
Since plumber radiators work with the entire central heating system, if you have your heating switched off in the summer that means that your bathroom radiator will be off too.
Electric radiators
Electric radiators heat your home more efficiently by working independently from your central heating system.
This makes them ideal for bathrooms since you can give your bathroom a boost in the summer and keep your towels warm and dry even when the heating is turned off.
Many new builds have an entirely electric heating system, but you can still install an electric radiator if your home has central heating.
Dual fuel radiators
Dual fuel radiators provide the best of both central and electric heating.
Instead of operating only independently from your central heating like electric radiators, they can also be set to work as part of your central heating system.
This gives you even greater control and flexibility of your heating. In the winter, your dual fuel bathroom radiator can work with your other radiators to heat your entire home. Then in the summer when the heating is turned off, you can still have a warm bathroom by setting your dual fuel radiator to electric mode.
Which size bathroom radiator do i need?
Once you have an idea of which type of bathroom radiator you are looking for, the next thing you need to do is work out how much heat the radiator needs to provide in order to keep the space a comfortable temperature.
Getting the heat output right is particularly important in the bathroom since you want the room to feel calm and inviting to help you unwind, and warm towels make the experience even more relaxing.
To work out the heat requirements of your bathroom, you need to find out some information about your room dimensions, window size and wall material and input the details into our BTU Calculator.
The calculator will use the data to give you the total number of BTUs (or Watts for electric radiators) required to adequately heat the room, and give you an idea of what size bathroom radiator you need.
It is up to you to think about the layout of the room and whether you want to install one large radiator that meets the BTU requirements, or multiple smaller bathroom radiators that add up to the total BTUs.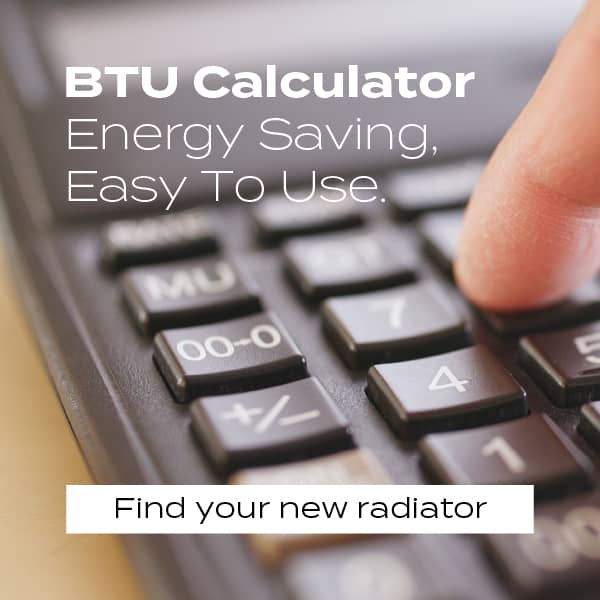 What materials are bathroom radiators made from?
Our stylish bathroom radiators are made from the highest quality conductive materials. Each material has its own benefits depending on your preference and where the radiator will be installed.
Steel
Many of our heated towel rails and designer radiators are made from 1.5mm thick steel. Steel is a fantastic material for radiator production because of its durability and robust quality. In other words, steel bathroom radiators are built to last.
Some examples of our popular steel bathroom radiators include our minimal Milano Nero heated towel rails, our classic Windsor column radiators and our modern Milano Aruba designer radiators.
Aluminium
With several heating and installation benefits, aluminium is often considered the most effective for material for radiator manufacturing.
Aluminium is incredibly lightweight yet durable, making aluminium radiators perfect for installing on stud partition walls.
In addition to the lightweight construction, aluminum radiators are also the most energy efficient. This is due to the fact that the radiators heat up much faster than steel and don't have to be on as long in order to reach their maximum temperature.
Therefore, although aluminium radiators may be slightly more expensive to buy, they could save you money in the long run by reducing your heating costs.
If it is an aluminium heated towel rail you are interested in, our beautiful brushed chrome Milano Passo might be just what you're looking for.
For a designer radiator alternative, we have plenty of contemporary options in both horizontal and vertical styles like our Milano Skye and Aruba Ayre ranges.
Stainless steel
Made from Grade 304 stainless steel, our stylish stainless steel bathroom radiators provide guaranteed quality. Efficient heat conductors and retainers, stainless steel radiators stay warmer for longer compared to other materials.
Another amazing benefit of this impressive material is that they are resistant to corrosion. This means that they do not rust! So you can enjoy very low maintenance and your beautiful bathroom radiator will look as good as new for a lifetime.
Our contemporary Milano Esk stainless steel heated towel rails feature a minimal ladder style design to help you create a modern luxury feel. They are even available in efficient electric options.
Where should i install my bathroom radiator?
Depending on the size and layout of your bathroom, there are a couple of options that you might want to consider for the position of your radiator to enhance the function of the space.
If your bathroom has a window and there is enough space underneath it, installing your radiator under the window could be the best option since it will be the coldest part of the room.
This means that the cold air will enter through the window and improve the heat conduction by allowing the warm air from the radiator to circulate through the room and create a comfortable ambient temperature.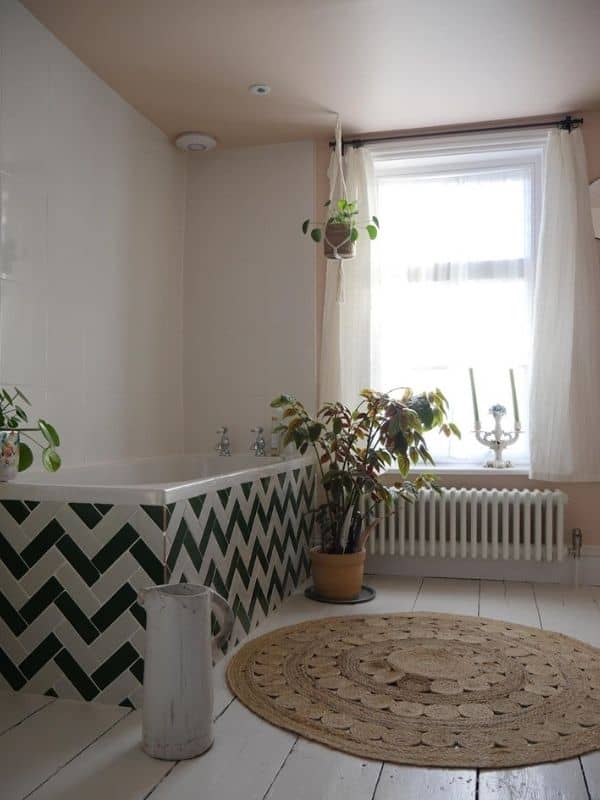 Low level radiators are a great option for installing under bathroom windows like this lovely little Windsor in this beautiful bathroom over at @house.maud.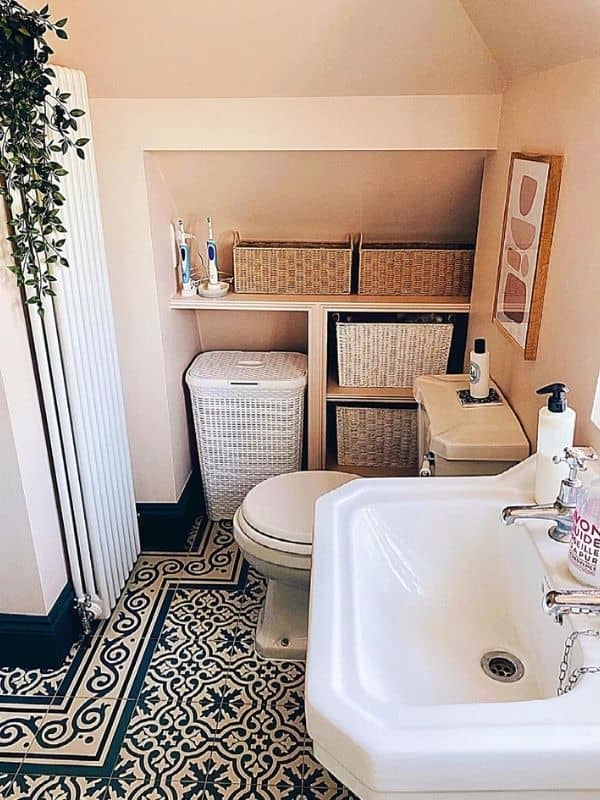 For smaller bathrooms or ensuites, slim vertical designer radiators and column radiators are a stylish way to save space and provide plenty of heat. Just like this dreamy boho bathroom over at @lissylalaland.at.home with our vertical triple column Windsor.
Although keeping your pipework the same may be a tempting option for ease and speed, we would always advise considering if moving the current radiator placement would improve the layout out the bathroom.
After all, bathrooms are functional spaces that require valuable wall and floor space. So moving the radiator could actually free-up space for your dream bathtub or vanity unit.
As a general rule for installation, radiators should be mounted at least 150mm above the floor. It is also a good idea to keep the space around the radiator as free as possible to ensure that the heat can travel freely around the room.
For another clever use of space, our contemporary mirrored vertical radiators combine two bathroom features in one modern design to half the space needed to fit.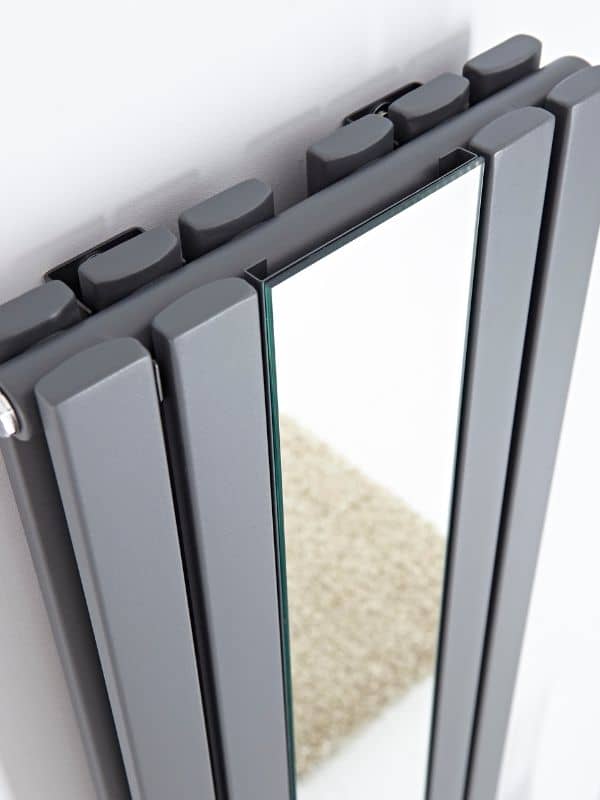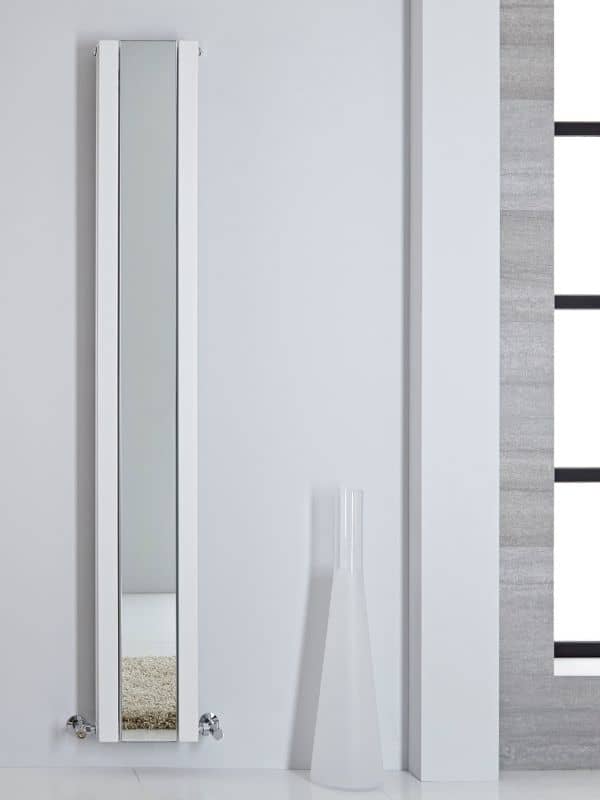 Which style suits my bathroom?
Of course the purpose of a bathroom radiator isn't purely functional, you want it to look amazing too! The good news is, there are so many beautiful designs, sizes and styles to choose from now, you have plenty of options to help create your dream bathroom.
But, how do you decide which style radiator will suit your bathroom? Before you dive in and make a purchase, take a few steps back and think about the overall mood that you want to create.
Do you want your bathroom to feel like a minimal Scandi spa? A cosy, country cottage? Or, an eclectic mix of both interior styles?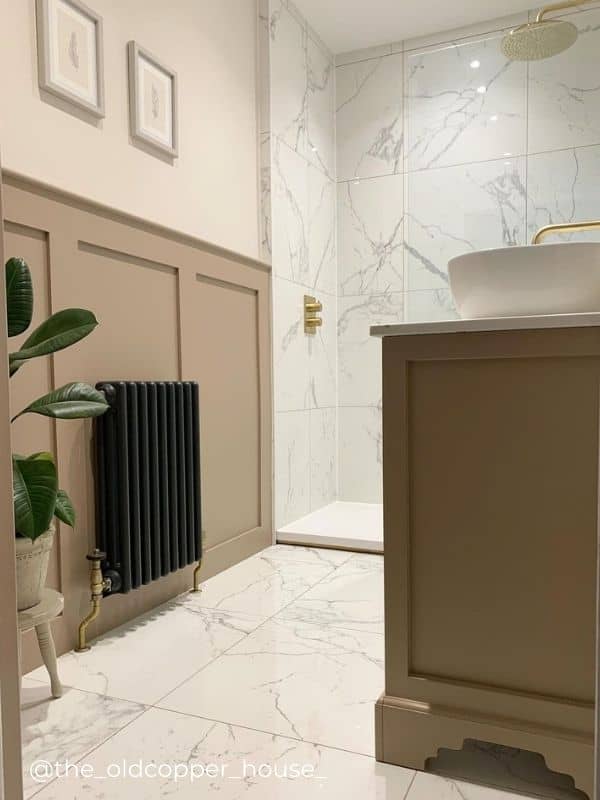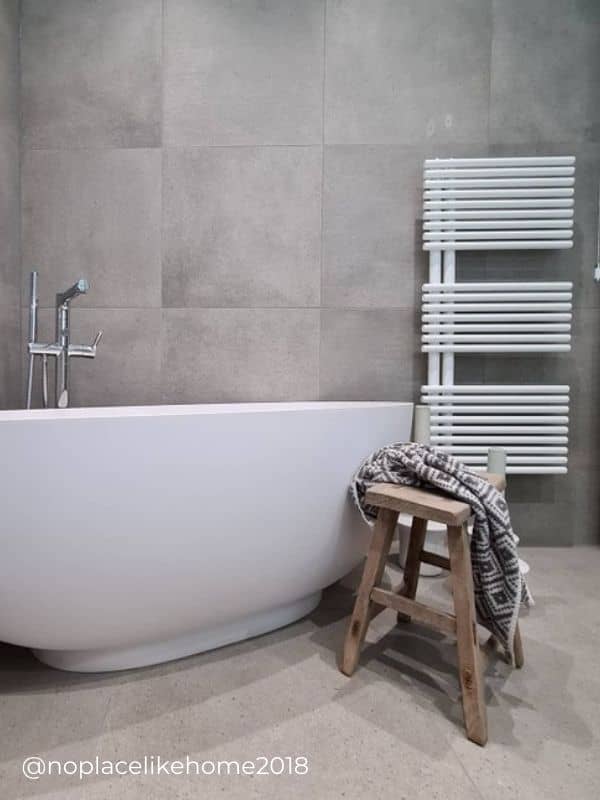 If you are designing your bathroom from scratch, you may have already found one element you love, like a vintage style brassware.
If that is the case, you can use this piece to inspire the entire bathroom interior, radiator included!
For example, our Milano Elizabeth heated towel radiators feature a traditional column insert and look beautiful paired with antique tap style radiator valves to help you create a seamless look with your chosen brassware.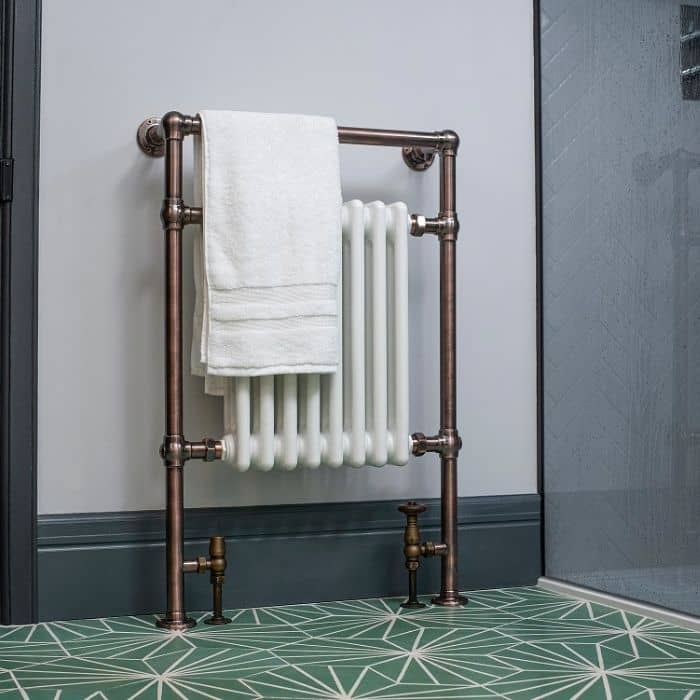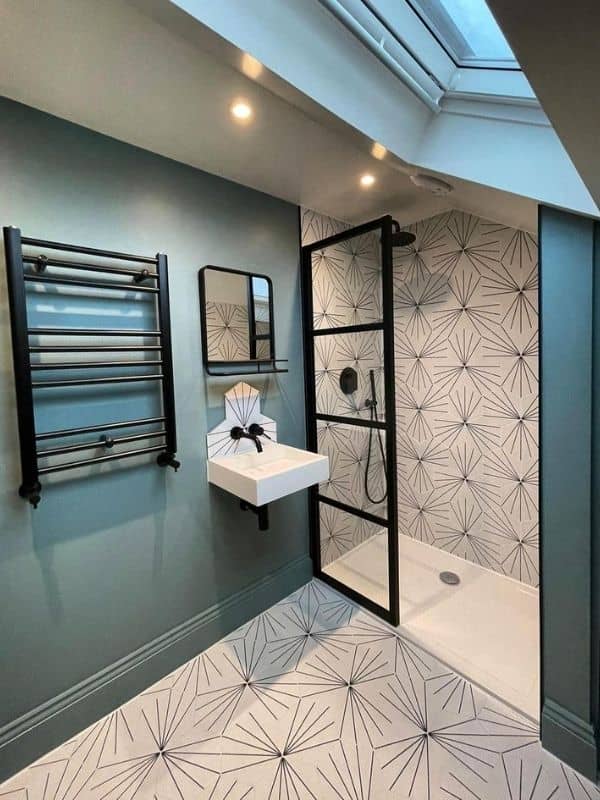 Modern minimal bathroom radiators
We love the clean lines and contemporary feel created by @surreymumof3 with our Milano Nero matt black heated towel rail. The finish complements the monochrome interior perfectly and the minimal ladder rails and crittall shower frame make a beautiful combination.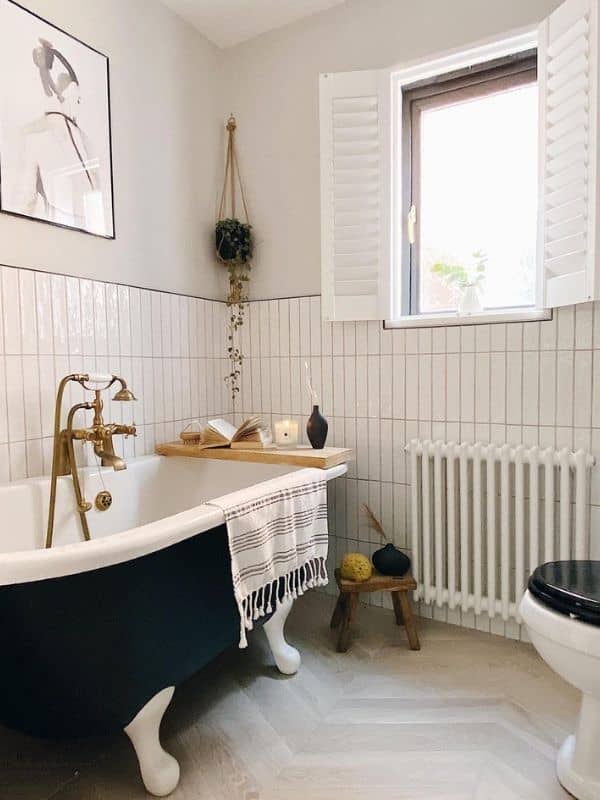 Timeless traditional bathroom radiators
For a cosy, period style look with a scandi boho feel like @my_grey_place, our Milano Windsor classic column radiators create a dreamy feature and enhance the elegant details in the bathroom.
Do you require towel storage?
If you have a busy family bathroom where function and practicality takes priority, a bathroom radiator that provides plenty of towel storage will most likely be your best option!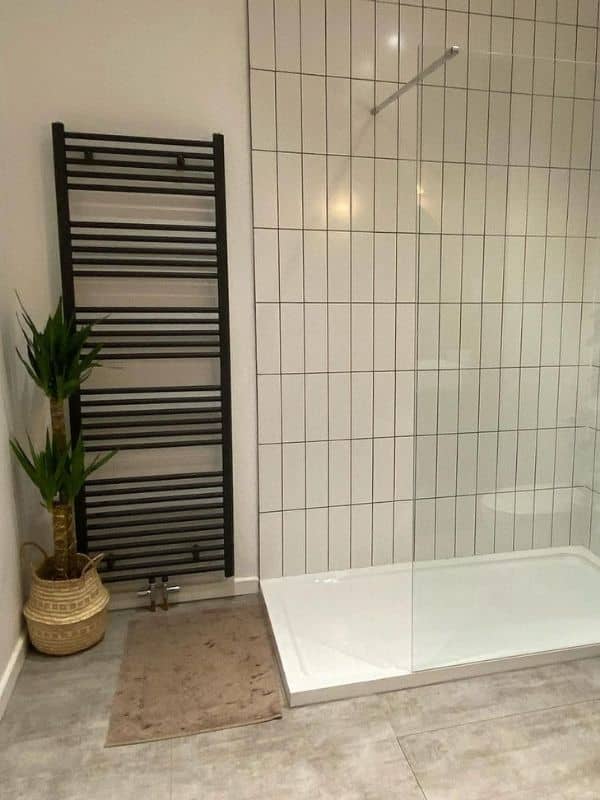 Ladder style heated towel rails provide plenty of space to dry and store towels whilst also creating a contemporary look. Like this beautiful boho bathroom over at @thewhitebungalowuk with our Milano Neva central connection heated towel rail in anthracite.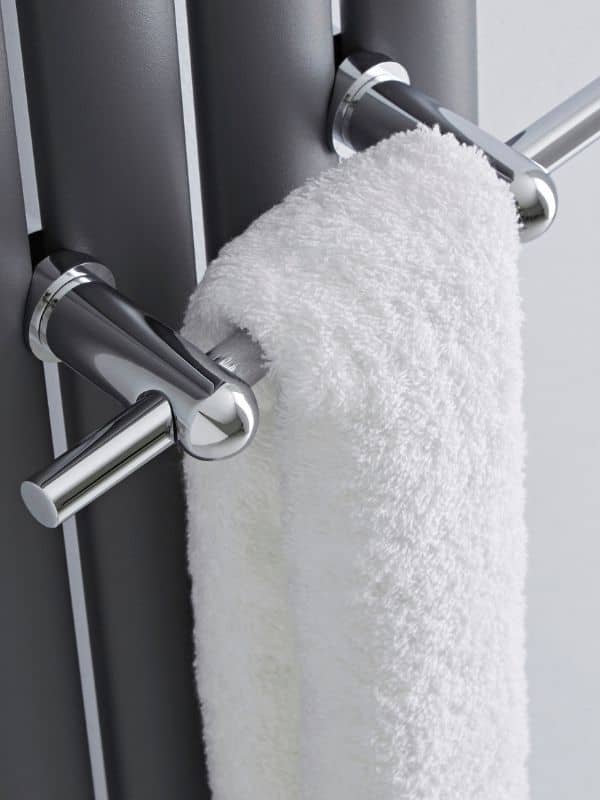 For smaller bathrooms that require a little extra towel storage, our Milano Aruba vertical radiators feature a slim space-saving design and can be paired with robe hooks or rails.
@gems_1920s_home swapped their standard convector for an Aruba with an attachable towel rail and we love this transformation!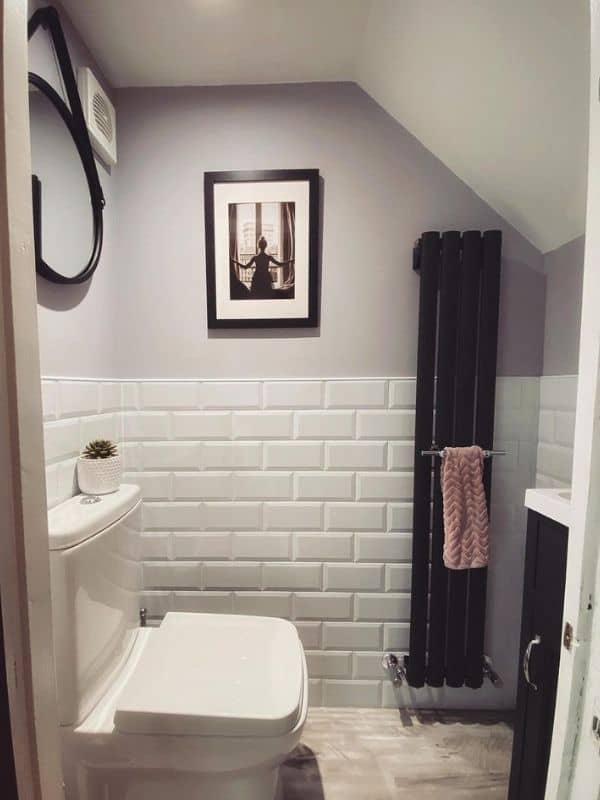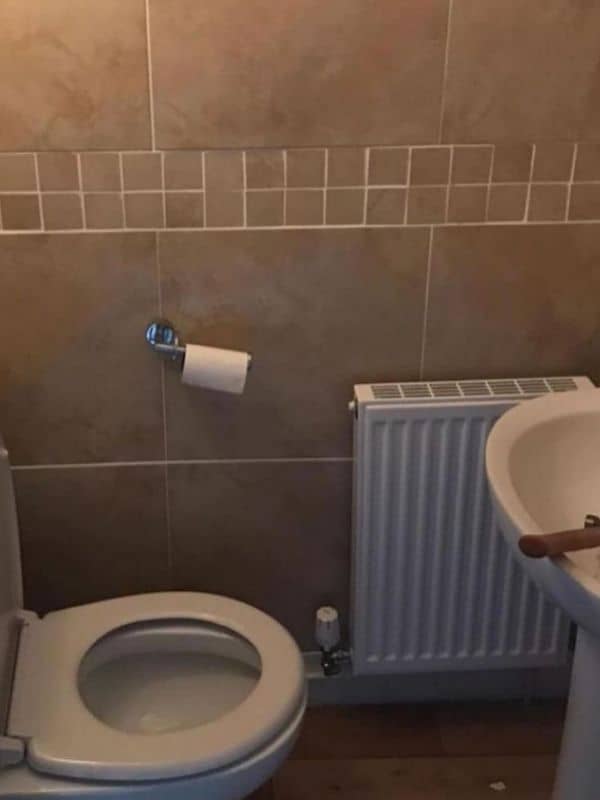 If you prefer folding your towels to keep them organised, our Milano Pendle shelf style heated rails are designed to provide plenty of surface area on top to store your towels, as well as rails underneath to hang them.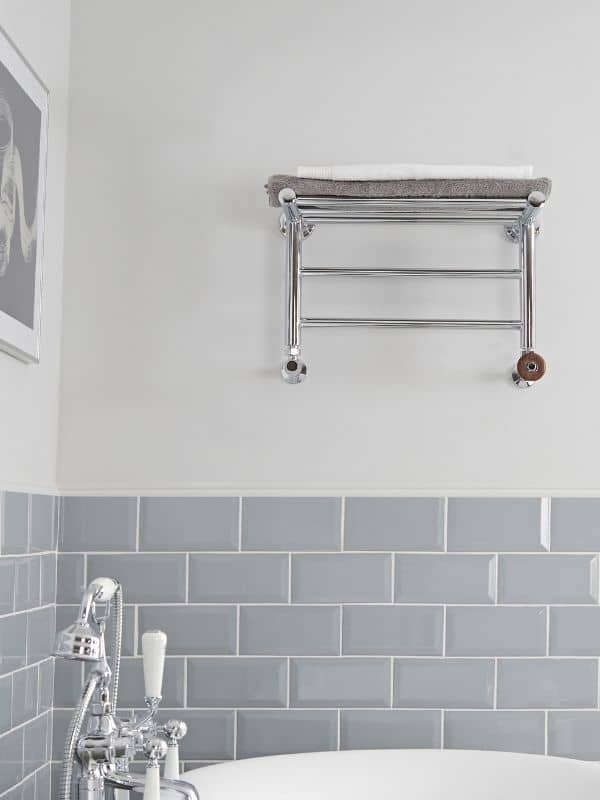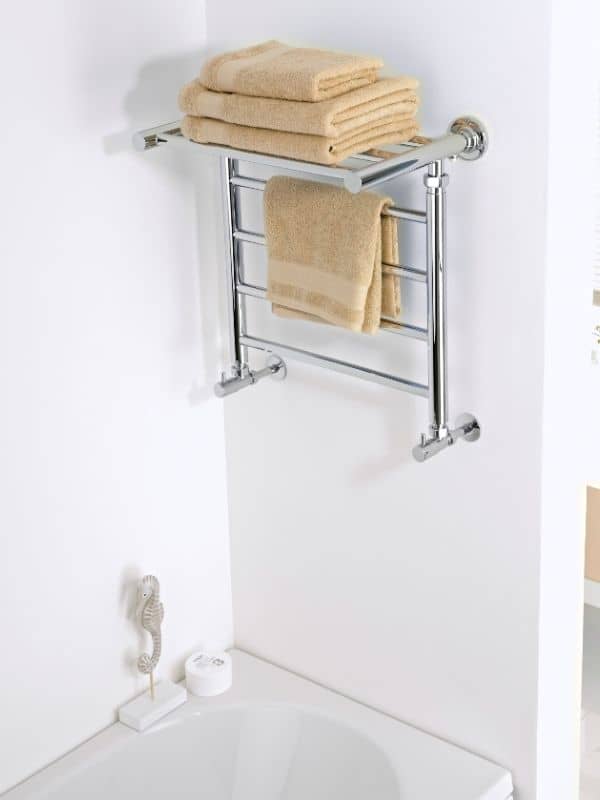 Is a towel rail as good as a radiator?
In general, towel rails don't provide as much heat compared to radiators of a similar size. But, that doesn't mean they are not as good and don't serve a purpose!
For example, a tall ladder style heated towel rail like Milano Via – 1823mm x 400mm provides 1177 BTUs at Delta T50, whereas a vertical designer radiator like the Milano Aruba – 1780mm x 354mm (Double Panel) provides more than double with 3750 BTUs at Delta T50.
However, as we mentioned earlier, a tall heated towel rail might still be the best option if you require lots of towel space!
So to compensate for the heat output, many people pair a towel rail with a small radiator to ensure there is enough heat pumping out to keep large bathrooms a comfortable temperature.
Just like @emilyrachelshouse has done!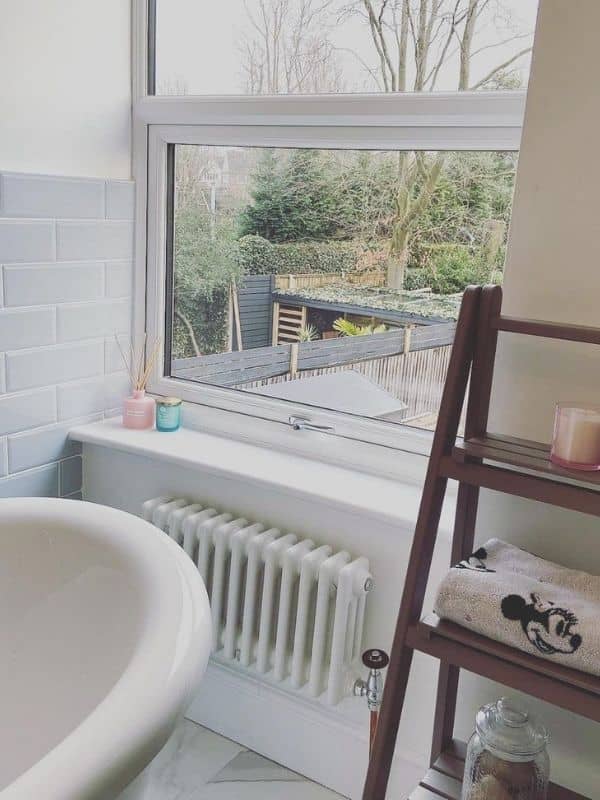 Which radiator finish complements my fittings?
If you love a coordinated look with matching fixtures and fittings, the good news is you now have the option to match your bathroom radiator to your dream colour scheme.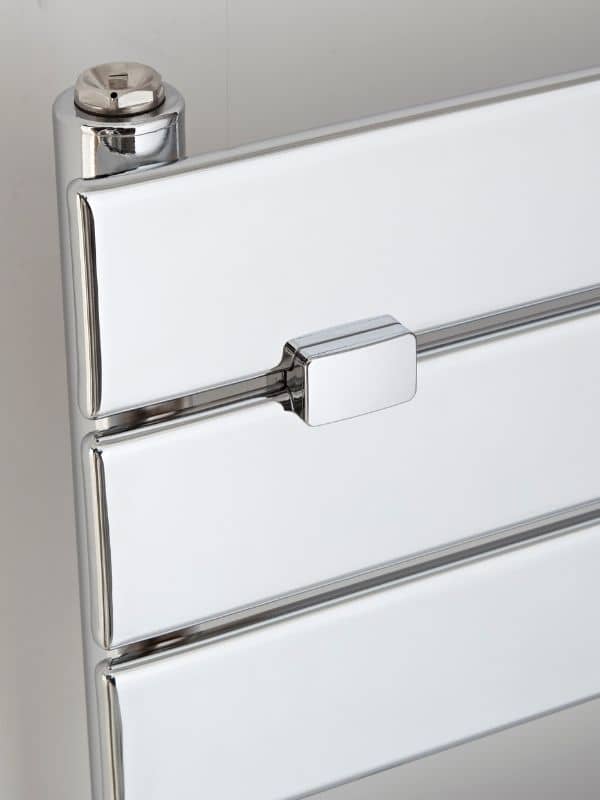 Chrome bathroom radiators
Chrome is a classic finish that creates a bright, clean look and complements every colour scheme.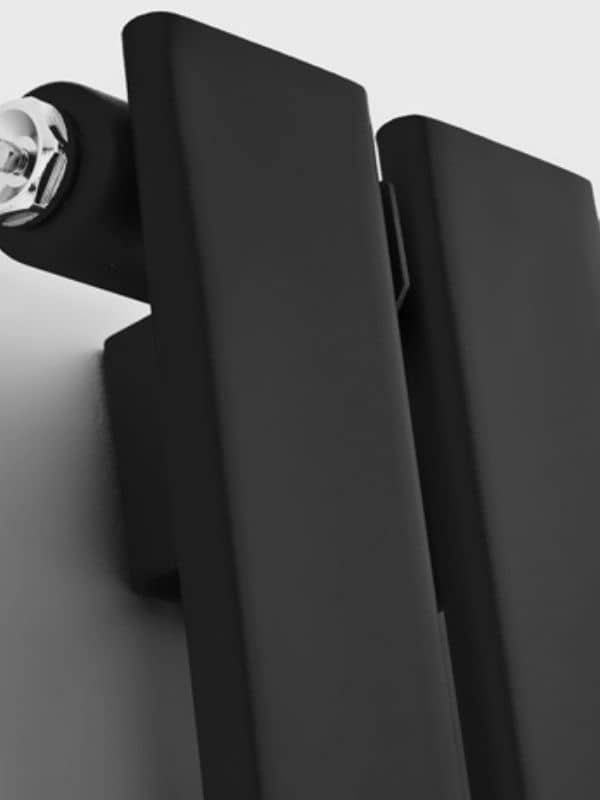 Black bathroom radiators
The black bathroom trend is here to stay and a matching radiator will help you create a modern monochrome scheme.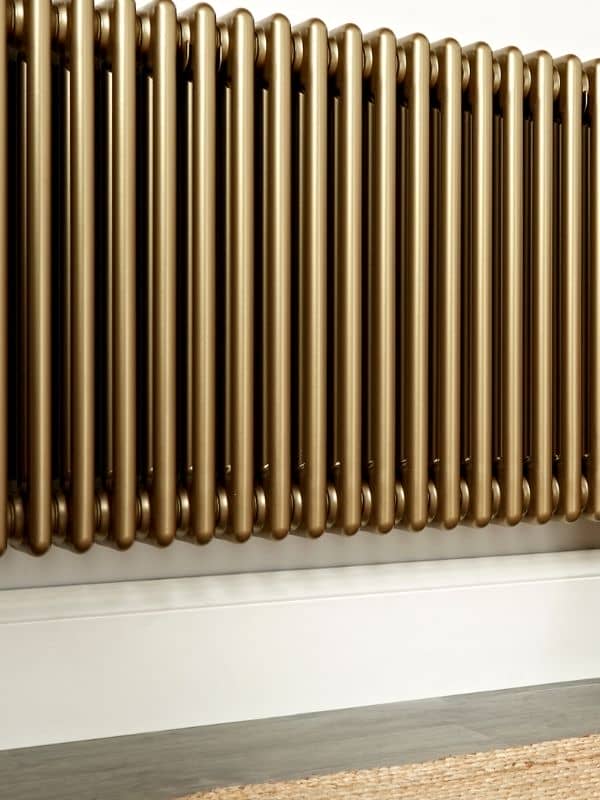 Metallic bathroom radiators
For a subtle shimmer and a luxe art deco feel, our elegant gold, silver, bronze and copper metallic column radiators will add a little glamour to your bathroom decor.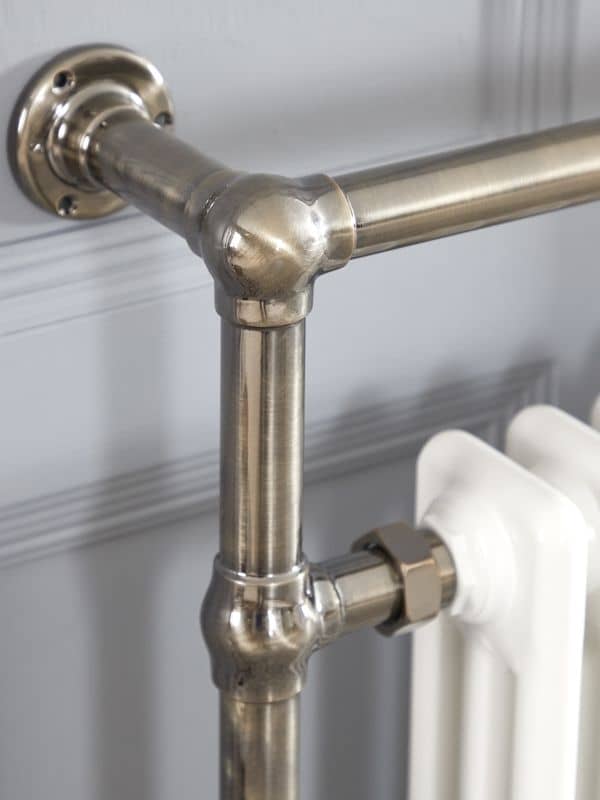 Brushed brass bathroom radiators
With a warm hue and a beautiful textured quality to the finish, our brushed brass bathroom radiators help you create an original period property feel.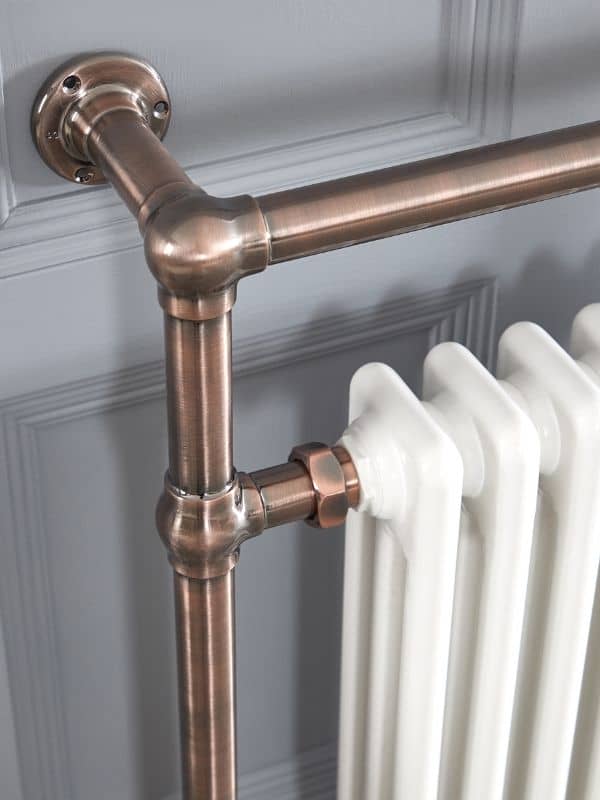 Oil rubbed bronze bathroom radiators
Perfect for creating a mid-century modern look, our oil rubbed bronze bathroom radiators look beautiful paired with teak vanity units.
Which bathroom radiator valves do i need?
There are lots of different types of radiator valves including angled, corner, straight and H-block. Which type you need depends on where your bathroom radiator inlets are and where your pipework will be positioned.
To find out which type you need, head over to our radiator valves guide.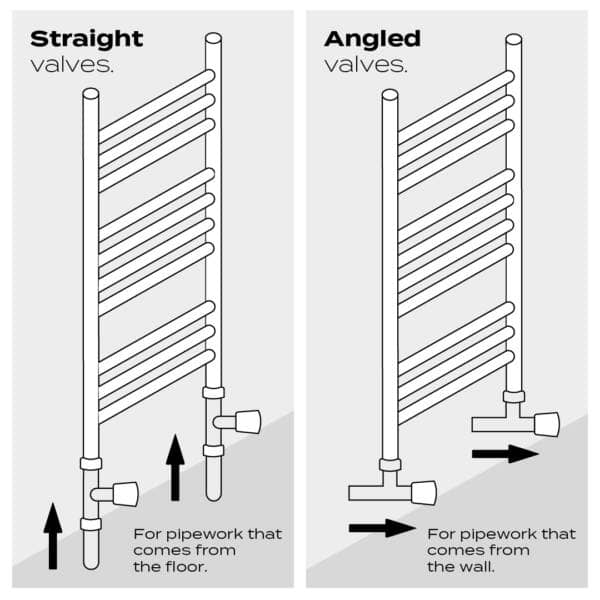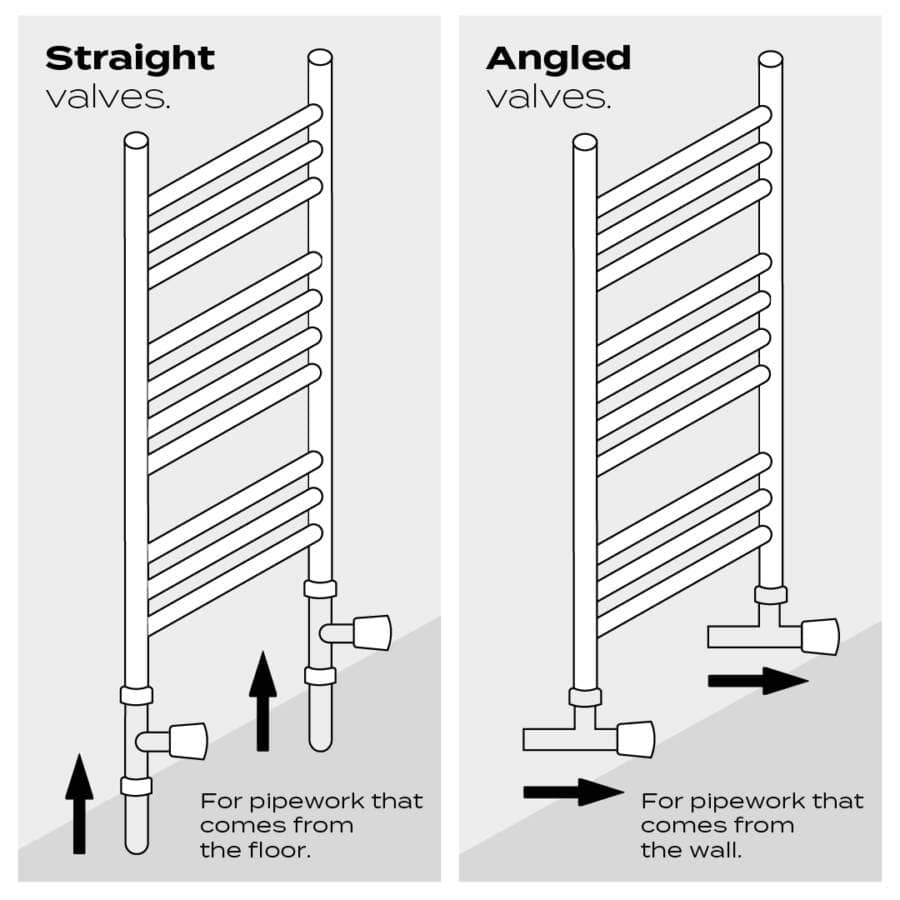 Once you know which valves you need, you can then decide what you want them to look like. From modern minimal to ornate antique style, you will easily find a design that complements your bathroom decor.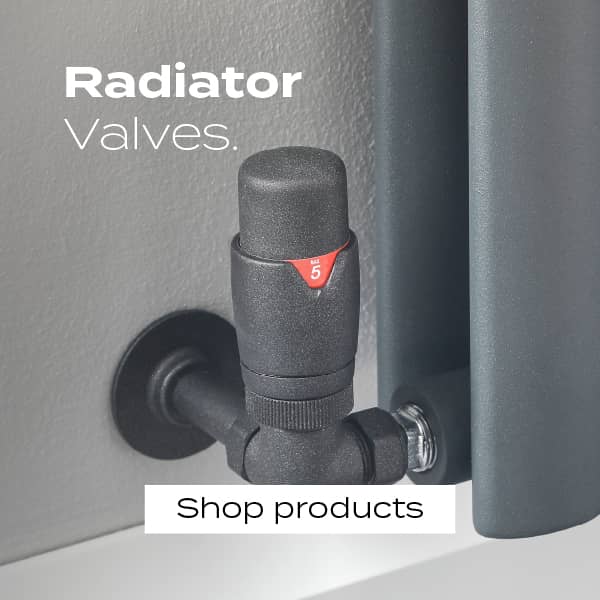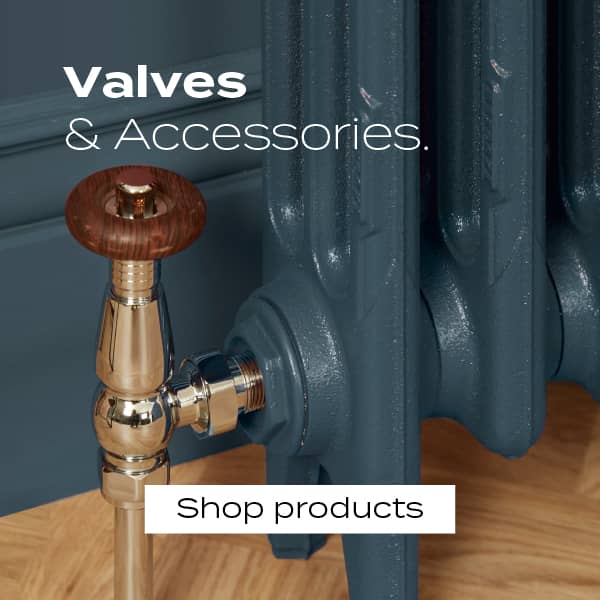 How much will it cost to fit?
Unless you have previous experience installing radiators, we would always recommend contacting a Gas Safe Registered plumber to fit your bathroom radiator.
And if you have decided to opt for an electrically heated radiator, this must be hardwired into the electric and installed by a qualified professional by law.
The cost to fit your bathroom radiator varies greatly depending on a number of factors and starts around £200. For example, if pipework requires adjusting, the size and type of radiator, and your location in the country.
You can find out the average totals in our cost to fit a bathroom radiator guide.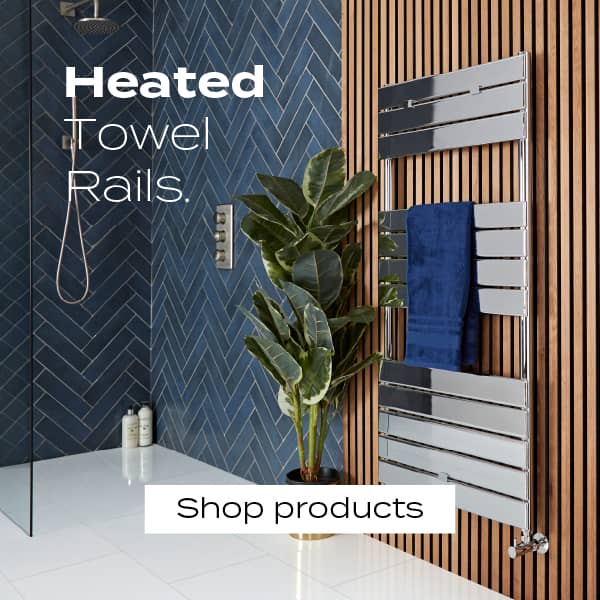 Jess has a passion for interior design and wants to inspire people to look at radiators as home decor. She enjoys keeping on top of the latest design and heating trends to ensure the Advice Centre has all the information and inspiration homeowners need to make the best choice for them.