The Do's & Don'ts Of Positioning Your Radiator
If you have a radiator in your living room, it's likely to be beneath the window, on an exterior wall.
And if you're thinking of replacing it, you've probably assumed your new radiator needs to be mounted in exactly the same place.
But think again…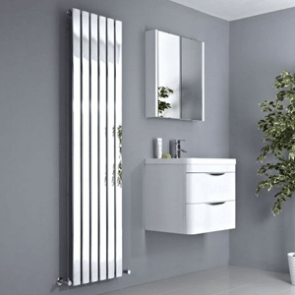 Although radiators have typically been installed in this position for decades, technological advances in home heating mean that traditional limitations, which may have restricted radiator placement in the past, have been removed.
Available in all sorts of wonderful shapes and sizes, today's designer radiators can be fitted in a multitude of places, including alcoves and internal walls.
This can help to make the best use of limited wall space and create a striking focal point in the process – proving that radiators are no longer just a metal box that kicks out a bit of heat!
While you no longer need to fit your radiator under the window, there is some logic in doing so.
Historically, radiators were fitted in the coldest part of the room – the exterior wall – where cold air would enter and drop to the floor.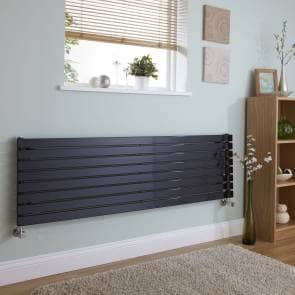 In times when double glazing was almost unheard of, placing the radiator here helped to eliminate the cold draught that would often come through the window.
However, with double glazing standard in almost every home, we now have the freedom to position our radiators almost anywhere we choose. To ensure you get the best from your radiator and allow for optimum heat output, there are a number of important points to remember, though…
Keep It Away From Furniture
Wherever you choose to put it, try not to position your radiator behind large items of furniture, such as the sofa or cabinets. Doing so will restrict the flow of hot air around the room. Keep the immediate area surrounding the radiator as clutter-free as possible to allow the heat to successfully travel and permeate the room.
Avoid Full-Length Curtains
If your radiator is swamped by floor-length drapes, the heat is trapped, and cannot fill the room. Similarly, mid-length curtains can restrict the heat output of convector radiators which blow air from the top. Try and ensure your radiator is positioned away from curtains and upholstery that could affect its performance.
Can You Position A Radiator Behind A Door?
In some instances, particularly in smaller rooms, positioning a radiator behind a door may be your only option. Since radiators move heat around the room via convection, positioning the radiator here shouldn't be a problem.
However, this depends on the temperature of the space that the door connects to. For example, if the door leads out into the hallway which is usually quite cold, then the heat will go straight to the colder area. Leaving the room that you are trying to warm up with no heat when the door is open.
It may sound a little obvious but you should also make sure that there is enough space to open the door properly if your radiator is right behind it. Especially with little ones running around – the last thing you want is a big dent or scratch on your shiny new radiator!
Don't Let The Pipework Dictate The Position
While it's tempting to stick with what's already there, don't let the pipework you currently have in place dictate where you place the radiator. Changing its location could free-up valuable wall and floor-space, which you'll find can be put to better use.
Choose A Style That Suits The Space
Slim-line, vertical radiators are ideal for the kitchen, where wall-space is largely consumed by units and worktops. Choosing a style that is in keeping with the kitchen decor will also enhance the overall look of the room. Opt for a traditional, column radiator in country-farmhouse style kitchens, or a sleek, high-gloss model if your kitchen is contemporary.
Could A 
Low Profile Radiator Be The Answer?
If you're heating a conservatory or a room with very low windows or a small amount of space, perhaps opting for a low-level radiator could be the answer.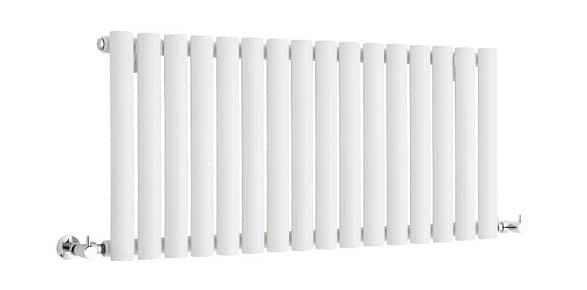 They're perfect for adding a little touch of luxury to a space and kick out a fair amount of heat considering their size.
You could say they are the pocket rocket of the radiator world.
Have You Thought About Dual Fuel?
If you're replacing the heating in the bathroom, consider a dual-purpose heated towel rail, which will keep the bathroom cosy and welcoming, as well as the towels warm and dry. The right position is crucial here; be sure to place the rail as close as is possible to the shower or bath, so that towels are within reaching distance.
Would A Convector Radiator Be Better?
Similarly, if you have no choice but to place the radiator behind furniture due to space-restrictions in your room, consider choosing a convector radiator which will emit heat from the top instead of a panel which will radiate heat straight into the back of the settee or furniture.
Don't Forget To Insulate
If you simply have no choice, or you do choose to place your radiator on an exterior wall, be sure to insulate it well. Placing a sheet of foil-faced, expanded polystyrene lining behind the radiator will ensure that heat is reflected back into the room, instead of being lost through the outside wall. This is a cheap and convenient way of maximising the heat output of your radiator.
What About Electric Wall Radiators?
Electric wall radiators are great because you don't have to have your central heating on for them to work. This gives you even more flexibility when choosing where to position them.
Plus, with new attractive designs now available you no longer have to hide your electric wall radiator.  A good place to start is to think about which rooms have fluctuating temperatures.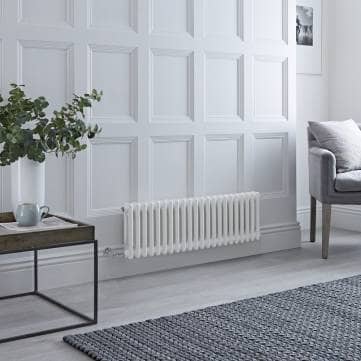 For example, the kitchen will get hot when the ovens are on. So, an electric wall radiator in the kitchen would be great because you can turn it off but still keep the central heating on to warm the rest of your home.
This is the same idea in the bathroom. You might not want to put your heating on in the summer, but still want to get your towels nice and warm. So an electric heated towel rail would be perfect.
Of course, where in the room you position your electric radiator depends on where the mains electricity is. If you go for a plug-in electric wall radiator you can hang it wherever you have a plug socket. This should be easy enough to do yourself. But, if you choose to hardwire the radiators into the mains, we would advise getting help from an electrician.
So Go & Make The Most Of It!
Hopefully, these useful tips will give you the confidence and inspiration to think outside the box when it comes to positioning your radiator. And, with so many styles and finishes in the BestHeating.com range, the possibilities really are endless!
Stay safe and happy heating.
Need help installing or moving your radiator? Take a look at our chief installer and keep an eye out for some tips on how to adjust your pipework to move your rad.

John trained in journalism before finding his way to the BestHeating Advice Centre team. He uses his journalism skills to meticulously research heating topics and bring you the latest news and views on all things home heating related. He'll also beat you at any sport that involves a cue!
https://wpcdn.bestheating.com/info/wp-content/uploads/2016/06/bh-blog-position-rad.png?strip=all&lossy=1&quality=70&ssl=1
245
700
John Lawless
https://wpcdn.bestheating.com/info/wp-content/uploads/bh-wordpress-advicecentre-logo-196x50-2.png
John Lawless
2016-06-22 18:42:21
2020-11-09 16:33:34
Where To Position A Radiator