Colourful home heating inspiration
If you're still associating generic tones with radiators, you're doing it all wrong.
Black and white were long considered the standard bearers of a limited colour choice when it came to home heating solutions. But that's all changed.
Nowadays, you can find coloured radiators in all sorts of different shades and styles to match up with almost any existing interior colour scheme.
Which radiator colour best suits your personality, though?
We've taken a deep dive into the colour palette to discover the different connotations of each hue, and the traits associated with them. They're not all positive, either!
So, are you more like a Monica or a Ross? Harry or Voldemort? Jon Snow or Joffrey?
If it's the latter, we'd advise seeking some professional help. But not before you've got rid of everything standing in your way of that coloured radiator you have your heart set on.
Colour and your psyche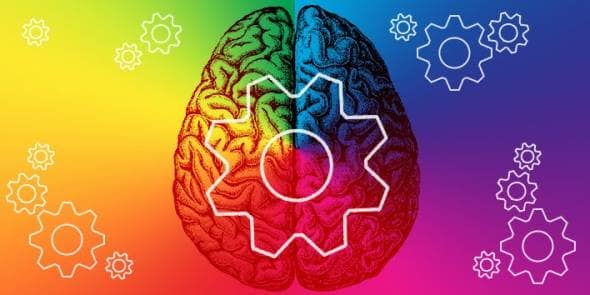 Four key colours exist with regards to colour psychology – Blue, red, green and yellow.
Boffins have determined that each of these colours are intrinsically linked to different parts of our identity as people – the mind, body and our emotions, and they have done a fair amount of research into how each of those things knit together to make us who we are.
We'll start by looking at these 'main' tones and their influence on your psyche, before examining the effects of other colours across the spectrum, and available within our full Aruba radiator range and Windsor radiator collection.
Blue is the colour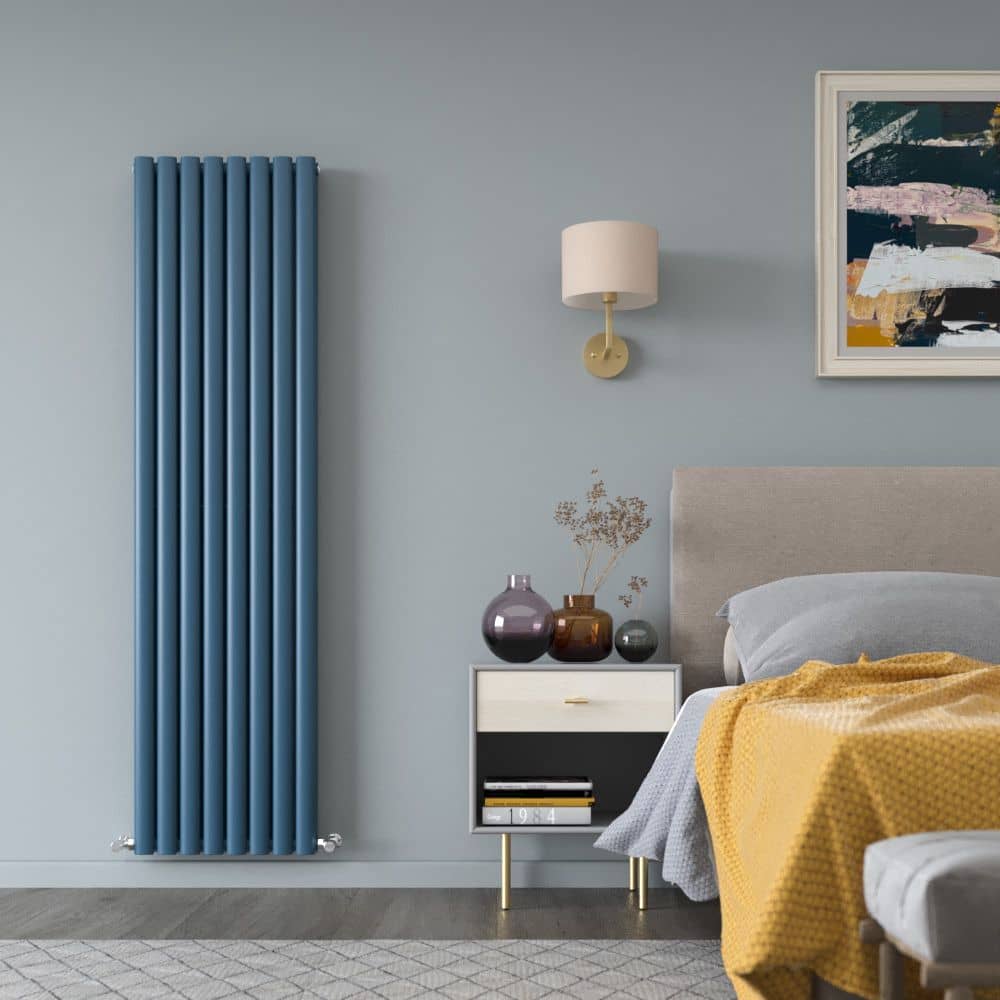 Renowned as the world's favourite colour, blue denotes intelligence in addition to loyalty, trust and tranquility. Like most shades, it ultimately influences from a mental perspective rather than physically, facilitating concentration and calm.
The introduction of a blue radiator, then, might suggest you're seeking to create a soothing home hub that contrasts from a busy, appointment-filled lifestyle away from the house. It's a colour also associated with introvert personalities, suggesting you might be the type of person who prefers to chill out indoors rather than paint the town red on the regular.
It's always more fun to look at the negatives, though.
Coldness, fear and masculinity are the less favourable traits linked to the colour blue.
So if you're the type of person who couldn't think of anything worse than a companion taking up your valuable free space in the home, or you're too afraid to commit to a partner moving in, at least you can have a blue radiator for company.
Same goes for you macho men out there. Who didn't love Randy Savage anyway?
If you've just been loosely described (even if you don't want to admit it), the only thing you should be fearful of is missing out on the chance to add a stunning blue radiator to your home. Embrace that stone-cold selfish streak and set about working out the best place possible to position your new blue rad.
When the red goes marching in
The colour most closely related to physical characteristics and tendencies, red is a truly powerful, statement-making tone.
Passion, commitment, drive and determination are all connotations of red. Along with fiery single-minded independence, if my red-headed one-year-old daughter is anything to go by.
The colour red can have a physical impact upon consumption, enhancing heart rate and providing stimulation to the senses. People opting for a red radiator can therefore be expected to like a little adventure in their life, and could perhaps be accurately described to have expressive, exuberant personalities.
Now for the bad stuff.
Red is negatively associated with danger, anger and warning signs, which is where the term 'red flag' originated from.
If you tend to go from 0-100 in a flash and your home is littered with stress balls, a red radiator could be just the ticket to keep you amped up and ready for action.
Celebrate your highly-strung side by charging to a BestHeating red rad like a bull to a red rag, and introduce a devilish sense of danger to your home interior. Your risky, impulsive decisions always pay off, right? And they surely will again if you decide to go red when you buy a new radiator.
Come on you rads in green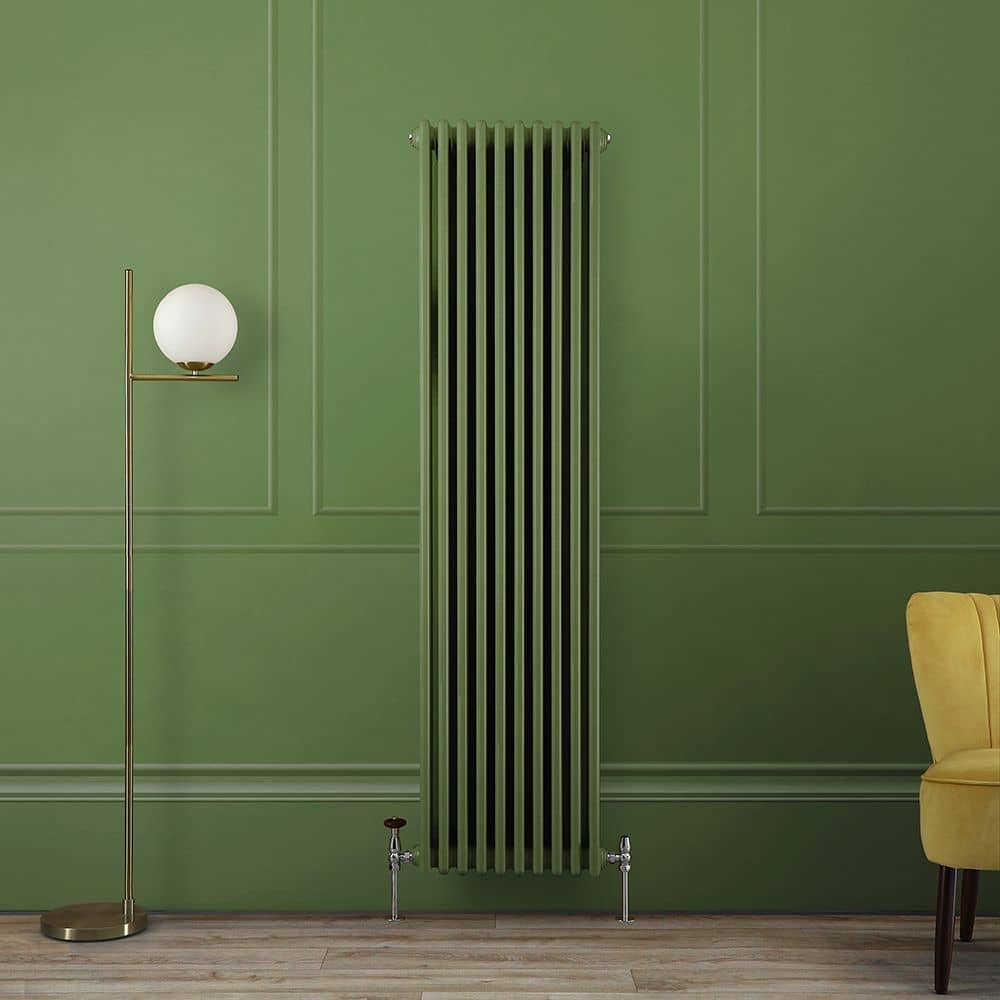 Green is centrally positioned on the colour spectrum, so serves as the neutral hue of the four primary colours. As such, it can be viewed as a means to bring balance to an interior colour scheme.
To generally profile, those looking to invest in a green column radiator are likely to be easy going, leading a practical lifestyle that healthily juggles work and free time. Trustworthiness and a willingness to help others are other favourable associated traits.
On the flip side, envy and jealousy are linked to the colour green, along with guilt.
Clearly, a green radiator will go a long way to offsetting the green-eyed monster within you that surfaces every time your friend shares an Instagram update of how their home renovation is progressing.
Freshly free from the guilt of failing to upgrade your home heating for far too long, you'll be able to revert to your usual unwinding tactics of book reading and binge series watching once your new green rad is installed.
We all dream of a team of yellow rads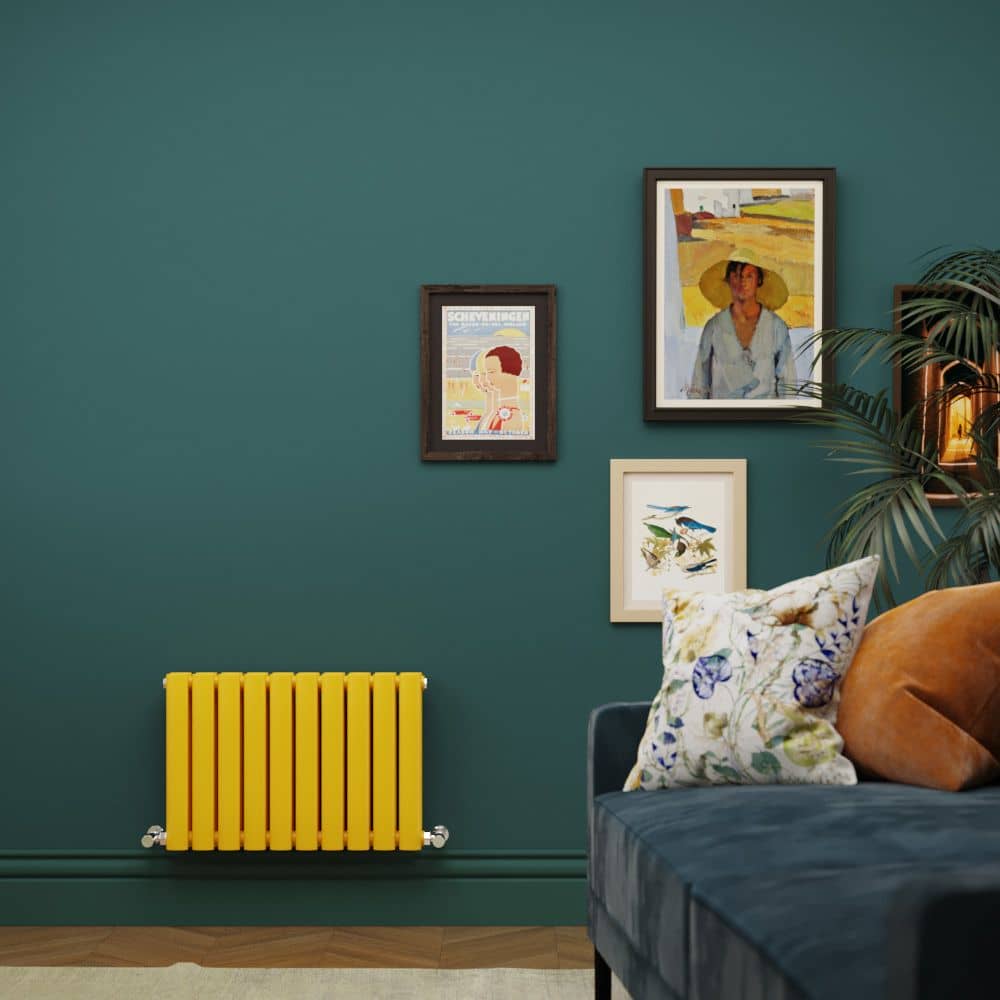 Or at least one, maybe? If you do, our colour-related psychological research indicates you have somewhat of a happy-go-lucky personality, as yellow is closely associated with brightness, energy and creativity.
A bright yellow hue can raise spirits and enhance self-esteem, and those uplifting qualities make yellow radiators a particularly popular option for dining rooms, kitchens and bathroom areas.
Irresponsibility and instability are the negative attributes linked to yellow tones, not that you should read too much into that.
Joaquin Phoenix's Joker only wore a yellow waistcoat, after all.
You'll certainly be at your brightest, bubbliest best after taking responsibility for an outstandingly eye-catching interior design vice with a stellar heat output to match in the form of a yellow designer radiator.
Alternative radiator colours and what they say about you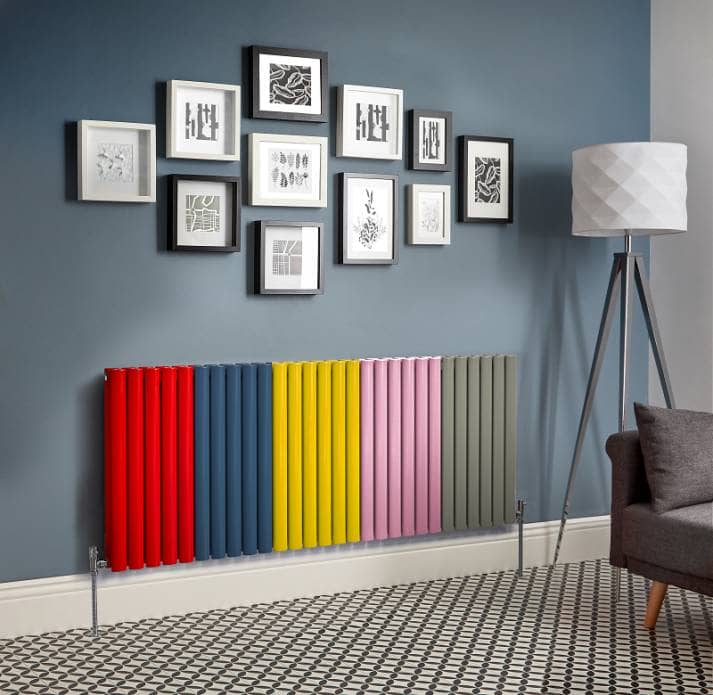 Aside from the primary colours, there's a whole variety of alternative options in terms of radiator style and shades.
But which characteristics define these supplementary tones, and what do they indicate about your personality?
We took a closer look at the 'secondary' hues on our radiator colour wheel to find out just that…
I've got my spine, I've got my orange rad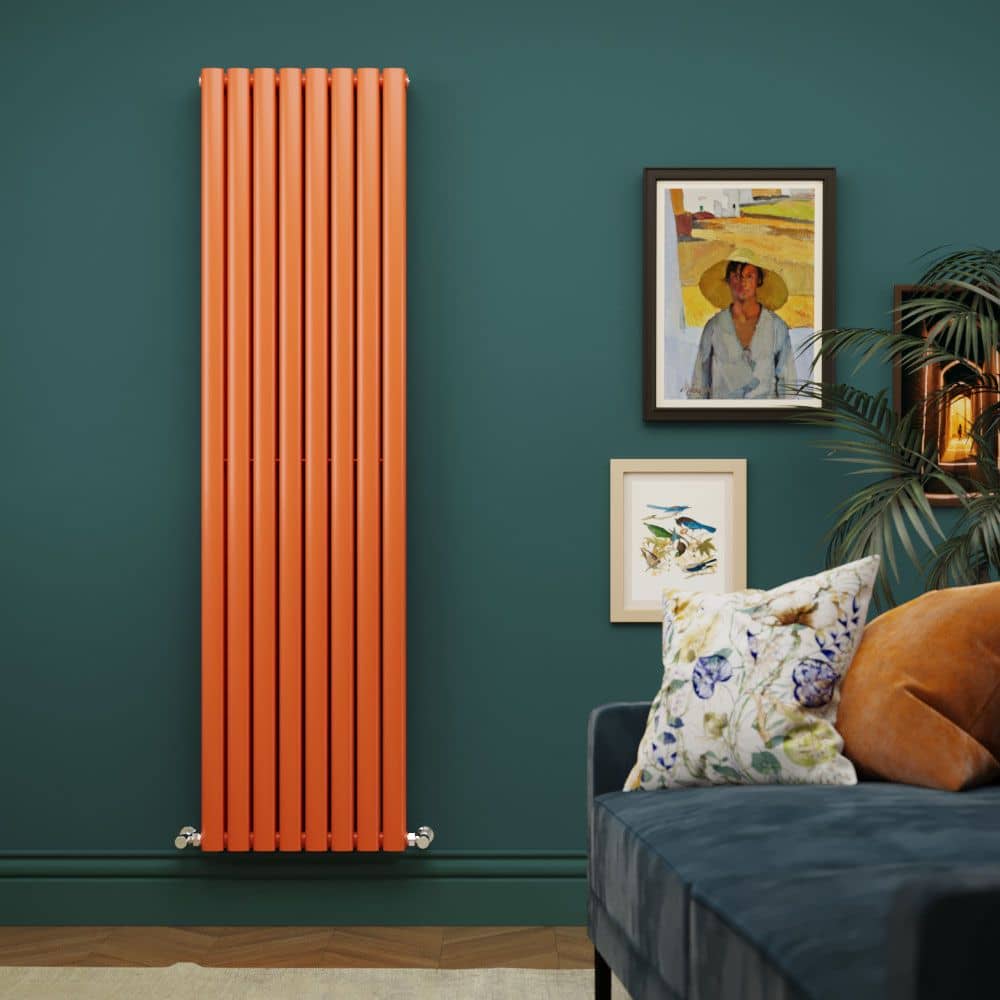 Confidence, courage and success. Not merely the hallmarks of Michael Stipe and alternative rock legends R.E.M, but traits also attributed to the colour orange in general.
If you've got an orange crush yourself, our research indicates that you're likely to be the friendly, nurturing type, though perhaps a touch indecisive in some aspects of life.
You have an ideal opportunity to prove that that trait doesn't apply to your interior design instincts though, by committing to the purchase of a bright and buzzworthy orange radiator. You'll be like the cat who got the cream with a heating solution that evokes memories of the tiger who came to tea.
I only wanted to see you heated with a purple rad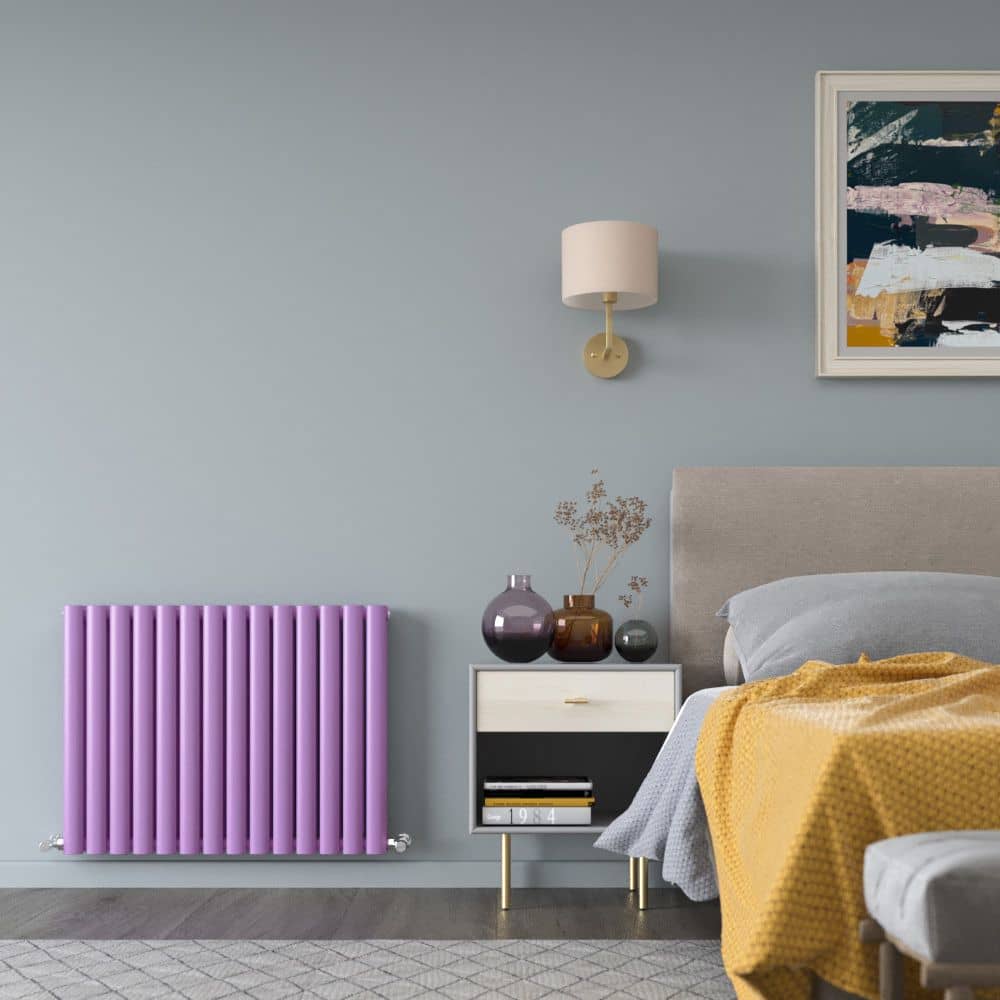 Positioned contrastingly to red on the visible light spectrum, violet or purple is thought capable of raising consumers' awareness to a higher level of thought. Quite appropriate for a colour closely associated with the iconic Prince.
Indeed, if you think purple radiators could be the most beautiful style in the world, you're likely thought of as somewhat eccentric with a keen eye for creatively unusual design elements.
The shade also exudes glitz and glamour, but can promote a sense of precocious intimacy equally as effectively depending on surrounding decor, fixtures and features.
Wit, sensitivity and individuality are all defining characteristics of purple lovers, with mystery and moodiness suggested as connotations that could be perceived negatively.
But there really isn't any need to get in a huff. Just set about selecting your ideal purple radiator to feed into that insatiable will to stand out from the crowd.
Party time with pink radiators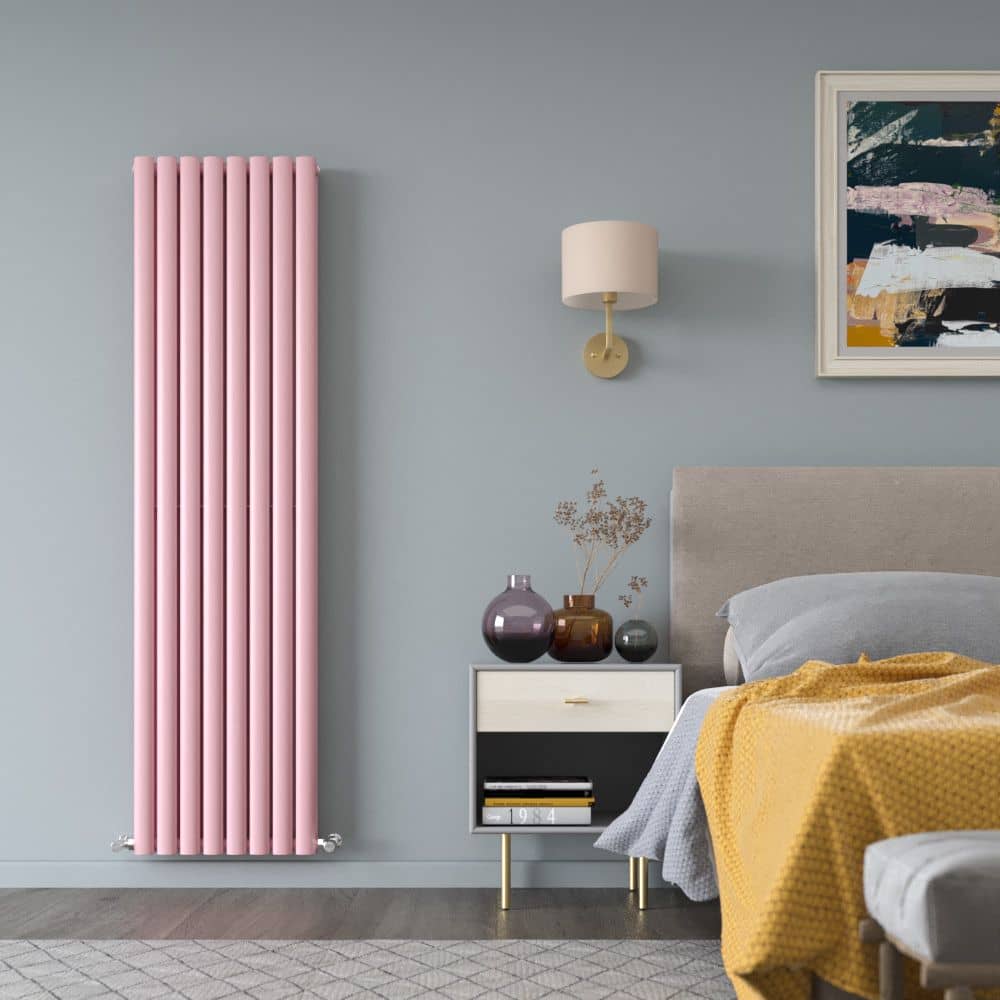 Sweetness and compassion are the most prominent traits linked to the colour pink, with health and happiness other notable attributes. You'd also expect a pink radiator owner to have a playful nature about them; an outgoing personality that likes to get the party started.
Much like you might be thought of as the life and soul of any gathering, a pink radiator is sure to provide an obvious fillip to any interior design scheme, and catch the eye immediately.
Negatively, immaturity is associated with pink tones. So if you want to rub it in your mates' faces that your designer radiator is so much cooler than theirs, you know which colour to choose.
Shop coloured radiators online with BestHeating
BestHeating offer a superb selection of coloured radiators, incorporating all the tones outlined within this article, plus plenty more. In addition to other versions such as cast iron radiators and much more too.
Certain colours are available in varying shades too, from sage green to mint green, navy blue to baby blue and dark orange to light orange to name just a few.
So whatever colour radiator best suits your personality, we've got you covered with our coloured radiator collection.
Don't forget to take our BuzzFeed personality test for extra help in identifying your perfect rad style, and let us know what you went for in the comments, or via Instagram, Facebook or X.
Stay Safe & Happy Heating.
With a background in sports journalism, John counts content writing amongst his key passions. He's always peppering our Advice Centre feed with reasoned and researched home heating tips, and providing expert solutions to the questions you want answering. Fine football and music connoisseur. In his own head, at least.