The key to finding a stylish modern radiator replacement
Subscribing to an age-old mantra of out with the old and in with the new, BestHeating.com has a sparkling new website to show for it, and a new motto of our own to go alongside. And in placing a renewed emphasis on making heating cooler, we're offering some very sound basic guidelines surrounding radiator replacement choices.
Yes, rather than explaining the best way to tackle the actual process of how to replace a radiator, this blog will instead provide an insight towards obeying the rules of cool; presenting pointers to work out which sort of modern radiators will represent a worthy upgrade to your existing models, and bring your home heating into the here and now.
So, how do you actually decide on the perfect radiator replacement?
Let's get started.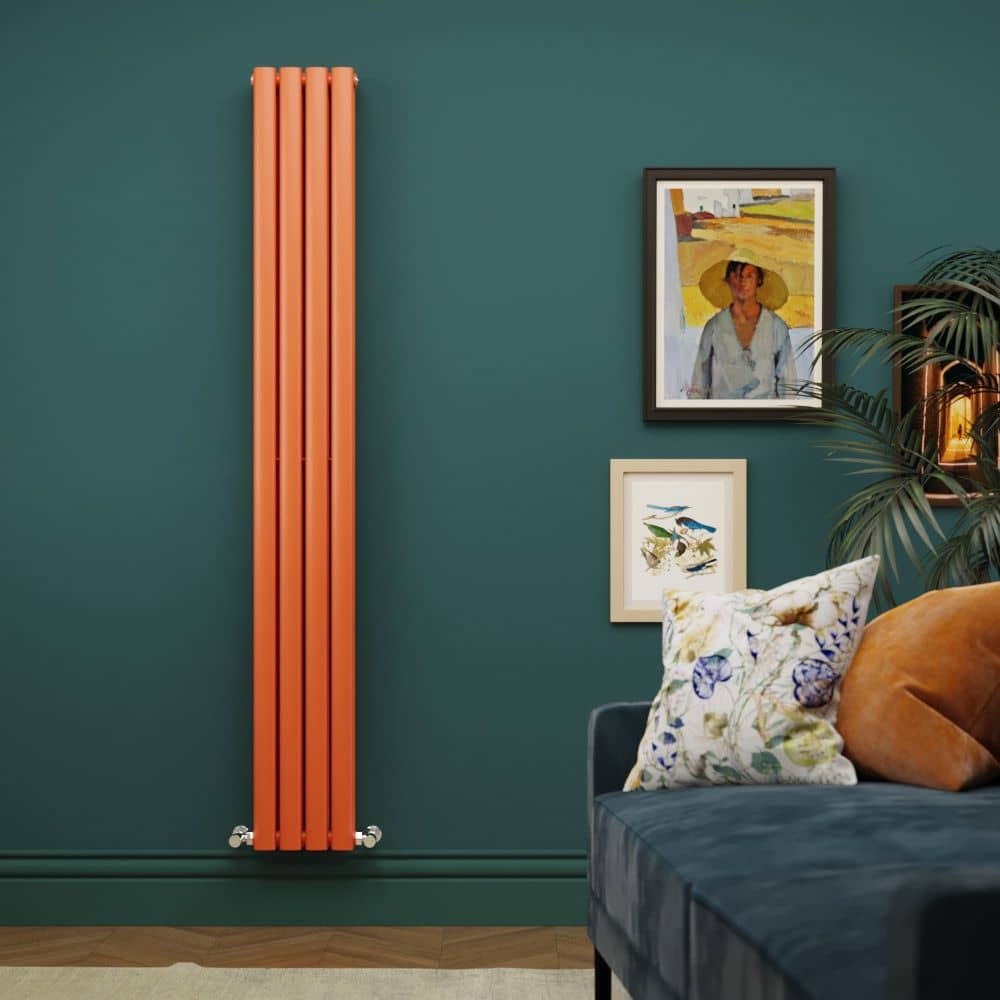 Modern radiator replacement picks
Now much more than ever, home heating choices can represent an expression of creative flair and make a definitive style statement. BestHeating have long encouraged our customers to view designer radiators and alternative devices such as heated towel rails as an extension of décor rather than a means to simply warm up their space. With such an expansive selection of contemporary radiator styles now on offer, it is easy to understand why.
So if you're working with bland convector radiators or outdated components of any 'style', this radiator replacement guide will help you draw inspiration related to the very best ways to update them.
Designer radiator replacement options
To obey our own rules of cool, the BestHeating range of designer radiator replacement options can profess to team stunning aesthetics with premium performance quality; providing as many advantages in terms of design and style as they do in comfort and warmth.
If you're looking to completely transform the feel of your home heating and add a real sense of vibrancy to any space, a look at our coloured radiator collection is an excellent starting point on your radiator replacement mission. From bold and bright shades such as oranges, yellows and reds to more understated, classic tones like metallic bronze and silvers, there's something to suit all tastes. And we even have some handy hints regarding which colour radiator best suits your personality as well. But not to worry if you're more of a traditionalist with regards to which hue you want your heating devices to be, either. There's a vast array of white designer radiators as well as black radiators with modern flat panel profiles in both vertical and horizontal orientations, in addition to anthracite designer radiators too. Once again, we're on hand to help if you don't know which style to opt for, as further detailed in our blog, Vertical or horizontal – which is the right radiator for my room?
Middle connection radiator replacements
For anyone looking to 'kill two birds with one stone', and enhance space whilst refreshing their radiator look, a middle connection radiator replacement could be just the ticket. Each of our central connection designer radiators incorporates inlets right in the middle, negating the requirement to leave room for valves at either end of the rads. As such, a middle connection radiator works out as a perfect pick for compact spaces with limited wall space, enabling a neat, streamlined finish.
The Milano Skye anthracite aluminium vertical designer radiator is an example of an ultra-stylish contemporary central connection radiator that can count affordability as an added bonus feature. What's more, its lightweight but highly durable aluminium construction properties are typical of the designer radiators that should make up your thinking when seeking a radiator replacement vice.
If you'd like a deeper insight into our Aruba Flow middle connection radiators in particular, meanwhile, this introduction to the central connection radiators has everything you need to know.
Electric radiator replacement styles
One of the simplest devices to install, electric radiators can represent a supreme radiator replacement choice for those looking for a reliable heating solution that will help trim energy bills in the long term.
Our electric designer radiator collection is brimming with stylish modern components that present an eco-friendly alternative to more traditional plumbed central heating radiators, which might be a factor in your decision to replace the radiator(s) to begin with. And in keeping with the theme of contemporary cool, each rad incorporates a Bluetooth heating element that will enable the user to remotely control their electric radiator's temperature via a smartphone or other device like a tablet. Such functionality makes electric designer radiators an ideal rad replacement option for homeowners that have a fluctuating schedule, and often return to the house at different times of day.
Our blog on the ins and outs of modern electric heating presents a more detailed overview of the functionality of electric radiator replacement options, whilst their stylish profile speaks for itself.
Cast iron radiator replacement designs
Don't be put off by the term – the cast iron radiator collection from BestHeating takes a traditional heating device and infuses it with an ultra-modern twist. Our cast iron rads boast all the most impressive classic credentials you'd expect from such appliances, including excellent heat retention and an authentic, character-laden profile.
But in our Isabel, Beatrix and Mercury cast iron rad ranges, to name just a few, you'll find stylish heating components that will suit modern settings just as much as they would more traditional or retro spaces. The Milano Mercury cast iron radiator, finished in a gorgeous burnt gold, is one such example that can enhance either style of room. In our blog, Modern cast iron radiators: yay or nay, there's a more detailed look into the features and advantages of contemporary cast iron pieces.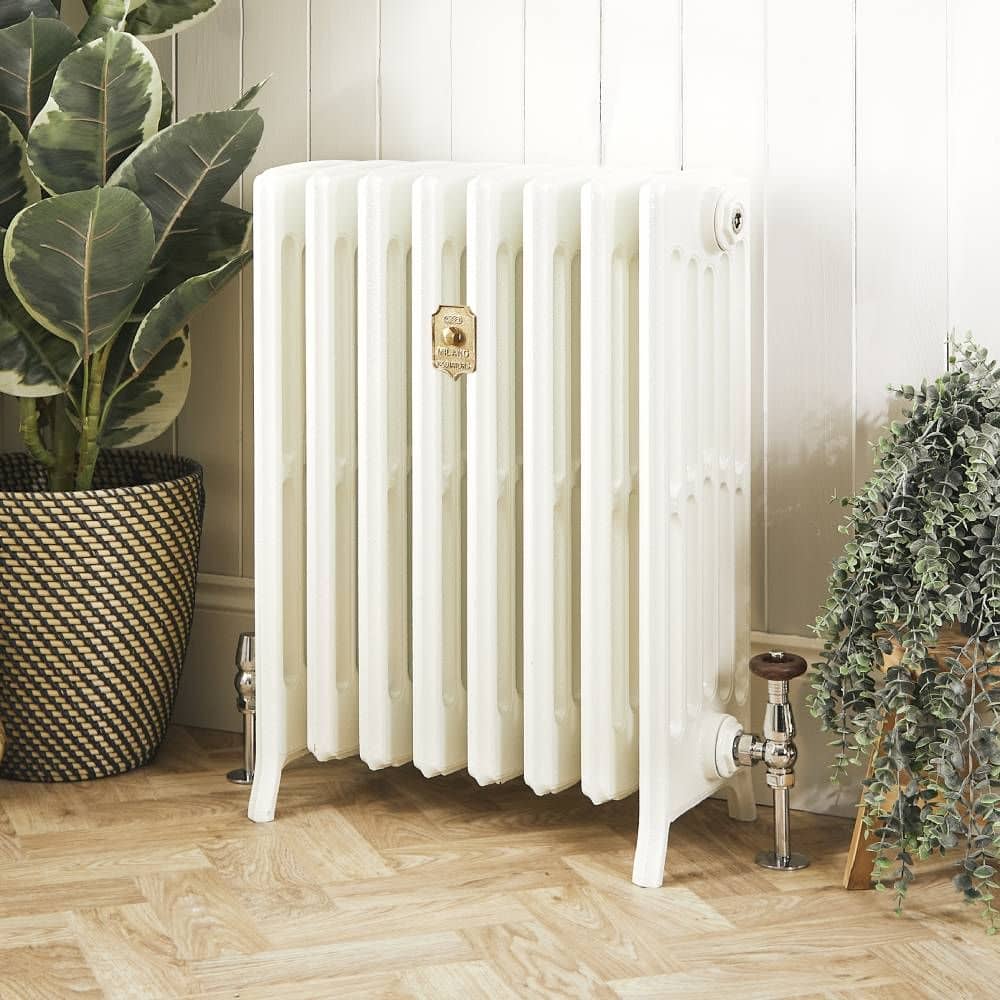 Mirrored radiator replacement reflections
If you want something that's a bit more 'out there' and that raises the bar of unconventionality, then mirrored radiators are well worth reflecting upon (sorry).
An especially useful vice for the likes of bedrooms and hallway areas, these versatile heating solutions are dripping with designer appeal, and offer the kind of functionality that could leave you wondering what you ever did before selecting a mirrored radiator replacement.
The Milano Icon anthracite vertical mirrored radiator is a perfect example of a supremely stylish reflective rad that will maximize space whilst beautifully enhancing your home interior. And our ultimate mirrored radiator guide is always on hand to offer further inspiration.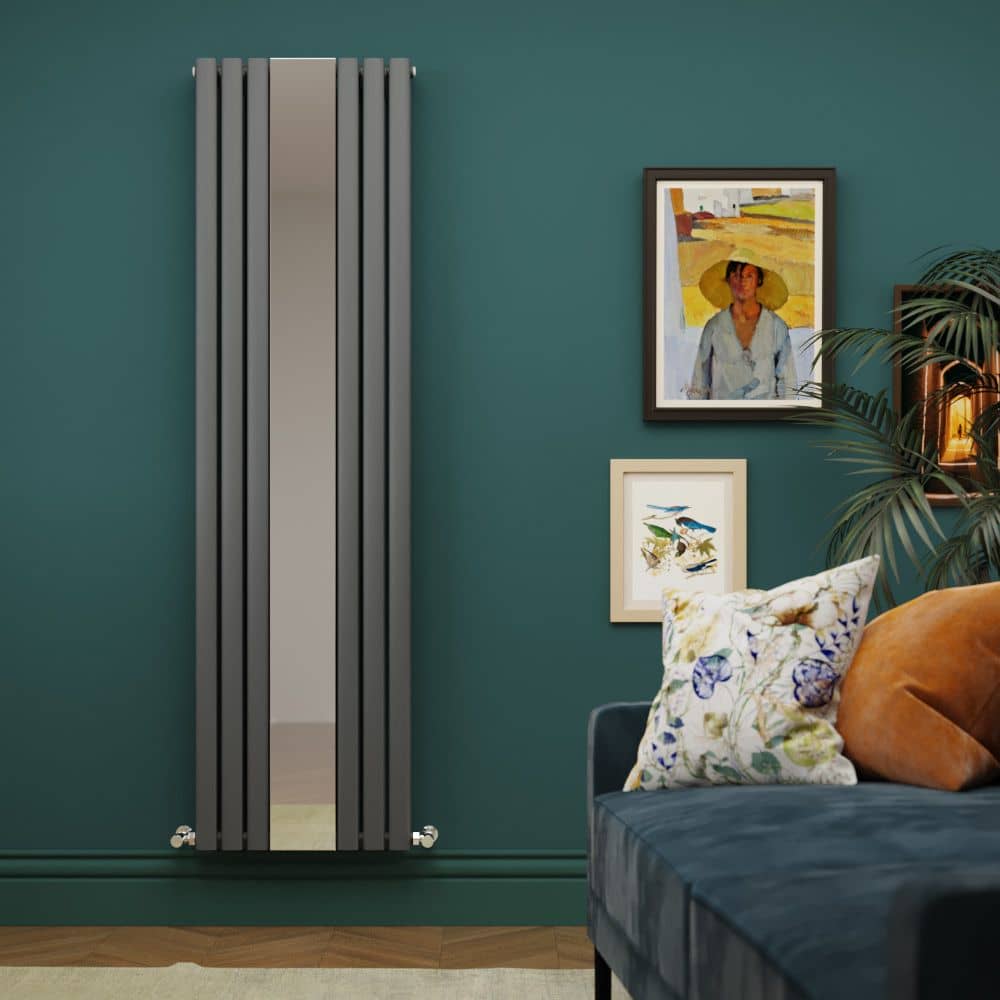 Frequently Asked Questions
Mirrored radiators are a brilliant modern radiator replacement for anyone looking to add a real sense of designer verve with an unconventional touch to their home heating. They offer supreme functionality and stunning aesthetics, with several space-saving vertical designs available.
For more key help and advice in selecting the perfect modern radiator replacement, take a look at our blog, Obeying the rules of cool: a modern radiator replacement guide.
Although they are widely considered to be a traditional heating option overall, some cast iron radiators can be thought of as modern radiator replacements, and will suit contemporary settings equally as well as they will classic or retro spaces.
To find out more about these and any other modern radiator replacement styles, explore our dedicated blog, Obeying the rules of cool: a modern radiator replacement guide.
Middle connection radiators can be considered the best style of modern radiator replacement options to save space. These rads incorporate central connection valves, meaning there is no requirement to leave room at either end of the radiators, freeing up significant wall space. They are therefore an ideal selection for compact rooms especially.
A deeper insight into the very best modern radiator replacement styles can be found in our dedicated blog, Obeying the rules of cool: a modern radiator replacement guide.
Shop modern radiator replacements at BestHeating.com
Just a brief overview of some of our very most popular modern radiator replacement options have featured in this article, but there's a whole world of brilliant designs to be discovered at BestHeating.com. Furthermore, there's also a plethora of resources in our Advice Centre with tonnes more creative ideas for curating your space.
Shop contemporary radiator replacement styles online, or get in touch with us for further help, advice and inspo about your radiator choice. You can contact us in the comments section below, or reach us on Facebook, Instagram or Twitter.
With a background in sports journalism, John counts content writing amongst his key passions. He's always peppering our Advice Centre feed with reasoned and researched home heating tips, and providing expert solutions to the questions you want answering. Fine football and music connoisseur. In his own head, at least.