Buying a heated towel rail @ BestHeating
We may have covered buying a towel radiator before and we've done the rounds on dual fuel towel rails too, but in this ultimate buying guide we're ramping things up, showcasing some new products and ideas and giving you the who, what, where, when, why and how of all things heated towel rail.
So, whether you're revamping a bathroom, remodelling an ensuite, or you've just got a bit bored of your bathroom heating and fancy browsing around for a change, hold on to your shower cap and put down your shampoo as we head through our ultimate guide to buying heated towel rails.
Oh, and if you're heating a kitchen, you might find this useful too.
How to buy a heated towel radiator
There was a time (long ago) when a heated towel rail – or towel radiator – was considered something of a luxury in the average British home – and normally reserved for the more 'well-to-do's' of the world.
You know, the type of folk that have monogrammed towels and dressing gowns (sorry if that's you, but come on, really?).
Joking aside, thanks to modern technology, better materials and more intelligent design, heated towel rails are now affordable, must-have items that can provide a vital heating and drying function in every bathroom suite in the land.
So how do you go about selecting the perfect towel radiator for your home and how should you spend your hard-earned money and make the best choice?
How will you use your heated towel rail?
Before you put your hand in your pocket, count your pennies and buy a new heated towel rail, you need to be sure just how you intend to make use of it.
Of course, the 'usual' place you think of when picturing a heated towel rail on the wall is the bathroom, but you aren't limited to that space at all.
It's not uncommon for a towel radiator to be installed in a kitchen or utility room, for example – and of course, there is the ensuite or cloakroom suite (if you're lucky enough to have one or both of those), as I've already mentioned.
But, wherever you intend to install it, generally speaking, there are three main ways of using a towel radiator at home and three ways to power it up –
1 – Central heating towel rail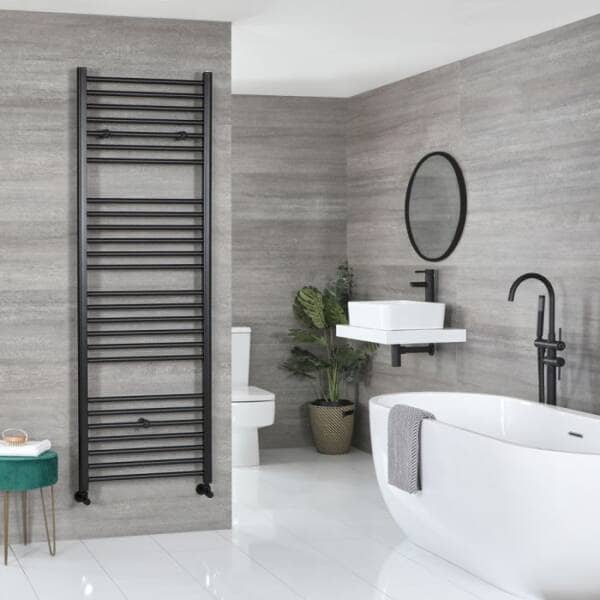 Most UK households have a central heating system in place. With this method, you can simply plumb your new towel rail into your existing central heating system with a pair of existing or new radiator valves.
This is the most common way to use towel radiators to keep your towels warm and dry – it also means that your heated towel rail will work in the same way that a conventional radiator does.
Though it's important to remember that it won't provide as much of a heat output as a standard convector radiator will – but, more of that in a moment.
2 – Electric only towel rail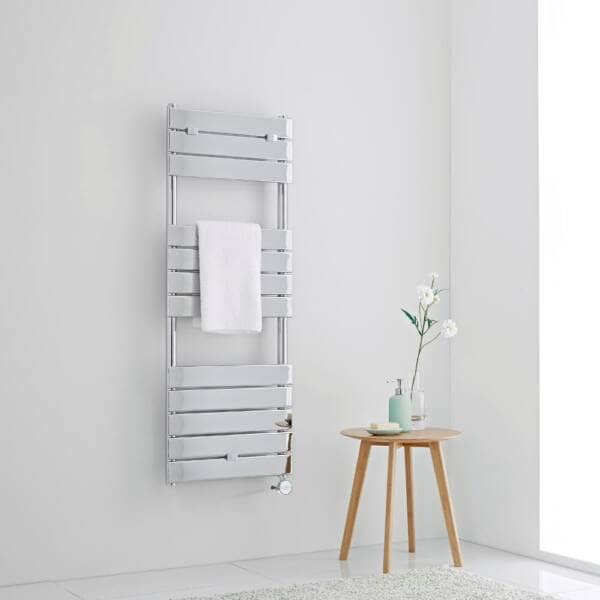 An electric-only towel radiator is usually best suited to flats or high-rise buildings – where the pressure required for central heating may be difficult to achieve – or in properties where there is no gas or central heating at all.
Really easy to set up and to have installed (by a qualified electrician), an electric-only heated towel radiator can be a cost-effective way of keeping your towels warm and dry – and the more modern models are a joy to look at.
You don't have to live in a high-rise building to benefit from electric only towel rails, though.
For example, if you are looking to heat a conservatory, it can be more cost-effective to opt for an electric variation instead of plumbed as you won't need to extend your plumbing system – and in the vast majority of cases (if not all of them), adding a new radiator to an existing central heating system WILL require planning permission.
3 – Dual fuel towel rail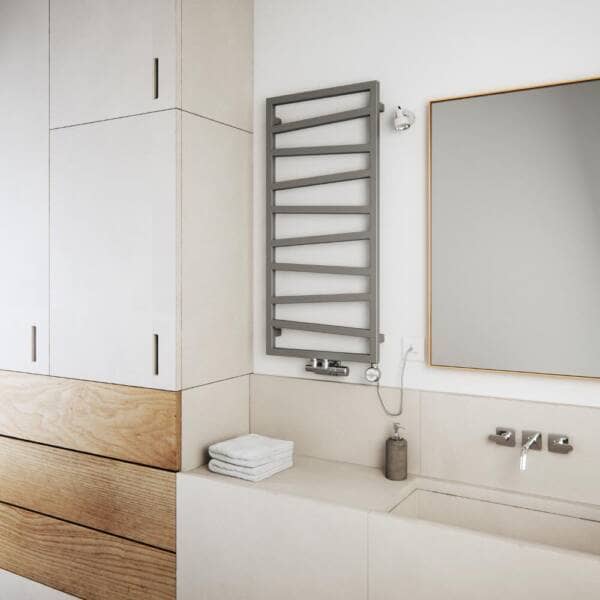 An increasingly popular way for people to get the best of both worlds – electric and central heating – a dual fuel heated towel rail is plumbed into your central heating system and features an electric heating element too.
It works by isolating the appliance from your central heating, using a T-Piece fitting, allowing it to be used independently of your standard heating system.
Having both electric and plumbed heating at your disposal will mean that you can have warm towels available all year round – even in the summer months when you may have switched your main central heating system off.
Where should I install a heated towel rail?
Just where you install your new heated towel rail will depend greatly on a few different factors, including, but not limited to –
The shape of your bathroom, cloakroom or ensuite.
The dimensions of that space.
Your existing pipework.
Doors, pipes and existing bathroom fittings (bath, sink, toilet, etc).
Whether it is plumbed or electric, or dual fuel.
The size of the appliance that you require.
It's important to take some time to consider exactly where you want to place your new towel radiator for convenience, ease of use and how it looks in relation to the rest of your room.
If you are completely redecorating the room or perhaps refitting your entire bathroom space, it will be much easier to paint or tile behind your new towel rail BEFORE you fit it.
Don't worry if you haven't taken the time to do this, though, because we have a guide that can help you to remove it and decorate behind it, right here.
If you already have a plumbed radiator or towel rail in your bathroom – and you're not thinking about moving its location – be sure to get the correct dimensions and distance between the pipe inlets, that way you can use those same measurements when you purchase your new appliance.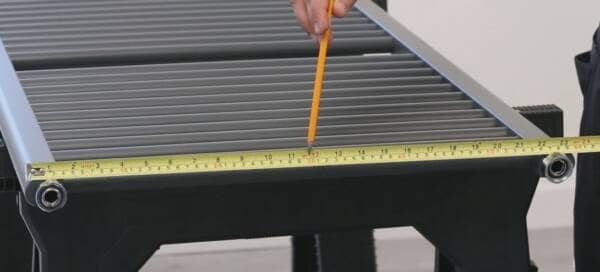 Provided you take accurate measurements, it should allow you to do a straight old-to-new swap without much trouble, and this will help to save you a bit of cash too, as your plumber probably won't have to move pipework around.
A towel radiator with a slim-line profile may require a few changes to existing pipework and plumbing – especially if the pipework comes from the floor rather than running along the wall.
And any additional changes to underfloor plumbing will require floorboards to be lifted, so keep that in mind if you have already laid new flooring, as costs could soon escalate and headaches could be on the menu.
It is also worth noting that if you are swapping out an old 'plumbed' radiator or towel rail for a new 'electric' towel radiator, you won't benefit from the same cost savings you would if you were just replacing an electric heater – so be sure to take advice from your electrician or plumber as to where the most sensible place to install your new appliance is likely to be and whether it's worth it.
Where is the best place to hang my towel rail?
Thanks to improved insulation in modern homes you can install your heated towel rail on virtually any wall you like, but ideally, you want it to be on the coldest wall of the room.
This is often the external wall of your space – so where you can, try to fix your new radiator or towel rail to the wall with a window, or on any other external wall.
Doing this will help to ensure that heat is distributed throughout the room effectively, improving efficiency and guaranteeing you always have a warm and cosy space to look forward to spending time in.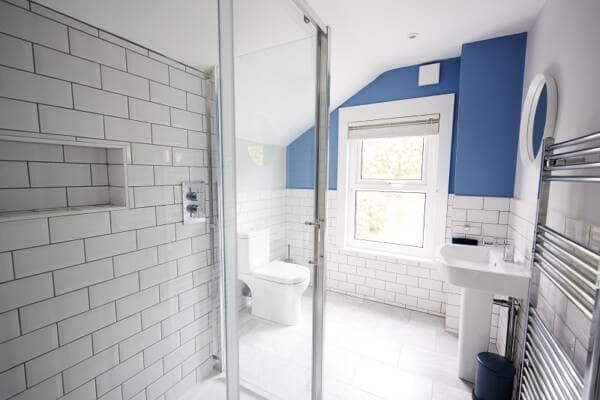 It's also important to consider where your towel rail will be in relation to your bath or shower.
The last thing you want is to get out of either of those and walk across a cold bathroom floor to get your hands on a warm towel; so be sure to think about the process of having a shower or a bath – and how and where you can get your hands on a towel or robe – before you commit to putting the appliance on the wall.
REMEMBER – There are a range of ratings that can determine how close certain appliances can be in relation to a water source, so be sure to check specifications of all appliances BEFORE you make a purchase. If you're still unsure, check with a registered tradesperson.
Can a heated towel rail heat my bathroom?
Whether or not a towel radiator can warm your bathroom enough to not require an additional source of heat will depend upon a number of factors.
Every bathroom is different and, unlike other rooms of the home, they have different requirements when it comes to getting them to (and keeping them at) their optimum temperature.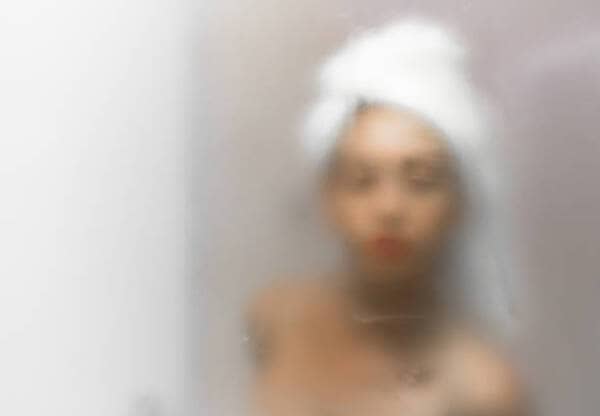 Bathrooms are usually warm and humid, we're often completely starkers when we're in them, they're normally the first place we visit in the morning and often the last place we see at night – so, as you would expect, they have some pretty unusual and specific heating requirements.
Though in the main, heated towel rails are designed to keep towels warm and dry, in the case of small to medium-sized bathrooms, cloakrooms or ensuites, it is entirely plausible for a towel radiator to be sufficiently powerful enough to heat the space as well.
Of course, you can always look to purchase a couple of separate heaters – but that will depend on if you have enough space to accommodate two heating appliances alongside your bath, shower, sink and toilet.
If you don't – and you want a warm bathroom with somewhere to hang your towels – you've got a couple of options that may be suitable.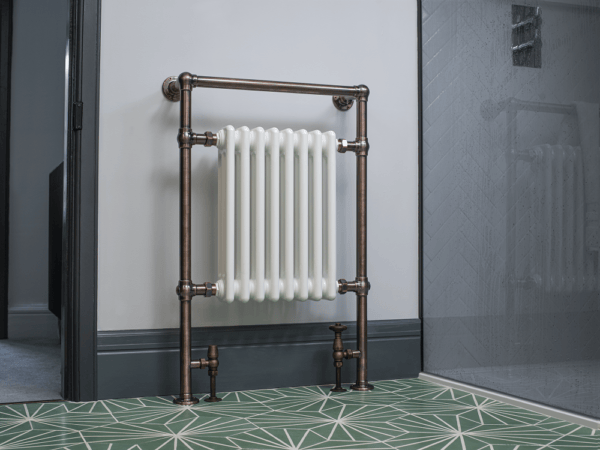 Something like this Milano Elizabeth traditional heated towel rail could be the answer, as it has an impressive heat output for such a diminutive appliance and still features a space to hang towels or other garments to dry – which is pretty handy.
The downside (for some) to this type of towel radiator, is that the style may not be suitable. As nice as it is, perhaps it is less well-suited to a modern space than say a sleek ladder-style towel rail may be.
So, if you are a little averse – as I am – to the traditional and period styles of a bygone era, you could opt for a designer radiator that has a towel rail attachment or two.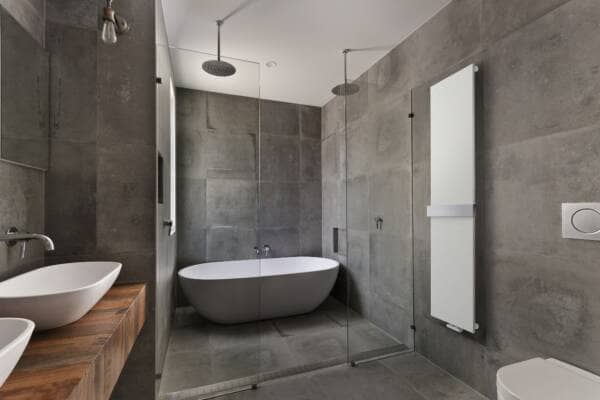 Something like the Ischia – from the Lazzarini Way collection – could be a suitable alternative that provides plenty of heat output (3467 BTUs @ Delta 60) and somewhere to hang a towel or two.
Going for a radiator with a towel rail attachment is certainly the way to go if you have a large bathroom space and your heat requirements are on the high side.
And thanks to a range of accessories, you can opt for a style like this and still have somewhere to hang a towel or a bathrobe and have it to hand for when you need it.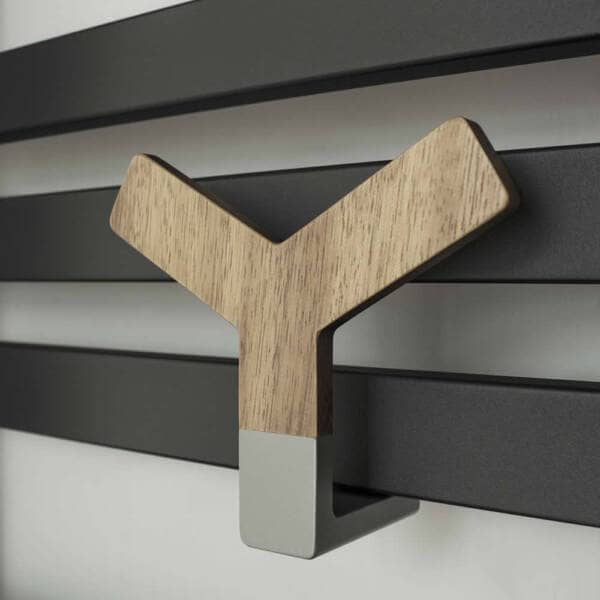 The key thing to think about is whether the towel rail is there to heat the towels or the room (or both). If you're heating the room and it's the main bathroom then you should invest in something that gives you the warmth you need for those cold January morning showers!
"We love the Milano Elizabeth traditional heated towel rail so much that we've bought 4 of them during our various home renovations! We love it because it's a hybrid of radiator and towel rail and had that traditional look which works so well in a period home."

Fresh Start Living – Interior Designers & Home Renovation Experts
What size of towel radiator do I need?
As I alluded to above, if you have a small bathroom or ensuite, a heated towel rail should be sufficient to provide enough warmth for the room to stay comfortably heated.
So, in terms of the size that you require, a lot will be determined by the amount of space you have on the walls to accommodate a towel radiator and how many towels you think could be stored on there at any one time.
Using our BTU Calculator will give you an idea of the heat output you need to go for and from there it's just a case of finding an appliance that has enough room for the towels you'll be using.
Towel radiators for a small bathroom & a big family
A small bathroom, that's frequented by a large family, might mean that you opt for a ladder-style towel rail with many horizontal bars.
Something like the Milano Kent would be perfect for a space such as this, as it has a good number of bars to store towels and thanks to the bottom inlets, it doesn't take up a great deal of wall space either.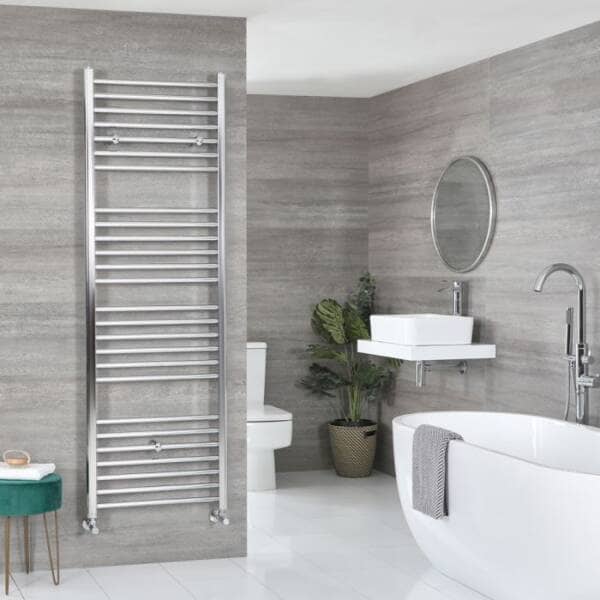 Whether you go for a flat or curved profile is totally up to you (the one above is a curved design), as there is very little difference between the outputs of either appliance, so it really is just about what you prefer to look at and use daily.
A curved design will offer slightly more room for towel storage, but, in the grand scheme of things, there's not really a huge difference between the two designs to make a huge impact to how your space is heated.
Ladder styles are great for purposes of practicality, but their benefits don't stop there.
Thanks to a range of new designs and stylish upgrades, ladder-style heated towel warmers can now bring a touch of designer looks to your bathroom space.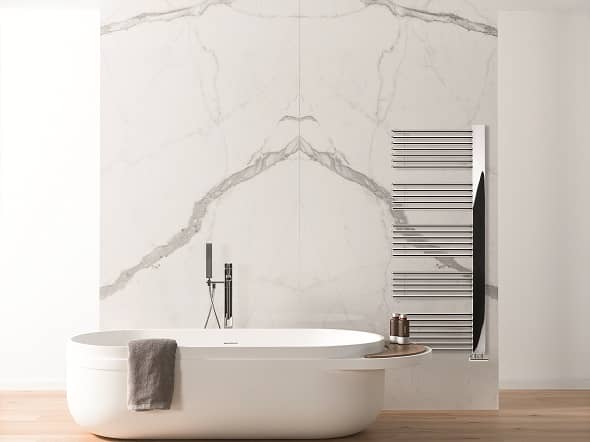 So if you're more inclined to look for something a little more outlandish than a standard towel rail design, going for an appliance like the Lazzarini Grado could be an intelligent option.
Offering as much in terms of outright heat output as a similarly-sized 'standard' towel rail, this modern designer style adds a completely different dimension to a room, while still ensuring you have plenty of functional towel storage space.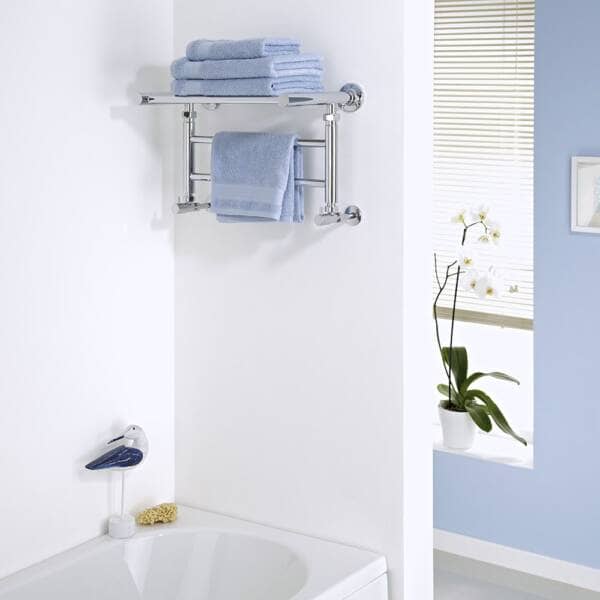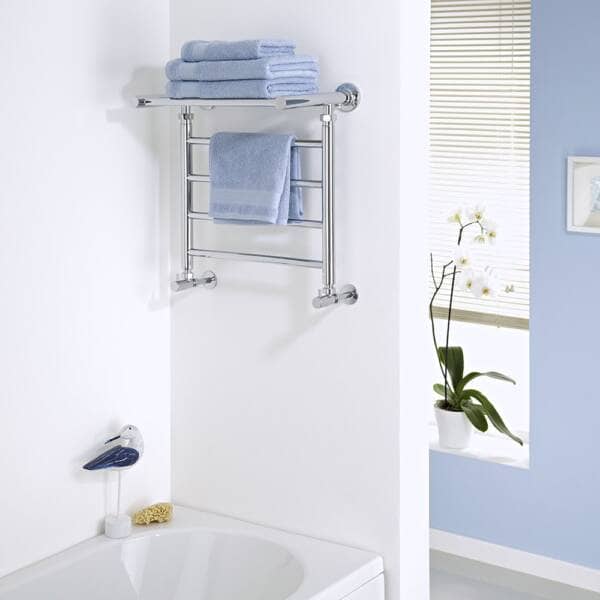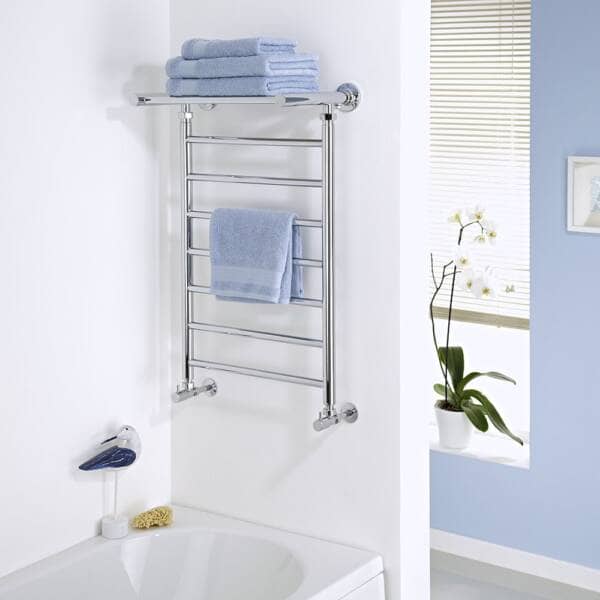 Heated towel rails for an ensuite or cloakroom
In an ensuite – which is not often a large space – chances are you won't require something with an incredibly high amount of heat.
But, because of this lack of space, you are going to require something that is a little more compact and better suited to a small space, whilst still offering a good amount of storage for towels.
The Milano Pendle heated towel radiator with shelf is an intelligent space-saving solution that can help you to add style and functionality to your ensuite.
Though it doesn't boast as impressive a heat output as some other towel warmers, it makes up for that with its unusual design and practical storage style.
It's also available in a range of lengths too, so there is nothing stopping you from matching up a downstairs toilet with your ensuite and family bathroom with one of each.
Kitchen towel radiators
In a small and slim galley kitchen space, you won't require a large amount of BTUs to get the room up to a comfortable temperature – particularly if you're the cooking, MasterChef wannabe type.
A towel rail in a space such as this can be a great way to ensure you always have a warm towel ready for drying your hands or the dishes.
Though not as commonly seen as they are in a bathroom space, heated towel rails don't look out of place in any kitchen and a small space would only require something with enough space to hang a few tea-towels.
If you have a larger kitchen space to keep warm – say something with a dining area adjacent to it – a towel rail is unlikely to be sufficient to add any real heat to the space.
In a room like this, you want to go for something that kicks out a good amount of heat while still offering a practical solution for towel storage.
Though the anthracite Milano Aruba in the picture above – from the wonderful Mum in Brum's amazing kitchen diner – may not have the towel attachment, it is definitely a stunning heating option for a space such as this – and doesn't it look amazing.
Milano supply a range of fittings that are ideal for radiators such as this, and a well-placed robe hook or towel bar would be a perfect towel storage compromise that doesn't ruin the look of the radiator, yet still ensures you have those towels to hand for when you need them.
What should my towel rail be made of?
Historically, radiators and towel rails in the UK have been made from mild steel.
This is because it is affordable, heats up relatively quickly and holds on to that heat for a good amount of time, making it an efficient way of bringing warmth to a room.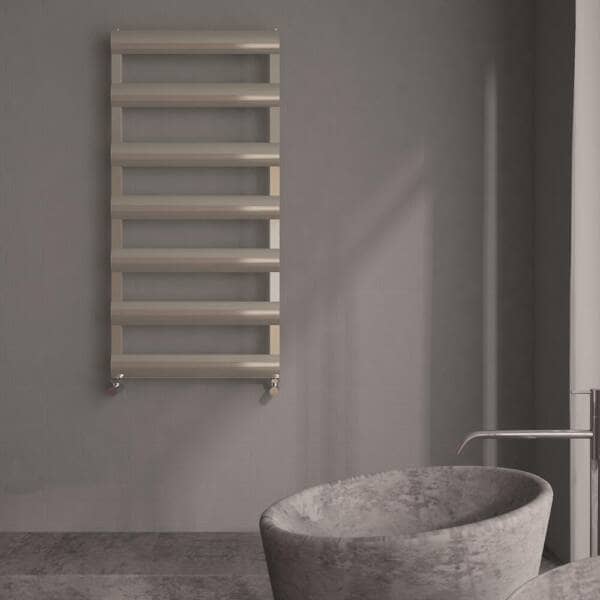 However, across Europe, for some time now, aluminium radiators and heated towel rails have been a popular choice for a number of reasons.
Aluminium appliances heat up much quicker than steel ones – up to five times in some cases – and are considered to be a much more efficient way to bring warmth to a space.
They tend to hold less water than a steel design too, which can help to reduce fuel bills and minimise the impact your home's heating has on the environment.
The Milano Passo towel radiator (in the image above) offers up to around 25% more BTUs per hour than a steel towel rail of similar size and is also much lighter, making it great for internal stud walls that you perhaps thought would not be strong enough to support the weight of a heavy steel radiator.
Having said all of that though, it is important to remember that aluminium heating appliances will NOT hold on to their heat as long as steel ones will, so if you're looking for something that will, you may be best to go for a steel design instead.
Choosing the right finish for your heated towel rail
As with most heating appliances – or any type of furniture or accessory really – when it comes to selecting the finish a lot will depend upon the decor of the room you are installing the radiator or towel warmer in.
The classic heated towel rail finish – and certainly the most popular for many people – has been chrome or stainless steel for some time now.
But, here at BestHeating, we are seeing more and more people opting for a range of different finishes altogether, with many customers choosing to install towel radiators that reflect their home decor and even building a style around the colour of their appliance.
So let's take a look at the range of finishes that are currently available in our store.
Chrome heated towel rails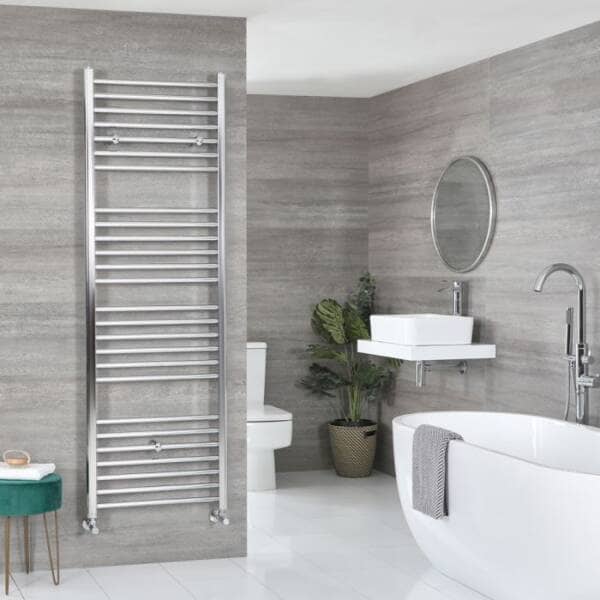 The first type of mass-produced heated towel rail, chrome – or mirrored if you prefer – towel rails first made an appearance in UK homes around 30 years ago after making the jump from 5-star hotels into the bathrooms of the nation.
These attractively styled towel radiators are still massively popular today because they match the finish of other fixtures and fittings in a bathroom – think bath and basin taps and shower heads, etc.
This type of finish can help provide a uniform look to your bathroom space and tie everything in together, a more traditional approach to bathroom space heating.
White heated towel rails
As with chrome towel radiators matching the fixtures in most bathrooms, a white towel rail will match the vast majority of bathroom suites in the land.
Unless you have a crimson or (heaven forbid) an avocado bathroom suite, a white towel warmer will sit majestically alongside your white suite and provide a striking and stylish way to add warmth to the room.
White and mineral white will also help to develop a feeling of cleanliness in your bathroom – provided you keep on top of the cleaning – and give an impression of crispness and hygiene, helping to bring the room together in one coherent design that sings with designer styling.
Grey & anthracite heated towel rails
Now amongst some of the most popular and sought-after styles in the UK, an anthracite heated towel radiator offers something a little more designer in style than perhaps a chrome or a white installation does.
Standing out from the crowd, a grey towel rail can help to create a luxurious focal point in any bathroom space and one with proportions like the Milano Bow central connection towel rail can help to maximise the available space in your bathroom or ensuite, while still ensuring you have plenty of room for towel storage.
With a huge heat output, this modern anthracite towel radiator is a stunning way to bring designer looks and comfort to your bathroom.
Silver heated towel rails
Silver towel rails are the understated and slightly toned-down cousins of chrome finished appliances.
These modern designs are less prone to showing off little finger marks than a chrome design – something to keep in mind if you have peskies (small children) and they work brilliantly with matt finished accessories.
A great alternative to chrome or mirrored towel radiator designs, a silver finish will add style and value to a space and become a talking point for family and visitors alike.
Mineral quartz heated towel rails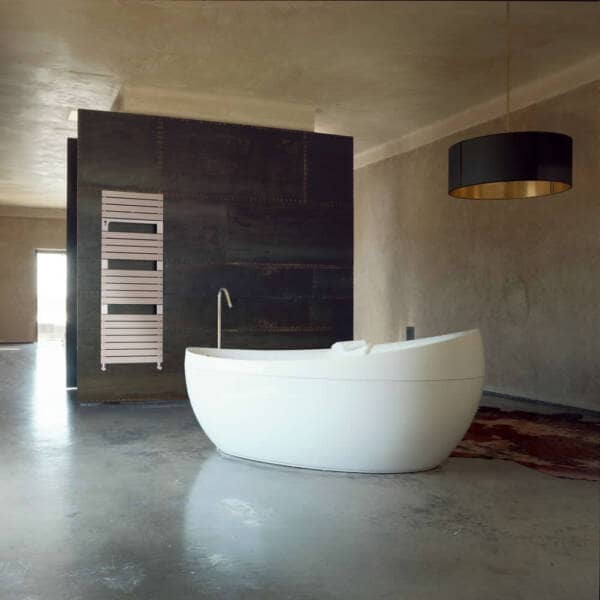 If what you require from your bathroom heating is a statement-making departure from the norm, then a mineral quartz finish is certainly something to consider.
Not a common finish by any stretch of the imagination, but one that will provide a talking point and add value all the same.
Lazzarini Teak towel rail accessories work brilliantly with this style and its durable build quality make it the perfect solution for high traffic bathroom spaces.
Traditionally styled towel rails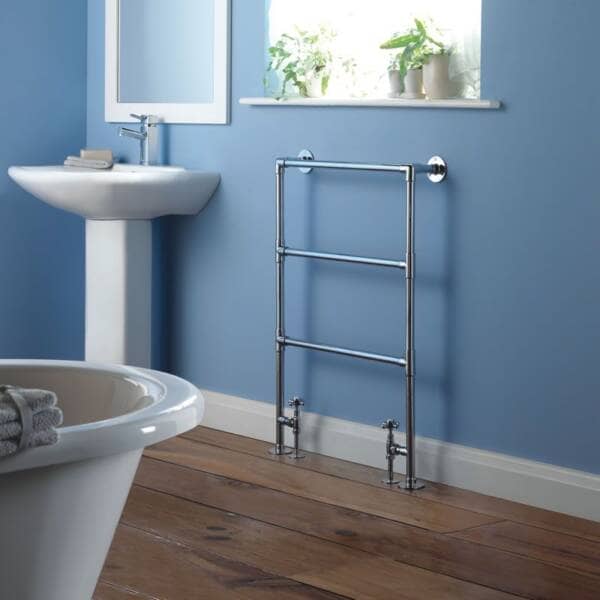 Offering an air of authenticity that will complement a period-style bathroom or ensuite, and not look out of place in a kitchen of a similar style, a traditional towel radiator will help to enhance the look of any space in style.
With wall and floor mounted options available at BestHeating.com, whether you have plenty of space for an oversized design or are looking for something a little more minimalist, you're sure to find something that adds to the heritage looks of your décor.
Modern heated towel rails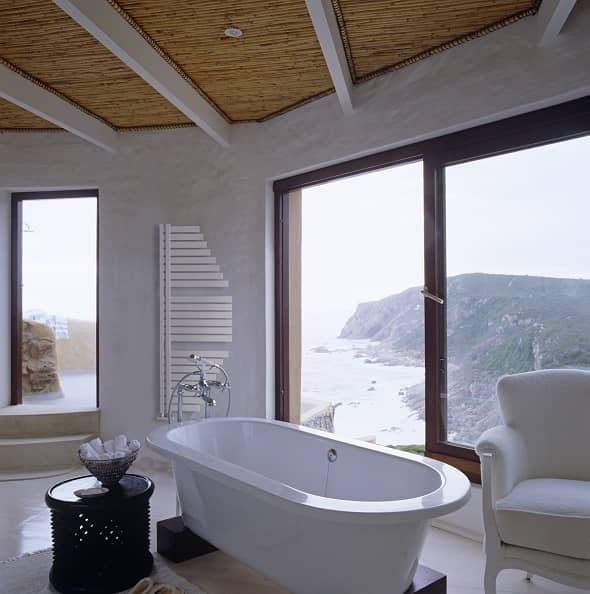 No ultra-modern bathroom or cloakroom suite can ever be complete without the addition of an ultra-modern towel radiator.
Flamboyant designs add value to a space and create a stylish focal point that is the envy of your friends and family, transforming the room instantly, while still retaining a practical element.
With new designs being introduced all of the time, we're never short of modern designer towel rails at BestHeating.com.
Can I install a heated towel rail myself?
Installing a heated towel rail need not be a difficult task, and if you have some basic DIY experience it should pretty simple.
Each heated towel rail in the BestHeating store is supplied with all the fittings you'll need to get your new radiator on the wall.
So, provided you have the correct tools, the confidence and the basic DIY knowledge, you should be more than capable of installing a towel radiator.
If you want a helping hand to dress and hang a plumbed towel radiator, use the video below to guide you along.
And if you feel confident with electrics – bearing in mind you WILL need to consult a qualified electrician to finish the job and sign off the work – here's a video that shows how to install a dual fuel towel radiator too.
If DIY really isn't your thing, we strongly suggest that you avoid even thinking about installing a towel radiator.
There are quite a few little things that, if you were to get wrong, could cause big problems and even be quite dangerous.
So, if you don't have the necessary experience to get the job over the line, it's just not worth the risk and we would recommend that you seek the advice of a qualified engineer.
How much will it cost to have my heated towel rail installed by a professional?
How much it might cost to have a towel rail installed will depend on whether you are using a conventional hot water central heating system, electric power or perhaps both, in the shape of a dual fuel towel heater.
You may find that some professional tradespeople are qualified in both plumbing and electrics, but certainly not all of them, so, to get the best price, it is important to ensure you get the right person for the job.
If you are installing a plumbed towel radiator – that is working in a system with boilers and other radiators – you will need a Gas Safe Registered plumber to carry out the job.
If you are opting for the electric heating system – where an appliance is being connected to the main electricity supply – then you'll require the services of a qualified electrician.
It's very important that you do use a qualified sparky too, as quite a bit of paperwork will need to be completed to ensure that the work adheres to Building Regulations.
And finally, if you are having a dual fuel appliance connected, you will require the services of a professional who can LEGALLY do both jobs or one plumber and one electrician, to do the job properly.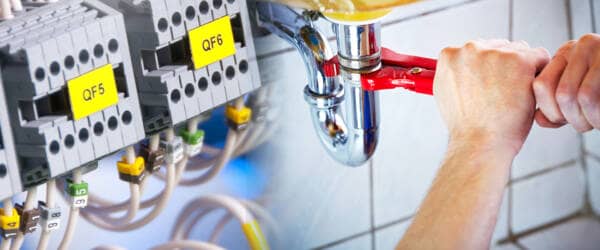 So, because there may be a few different variables to what you want doing and who may be doing it, the final price of a professional installation could vary quite a bit.
It's also worth keeping in mind that the cost of the installation will vary depending on where you are in the UK, how busy the tradespeople are and if there is an emergency call-out to be paid too.
So the costs below are an estimate of what you can expect to pay on average.
For a conventional hot water heated towel rail to be installed, you can expect to have to part with –
between £200 and £300 for labour
and around £150 for the appliance
A standard electric towel radiator install will set you back –
about £200 for labour
between £150 and £200 for the towel rail
And for a dual fuel heated towel warmer, you are likely to have to pay –
£300 – £500 for the labour
about £150 to £200 for the appliance
One of the best ways of reducing the cost of your install is to buy the appliance yourself and just pay for the labour to install it.
Get your next towel rail at BestHeating.com
At BestHeating, we have one of the most wide-ranging and extensive collections of heated towel rails to be found anywhere on the web, here in the UK.
If you can't find exactly what you're looking for, drop us a line at info@bestheating.com or give us a call on 0330 027 1490 and I'm sure we can help you out.
I hope you found this guide useful. If not, tell me in the comments below what you would like to know more about and I promise I'll come back to you with as much info as I can.
Till next time…

John trained in journalism before finding his way to the BestHeating Advice Centre team. He uses his journalism skills to meticulously research heating topics and bring you the latest news and views on all things home heating related. He'll also beat you at any sport that involves a cue!