Running costs of heated towel rails
Heated towel rails offer a multitude of advantages that make them a highly attractive household heating option for the bathroom and beyond.
Incorporating the base functionality of typical radiators to within a sleek, minimalist profile, heated towel rails will comfortably warm up your chosen space whilst ensuring you have toasty towels to enjoy fresh from the shower.
There's a decorative element to their makeup as well, and the range of designs towel racks are available in means there's an aesthetically pleasing design to enhance practically any room.
But, is a heated towel rail expensive to run?
What should you typically expect to pay in towel rail running costs?
And are there any ways to reduce heated towel rail energy consumption and lower bills in turn? This article will look to answer all these questions and more, providing you with a definitive answer as to whether they cost a lot to operate, and ultimately, are heated towel rails worth it?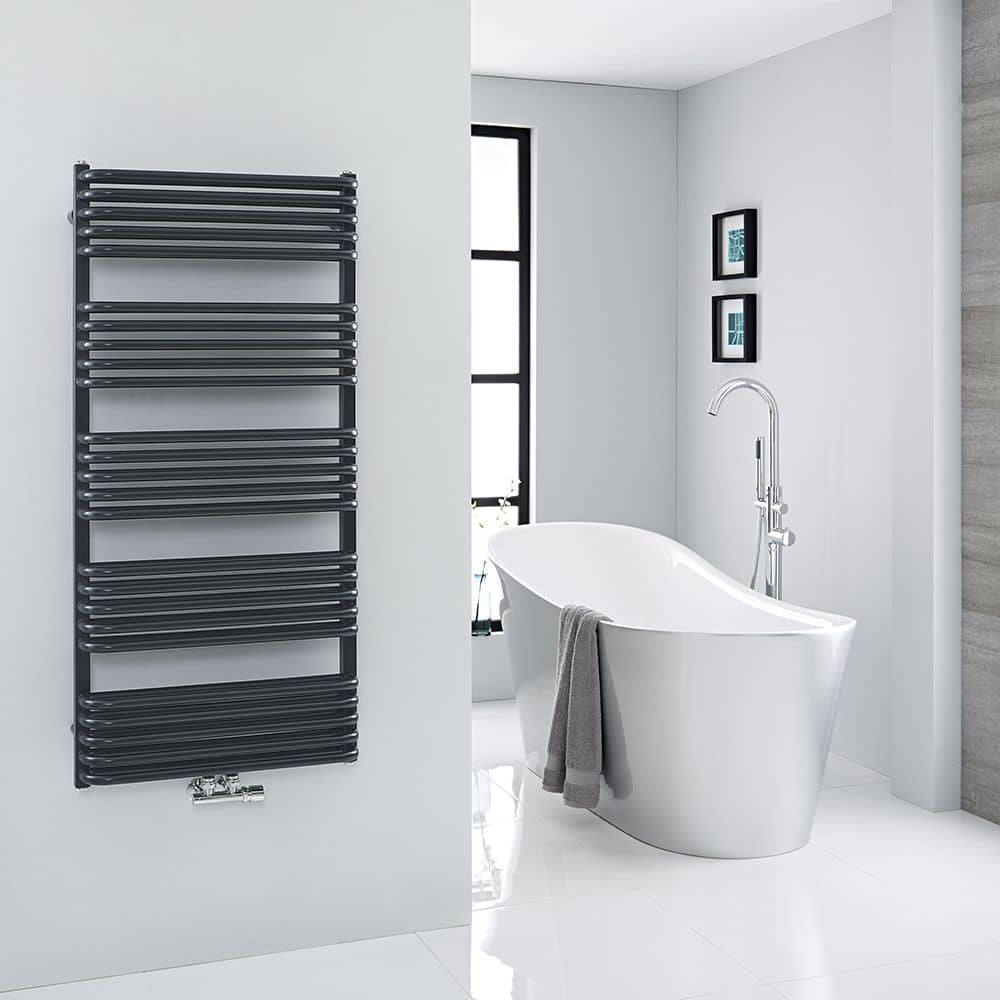 Running a central heating heated towel rail
In the case of 'standard' heated towel rails that work via a connection to the household central heating supply, the main drawback in terms of running costs is that said dependence on the boiler.
During the warmer summer months of the year, it is not ideal to keep central heating on all the time, and you might only require the slightly lower level heating output that a towel rack can provide, and within designated rooms such as the bathroom, kitchen or bedroom.
And despite the fact that it is possible to somewhat offset the effect of needing the full central heating system to be in use by decreasing the temperature of other devices like designer radiators, it remains true that the boiler will still be forced to transport hot water to all appliances unnecessarily.
This extra strain on the central heating means that the setup has to consume a higher level of gas or oil which will naturally expand your energy bill.
Running an electric heated towel rail
For electric heated towel rails, the devices instead turn on and off at the simple flick of a switch, operating completely independently of the central heating system. Therefore, they can work to warm up an individual room when the boiler is switched off, but their running costs can tot up considering the power their electrical element needs to operate successfully.
Basically, although electric heated towel rails offer more flexibility than their gas-powered counterparts in being able to work free from central heating, they do cost more to run when compared side by side for the same length of time. That said, you might obviously decide to use an electric towel rail on more of a needs-must basis and in covering certain areas of the home only.
Furthermore, for properties that make use of renewable energy to generate electricity, savings will tie in with overall energy bills given that electric towel racks will draw from this same energy source.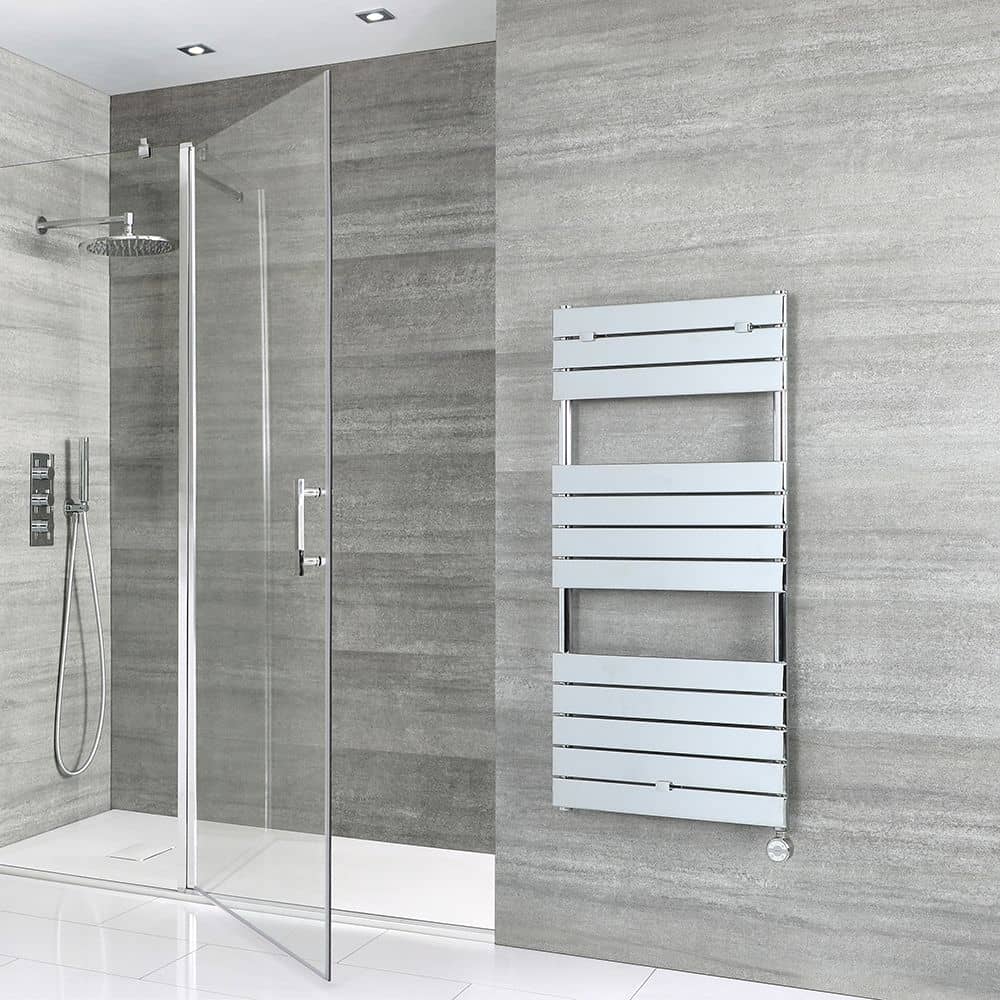 Running a dual fuel heated towel rail
Those that want all the benefits brought by the most modern designs on the market will be interested in knowing about the running of dual fuel heated towel rails, which is operational via both a central heating water supply and electricity as well.
When your boiler is active, dual fuel towel rails will draw from their hot water supply in the same was as standard towel racks. They can be set in line with your overall heating schedule to switch on when needed the most in line with other devices like radiators on your full home heating setup. You might also decide to schedule them to keep on throughout the day during winter months, for instance, to keep the bathroom at a comfortably warm temperature for whenever you may enter it.
Dual fuel towel rails can also mirror the way electric versions work, with their included element heating the water within once the electrical supply is switched on. This provides the best of both worlds, as a dual fuel heated towel rail can be utilized as a fixture of the home central heating system in colder climes, but also as and when required in the warmer summertime.
That said, investment in dual fuel towel rails can provide the most cost-effective means to enjoy the advantages that towel racks bring to your home long term due to their added flexibility. They will allow you to save on heating bills whilst keeping your bathroom at a cosy warm temperature all year round, and are another style that can benefit from renewable energy connections such as air source heat pumps in relevant households.
Although they might cost a little more than alternative types from the outset, dual fuel designs are the most cost-effective long-term towel rail solution available, both in homes with traditional central heating and those with green energy systems in place.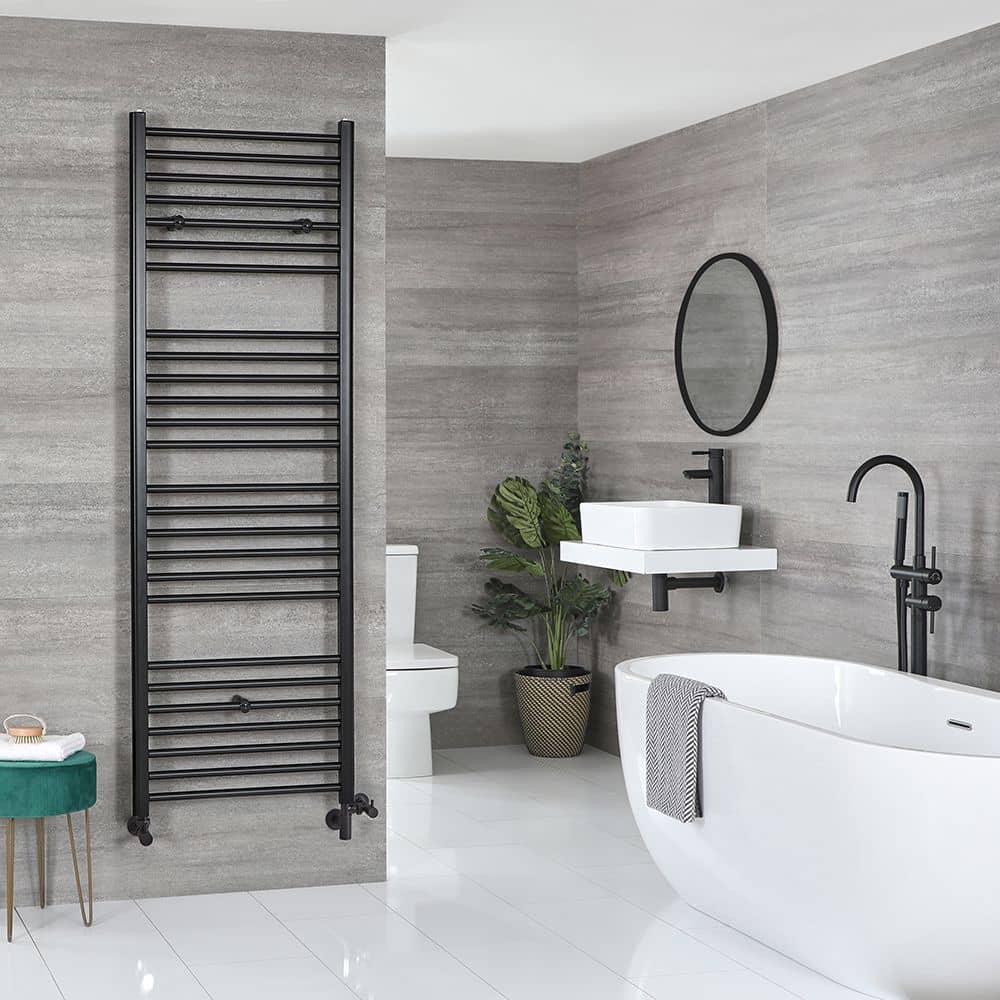 How can I work out heated towel rail running costs?
As traditional style heated towel rails operate through gas central heating, the running costs of these devices can be calculated in line with your overall home heating habits and energy bills. Keep in mind your towel rails will be working whenever your boiler is on, when deciphering what you'll be paying.
As of April 2023, the standard UK gas tariff cost equates to 10.3p/ kWh in accordance with the UK government's Energy Price Guarantee.
To work out the exact running costs of any potential electric heated towel rail purchase, meanwhile, you can follow the same formula that applies to any other electrical appliance…
Watts / 1000 = Kw X Hours in Operation = kW x kWh rate = Cost
The wattage of the model will usually appear on the appliance itself, but is listed in the product description of all electric HTRs on offer from BestHeating.com too, so you can work out what you need to know prior to purchase.
To use a simplified example, imagine your electric heated towel rail offers an output of 1000 watts. With the standard UK electricity tariff at 33.2p/ kWh (in April 2023), you can quantify the cost with the following sum…
1000 watts = 1kW x 1 hour in operation = 1 kWh x 33.2p = £0.33.2p
Using this as a base sum, you can multiply the result by the hours you will typically use the appliance for, and have an idea of what your usual electric towel rail running costs will be from day to day.
The running rate for dual fuel towel rails could be more difficult to gain a solid grasp on, given that the usage of the device will be split between power sourcing from gas and electrical supplies. The best way to get as accurate an assessment as possible would be to measure your use in the warmer middle months of the year from the electrical tariff, and use the gas tariff as a barometer for the colder winter months. All in all, a dual fuel towel rail will prove the most financially viable option in terms of ongoing energy bills, as it will draw from the most appropriate energy source from month to month.
Shop heated towel rails from BestHeating
Now you have an idea about the cost of buying and running heated towel rails of all different kinds, you can set about selecting your ideal design from BestHeating's excellent range. Our wide variety of towel rails encompasses gas, electric and dual fuel versions, and we offer thermostatic electric towel rails in addition to ladder style HTRs and all sorts of alternative versions with standout aesthetics.
And if you want to know more about our heated towel rail collection, or have any other home heating queries, don't hesitate to get in touch with our friendly team. You can leave your thoughts in the comments section below, or contact us via Instagram, Facebook or Twitter.
Got a radiator or heating question?


You can find a range of helpful answers to hundreds of common home heating questions on our FAQ pages.
Click the link or tap the image above to ask a question of your own!
With a background in sports journalism, John counts content writing amongst his key passions. He's always peppering our Advice Centre feed with reasoned and researched home heating tips, and providing expert solutions to the questions you want answering. Fine football and music connoisseur. In his own head, at least.