How to choose the right towel rail for a small bathroom
There's no doubting heated towel rails and bathrooms in general are a match made in heaven.
Of course, the bathroom area is the very most popular space to add a heated towel rail to, where they can be handily placed for toasty warm towels when you exit the shower, for instance.
But for an especially compact bathroom or en-suite, which heated towel rails are worthy of a 'super like', and which would render an automatic 'swipe left'?
In this article, we'll highlight some of the best bathroom towel radiator options to enhance a diminutive bathroom, touching upon a variety of different types, styles, shapes and sizes.
Let's get started…
Finding heated towel rails to warm the bathroom
One of the very first questions to ask when considering the addition of heated towel rails for any room is whether or not they will provide an adequate level of heat output, in comparison with designer radiators for instance.
Although the primary function of heated towel rails is, as their moniker suggests, to ensure you have a constant supply of comfortably dry and warm towels, they can be used to warm up an entire bathroom or en-suite, especially those with restricted dimensions.
Indeed for a smaller bathroom, it might be unlikely that any additional heat source is required, and bathrooms in general tend to have different requirements in warming up and remaining at a preferred specific temperature. Their unique needs stem from the fact that they will tend to be the first and last place we spend any time in during the day, and that we are often wearing next to nothing at the time.
All that said, you can utilize our BTU Calculator to gain an idea of what sort of heat output you'll need to comfortably warm up your bathroom space, and either include or scratch certain options from your thinking thereafter.
What size heated towel rail for a small bathroom?
Smaller bathroom, smaller towel radiator?
That might seem like a simple equation and a good general rule to follow. In actual fact though, you've free reign to consider all sorts of shapes and sizes of towel rails for your compact bathroom. And you might discover that it actually makes more sense to add a larger heated towel rail to the space to create an eye-catchingly attractive focal point.
Lengthy vertical towel rail models are an example of a heated towel rail type that could work well in a narrow bathroom, and actually save wall space to allow for the comfortable fitting of other fixtures and fittings. It can also help with the likes of projections from bathroom cabinets to ensure they don't come into contact with other rails, and risk chipping the shine from chrome towel rails, for example.
Plenty of ladder style heated towel rails fall into this category, and are an especially tempting choice for homeowners with a large family, considering the multiple rungs are conducive to the storage and warming up of several towels at once.
Provided the towel rail delivers an adequate heat output for what you want it for though, there's nothing to stop you opting for a more compact model if you prefer that aesthetic and general makeup. The size of the towel rail you choose can be based on simple personal preferences once you have decided on the primary functionality you want it to serve, and made sure it is fit for purpose from that perspective.
Generally speaking, wall mounted heated towel rails will be the most popular pick for small bathrooms, regardless of the size of the component you are thinking of going for.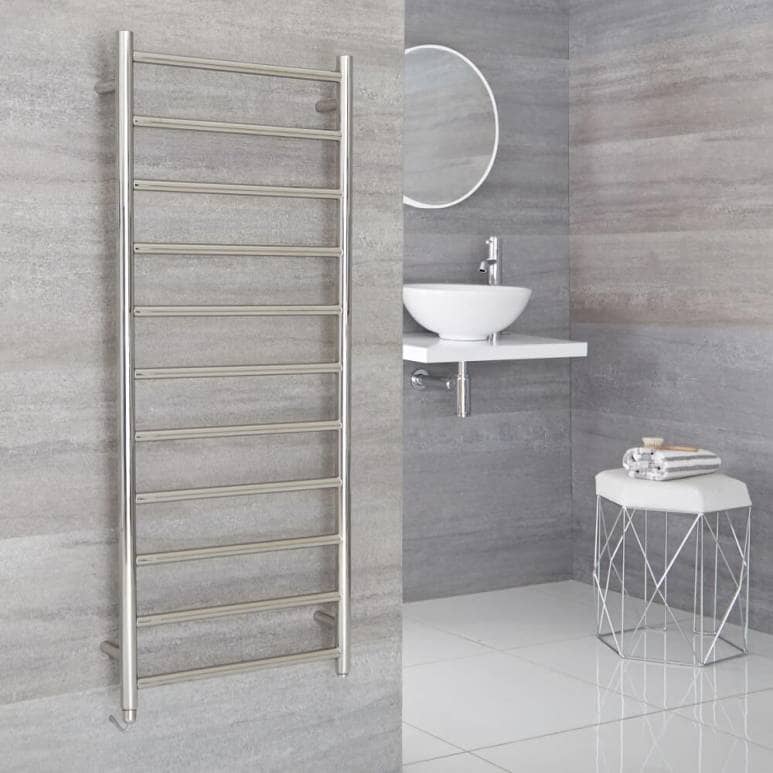 Which type of towel radiator is best for a small bathroom?
There are three main types of heated towel rails which all possess their own unique advantages and drawbacks – 'standard' central heating heated towel rails, electric towel rails and dual fuel heated towel racks.
Basically, central heating HTRs work in line with the household gas boiler, so will be switched on whenever the central heating is. That's ideal for the colder winter months of the year, but perhaps less so during warmer summer climes where you might not want to heat several spaces in the house, and instead just focus on areas like the bathroom and bedroom.
By contrast, electric heated towel rails operate independently of a household's central heating setup, working off the mains electricity supply instead. This enables them to work as and when required as opposed to being in constant use, and for the heating of individual rooms rather than the entire home. There's further insight into their suitability as a bathroom vice in our blog, Will an electric heated towel rail heat my bathroom?
Finally, dual fuel heated towel rails combine elements of either type – they can be plumbed into the central heating system to work in cohesion with the boiler when it is switched on, and they also incorporate an electric heating element so they can operate as a stand-alone electric entity when needed. These versions are typically the most expensive to purchase outright, but deliver the best of both worlds in how they actually work.
That said, ultimately all types of heated towel rails are appropriate for installation in a bathroom, so your own preferences and requirements can again dictate which style to select. Our ultimate heated towel rail buying guide and is a heated towel rail expensive to run blog are useful resources that might further inform or inspire your decision.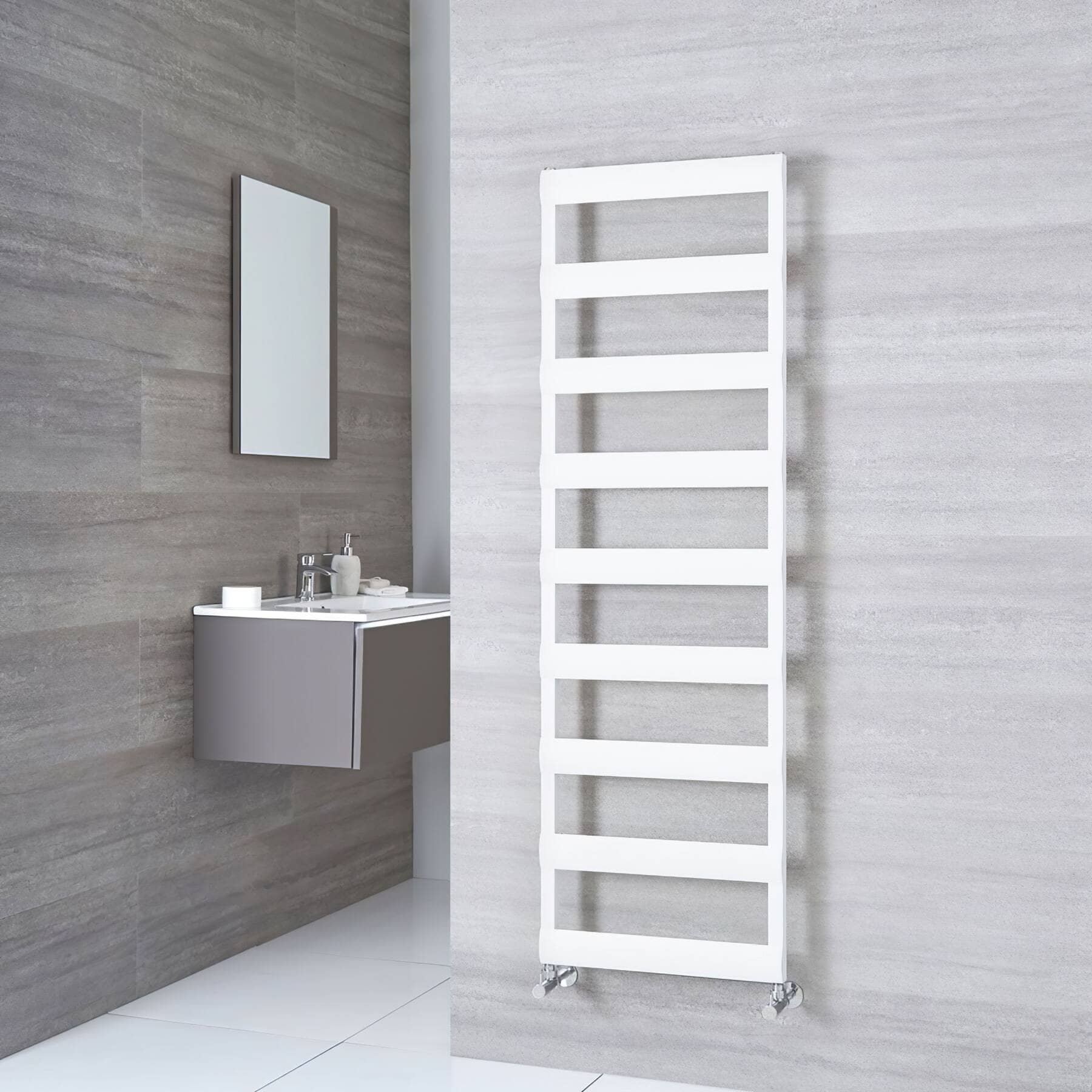 Modern or traditional towel rails for small bathrooms
Whether you opt for modern or traditional heated towel rails for a small bathroom would likely largely align with the existing décor of your bathroom, or whether you wish to fully upgrade the space for a cohesive aesthetic.
As earlier alluded to, the classic bathroom towel radiator styles might encompass more floor space as several models incorporate freestanding profiles. That said, the likes of the Milano Elizabeth traditional heated towel rail are somewhat of a hybrid design that connects to both the floor and wall. Such components could potentially work as well in both retro and contemporary bathroom areas.
On the modern towel rail side of things, there's a multitude of eye-catching options working on a gas, electric and dual fuel basis, in a variety of different finishes to suit all sorts of interiors. Anthracite heated towel rails and black towel racks are amongst some of the most popular contemporary options available to adorn and enhance a modern bathroom space, with fail-safe chrome a viable alternative as well.
Frequently Asked Questions
It is not essential to choose small towel rails for small bathrooms. In fact, you might find that larger towel radiators make for a better addition for a compact space; they can act as somewhat of a focal point and provide an eye-catching wall feature.
The likes of ladder style heated towel rails are a sizeable type that will offer ample storage room for towels in a busy but diminutive family bathroom, for instance. That said, there is no set rule, and provided a bathroom towel radiator offers an adequate heat output for what you want it to achieve, you can decide on a small, large or medium sized towel rail based largely on your own personal preference.
For a deeper insight, browse our blog, What are the best heated towel rails for small bathrooms?
Typically, heated towel rails can provide an adequate level of heat output to comfortably heat a small bathroom space, whilst also providing all the functionality needed for the storage of dry, warm towels.
To be sure that a bathroom towel radiator will deliver the right level of warmth you require in a compact bathroom, you can make use of our BTU Calculator.
And for a deeper insight, take a look at our blog, What are the best heated towel rails for small bathrooms?
Shop bathroom towel radiators from BestHeating
Provided you can identify a model that has an adequate heat output for the functionality you desire, the choice of the best heated towel rail for a small bathroom can largely be dictated by your own personal preference.
Shop an excellent range online from BestHeating, or for further information and advice surrounding the finest styles to select, don't hesitate to contact our friendly team. We can be reached in the comments section below, or via Instagram, Facebook or Twitter. You can also draw inspiration from our blog, Top 10 small bathroom radiators.
Got a radiator or heating question?


You can find a range of helpful answers to hundreds of common home heating questions on our FAQ pages.
Click the link or tap the image above to ask a question of your own!
With a background in sports journalism, John counts content writing amongst his key passions. He's always peppering our Advice Centre feed with reasoned and researched home heating tips, and providing expert solutions to the questions you want answering. Fine football and music connoisseur. In his own head, at least.