A quick guide to heating your conservatory
If you have spent the time, effort and money costing and building a conservatory – or bought a house that already has one – it's only right that you benefit from being able to use it all year round.
Of course, during the balmier summer months, conservatory heating takes care of itself – it's practically a greenhouse tacked on to the back of your house, so it should retain a fair bit of heat when the sun's been shining.
But in winter – and on cooler evenings during summer and autumn – all too many conservatories sit empty for long periods and are really just a waste of space.
In this article, I'm going to give you some tips on how you can enjoy the summer evenings in your glass-walled oasis, help you to prepare for winter, and really make the most of your conservatory.
Why is my conservatory so cold?
As I've said, the temperature levels of your conservatory will change with the seasons, and if you don't have adequate insulation and a good source of consistent heat, you're very unlikely to be able to enjoy the space as the days grow shorter.
However, aside from the season and the quality of your heating, there are other factors in play that can affect the temperature in your conservatory, these include –
Conservatory insulation – there are several ways you can better insulate your conservatory space, and doing so will make it more comfortable and cosy. Combat the cold with conservatory blinds and draught sealant, or spend a little more on a high tech insulation like a Conservatory Heat Reflective Insulation System.
Conservatory position – North-facing conservatories get most of their natural light in the morning, while a south-facing one will enjoy more of that in the afternoon and early evening. East and west-facing installations tend to be cooler in the evening as they will always get more light earlier in the day.
Conservatory glazing – the roof glazing of your conservatory can have a huge impact on the temperature of the space, and some types of glazing are better at keeping out the cold than others. Energy efficient glazing techniques have improved a lot over the last few years, so there's plenty of options available to help you maintain a comfortable temperature
Tips on heating a conservatory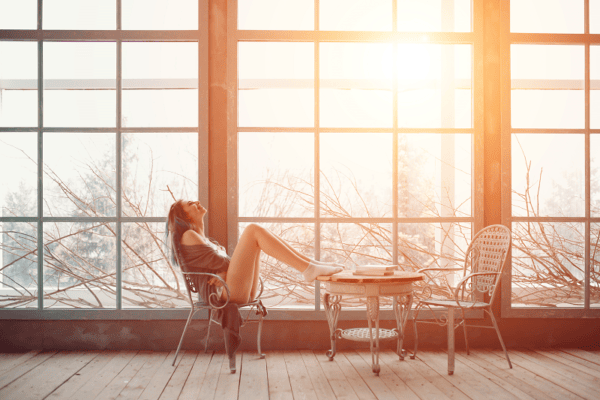 Conservatories have unique heating requirements. Thanks to their glass structure and a large number of exterior walls and high ceilings, heat can quickly escape and disappear.
In fact, heat is thought to escape eight times faster through double glazed conservatory windows than it does through a conventional cavity wall.
That means choosing an energy efficient conservatory heating solution is arguably more important in this room than any other in the house.
Following a few simple steps to trap the heat from the sun – like ensuring conservatory windows and vents are closed before dusk, as well as using window blinds – can all aid your energy efficiency.
But let's take a look at the conservatory heating options that will keep you warm and cosy on those cooler, rainy days (which the British Summer Time is always filled with) and allow you to enjoy the surroundings of your conservatory for as long as possible.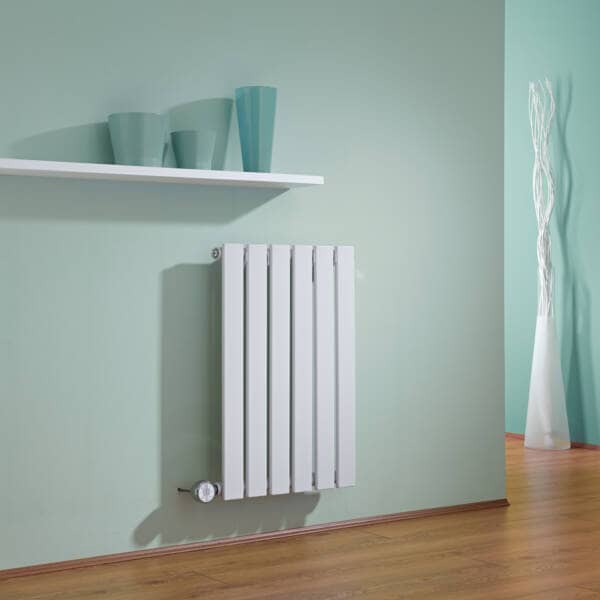 A steady BOOM has rumbled away in the electric radiator market in the last few years and as heaters for conservatories go, it's pretty easy to see why.
– Electric radiators are a quick, easy and fuss-free option as conservatory heaters. They are a convenient choice as the existing heating pipework does not have to be extended or re-laid, so in essence, you can just plug in and heat up.
– They're available in a range of shapes, sizes and styles, including low-level and compact models to take up a minimal amount of wall and floor space; ideal for heating a conservatory.
– Electric radiators and electric wall heaters warm up and cool down quite rapidly too, and convert all of their electrical energy into heat, making them a more efficient and cost-effective conservatory heater than many alternatives. We've further details in a dedicated blog, The Key To Classic Conservatory Underfloor Heating.
Trench heating
– As its name suggests, trench heating is an underground heating method in which a radiator is placed in a 'trench' below floor-level and covered by a grill which allows the hot air to rise up and permeate the room.
– Although relatively rare as a conservatory heating option, trench heating is convenient as it doesn't take up valuable wall space.
– Trench heating can also take some time to warm up a room – making it less efficient than a radiator – and installation costs can vary greatly – making the outlay and running costs often quite expensive.
– Underfloor heating is a good choice for heating a conservatory as it's discreet and will provide a steady flow of heat around the room.
There are, however, a number of downsides to choosing this option as your choice of conservatory heating. Although efficient once it's got going, underfloor heating can take a long time to warm up, so it will need to be switched on prior to using the room, limiting the spontaneous use of the space.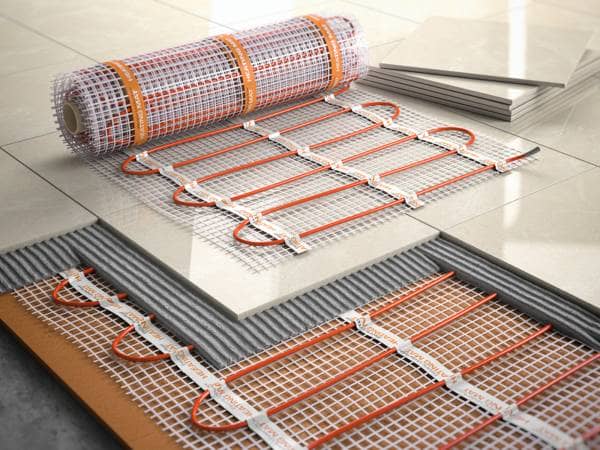 Similarly, if the underfloor heating has been in use for a while, it will take a long time for the conservatory to cool down, which may lead to an uncomfortably hot temperature, leading to opening windows in order to cool the space down, meaning more energy inefficiency.
You may also find that some underfloor heating can only be installed during the building of your conservatory, so if your floor has already been laid you may find this option too costly, time-consuming and disruptive to entertain.
Underfloor heating can only be laid under certain floor coverings, which limits the design choices available to you. Tiles and laminate are perfect for use with these systems but avoid solid wood floors (which may warp over time) and carpets, which will stop the heat from rising altogether.
Log burning stove
A stylish and powerful way to keep the conservatory cold at bay, a log burner is a low-cost and energy efficient solution to heating your conservatory space.
The great thing about a log burner in your conservatory is that – in most cases – planning permission is not required to have one installed.
That said, installing a woodburner anywhere – not just in the conservatory – requires careful planning and consideration to ensure it is installed correctly and according to building regulations.
Some of the important things to keep in mind are the size of the stove, whether you live in a smoke controlled area, the position of the stove in the conservatory itself, the chimney type and position, the fuel you intend to use and the installation of carbon monoxide detection too.
Air conditioning
Usually associated with the summer and keeping us cool, air conditioning can, in fact, use the same technology to keep us warm in winter.
The heat pump within the unit can take warm air from outside and direct it inside the conservatory, although this does depend on there being some warm air outside in the first place – not always a common occurrence here in the UK.
Air-con is a good heating and cooling solution for the conservatory, but it lacks the high heat outputs of other methods and extra heating power may still be required, in the shape of a radiator or fan-heater.
As conservatories can get quite hot naturally – thanks to the flaming ball of gas in the sky – air-con may not be such a bad choice.
Standard radiators and gas central heating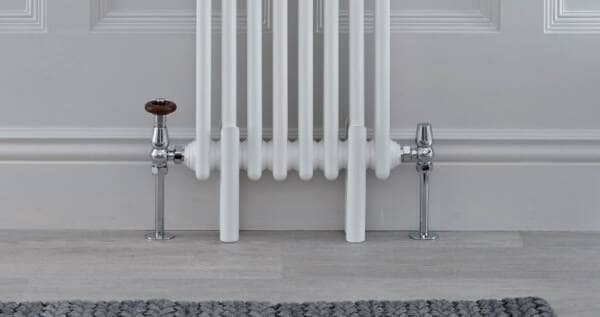 While it may be temporarily disruptive, extending your existing central heating pipework and adding a radiator or two is a highly effective way of heating a conservatory.
"Building Regulations may need to be considered if you are to extend your central heating to a new conservatory. It is stated that heating in a conservatory should be independent of the rest of the system. If you are unsure, check here for more info."
Many modern designer radiators have enormous heat outputs, with enough power to quickly and efficiently heat the room and maintain a comfortable temperature for many hours.
There are some great looking radiators out there in a range of styles and finishes to suit your conservatory – whether it is ultra-modern or very traditional, there's likely to be a conservatory heating solution available, and don't worry too much about wall fixings either; many modern radiators have a range of feet available to allow them to stand loud and proud in your conservatory.
If you're planning on extending your existing central heating system into the conservatory, be sure to check the boiler and pump can handle the extra heat output and run the length of the planned additional system. Asking too much of your boiler will overwork it, which will lead to numerous breakdowns and it could even struggle to heat up the system efficiently.

Homecure Plumbers – Plumbing, central heating and boiler services based in London – Visit Website
Low-level radiator options for your conservatory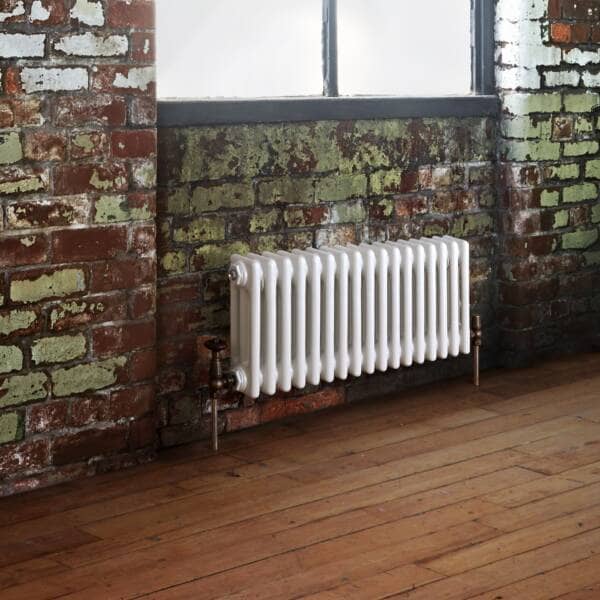 A low-level column radiator – just like the stunning Milano Windsor above – could be the ideal radiator for your conservatory.
Designed specifically to fit under a window, low-level radiators like this are a great way for you to save space and still benefit from a powerful heat output.
We have an extensive and affordable collection of low-level radiators at BestHeating. ,
The beauty of a radiator such as this is in its styling. But there are more modern variations on the same theme – so, if period-style isn't your bag, you could always look for a more contemporary low-level radiator for your conservatory.
Just go and find one!
Good luck heating your conservatory
So there you have it – time to get it done.
If you are heating a conservatory or wondering what the best heating solution for your conservatory, orangery or whatever you may want to call it may be, these tips should go a long way to helping you decide and benefit from a nice and cosy space whatever the weather and time of year.
Don't forget to get a really accurate reading of the BTU output you'll need to heat your conservatory, visit our BTU Calculator and be sure to have a read of our very latest Radiator Buying Guide for the best hints and tips on getting your choice right.
We would also recommend asking yourself: "How much does double glazing cost?" and doing a bit of research to see if you can add some new windows to your budget as well as your new radiators!
Good luck heating your conservatory, why not tell us how you got on in the comments below?

John trained in journalism before finding his way to the BestHeating Advice Centre team. He uses his journalism skills to meticulously research heating topics and bring you the latest news and views on all things home heating related. He'll also beat you at any sport that involves a cue!