When you think about your central heating system, you probably think of a purely functional system that keeps your home warm.
But, the great thing about vertical radiators is that they turn your central heating into a stylish statement feature. Plus, the vertical design provides space-saving solutions for both large and small rooms.
In this radiator round-up, we'll take you through our top five vertical central heating radiators. We will introduce you to a diverse range of modern and traditional designs to help you find the perfect vertical radiator for your home.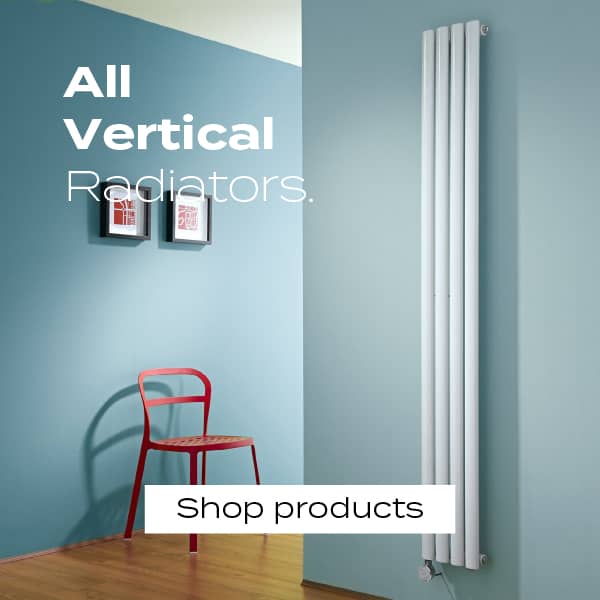 Milano Aruba
If you're looking for a modern vertical radiator with the most variety of colour options, the Aruba range is just what you need.
With twelve stylish finishes available, the Aruba vertical radiators give you the option to inject a playful sense of interior design into your central heating system.
These slim panel radiators provide a modern aesthetic. The smooth oval shaped design creates a unique feature that is worlds away from the standard box convector radiators that central heating is known for.
Interior blogger Sandra over at @the_idle_hands designed a dreamy bedroom for her daughter. We love the choice of the sage green Aruba vertical radiator against the beautiful marble feature wall.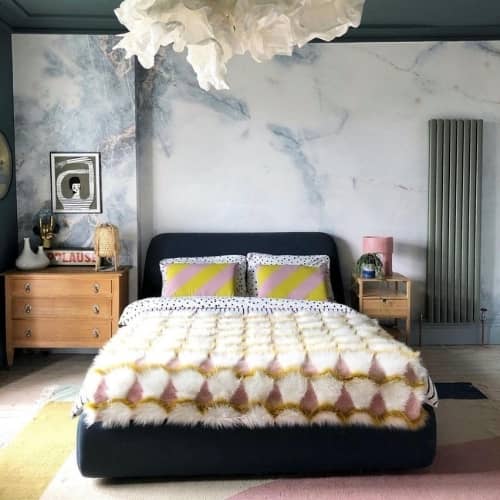 Featured radiator:
Over at @jessysdreamhouse, there was only one vertical radiator that was going to work for this pink palace and of course that was the pretty pink Aruba!
This central heating radiator match the pink living room decor perfectly. Plus, the slim vertical design also makes use of the narrow wall space to create extra space elsewhere for additional pieces of furniture.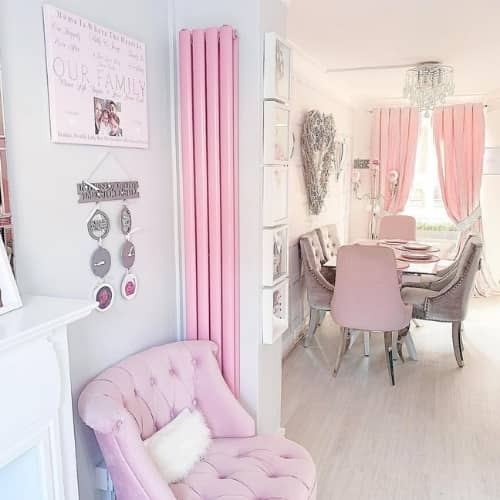 Featured radiator:
Milano Windsor
Whether you love period style decor or cosy boho interiors, our vertical Windsor central heating radiators look beautiful in every home.
The chunky mild steel vertical columns provide an impressive heat output to keep large spaces warm and inviting. But, with narrow double column options, our vertical Windsors are also perfect for adding character to small spaces too.
When it comes to designing your dream home, the small details bring it all together. With a choice of timeless metallic finishes like antique bronze and copper, you can match your fixtures and fittings to your central heating and create a considered colour scheme.
Kitchen Windsor
We love how @northwest_semi matched their beautiful bronze kitchen tap and cabinet handles with our vertical metallic bronze Windsor.
The timeless column design and beautiful bronze finish brings every detail together perfectly.
Featured radiator:
@the.sussex.house decided to go for a clean white finish and traditional tap valves to complement their elegant period style decor. We love this simple, timeless space that invites comfort and calm.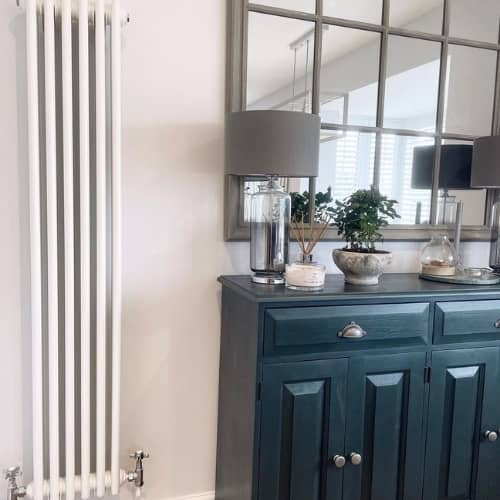 Featured radiator:
Dual fuel Windsors
Another fantastic benefit of the vertical Windsors is that they are available in dual fuel options. This means that they can work with your central heating system or independently from it as an electric radiator.
The dual fuel functionality is great for reducing your home heating energy usage and costs. For example, if you installed a dual fuel radiator in the bathroom, you could connect it to your central heating system during the winter.
Then in the summer when the heating is off, you can still heat the bathroom by using the radiator as an independent electric heater.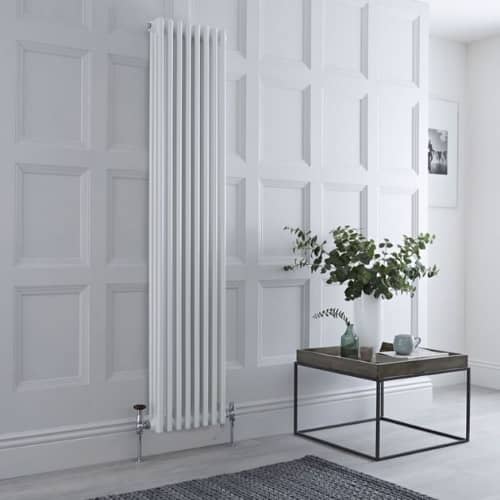 Milano Icon
With a stylish mirrored central panel, the Milano Icon vertical designer radiator is the ultimate space-saving feature. Perfect for hallways, bedrooms or dressing rooms that require a full length mirror, but has limited wall space.
These contemporary central heating radiators feature clean lines and slim flat panels inspired by minimal Scandinavian design. Choose from modern anthracite grey or neutral white.
The stylish mirror insert provides an extra functional and decorative feature. Plus, it is also designed to bounce light around the room and make small spaces feel bigger, brighter and more inviting.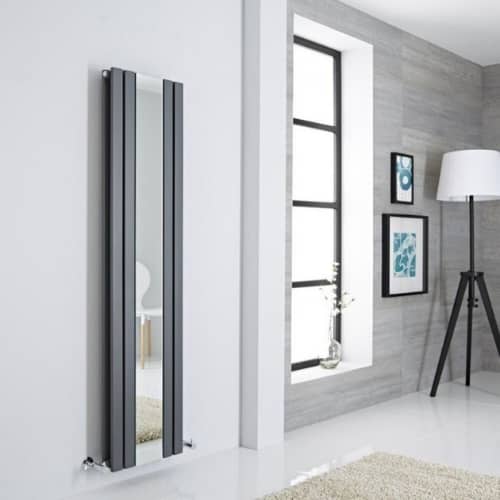 Featured radiator:
Check out more mirrored radiators at BestHeating.com
Milano Skye
For a vertical modern radiator that provides a powerful heat output with minimal weight and impact, the Milano Skye central heating radiator is the perfect choice.
Featuring modern wide flat panels and a choice of white or anthracite finishes, the Milano Skye collection is a great option for modern homes looking to add style and efficiency to the heating and decor.
Aluminium benefits
Constructed from high quality aluminium, these impressive vertical radiators are far more lightweight than steel or cast iron. Therefore, if you are looking to heat a room with internal walls like stud walls, these aluminum radiators are safe to install wherever you need.
In addition, another benefit of these flat panel vertical radiators is that aluminium heats up much faster than steel. This means that you can improve the efficiency of your central heating system.
Plus, you could reduce your heating costs since the radiators require less water to function and reach their maximum temperature.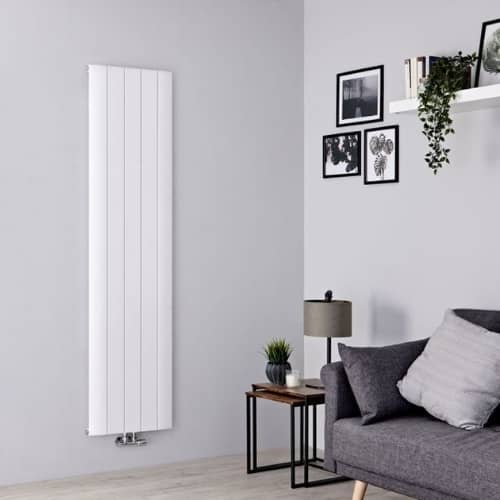 Featured radiator:
Check out more aluminium radiators at BestHeating.com
Lazzarini Way – Ischia
Finally, for a central heating radiator that is completely out of the ordinary, meet the Lazzarini Way Ischia.
This modern minimal radiator is characterised by simplicity, clean lines and a beautiful colour palette.
Perfect for bathrooms and kitchens, the stylish chrome towel bar adds another contemporary design feature. Plus, it provides a functional space to dry and display towels.
Designed to stand the test of time and provide the focal point for any room, these attractive vertical radiators are made from durable carbon steel.
Ischia colour options
Choose from a selection of contemporary finishes to complement every interior style.
The soft mineral quartz finish creates a calming feel and looks beautiful paired with warm earth tones and boho furnishings. Similarly, white and anthracite work well with monochrome interiors inspired by Nordic design.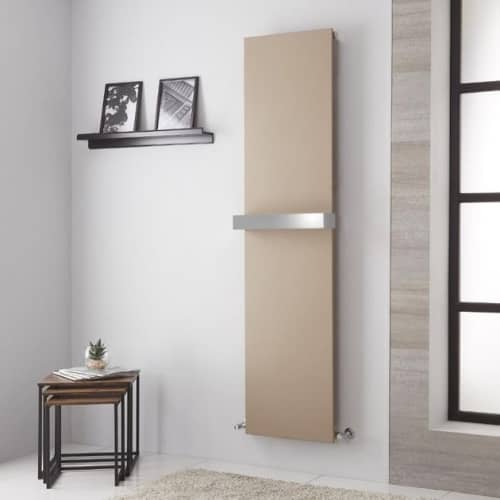 Featured radiator:
Need more inspo?
We hope this introduction to our top five vertical central heating radiators has helped you on your way to choosing the best radiators for your home!
For more style inspiration, head over to our Top 40 Central Heating Transformations.
Or, for a more detailed exploration of our collections, head over to our Radiator Buying Guide.
Jess has a passion for interior design and wants to inspire people to look at radiators as home decor. She enjoys keeping on top of the latest design and heating trends to ensure the Advice Centre has all the information and inspiration homeowners need to make the best choice for them.