"Are vertical radiators any good?"
Here at BestHeating, there is a huge range of vertical radiators in a selection of eclectic styles and sizes, with finishes to complement, clash or combine with any interior.
But, one question I often get asked is: "Are vertical radiators any good?".
I mean it too – people stop me to ask about that now!
Now, I've covered the differences between vertical radiators and their horizontal radiator counterparts before, but perhaps I didn't delve that deep into vertical radiator pros & cons.
So, as editor-in-chief at The BestHeating Advice Centre, I'd like to apologise for that oversight, and assure you that I'll do a lot better this time around, if you carry on reading.
(Please carry on reading!)
I've decided to take it upon myself to give you the lowdown on vertical radiators, so you can better understand the good, the bad, and the (arguably) ugly about them.
Check out my honest appraisal below and find out what some of our customers have said about their personal experience with our vertical radiators by reading the selection of reviews at the bottom of the page.
First up, though, in case you don't know, what is a vertical radiator?
A vertical radiator introduction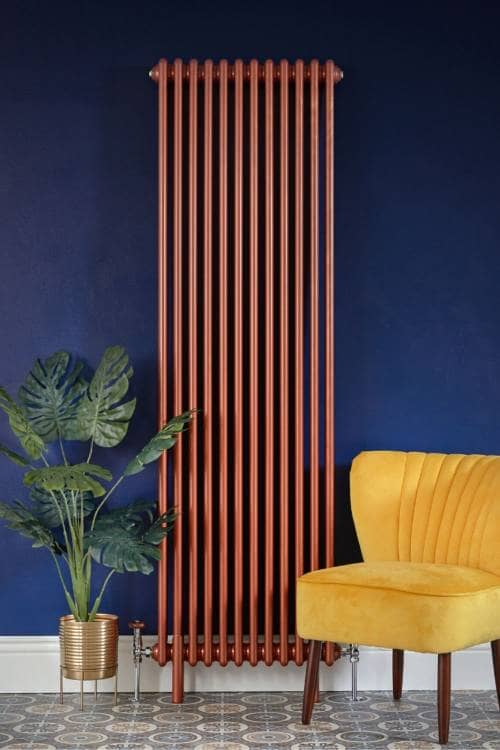 When it comes to selecting a new radiator for your home you'll generally find two options – vertical or horizontal.
A vertical radiator is upright and is much taller than it is long, whereas a horizontal radiator is generally longer than it is tall.
In this article, I'll be discussing the pros and cons of vertical radiators – so if that's not your bag, maybe pay a visit to our horizontal radiator range instead.
For those of you looking for a vertical radiator, shall we read on?
The pros of vertical radiators
Now those horizontal radiator lovers are out of the picture, what better place is there to start than with the benefits and advantages of a vertical radiator?
Here's a short breakdown of vertical radiator advantages –
Space-saving
Just as effective as horizontal radiators
More versatile for room layout and style
There are just so many vertical radiator designs
You can design a space around them
They can add value to your home
Read on below for a more in-depth look at all the good bits!
Vertical radiators are space-savers
Aside from the obvious heat outputs that vertical radiators offer (as that is what they are supposed to provide), they will also help to save space and free up a little more room in the place you choose to install them.
Although they may take up more room up the wall than any horizontal radiator might, the extra space they create along a wall can be invaluable in rooms with limited wall and floor space – like hallways or landing areas.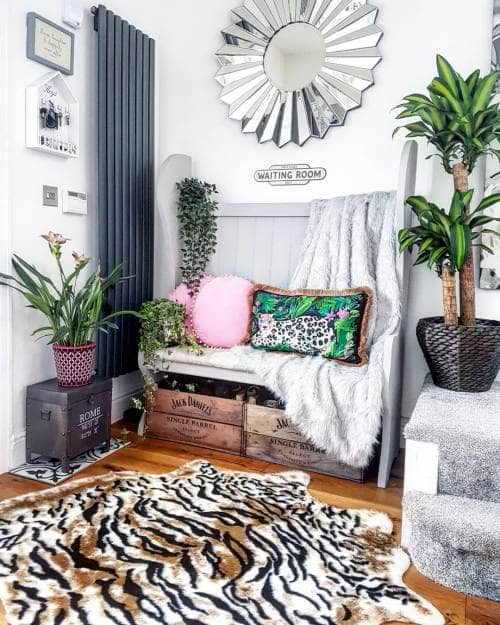 This additional space can be used to place furniture or more storage, and help you to make the very best of the space you have available.
So, it's safe to say that the first "pro" of vertical radiators is their space-saving capabilities.
Vertical radiators are just as good at heating your home
Although they may not offer as much in terms of convection currents (more on this later), the efficacy and efficiency of vertical radiators is more or less the same as many horizontal radiator designs of a similar size.
A radiator's ability to warm a space is measured by its BTU output, so if you spot a vertical radiator with the output you require for your space there is nothing but personal taste that's stopping you from choosing that option over a horizontal one.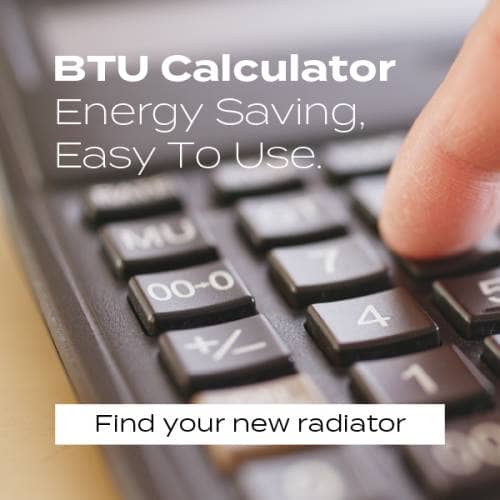 When weighing up the BTU output you need for your room, you should use our BTU Calculator to help, and when doing so you'll find that many vertical and horizontal radiators offer around the same heat output as one another.
Provided that the heat output of a vertical radiator is sufficient to heat your space – based on the calculations you made using the calculator – then the one you install will perform just as well as the horizontal one you are replacing.
Some people have even found that their homes have been made warmer following the installation of a vertical radiator.
Tall vertical radiators are more versatile
Next up, in our vertical radiators pros and cons list – a vertical radiator's versatility.
Unlike a like-for-like swap of your horizontal radiator – where you are probably replacing a radiator under a window – vertical radiators open up a range of design possibilities in terms of where they can be sited.
These days, most modern homes benefit from double glazing, which means the requirement to place your radiator under your window – traditionally the coldest part of the room – is minimised.
Nowadays, if you want to put a radiator behind a door, or sneak it in-between a couple of pieces of furniture, you can – and it's in this way that a vertical radiator can open up a range of options.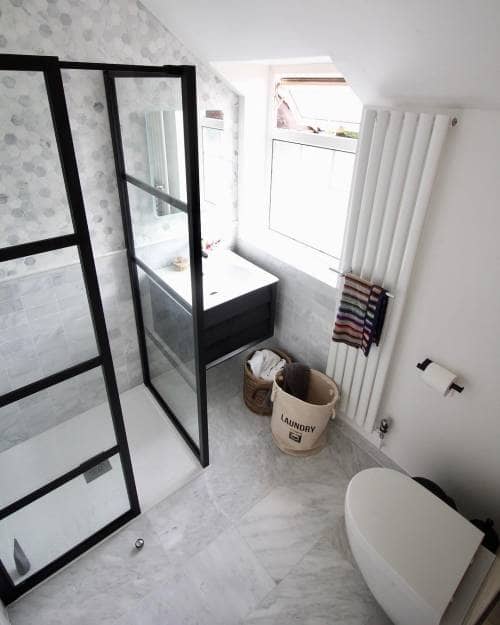 If you have a small bathroom or en-suite, perhaps a slimline vertical radiator with a couple of towel or robe hooks would be better than a heated towel rail.
Or if you have a large open kitchen dining space, then a tall and imposing vertical radiator could be perfect for stamping some additional style authority in that room.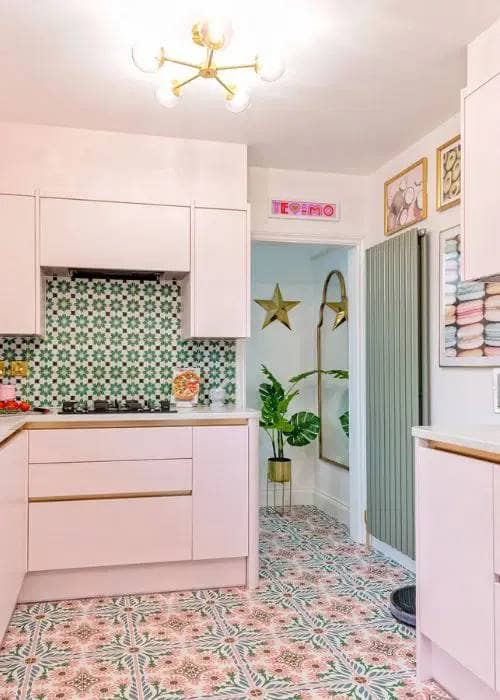 The installation advantages of vertical radiators far outweigh those of more traditional horizontal designs, and for me this is one of the best and most attractive attributes of a vertical radiator.
You are not ever lumbered with a like for like radiator swap. With a vertical rad, there's always another option.
With horizontal radiators, you are not likely to ever move it from under the window, so you've already put a dampener on any new design ideas or layouts for your space.
But when you consider a vertical radiator, the choices suddenly open up a little bit more.
That extra sofa that you wanted to get and place under your window – but never did because you aren't supposed to put furniture up against a radiator – can now be bought safe in the knowledge that you ARE going to have the space to accommodate it.
Versatility is defo the name of the game with vertical radiators – just check out the gallery below for some of my personal favourites from our customers' homes.
There are so many vertical radiator styles
I'd wager that, when most people are thinking about a vertical radiator, what they have in mind is some futuristic looking modern design installation that's more a piece of art than a practical heating solution.
And while that is not wrong for ranges like the Milano Aruba, Alpha and Flow, it's less accurate for more traditionally styled vertical radiators like the Milano Windsor.
You see, just because it's vertical doesn't mean your radiator has to look modern.
So, if you're the proud owner of a period property, or just prefer the allure of more vintage styling, you can still benefit from all the space-saving brilliance of a vertical radiator.
And when it comes to colours, the options to further enhance your decor and interior styling are even more desirable.
Of course, you can get the standard white styles, and more trendy black and anthracite grey finishes, but the range of colour profiles we now offer at BestHeating has once again changed the game for vertical radiators.
Choose from evergreen greens, ocean blues and rose pink pinks and more – however you intend to use your vertical radiator, you will never go short of options at BestHeating with our coloured radiator ranges.
And, if you've been thinking about electric heating, our collection of vertical electric radiators is packed with eco-efficient solutions for your home.
You can build a room's style around a vertical radiator
Considering colours again here, if you're struggling to decide how to dress a space, and simply have no idea on how to approach your interior design theme – a vertical radiator could be the thing that gets you to your goal and provides some heating inspiration.
Now, of course, vertical radiators are not going to come round to your house with a development plan on how a space should look (though we are working on that range – we're not, but that sounded funny), but they could help you gauge the type of look and finish you are going for.
If you love the colour of a radiator, why not have that be the main focal point of a space?
It may not be the "in" thing to design a room layout around a radiator – but you may be surprised by just how many people have opted to do just that.
Take the customer homes below for example.
Some of these spaces were barren hallways with a simple convector radiator on the wall, but now they're stylish entryways that are styled around the new and improved vertical radiator.
Others have created gallery walls and their vertical radiators have doubled as pieces of art in their own right – never looking out of place alongside popular slogans or fine art pieces alike.
New vertical radiators could increase the value of your home
In 2021, we reported that experts at We Buy Any House had said that replacing tired old radiators with stylish new and efficient ones could add up to £10,000 to the value of your home.
This is possible as the space that vertical radiators make allows potential buyers to visualise things a little more and helps them consider how they could make the house their own.
So, if you're planning on selling a property – or perhaps you've struggled to get one off the market – and haven't considered swapping out older radiators for new vertical radiators, perhaps now could be the time.
We estimated that the outlay to completely change all the radiators in an average 3-4 bedroom home in the UK would be around £5000 – so there's potential for profit there for those willing to make the switch!
The CONS of vertical radiators
Thankfully, there are not that many downsides to installing a vertical radiator – just a couple of things to keep in mind before you install them.
So, while I'm saying these are "cons" or points that may put you off buying a vertical radiator, they are not so off-putting that you should stop reading.
Check out the small number of pain points with vertical radiators below, and then you can decide if they are for you or not!
Replacing your old rads with vertical ones is not as simple as you think
When your home was built, the chances are that vertical radiators were either not on the radar of the architect or builder, or they didn't exist at all.
Because of this, the main drawback and disadvantage of vertical radiators is making quick and pain-free switches from horizontal to vertical styles.
Swapping out an old horizontal radiator for a new one of the same shape and size is relatively easy – but if you're changing from horizontal to vertical radiators, this can be where things get a little trickier.
There's a very good chance that all of your radiators are in a horizontal profile, so the replacement process can take a little longer than a straight swap.
It may be that pipes need to be moved, floorboards have to be raised, and of course, you'll need to do something about the holes the brackets of your old horizontal radiator leaves behind.
That said, all of this is very light work for a professional heating engineer or plumber, so if you do have designs on a vertical radiator, don't let the potential annoyance of removing your old one put you off.
We also have a range of helpful how to guides like the one below – this one can help you to dress and hang a vertical radiator on your wall.
Vertical radiators could be less effective at heating a space
Although I have said that vertical rads perform just as well as their horizontal radiator buddies – and that is more than largely accurate – there are some minor considerations to make around performance.
This is because of the available area on the radiator and how convection currents do their job in making your home nice and warm.
You see, we've discussed how radiators heat your room before and, despite their name, radiators don't actually do much home heating by the process of "radiation"; rather they operate via convection.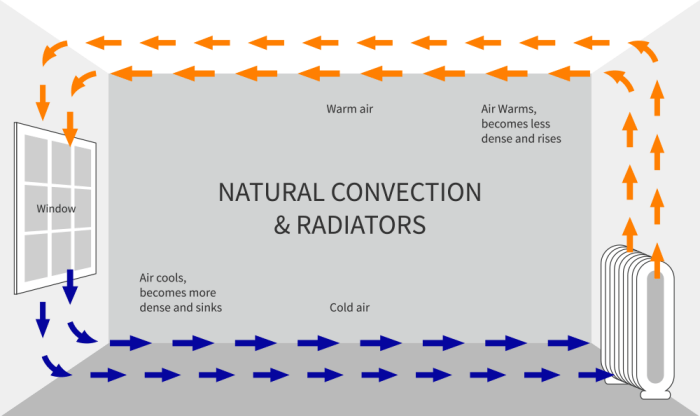 Because of this, there is a school of thought that thinks that the length of a horizontal radiator lends itself better to pushing heat out into a room by the process of convection.
This is because there is more space across the radiator to draw up cold air from the room.
Now, while science doesn't lie about such things, the difference in heat output and convection currents is quite minimal and provided you have selected a vertical radiator that offers adequate heat output, and have it well placed in your room, it will heat your space just fine.
And, there's also the option to install two strategically placed smaller vertical radiators around the room to reach the desired output too – so your choices needn't be hamstrung.
Vertical radiators can be very heavy
When filled, most radiators are pretty weighty, and a vertical radiator is no different.
It's important to consider this factor, particularly if you intend to install your vertical radiator on an internal plasterboard wall.
Unlike horizontal radiators, which are usually placed under windows and on a solid external wall, you may choose to maximise space and place a vertical radiator on an internal wall instead.
Therefore, you will have to keep in mind the structural integrity and load-bearing qualities of that wall, and will have to make provisions for the weight of the radiator when you install it.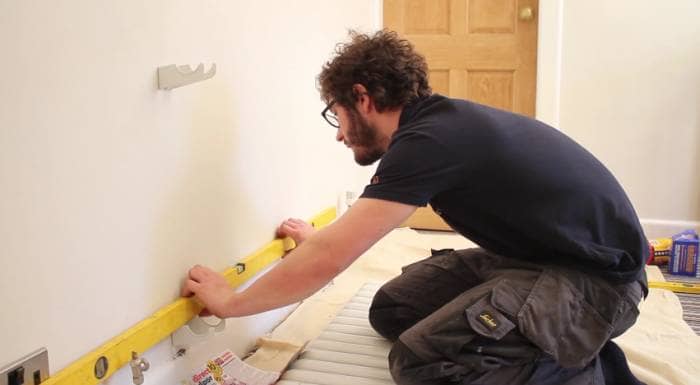 If you do choose to install a vertical radiator on an internal wall, it's crucial that the wall bracket is fixed into place with strong fixings that are capable of holding the weight of the appliance.
In addition, it's also important to remember that your radiator will not yet be filled with water.
When filled, and connected to your central heating system, it will be a lot heavier than when you first took it out of the box.
Toggler.co.uk has a really insightful guide on fixing radiators to plasterboard which is defo worth checking out for further info on the matter.
TOP TIP – If you are determined to install a vertical radiator, but have been advised that it may be too heavy for your chosen wall, why not opt for an aluminium vertical radiator? These are much lighter in weight than their steel counterparts, and could be an ideal solution for installation on an internal wall.
Finding the best vertical radiators
Choosing a new radiator is a considered purchase.
It's better to take the time to measure up for your radiator, size it correctly, and consider it's style and design qualities, than it is to just spot one you like the look of and crack out the cash cards.
To help you find the best UK radiators, we've put together an extensive and exhaustive list of helpful guides and advice & tips pieces, alongside a selection of inspirational customer case studies showing how they have used their vertical radiators.
We take pride in offering one of the largest selections of vertical radiators in the UK, and with the help of our BTU Calculator, we're very confident you'll find the perfect vertical heating solution at BestHeating.com.
Frequently Asked Questions
It is true that the addition of modern vertical radiators can boost property value to a decent extent. It was estimated as recently as 2021 by property experts that swapping outdated rads for attractive, energy efficient versions could put up to an extra £10,000 onto a home valuation.
Furthermore, considering the estimated cost to switch up old radiators for contemporary vertical models throughout the home would be in the region of £5,000 in a typical UK household, the scope exists to turn a profit for those willing to complete the swap.
To find out more, browse our dedicated blog, Vertical radiators – Pros & cons.
Vertical radiators are generally considered to be a more versatile option than their horizontal counterparts for a few reasons. With regards to horizontal radiators, the likeliest prospect is that they are to be installed beneath a window, which will typically be the coldest area of a room. However, with modern properties usually featuring double glazing, the need to place a radiator close to a window is reduced.
And vertical designer radiators present a multitude of possibilities in terms of their fitting location – a tall radiator could feasibly be placed in a narrow gap between pieces of furniture, or to adorn virtually any wall space and create a style statement. As such, the profile of vertical radiators present any buyers with the scope to adjust the layout of their room, whether it be a kitchen, bedroom, bathroom or living area, as opposed to simply performing a straight swap in the same spot with horizontal rads.
Plus, the obvious space-saving element associated with vertical radiators ensures extra versatility in comparison with horizontal versions.
To find out more, take a look at our dedicated blog, Vertical radiators – Pros & cons.
Vertical radiators offer numerous advantages for households, inclusive of a space-saving design that provides versatility for practically any style and layout of a room.
With a plethora of designs available, vertical radiator models work equally as effectively as horizontal versions, and the fact that their profile ensures a space can be designed around them ties in with their ability to increase the valuation of a home as well.
For a more detailed insight into all the virtues and benefits that vertical radiators provide, explore our blog, Vertical radiators – Pros & cons.
Generally speaking, vertical central heating radiators actually deliver a lower heat output than horizontal radiators. This is due to the fact that they don't span the same length to draw up cold air for convection as their horizontal counterparts.
That said, there are many vertical central heating radiator options that can provide an adequate level of heat for the space you are looking to warm up.
Take a look at our dedicated blog, Top 5 Vertical Central Heating Radiators, for a more detailed insight.
Vertical radiators are neither more nor less efficient than horizontal radiators.
Efficiency of performance in radiators can be measured via the BTU output they provide, which can be worked out using our BTU Calculator.
Outputs will vary based on a number of factors including size and material, but there is no correlation to suggest vertical radiators perform more efficiently than horizontal models, or vice versa.
Whilst in general, vertical radiators won't provide as high a heat output as horizontal radiators, everything is relative with regards to whether or not they give out enough heat.
Use a BTU Calculator to work out if your preferred vertical radiator design provides an adequate level of heat to warm your chosen space to a comfortable temperature.
It might prove the case that a vertical radiator is actually a much better option regardless of the lower overall heat output it delivers, depending on the layout and size of the room it will populate.
Yes, you can place a vertical radiator behind a door, provided there is sufficient space to open and close the door without it coming into contact with the radiator.
You might have little choice when installing a radiator in a compact space.
To discover more about the best place to position a new radiator, check out our radiator positioning guide.
And if you would like some inspiration surrounding the best radiators to select, take a look at our comprehensive radiator buying guide. Or, specific to this question, our blog on the Top 5 Vertical Central Heating Radiators.
What do our customers say about vertical radiators?
We could talk to you all day about the pros and cons of vertical radiators, but who better to hear from than our happy customers?
We are very lucky to be rated as "Excellent" and have over 50,000 reviews on TrustPilot – and below are just a few of the things people have said about the vertical radiators in our store.
But, if you still have questions or need more support, take a look at our FAQ page to find extra tips and insights, or give us a call on 0330 027 1490 and our friendly team of heating experts will be on hand to help you make the best heating choices.


John trained in journalism before finding his way to the BestHeating Advice Centre team. He uses his journalism skills to meticulously research heating topics and bring you the latest news and views on all things home heating related. He'll also beat you at any sport that involves a cue!