Digging into Delta T radiator outputs
When investing in home radiators, a fairly fundamental requirement will be to understand what sort of heat output the appliances will kick out, and whether this is an adequate level for the space it is being fitted in.
But with a variety of figures and somewhat technical heating jargon to whittle through, it can be a touch overwhelming to work out just how powerful your radiators or heated towel rails might be, and whether they can adequately warm up your chosen room.
In this article, we'll outline how to understand Delta BTU output statistics, and shine some light on the ways to work out just how much heat you require for any particular area of the home.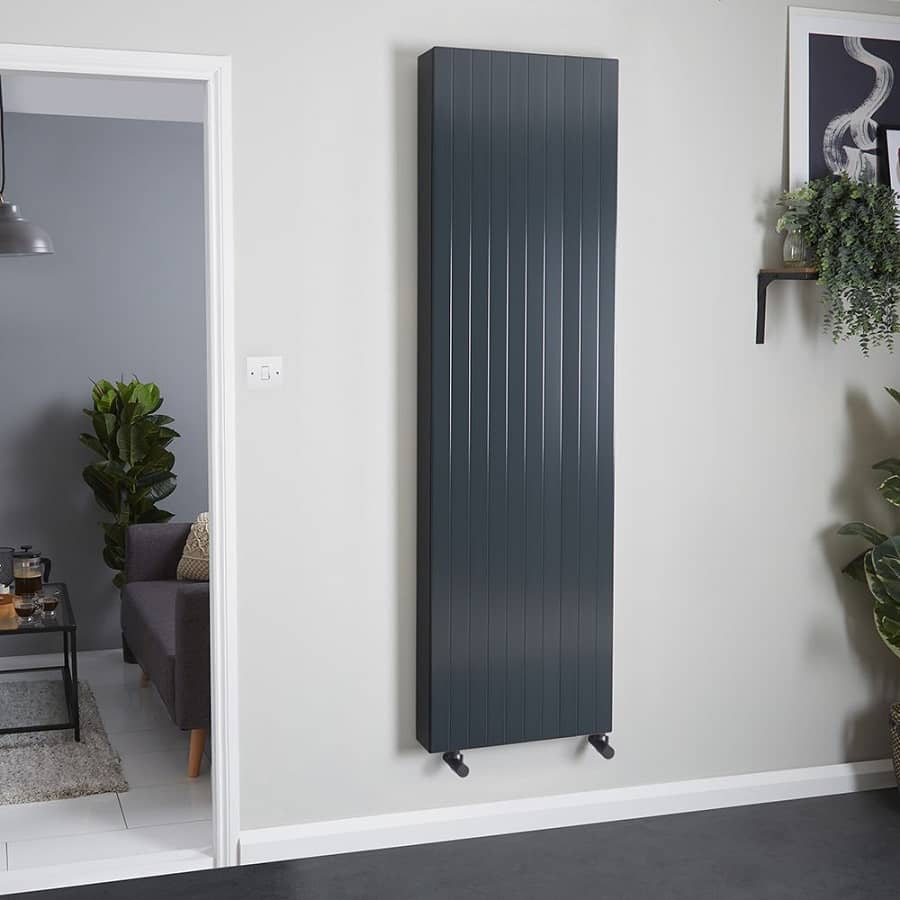 What is Delta T?
Delta T figures are essentially based around the temperature difference between the water circulating throughout the central heating system in comparison with the ambient room temperature.
For instance, with an ambient temperature of 20ºC in line with a circulating water temperature of 70ºC, the Delta T value would be the resulting differential of 50ºC.
It makes sense to use the quoted figures as an example meanwhile, considering that Delta T 50ºC represents the UK standard for modern domestic gas boilers, the most common type of central heating system in use. A Delta T 50º rating can basically be used as a benchmark for heating industry professionals, and to a lesser extent, customers and consumers to gauge what sort of heat output radiators or alternative devices will kick out.
It is important to use the correct Delta T value when considering any radiator replacements or upgrades you might make, and for a correct calculation, you can rely on the equation below as a general rule of thumb…
Average Temperature of Water in Radiators – Average Preferred Ambient Temperature = Delta T
Why do you need to understand Delta T values?
It is true that the use of a BTU Calculator is an essential vice to understand which sort of radiators or other appliances are suitable for any particular room within a property.
But why do you need to understand Delta T values as well to ensure you make the right radiator decision?
Well, as well as making sure your chosen heating system can sufficiently heat the desired space, you also want to guarantee the very best performance possible in terms of energy efficiency.
Now more than ever, there's a huge emphasis on the best heating means to lower energy bills, and in understanding Delta T values, you can guarantee you go for a radiator that will work smartly for you and your home.
What's more, Delta T ratings also offer a quick and simple way to fathom the heating requirements of a specific room in accordance with the appliances or devices you already have installed. Of course, if your central heating system has Delta T50 requirements (sometimes shown symbolically as Δt50), then you know that any radiators based on a Delta T60 rating won't deliver an adequate level of heat, as obvious as that may sound.
What are the most common Delta T figures for UK radiators?
As aforementioned in this article, Delta T50 is the most common attributable value to UK radiators, and it is now a legal requirement to test devices versus this calculation in line with EN442 certifications. Although, that hasn't always been the case, and is actually a relatively recent development.
Indeed, Delta T60 accounted for the bulk of radiator output values until 2013, with the shift facilitated by significantly lower expected boiler temperatures, aligning with how more modern central heating systems tend to operate amid global warning concerns and a renewed focus on energy efficiency.
That said, Delta T60 and T65 ratings are still quite prominent, especially given that boilers typically have a decent lifespan and don't tend to warrant replacement all that often where it is avoidable.
And the other most frequently seen UK Delta rating pertaining to BestHeating radiators is T30, although this is a far more seldom seen value in comparison with the alternatives, and based on a far lower water temperature gauge of 55 degrees. However, as renewable energy systems such as air source heat pumps increase in popularity with their low emissions output, lower Delta T-rated appliances can be expected to in turn too.
The most popular Delta T ratings based on water temperature
Delta T65 – Based on a water temperature of 95 degrees C
Delta T50 – Based on a water temperature of 75 degrees C
Delta T30 – Based on a water temperature of 55 degrees C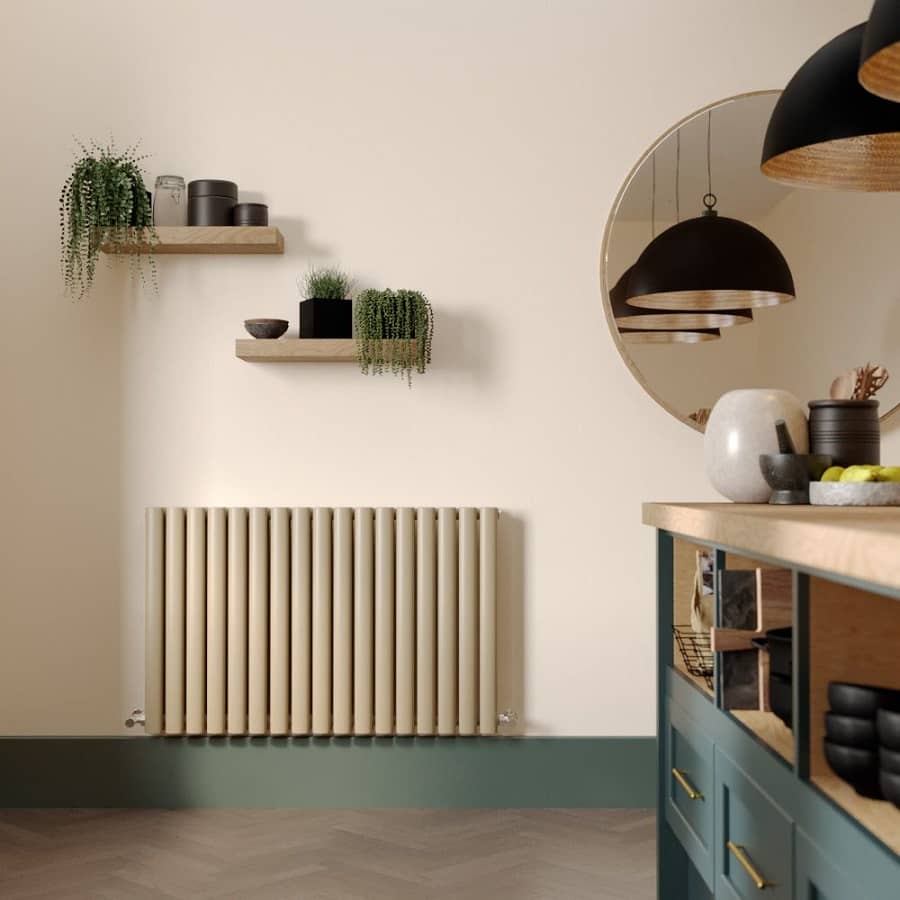 Can radiator valves affect a Delta T value?
The way that radiator valves are fitted can play a part in adjusting the Delta T rating of a radiator, given that the values are drawn from the relationship between radiator water temperature and that within a household boiler.
Basically, the best practice to ensure the full BTU output is received, in alignment with the stated Delta T value, is to install the flow valve at the height of the radiator and the return valve at the foot, at the opposite end to the flow valve.
If, for whatever reason, both the return and flow valve are fitted to the bottom of a radiator, you can immediately deduct 10% of the value from the BTU output that accompanies the product listing on our website. And thus, the resulting amount should be factored into any Delta T calculation you might make as well.
Frequently Asked Questions
It is true that the manner in which radiator valves are installed can factor into altering the Delta T value of hot water radiators, considering that the ratings are born of the connection between radiator water temperature and that of the ambient room temperature delivered by the central heating system.
Essentially, to ensure that best practice is followed in producing the full BTU output, lining up with the accredited Delta T rating, is to fit the flow valve at the top of the radiator and the return valve at the bottom, at the opposite side to the flow.
To find out more about Delta T values and their importance to your home heating choices, browse our blog, Understanding your heating output – A guide to Delta T radiator specs.
The most common Delta T rating for UK radiators is Delta T50, and it has become a legal requirement for hot water radiators and alternative heating devices to be tested versus this calculation in line with EN442 certifications.
Prior to 2013, Delta T60 was the leading rating within the heating industry until the previously mentioned legislation was introduced.
For further information on Delta T ratings and to discover why they can make such a difference to your home heating choices, take a look at our dedicated blog, Understanding your heating output – A guide to DELTA T radiator specs.
The most common Delta T rating in the UK is Delta T50, with it a legal requirement to test hot water radiators and other appliances against this calculation in accordance with EN442 regulations.
Previously, Delta T60 values were the heating industry standard until the aforementioned legislation was introduced in 2013.
To find out more about Delta T figures and why they are such an important factor in your home heating decisions, explore our blog, Understanding your heating output – A guide to Delta T radiator specs.
Contact BestHeating for more Delta T information
Hopefully, you'll now be equipped with all the information you need to make an informed decision regarding your ideal home radiators, and understand how Delta T ratings factor into your choice.
If you would like any further clarification regarding Delta T values though, or have queries about any other home heating issues or situations, please don't hesitate to get in touch with the friendly BestHeating team.
You can leave your thoughts in the comments section below, or contact us via Instagram, Facebook or Twitter.
Got a radiator or heating question?


You can find a range of helpful answers to hundreds of common home heating questions on our FAQ pages.
Click the link or tap the image above to ask a question of your own!
With a background in sports journalism, John counts content writing amongst his key passions. He's always peppering our Advice Centre feed with reasoned and researched home heating tips, and providing expert solutions to the questions you want answering. Fine football and music connoisseur. In his own head, at least.