In an era where smaller properties are immensely popular and becoming the norm, it can be a tough call to find heating solutions with the necessary performance capabilities to fit.
Naturally, you want to pack as much stylish furniture, fixtures and fittings into your home. But how does that play out in rooms with limited wall space, where a substantial heat output is a necessity?
You've probably had to reluctantly shoe-horn outdated radiators into any space you could find, even if that meant furniture blocking them and reducing their efficiency.
Thankfully, in the world of contemporary home heating, such scenarios are now avoidable.
Vertical radiators come in a wide range of designs and finishes that enhance any room, helping to make the most of compact spaces and heating your home effectively.
In this article, we'll highlight seven of the top high output vertical radiator designs, with each looking the part and capable of delivering a suitably high heat output for a compact space where horizontal radiators aren't viable.
High output vertical radiators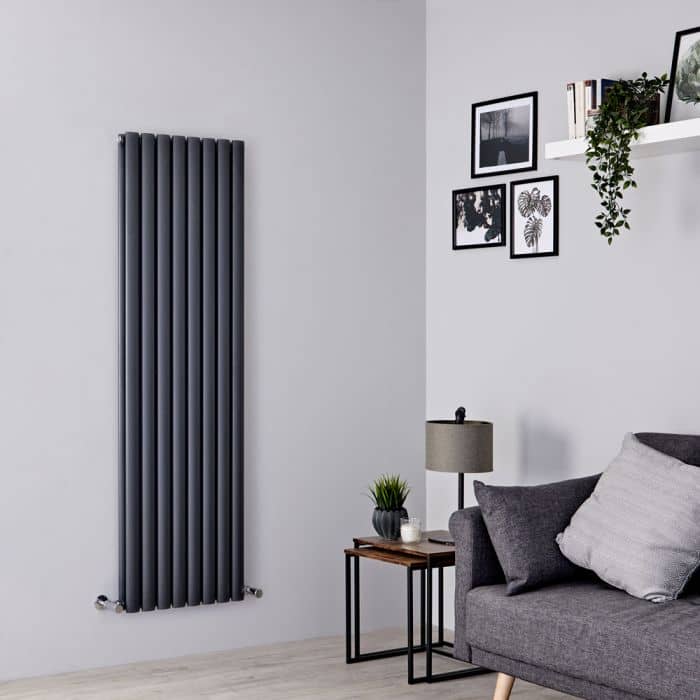 The first entry on our list won't be the last of the double panel radiators to feature.
Eight double vertical bars account for the makeup of this stylish rad, which provide an outstanding heat output of 6,204 BTUs – making it one of the best vertical radiators for heat output.
The radiator features a mild steel construction and is compatible with all central heating systems.
It's a great option for a living room area, offering a means to make your home heating a stylish decorative feature.
For smaller living spaces especially, this designer radiator represents a real centerpiece of style and will help to save wall and floor space. The trendy anthracite finish will also work well with any surrounding décor, as will be touched on again with a selection of white or anthracite models.
A slimline designer vertical radiator to add a real injection of modern flair into any room in the home.
With its slender profile, this Milano Alpha Slim White Double Panel Designer Vertical Radiator can be squeezed into the narrowest of spaces, while still delivering an impressive heat output of 4,689 BTUs.
Sporting a fresh white finish, this Alpha designer vertical radiator is an attractive alternative to a towel rail in a compact bathroom or en-suite, with the five double panels sure to complement nearby tiling.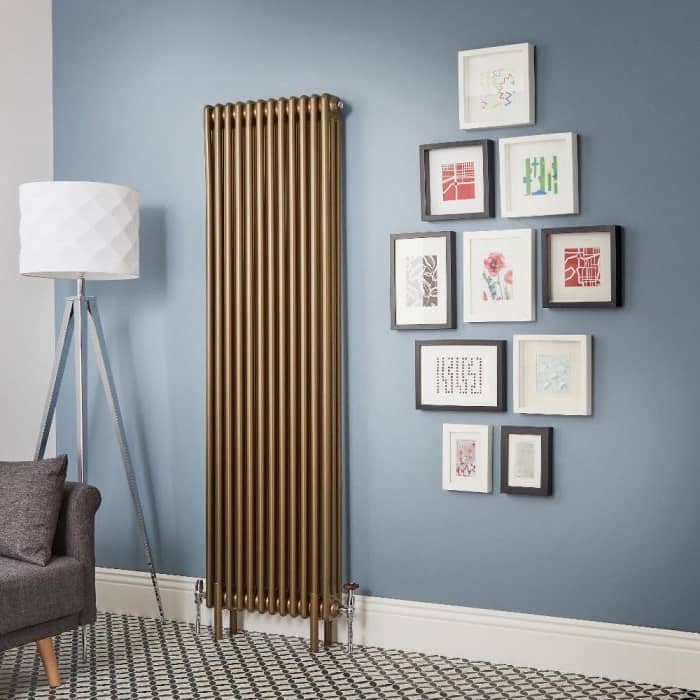 This radiator represents a departure from the modern designs that surround it in this list.
But this Milano Windsor triple column vertical radiator design certainly solidifies the notion that the grass isn't always greener with a younger, fresher faced model.
This exquisitely styled cast iron-style radiator is suitable for contemporary and traditional properties alike.
And whilst a touch bulkier than the modern panel designs , their vertical profile still allows plenty of room to manoeuvre in smaller spaces.
A beautiful metallic bronze finish will introduce a touch of vintage class amd authenticity to any area of the home.
Different versions crank out different heat outputs, with the largest model accounting for a whopping 8,889 BTU offering – making it one of the best high output vertical radiators. Toasty!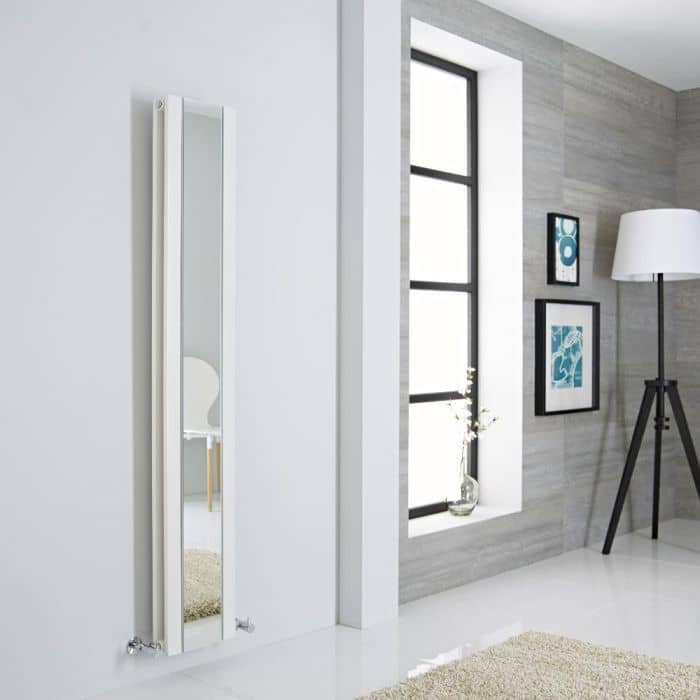 Radiator, radiator on the wall. Who is the fairest of them all?
Not quite as catchy, admittedly. But completely relevant in accordance with the Milano Icon and BestHeating's range of mirror radiators.
Despite its relatively low heat output of 2,991 BTUs being below the 'monster' threshold, the Icon's mirror is a game-changing feature for anyone looking to kill two birds with one stone by installing this rad in a bathroom, bedroom or changing area.
Spanning only 265mm in width, its a perfect and comfortable fit for those tight corners and tiny spaces; but sadly, it won't talk back to you!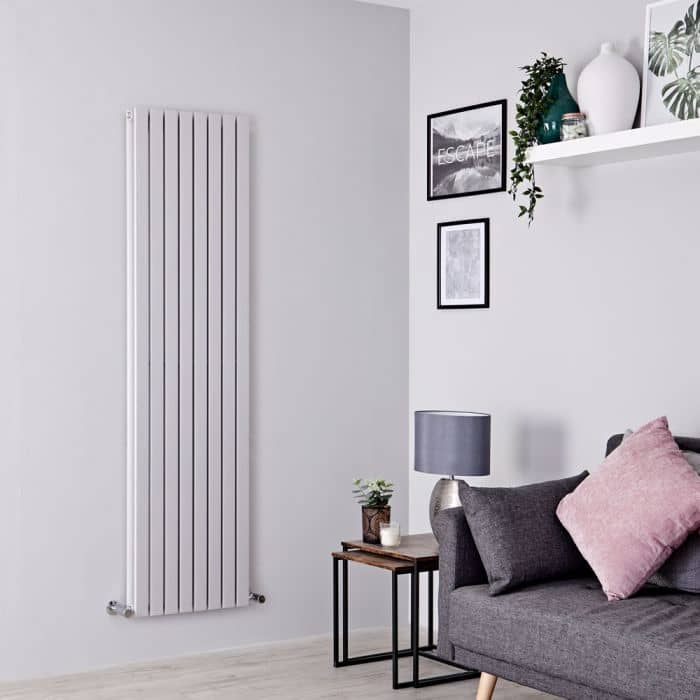 Another outstanding heating option that is certain to stand out and grab the attention of any visitors to your home, we love this light grey coloured Milano Capri because of it's understated but striking design!
This Milano Capri flat panel radiator also has plenty 'under the bonnet' in addition to strikingly eye-catching looks that make it an exemplary interior design feature. An ample heat output of 7,324 BTUs exemplifies that – making it one of the most efficient vertical radiators.
As does the rad's steel construction elements – contributing to a reliable, durable and long-lasting performance – the perfect heating centrepiece for your home and amongst the very best vertyical radiators for your living room.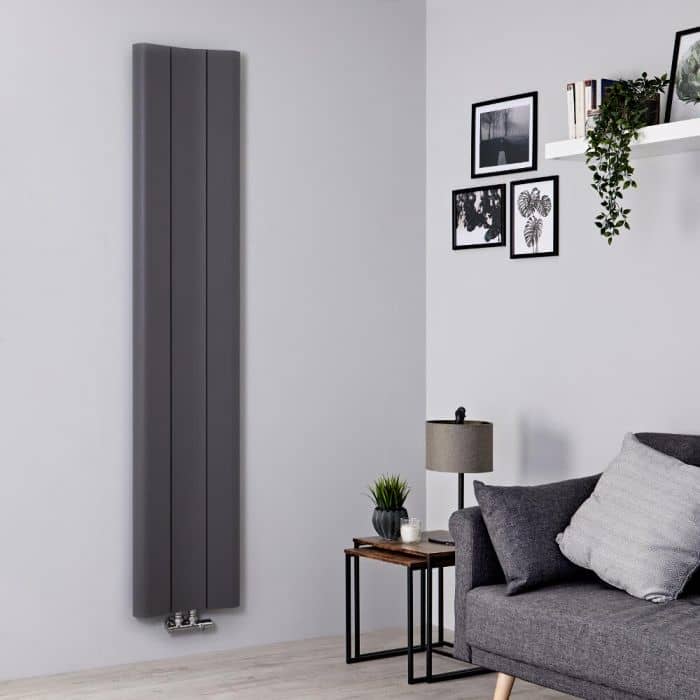 We really believe your home heating should be viewed as home décor at BestHeating. And the staunchest opposition would have to admit we have a pretty good case with products like the Milano Solis vertical designer radiator.
Emitting 3,477 BTUs in full cry, the rad boasts three columns – each shrouded in a sharp designer aura.
This medium output aluminium vertical radiator will heat up much quicker than the steel-made counterparts in this list, so is ideal for heating a small space rapidly.
Centrally positioned H-block valves also ensure that this radiator takes up far less room than side inlets designs. And a gorgeous anthracite grey finish will enhance the interior of any contemporary pad.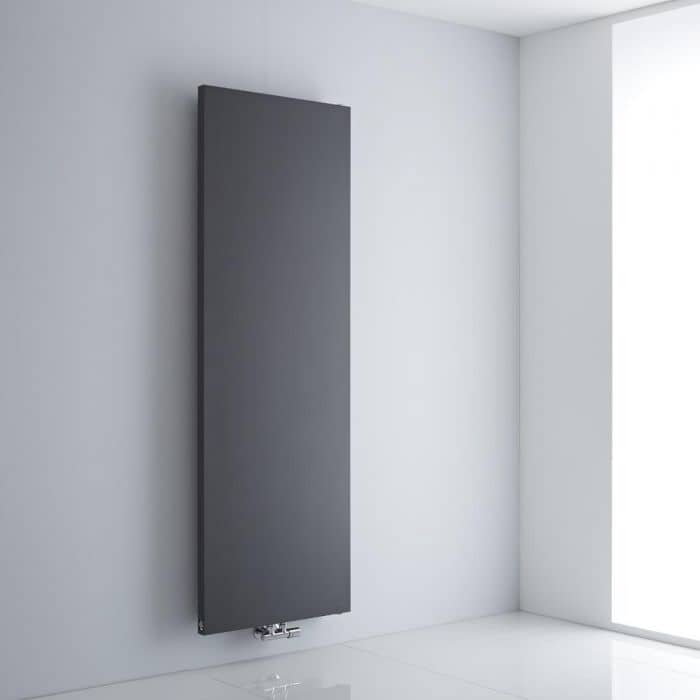 Such simplistic design elements have no right to make the Milano Riso as utterly stylish as it is.
Essentially profiled as a vertical rectangular anthracite block, this radiator manages to transmit an art décor vibe, along with an excellent heat output of 5,317 BTUs.
It makes for an ideal addition to a contemporary living room area, bringing an understated sense of elegant style and a stellar performance that generates an excellent amount of heat.
Alternatively, its huge powder coated grey frame would look stunning on the wall of a kitchen diner and could probably double as a magnetic message board – just be careful not to get burnt when it's pumping out the heat!
Get in touch with BestHeating
If you want any more advice about choosing the right vertical radiators, or any of our high output radiators, please don't hesitate to get in touch with us. Simply leave your comments or queries in the comments section below. Or contact us via Facebook, Twitter or Instagram.
With a background in sports journalism, John counts content writing amongst his key passions. He's always peppering our Advice Centre feed with reasoned and researched home heating tips, and providing expert solutions to the questions you want answering. Fine football and music connoisseur. In his own head, at least.