Are electric rads & bathrooms a good mix?
Electric heating options including radiators, heated towel rails and underfloor heating kits have become hugely popular in bathroom heating over the last few years for their efficiency and significant improvements in design and quality.
But since we are pre-programmed to feel instantly wary of the electricity/water combination, as we should be, it may seem a little unsafe to use the word electric radiator and bathroom in the same sentence never mind install one in the wettest room in the house.
The big secret? Bathroom zones.
The key to understanding bathroom electric heating safety is to know your bathroom zones.
In other words, the question you should be asking yourself is not 'can' I install an electric radiator in the bathroom, but instead 'where' can I install an electric radiator in the bathroom.
So, if you're unfamiliar with the world of electric radiators, we are here to equip you with the safety information you need to feel confident with your next electric bathroom heating project.
But, why should you bother with an electric heater in the first place?
Why put an electric radiator in the bathroom?
Not only are electric radiators safe to install in the bathroom, they are actually ideal for bathroom use because of their functionality.
Whether you live in a home with no central heating, or you've got the heating turned off for the summer, electric radiators and electric heated towel rails work independently from the rest of the heating system.
In other words, you can keep your bathroom warm and enjoy the comfort of getting wrapped up in a warm post-shower towel without wasting energy by heating the whole house.
And let's face it, a warm towel is good all year round!
Another benefit of choosing an electric radiator for the bathroom is that you can pair it with a Wi-Fi thermostat to help reduce energy and heating costs and set your own schedule to ensure the bathroom is a comfortable temperature for a relaxing bathing experience.
Now, let's get on with the big question.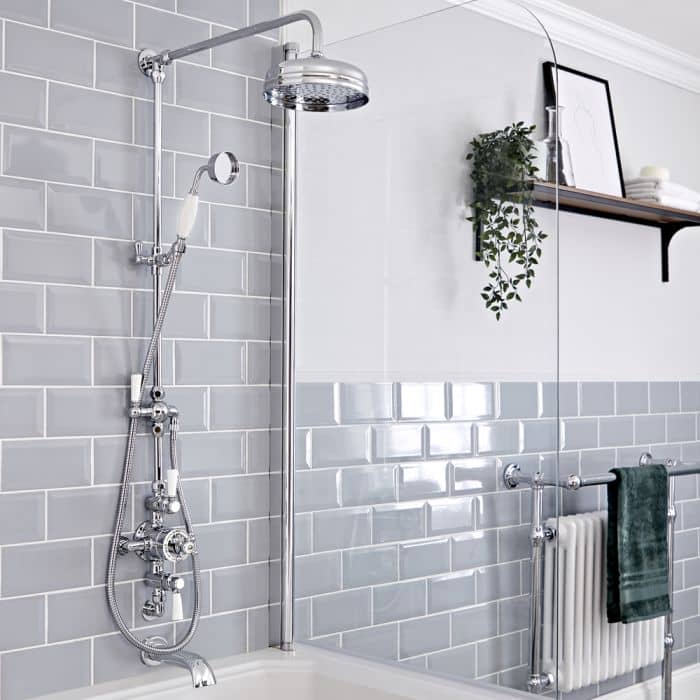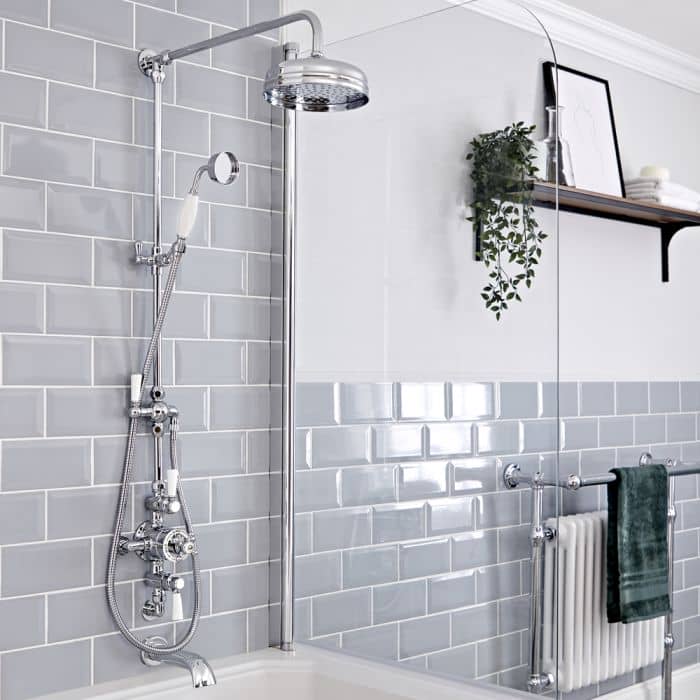 Are electric radiators waterproof?
The short answer is yes, electric radiators are waterproof.
Of course they would have to be in some way otherwise you would not be allowed to install them in your bathroom no matter how much you wanted to.
But when we say electric radiators are waterproof, it's not actually the radiator itself we are talking about.
To help you understand how electric radiators are waterproof, we have labelled each component below.
The body of the radiator is just like a central heating radiator. This means that they have high quality powder coated finishes to minimise the risk of rust or corrosion.
There is nothing electric about the radiator body, so just like a central heating radiator it can be safely installed anywhere in the bathroom.
So, what makes an electric radiator electric you ask?
The Hardwired Installation
The Heating Element
Unlike some electric heaters which plug into a socket, all our electric radiators and heated towel rails must be hardwired into the mains electric by a qualified electrician.
The electricity drawn from the wall is then transferred to the heating element which converts the electricity into heat energy – apologies for any dreary flashbacks to GCSE physics, stick with us!
So, now you're looking at two potential areas where water and electricity could be a problem. The wall connection and the heating element.
Now, we will get into how waterproof these two parts are and how this is measured by industry standards.
IP ratings & bathroom zones
What are IP ratings?
To keep it simple, IP ratings (Ingress Protection ratings) tell you how waterproof an electric device is.
The IP scale ranges from '0' being not waterproof at all, or absolutely useless in a bathroom, up to '8' which is the maximum protection for total submersion under pressurised water and would happily live in a bathtub.
Whether you are looking for an electric radiator, electric towel rail, an outdoor light, a bathroom light, you name it, if it's an electric appliance it will most likely have an IP rating. Even some smartphones have an IP rating these days!
The IP rating is a two digit figure. The first number tells you the protection against solid particles which you don't need to worry about for electric heating.
You'll often see the first number marked as an X because it's not relevant for that device or that the product has not been tested for this rating by the manufacturer.
The second and most important number, in this case, tells you how protected the electric device is against liquids.
It is commonly thought that at least IPX4 should be used in the bathroom and most electricians would be strongly against fitting anything under IPX4. This means that the electric device is "protected against water splashes from all directions.".
But, hold your horses! That doesn't mean you can go and put an IPX4 electric device anywhere you like in the bathroom.
That's where the bathroom zones come in.
What are bathroom zones?
If you have an electrical appliance that has a minimum IPX4 rating, the bathroom zones will tell you where the device can be installed in relation to the bath, shower and sink.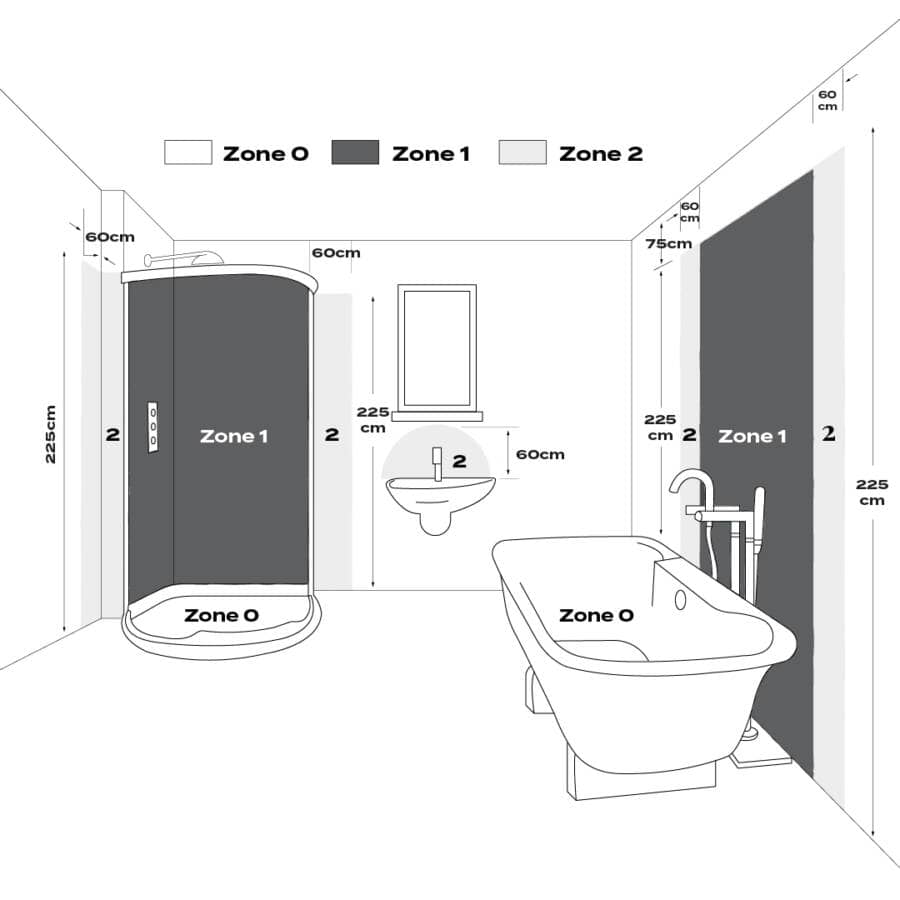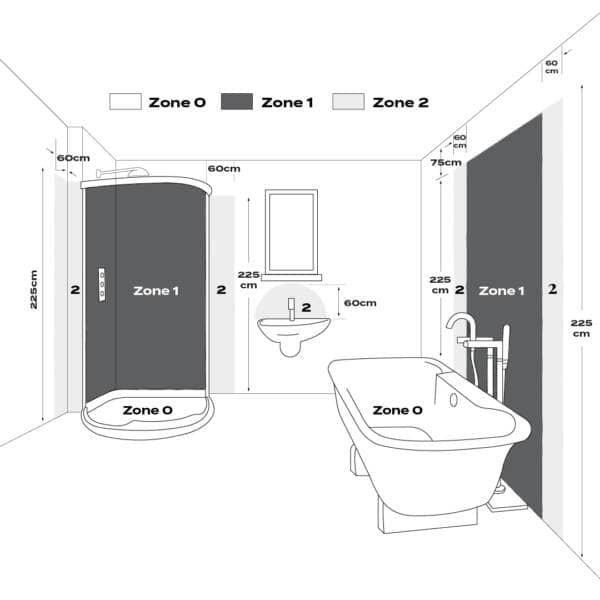 As you can see, there are three bathroom zones and an outside zone for larger bathrooms.
These zones have been identified by the 18th edition IET wiring regulations and all applicable British standards :
Zone 0 – Minimum IPX7
Zone 0 is the white area that includes the space inside the bath, basin and shower tray. Since these areas can hold a large volume of water, the electrical device must be suitable for submersion.
This means that electrical devices must have a minimum rating of IPX7 because IPX7 indicates that the product can be immersed in water up to 1 meter for 30 minutes.
It is also important to note that only 12V SELV equipment should be used in zone 0.
Zone 1 – Minimum IPX4
Zone 1 is the dark orange area 2.25m from the floor directly above zone 0, which is why it is also known as the 'splash zone'.
Any electrical fitting or appliance within zone 1 must be at least IPX4.
IPX4 means it has water splash resistance from any direction. And just like zone 0, only 12V SELV equipment should be used in zone 1.
Zone 2 – Minimum IPX4
Zone 2 covers the area 600mm above or to the side of the bath and shower and 2.25m from the floor.
Although electrical devices are unlikely to get wet in Zone 2, it is still a potential splash zone so a minimum of IPX4 is required and again only 12V SELV equipment should be used.
Outside Zones
The outside zones are the grey areas beyond zone 2.
You might be surprised to hear that there are no regulations for IP rating outside the zones, even sockets can be fitted in a bathroom as long as they are at least 3m from outer limits of zone 1.
IP ratings for heating elements at BestHeating:
Milano Heating Elements: IP64
Terma Moa Blue Heating Elements: IPX5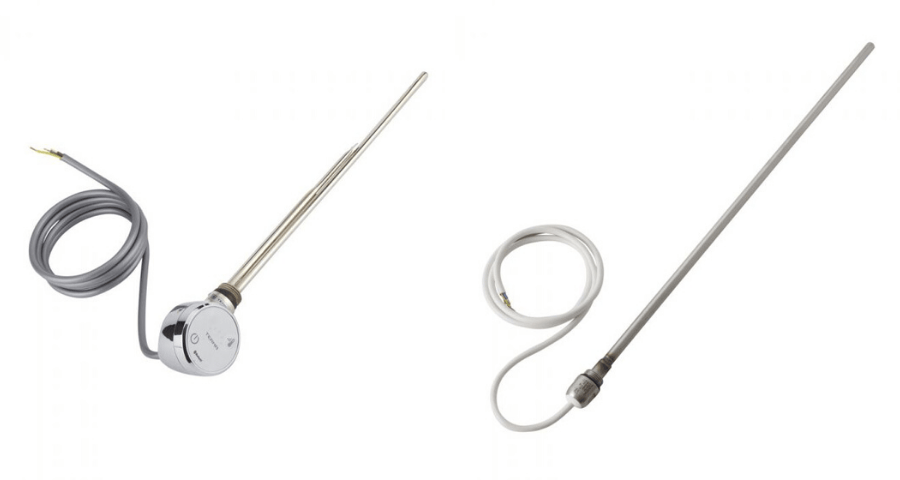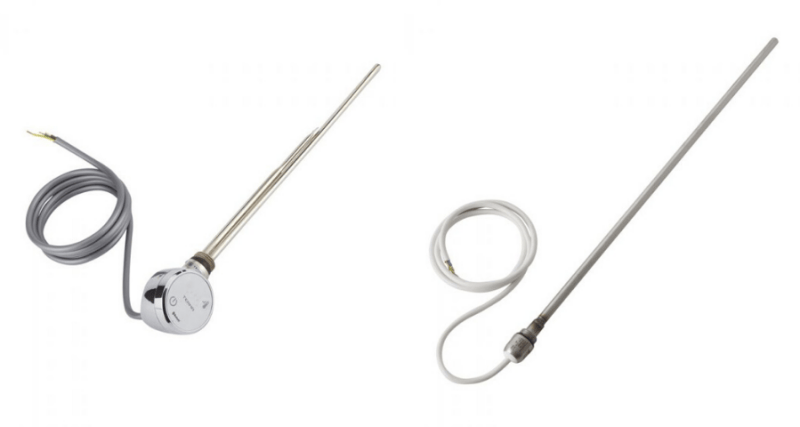 As we mentioned earlier, it is not the radiator that is the issue when fitting in a bathroom. It is the heating element and the fuse spur that the radiator connects to.
Since both types of heating elements we stock at BestHeating are rated IPX4 and above, they are safe and suitable for installing in bathroom zone 1 and 2.
However, the fused spur must be 3600mm from the edge of a bath, shower, toilet or basin. This means that the fused spur must be in the outside zones.
If this is not possible then you would need to extend the cable and connect the fuse somewhere outside the bathroom.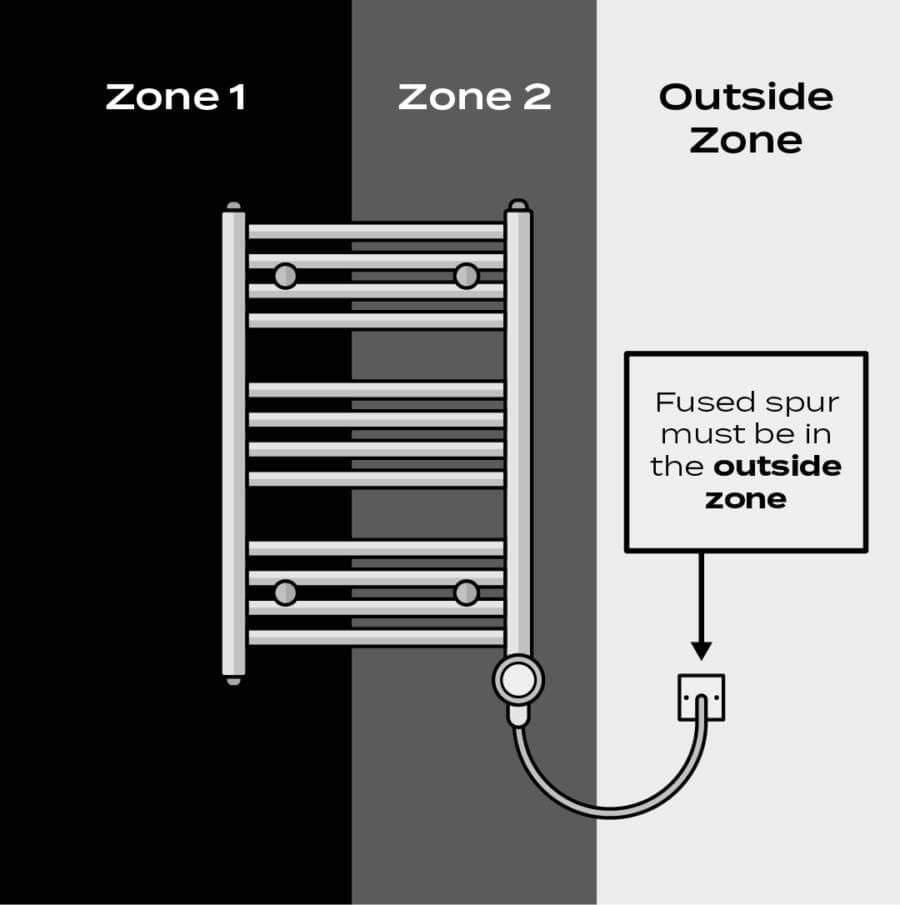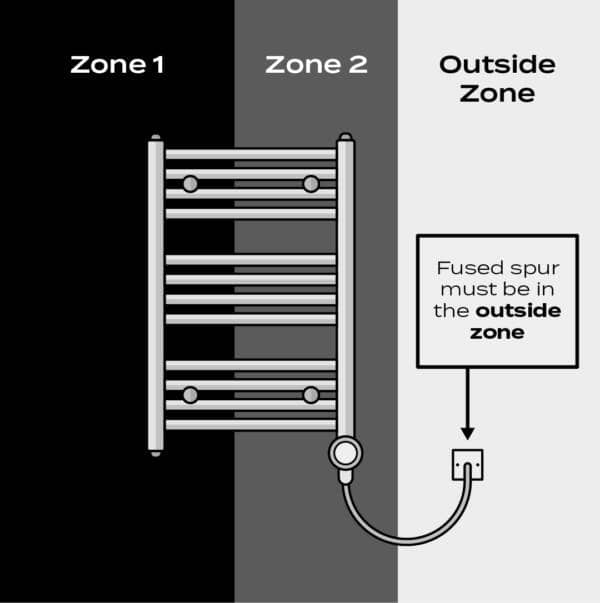 Can you run cabling under a shower tray or a bath?
Yes, cabling will be IPX6 rated at least and it is safe to run in one continuous run under a bath or shower tray because these areas are actually classed as outside zones.
Can I install an electric radiator in the bathroom myself?
No, installing an electric radiator is not a job you should try and get done yourself unless you are a qualified installer. 

Electric radiators should always be installed by a qualified installer in accordance with the applicable regulations regarding safety and all other regulations.

Can electric radiators be fitted to a stud wall?
Yes, our electric radiators can be fitted to a stud wall in the bathroom as long as the radiator is installed in the correct bathroom zone and suitable fittings for the wall type are used to secure the radiator. 

For example, plasterboard that has been skimmed would need either spring toggles or metal/Nylon self drilling plasterboard fixings.

We would also advise that if you are installing an electric radiator on a studded wall that you try to find a solid anchor where possible in the wall, for example a stud or noggin.

If you are unsure where these are, you can easily locate the wood noggins using a wall scanner.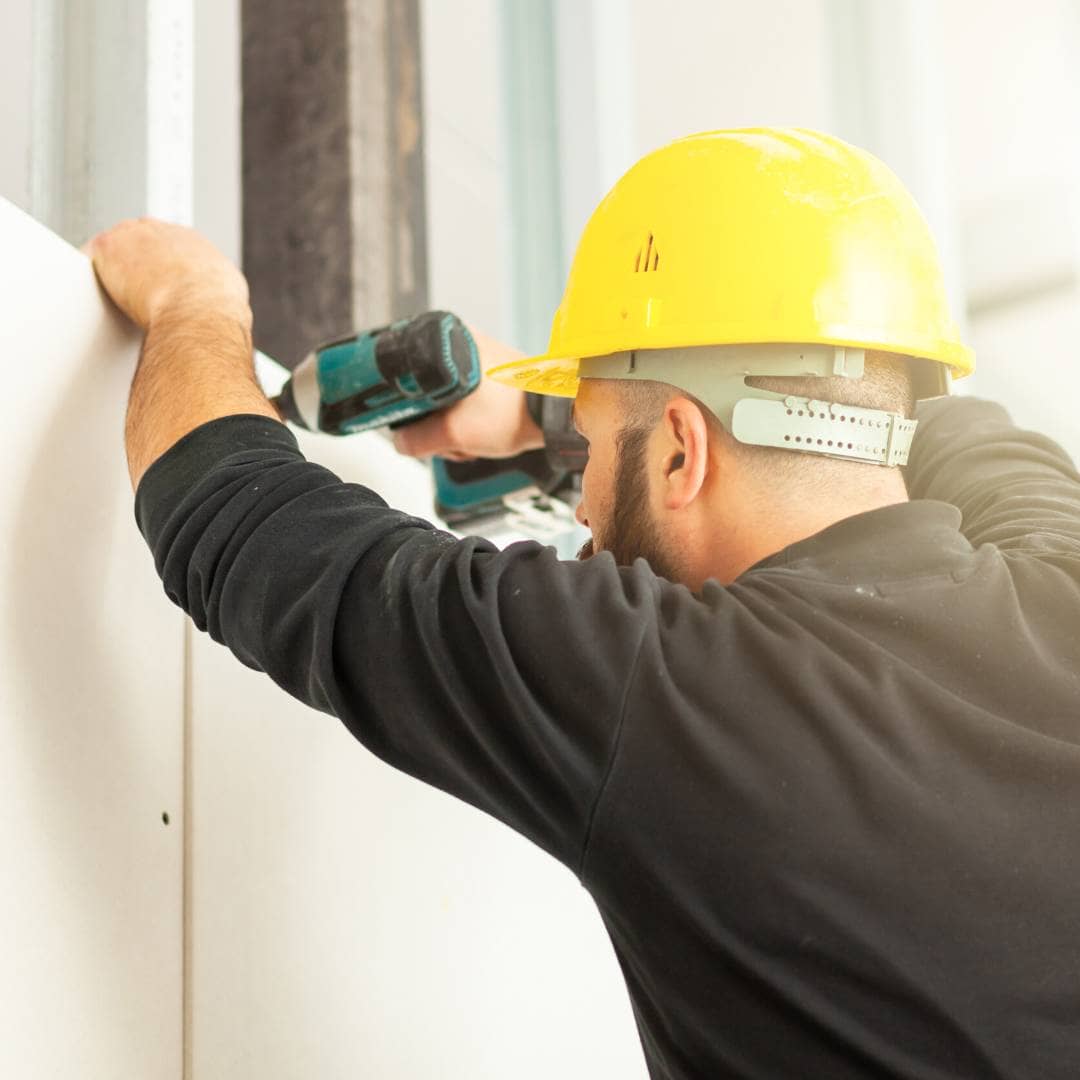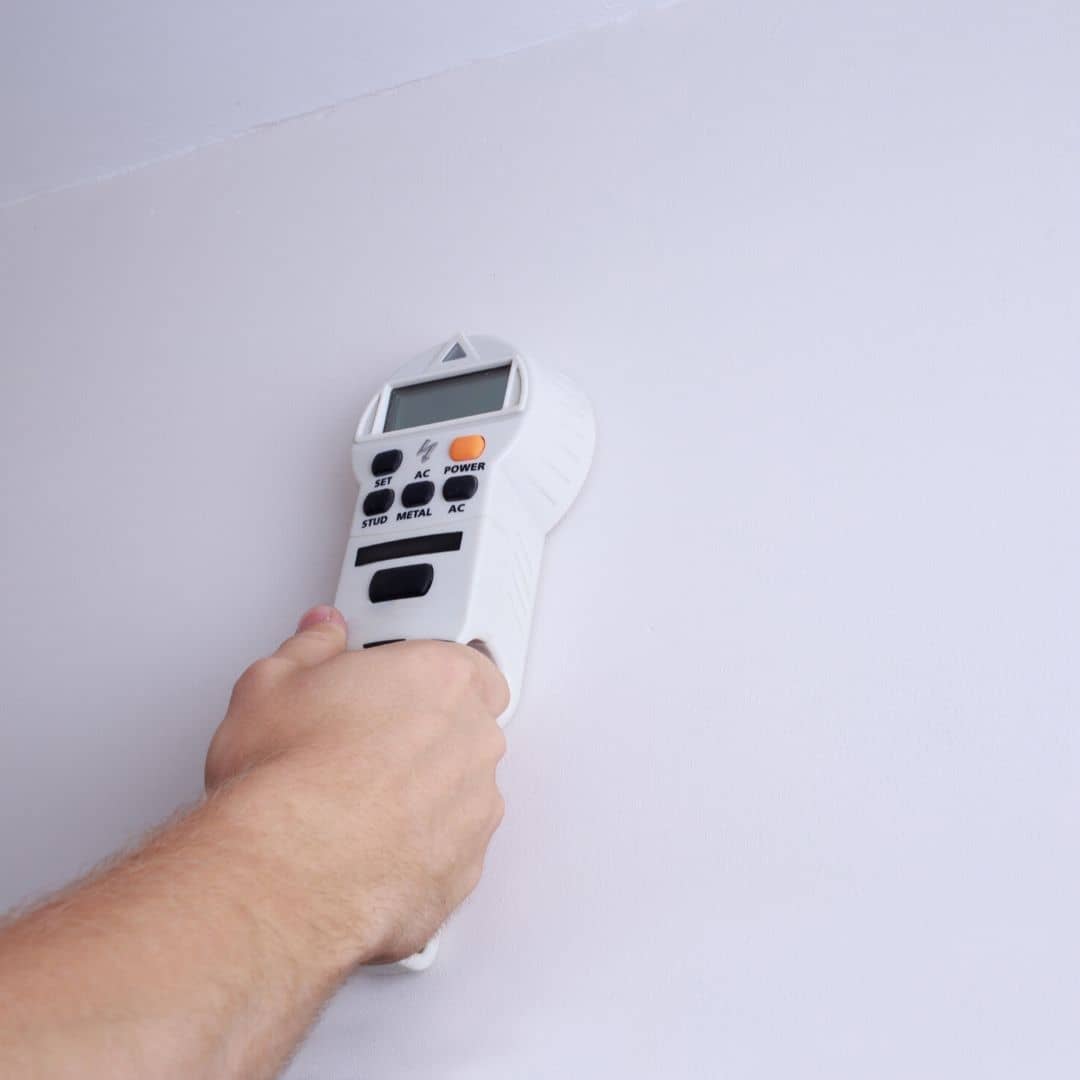 Can I install a smart radiator thermostat in the bathroom?
Yes, smart TRV heads like the Milano Connect are battery operated so there is no LVD regulation for installation within a bathroom. 

In other words, they can be safely installed in any bathroom zone, but ideally you wouldn't install them where they are likely to come into direct contact with water spray.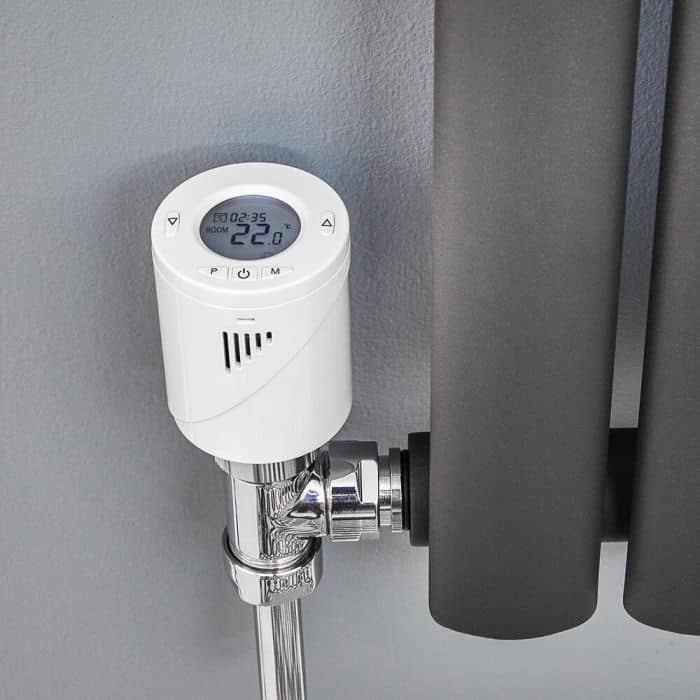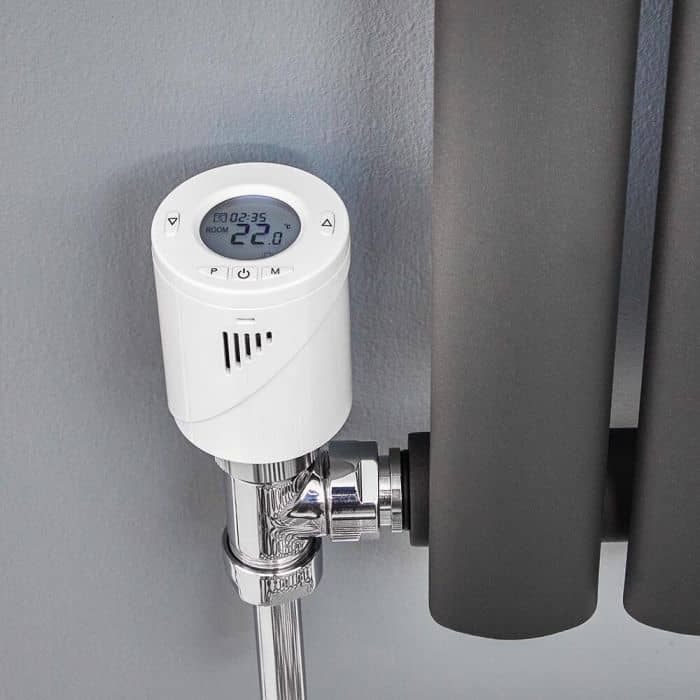 Can I install electric underfloor heating in the bathroom?
Installing electric underfloor heating in the bathroom is not only perfectly safe, but it is actually one of the most popular rooms to use it in to help bring a sense of luxury and comfort into a highly functional space.

Our Milano underfloor heating mats are IPX7 rated and designed for hassle free installation under timber, tiles and concrete sub-floors, making them perfect for use in bathrooms, kitchens and conservatories.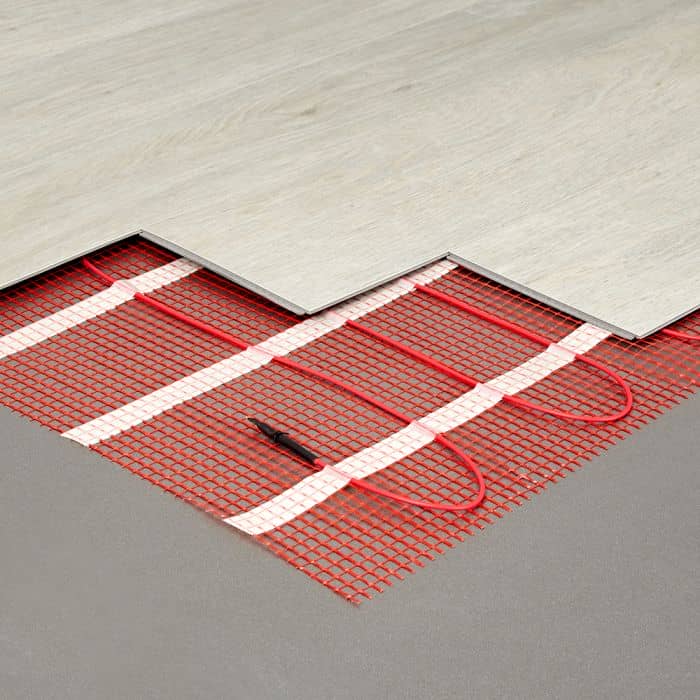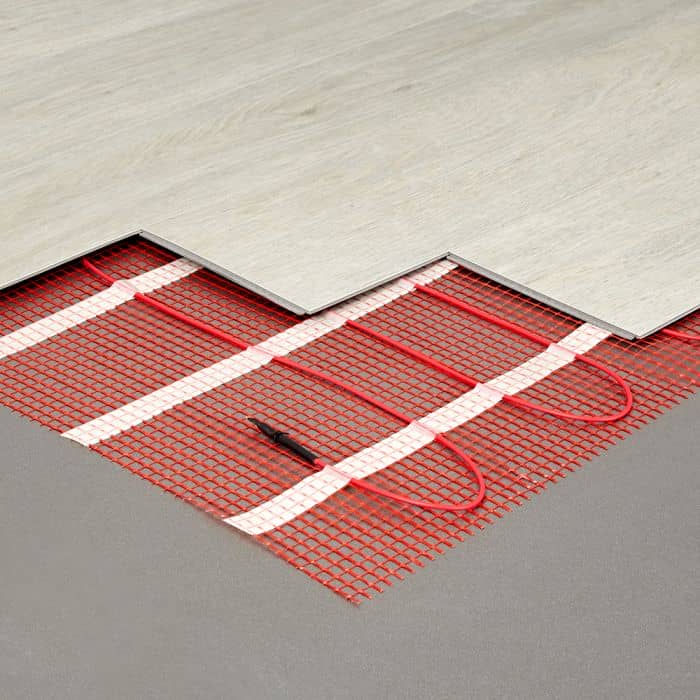 Ready to go electric?
So, if you decide you want to put an electric radiator in the bathroom, make sure to remember these key points:
Check the IP rating is at least IPX4
Ensure each electrical component is installed in the correct bathroom zone
Always contact a qualified installer to fit your electric radiator
If you've found the perfect electric designer radiator for your dream bathroom but you're unsure which size you need, head over to our electric radiator size guide.
Jess has a passion for interior design and wants to inspire people to look at radiators as home decor. She enjoys keeping on top of the latest design and heating trends to ensure the Advice Centre has all the information and inspiration homeowners need to make the best choice for them.