Towel rail valves – Explained
In this guide, our resident plumbing expert discusses the different types of Heated Towel Rail valves that are available and explains which one is best suited to your needs.
Watch the informative video or follow the step-by-step guide to buying the correct Heated Towel Rail valves, every time.
What type of valve should I use?
There are two main types of heated towel rail valves.
Straight valves should be used when the inlets are at the bottom of the towel rail and the pipes are protruding from the floor.
Angled valves will be needed if the water needs to be diverted at a 90-degree angle. This is often the case when pipes and valve inlets are situated at the side of the radiator.
There are also Middle Connection – or H-Block – towel radiator valves, but these are not as popular or as prevalent as the two types above.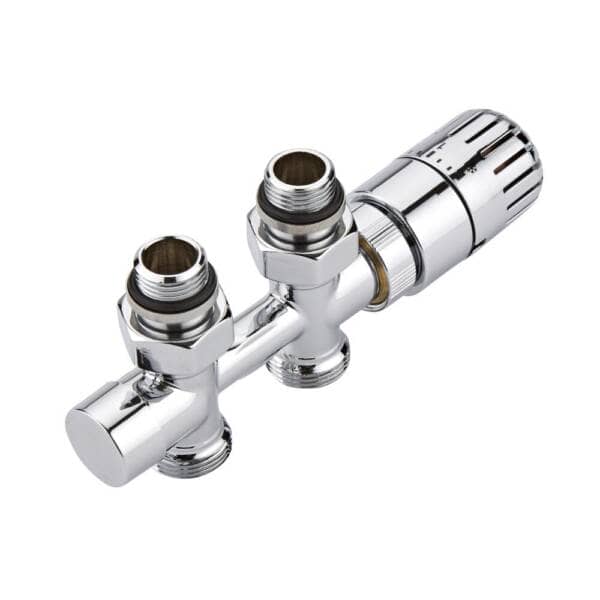 Are there any other options?
There is also the choice between Thermostatic or Manual valves.
Thermostatic valves feature an adjustable temperature wheel and are often more energy efficient than manual ones, as you can set them to the desired temperature whenever you wish.
Which valves suit my towel rail best?
There are a number of different styles on offer and you can choose which one will suit your towel rail best – for example, the minimalist valves are more suited to the modern designer towel rails.
Just be sure that you consider the position of your pipework and how the valves will be fitted to the radiator.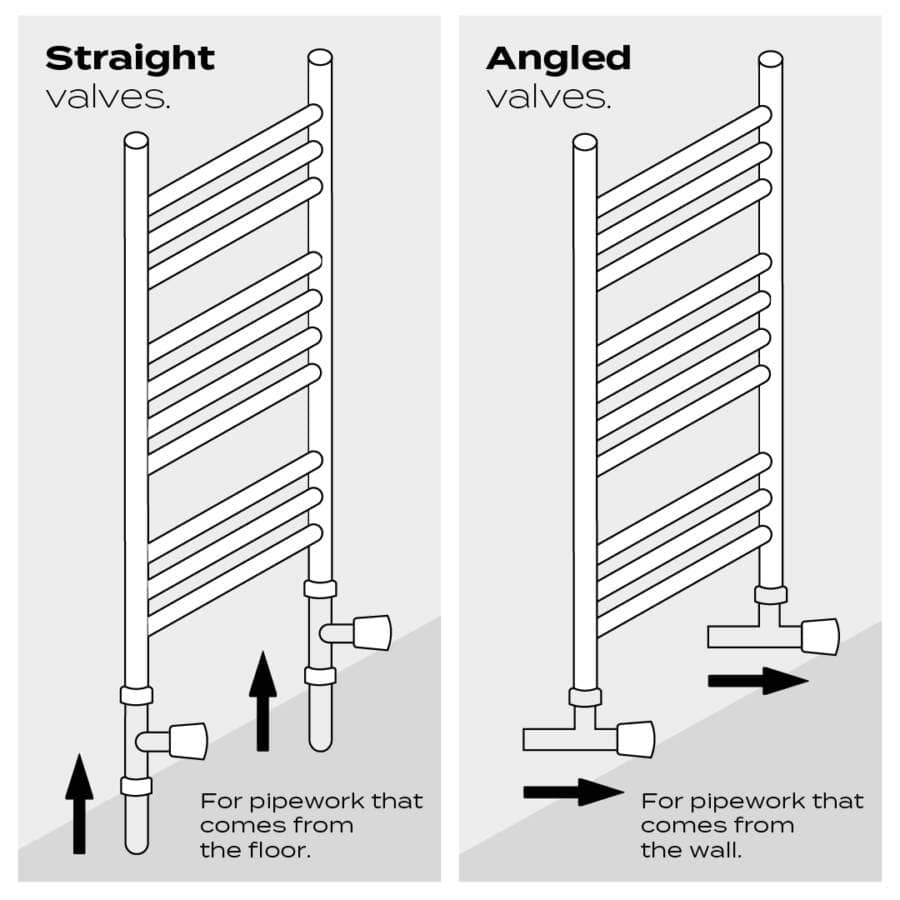 What is a BTU & how many do I need?
BTU stands for British Thermal Unit and is a measure of a radiators heat output.
Basically, the higher the number the greater the heat output.
To work out how many BTUs you need to heat your room, you can use our BTU Calculator.
How do I work out my pipe centres?
Working out your pipe centres is really easy. Measure the distance from the centre of the inlet and outlet pipes with a tape measure.
When the valve inlets are at the side of the radiator, working out the centre can be tricky.
Measure the distance from the centre of the inlet and outlet pipes with the valves attached – that will make it easier for you.

John trained in journalism before finding his way to the BestHeating Advice Centre team. He uses his journalism skills to meticulously research heating topics and bring you the latest news and views on all things home heating related. He'll also beat you at any sport that involves a cue!