What makes an electric towel rail tick?
The presence of an electric heated towel rail in a home provides a stylish yet simple means to help keep your towels dry and toasty warm to the touch.
But outside of their obvious purpose, electric towel rails bring with them a plethora of advantages, not least the manner in which they operate and the ease with which they can be installed.
This article will look at how electric heated towel rails work in comparison with standard designs, and the benefits they can bring to your home heating arrangements.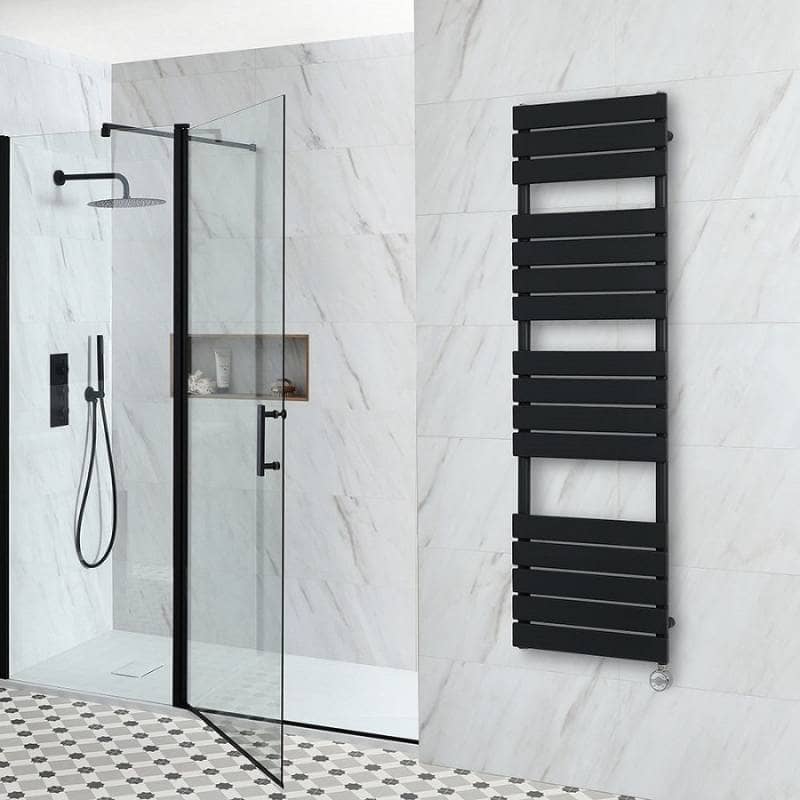 How does an electric heated towel rail operate?
The clue is in the moniker with regards to how an electric heated towel rail operates – they are powered by the mains electricity supply and have no reliance whatsoever on a central heating system.
They contrast wholly from standard heated towel rails in this way, as those models connect to the central heating setup in the same way that home radiators do.
But although they work off an electrical supply, electric towel rails do draw heat via a connection to pipework, usually constructed from copper, which hot water flows through.
This is a similar modus operandi to typical heated towel rail styles, as water is again transported through a series of pipes, but with a gas boiler used as the primary water heating source.
How to install an electric towel rail
An electric towel rail installation can be considered to be a 'bread and butter' task of a professional electrician's remit – it is one of the simplest jobs they are likely to complete. That said, the fitting of an electric heated towel rail should not be attempted by us mere mortals.
Given that the component is engaging with the property's mains electricity supply, it is imperative that a qualified electrician undertakes the work to guarantee a safe installation that lines up with building regulations.
Despite this, as alluded to earlier, an electric towel rail installation generally represents a relatively simple addition to the home that will tend to have little impact on surrounding interior, fixtures or fittings.
As such, electric heated towel rails are often seen as an excellent option for areas such as kitchens, bathrooms, en-suites or small bedrooms as a supplementary heat source in homes where a central heating system is prevalent. They provide the advantages of a stylish diminutive heating appliance without causing disruption to any structural elements of the home like walls or flooring for the fitting of fresh pipework.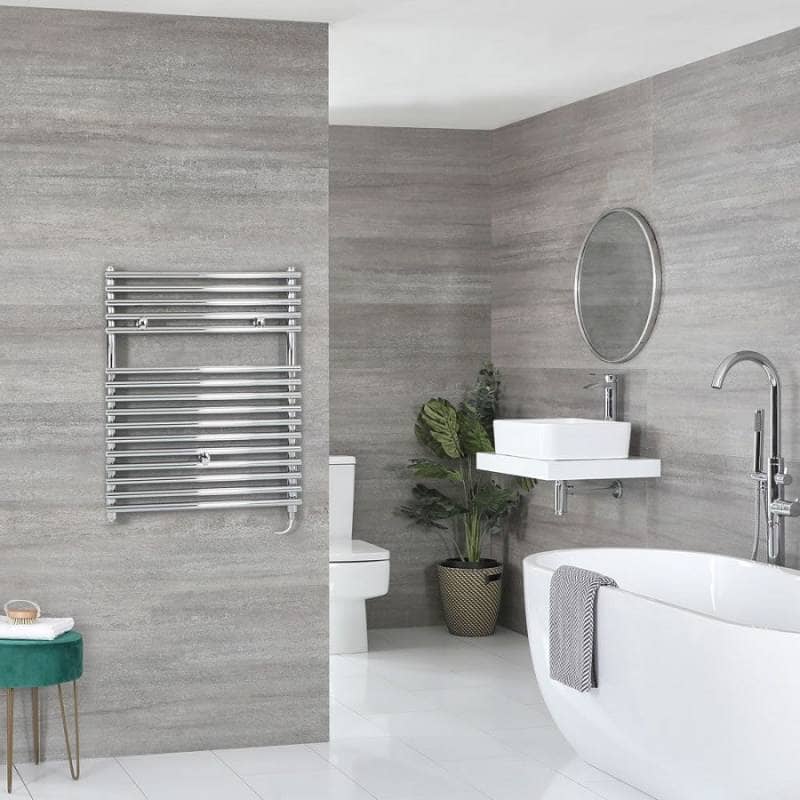 How to heat an electric towel rail
Considering that electric towel rails don't incorporate hot water coursing through their profile, it is reasonable to wonder just how they actually heat up.
The entirety of BestHeating's electric towel rail collection feature an electric heating element to enable their operation, and there are two main versions of these…
Firstly, there's single heating elements, which are non-thermostatic models that allow electric heated towel rails to stay at a fixed permanent temperature when turned on.
The other type is a variable heating element, which does feature thermostatic properties, and enables the user to adjust their towel rail temperature after it is switched on.
As well as these heating elements, each electric towel rail contains a combination of anti-corrosion inhibitor, which accounts for about 15%, and water, which takes up the remaining 85% or so. When turned on, the electric towel rail's heating element warms up via the mains electricity supply, in turn warming up the fluid within the rail to distribute heat around the space.
What features do modern electric towel rails have?
Aside from their simple installation process and clear primary functionality, many electric towel rail models incorporate a range of modern features that make them stand out from alternative heating appliances.
There's the potential to control electric heated towel rails remotely, via an app on a smartphone or device, or through a nearby wall panel, and this can work in cohesion with the daily programming capabilities of some models. 24/7 programmable electric towel rails enable users to choose a specific time for the appliances to heat up each day of the week.
Several electric heated towel rails also incorporate open window detectors, so they can sense sudden fluctuations in room temperature, and adjust the level of heating accordingly when the temperature re-stabilises.
A heating power-up or 'boost' operation is another handy inclusion on an especially cold day, or just for the quick warming of towels or any clothes you might need on the hoof. Also, an anti-frost mode is a notable feature of a number of contemporary electric towel rails too, working via a frost sensor that turns the rail on automatically and leaves it ticking over when outside temperatures drop below zero.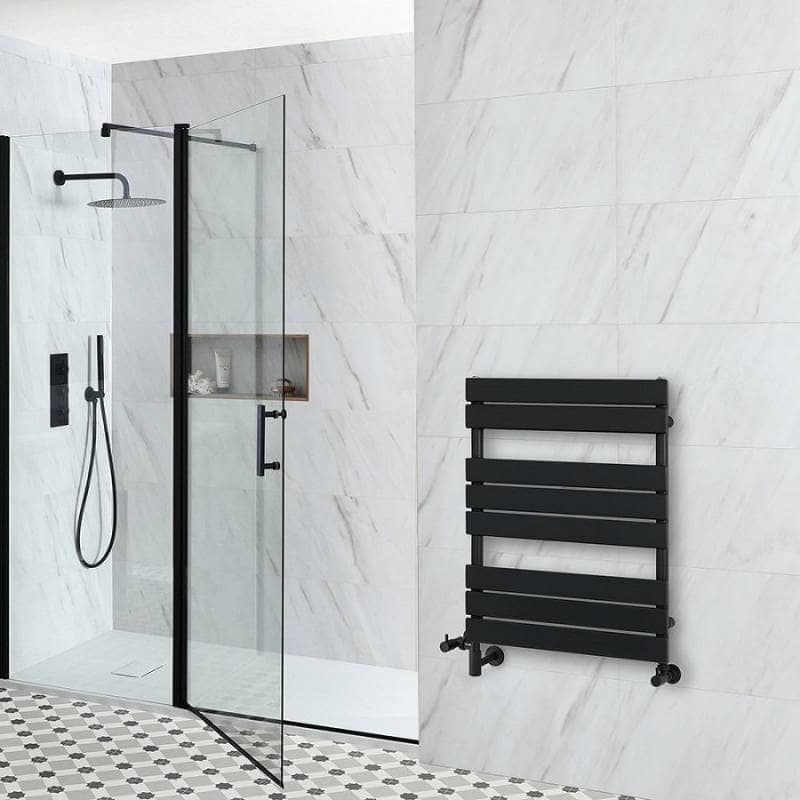 Shop electric towel rails with BestHeating
Now you know about the ins and outs of electric towel rails, including how they work and the advantages they provide as a home heating option, you can explore an excellent range of products at BestHeating.com.
Our expansive electric heating collection features a stunning array of electric towel rails as well as electric radiators and other options like electric underfloor heating.
Shop online with us today, or get in touch with us with any comments or questions you might have surrounding electric heating styles or any other home heating topics. You can leave your thoughts in the comments section below, or contact us via Instagram, Facebook or Twitter.
Got a radiator or heating question?


You can find a range of helpful answers to hundreds of common home heating questions on our FAQ pages.
Click the link or tap the image above to ask a question of your own!
With a background in sports journalism, John counts content writing amongst his key passions. He's always peppering our Advice Centre feed with reasoned and researched home heating tips, and providing expert solutions to the questions you want answering. Fine football and music connoisseur. In his own head, at least.