Brilliant black radiator trends for 2022
With a new year upon us, the fervour to discover the very latest home heating trends and ideas is re-ignited at BestHeating (like it ever dwindled anyway?!)
And as it so happens, one obvious heating style, despite being far from bright in its aesthetic, is glaring at us like the shiniest beacon you ever did see.
Indeed, black radiators are all the rage for 2022, and with the versatile shade exuding effortless class and a designer aura to perk up any area of the home, it is little wonder that they're such a hot (pun intended) item for would-be interior upgraders.
Ideal for modern and traditional settings alike, a black radiator can blend in with moody décor, or provide a perfect contrast to light and airy spaces. And there's tonnes of beautiful black radiator designs to select from, too.
In this article, as well as touching on the practicality and appearance virtues that black designer radiators exude, we'll explore the very best ways to make use of the sought-after heating solution in a property.
Essentially, helping you to visualize the perfect spot to slot in your brand-new-for-2022, tip-top-trend, brilliant black designer radiator or heated towel rail, and  before you've even selected your dream pick from BestHeating.com.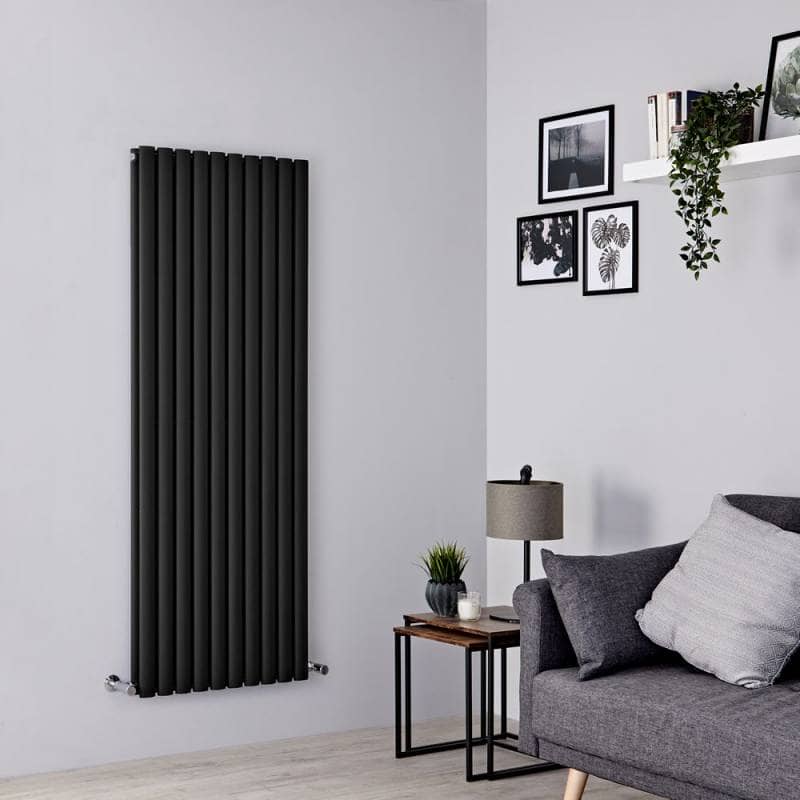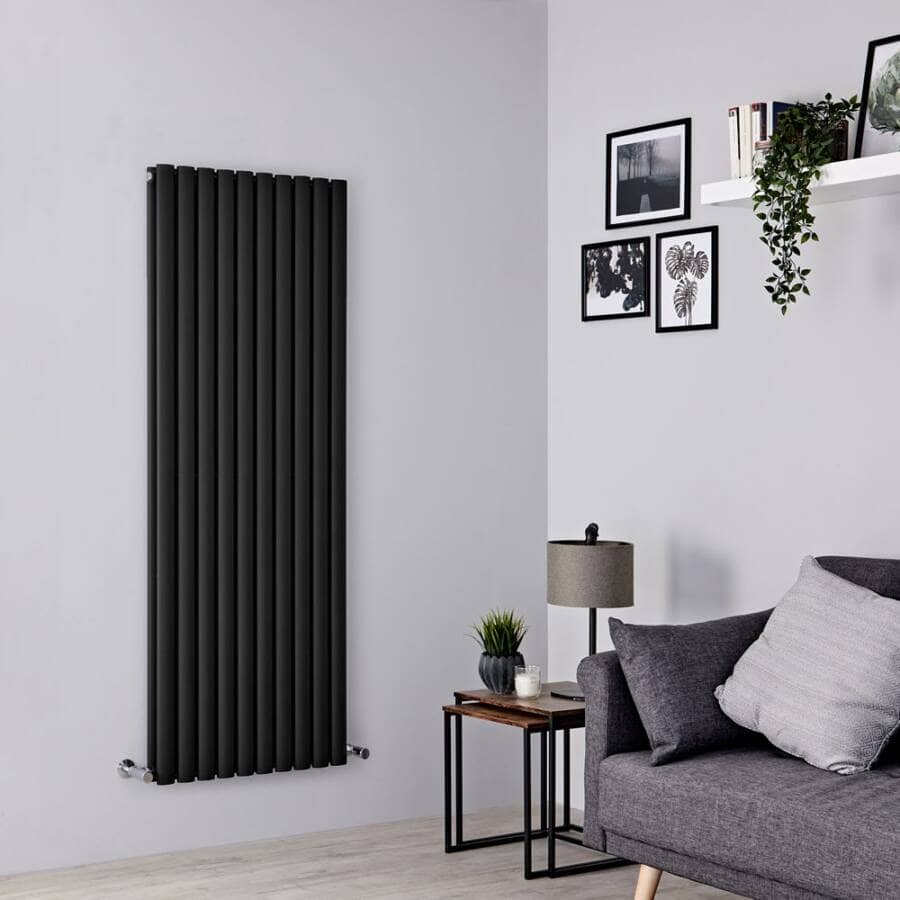 Modern black radiators to enhance any room
As it pertains to performance, matt black, strictly speaking, is the very most efficient radiator colour choice. That said, the differential in heat output between a black radiator and an alternate coloured model would only be about 1%.
Really then, black radiators shouldn't be seen as a go-to vice to enhance the efficiency of your home heating. But as a means to transform the style of your home heating, absolutely.
Especially well suited to modern interiors, black designer radiators can perfectly accentuate the likes of living rooms with hardwood flooring such as laminate surfaces.
Also, ultra-contemporary kitchens would tend to make for an ideal setting to position black rads or heated towel rails as well. Think sleek, shimmering worktops or moody granite fittings, fixtures and flooring, and imagine the complementary effect a brilliant black heating device will have situated nearby.
Furthermore, there's scope to install black radiators and towel warmers in bathroom areas. Again, modern décor can be especially well punctuated by a slick black radiator or towel rail model. For best effect, look to mesh darker rads or rails with key components of similar shades.
For example, you could look to add black radiators to a bathroom featuring a smoked glass shower enclosure, a black basin and compact wall hung toilet. Even if you're working with a backdrop of white tiling, the contrast between darker bathroom furniture will make for a pleasing aesthetic.
And don't discount the bedroom from proving a suitable installation spot for black radiators either. As with the aforementioned areas, black rads or towel rails could beautifully accentuate modern bedroom interiors, with trendy anthracite grey wallpapers and similar tones especially well suited to dark radiator adornment.
Are traditional black radiators suitable for any home?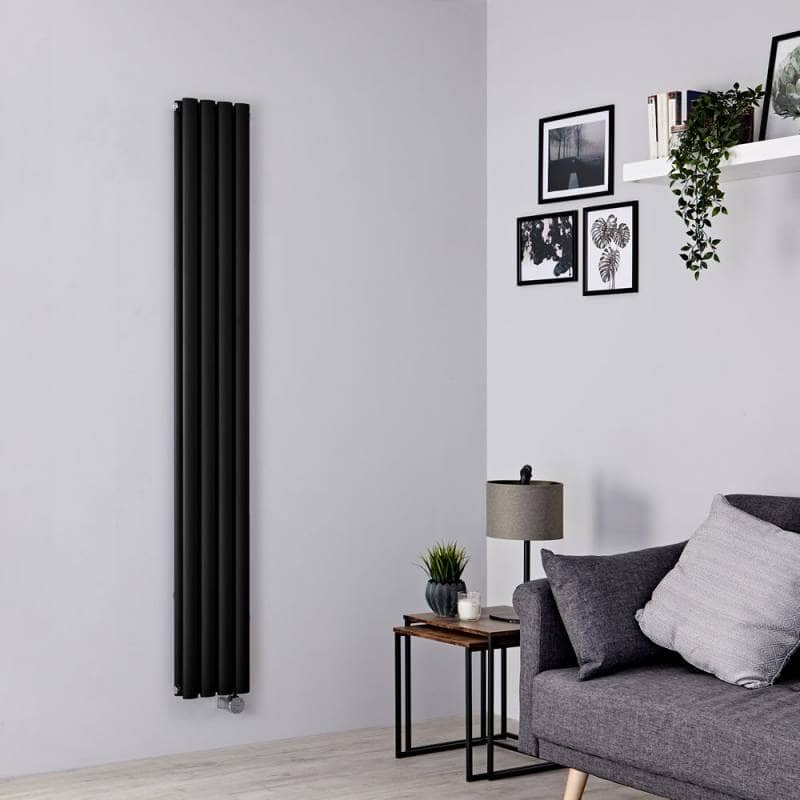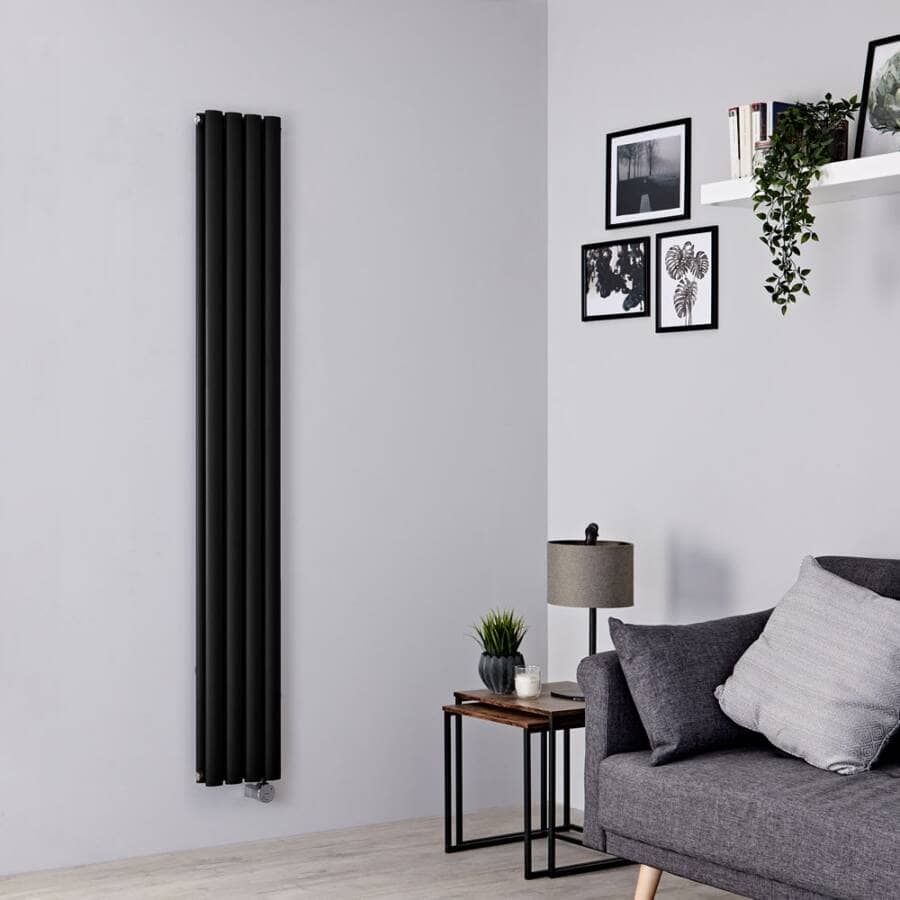 Wary of the emphasis being placed on modern black radiators enhancing modern homes, we thought it might be prudent to discuss whether there's a place for traditional black radiators in traditional homes too.
The short answer is yes – classic black radiator designs are still in vogue, and are a viable option to upgrade both contemporary and retro interiors alike.
In fact, black cast iron radiators are actually held in higher regard by many than newer models, and offer an excellent vice to bring an air of authenticity to a property. Whether that be to bring a grounded, earthy reality to a new-build house or further enhance the traditional feel of a weathered, character-filled property, classic black column radiators have to be taken into consideration.
Such designs are typically bulkier, so may not be as well suited to certain areas of a home, such as a compact bathroom for instance. Or to be squeezed in nearby the mattress in a narrow bedroom.
Instead, typically roomier spaces such as the lounge or kitchen would tend to be more conducive to the installation of a larger black radiator, which might also be significantly heavier than a modern design, if incorporating a cast iron profile especially.
What's more, these type of radiator models will usually take a longer time to warm up in comparison with contemporary counterparts. Therefore, fitting them in rooms such as the kitchen or living room, often benefitting from alternate heat sources such as the oven, or ideally positioned to make the most of central heating systems, is prudent.
As is the case with modern black radiators, laminate, hardwood and generally solid flooring surfaces probably provide the best foundation for traditional black radiators. Although in this instance, that is as much about providing a solid base for a heavier heating option as it is about aesthetics.
The best black radiators for your home
Of course, with such a vast array of stylish black radiator options available, it can be somewhat overawing to work out the perfect option for your home specifically.
So we've zoned in on a few models of contrasting looks, offering inspiration for anyone looking to bring sophisticated designer style to their home heating with a black radiator or black heated towel rail.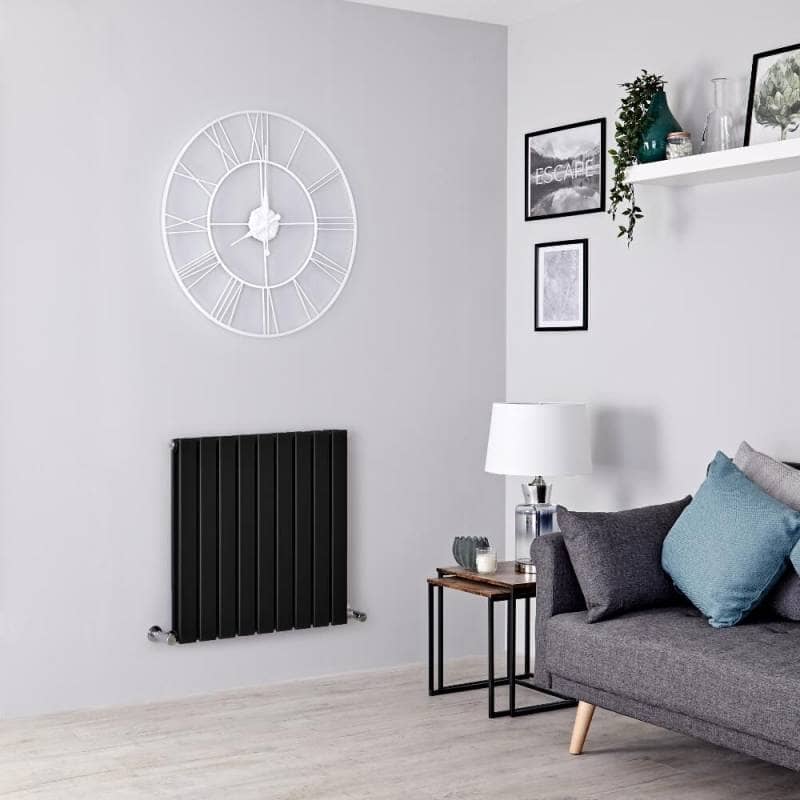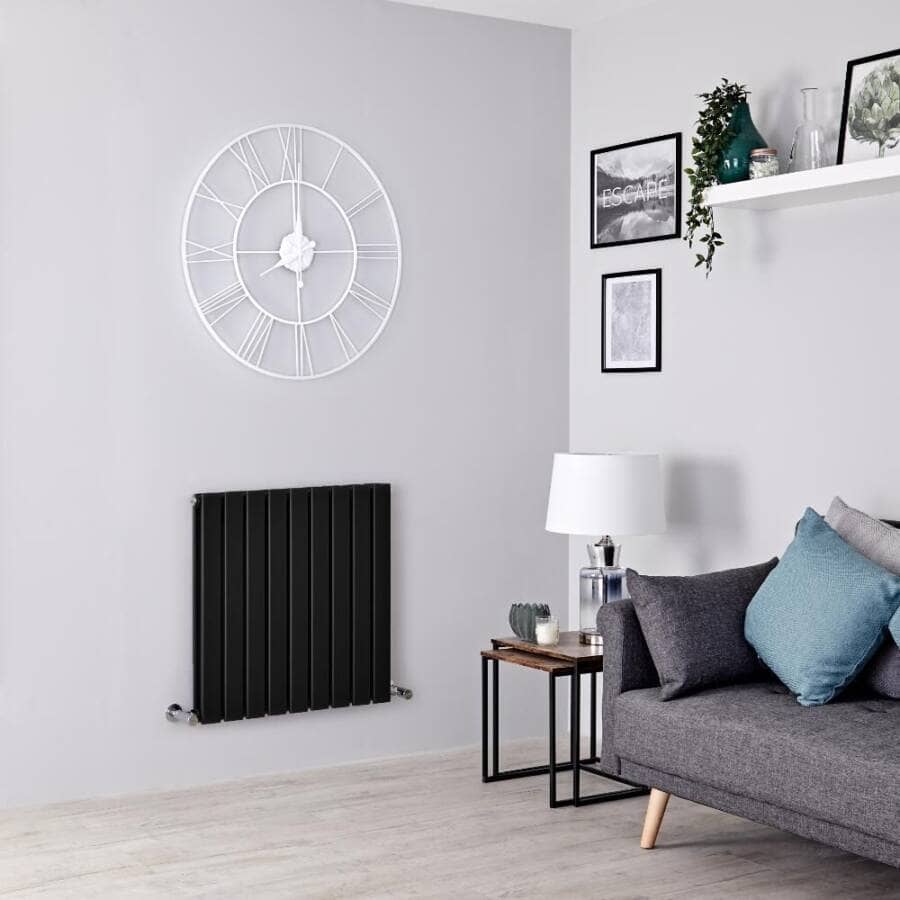 A fail-safe, if far from ordinary choice to begin with, in the form of the Milano Alpha black horizontal double slim panel designer radiator. Incorporating a relatively diminutive profile, the rad is an ideal space-saving addition to a contemporary living room area.
The streamlined design ensures a sleek aesthetic, and demonstrably from the accompanying image above, contrasts beautifully against a light backdrop.
A wall mountable profile further serves to maximize space, and enable your home heating device to work as wall décor rather than a simple necessity.
This model could be considered somewhat of a statement selection – an excellent hourly heat output is to be expected of such an expansive profile. The Milano Aruba black vertical designer radiator incorporates double panels and beautiful oval columns, sure to catch the eye in dominating a lounge wall space.
Also suitable for kitchen fitting, the tall radiator can comfortably heat adequate spaces, with its wall mounted design again guaranteeing to maximize space despite a very sizeable demeanour. An ideal pick to adorn the walls of a contemporary living room or kitchen area.
So we're technically deviating just a touch with this entry, officially described as an antique graphite shade. But for all intents and purposes, it still represents a stunning darker traditional radiator, and one that would actually be equally as well suited to modern and classic interiors alike.
The striking model is dripping with authenticity, and will add an air of elegant class to any area of the home. It's stunning aesthetic, teamed with an outstanding heat output, especially for a model on a smaller scale, perhaps renders the Milano Isabel a supreme choice for a living room, in which it is sure to make for a conversation piece with visiting friends and family.
It is available in all sorts of widths too, so you can find the ideal fit for whichever space you can envisage it populating.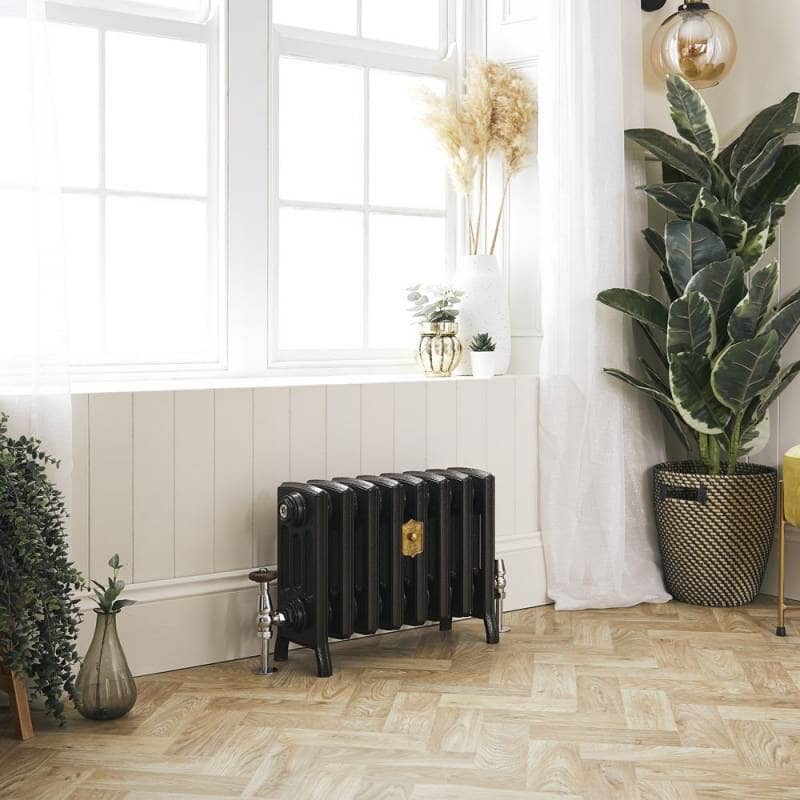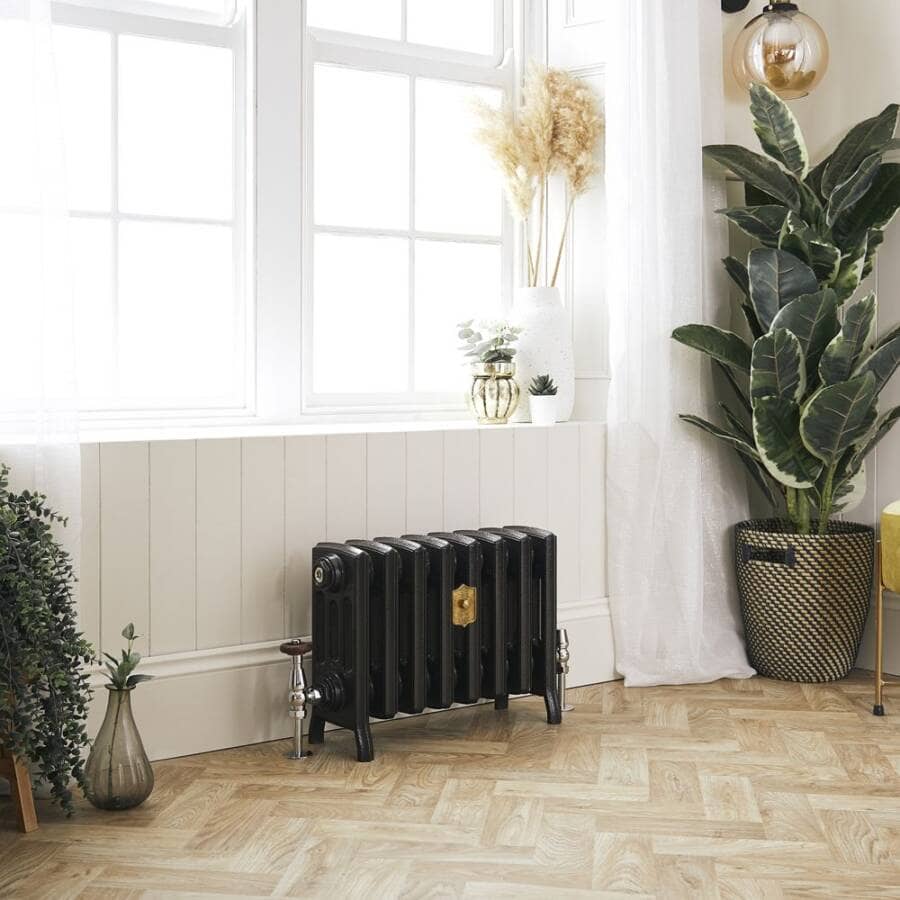 One of the most versatile entries on our list, the Milano Aruba slim electric black vertical rad can take pride of place in pretty much any homely setting. It incorporates a gorgeous slimline profile that will occupy only minimal wall space as it pertains to width.
Boasting a pair of rows of four ovular tubes, the stunning modern design of this electric radiator is matched up by the way it operates. The rad includes a 1200W Bluetooth electric heating element which can be controlled remotely via a smart device or mobile phone.
So you can switch on your radiator to your preferred temperature, and have your bedroom, bathroom, kitchen or lounge primed to the perfect degree before you even step foot through the door.
One for the would be interior design specialists, the Milano Indus floor-standing ladder heated towel rail is a fittingly unique final entry to our black radiators shortlist.
Offering adequate room for the hanging of multiple towels, the towel rail boasts a practical yet somewhat outlandish ladder design punctuated by a superb matt black powder coated finish, providing an eye-catching look as well as robust durability.
It also delivers a heat output that may bely its overall appearance, ensuring your towels are made and kept toasty warm in minimal time.
Shop black radiators online with BestHeating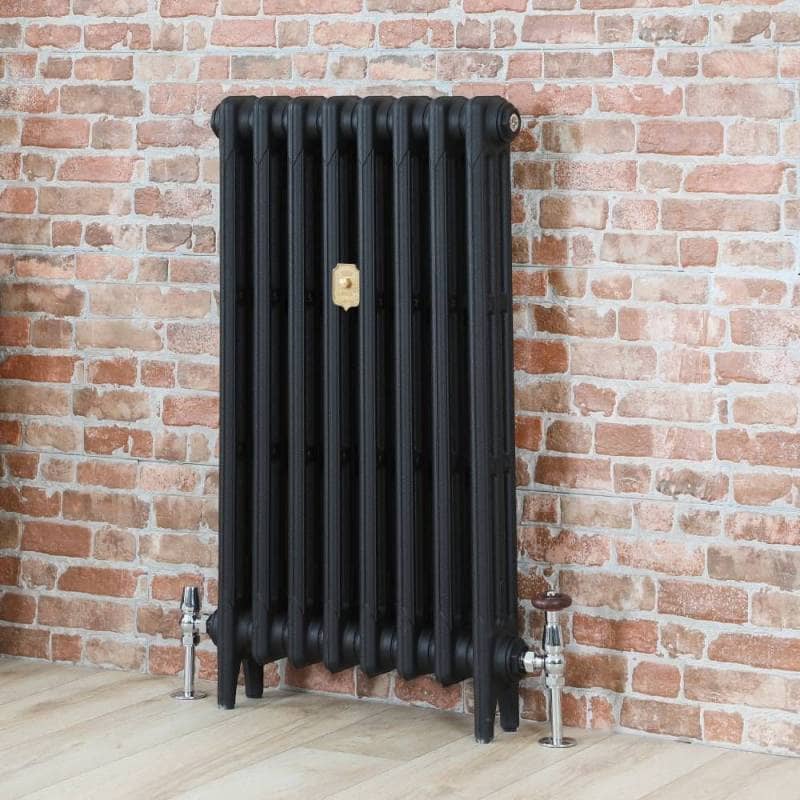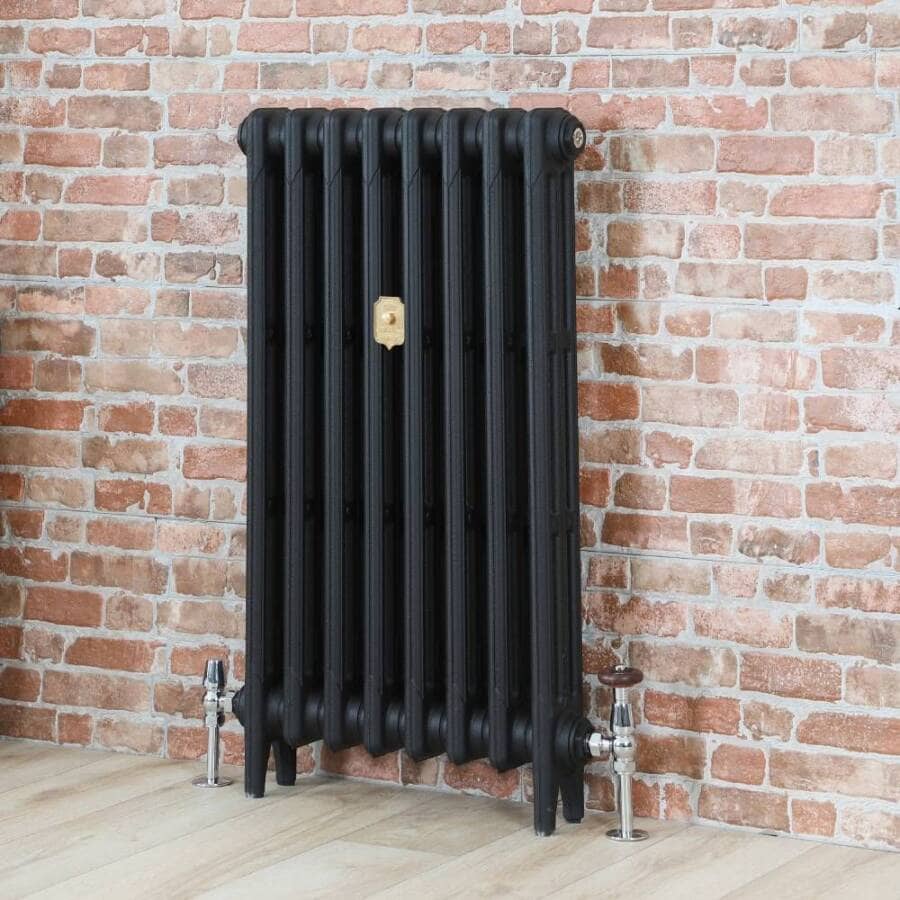 Hopefully, this article has by now helped you draw inspiration from some of the most stylish black designer radiators available, and think about where one might best fit within your home.
You can shop black radiators online with BestHeating, or if you would like any further help and advice surrounding the best option to select for your home, please don't hesitate to contact our friendly team.
We can be reached in the comments section below, or via Facebook, Twitter or Instagram.
Got a radiator or heating question?


You can find a range of helpful answers to hundreds of common home heating questions on our FAQ pages.
Click the link or tap the image above to ask a question of your own!
With a background in sports journalism, John counts content writing amongst his key passions. He's always peppering our Advice Centre feed with reasoned and researched home heating tips, and providing expert solutions to the questions you want answering. Fine football and music connoisseur. In his own head, at least.