The Milano Aruba Collection
With its contemporary oval column design, impressive heat outputs and selection of attractive colour finishes, it's easy to see why the Milano Aruba designer radiator collection is among the most popular at BestHeating.
Why Choose A Milano Aruba Radiator?
Attractive Modern Oval Columns
Much more than a hot metal box on your wall, the Aruba's oval shaped columns provide a soft & desirable element to your home's heating system.
Single & Double Panel Designs
Whether heating a compact space or a large living area, the Aruba range features stylish, practical and affordable heating solutions in both single and double panel designs.
A Wide Range Of Colour Profiles
All Milano Aruba radiators feature a durable powder coat finish, with vibrant and neutral coloured finishes available, each designed to transform your home and enhance any décor.
Vertical & Horizontal Designs
From swapping out an old radiator for something more attractive or completely renovating your home heating system, the Aruba range features a selection of vertical and horizontal designs to enhance every space.
Designer Home Heating for Every Style Home
Discover a glittering array of colour finishes, an impressive range of heat outputs, and expert installation guides, to help you transform your home heating with a Milano Aruba radiator.
Find the right finish for your home. Click the swatches below to discover the Aruba that suits your style.
Assured Quality & Efficiency
Small & Compact Or Large & Iconic
Wherever you'd like to bring warmth and comfort to your home the Aruba collection features compact and iconic radiator installations to provide you with an eye-catching focal point.
Efficient Electric Heating Options
Cleverly turning electrical energy into comforting heat outputs, Milano Aruba electric designer radiators are a practical & efficient alternative for rooms with no central heating.
Rigorously Tested & Certified
To guarantee quality, each Milano Aruba radiator is rigorously tested to comply with EN442 standards and is ISO & CE marked for added peace of mind.
Affordable Finishing Touches
No radiator installation is complete without those important finishing touches. With matching valve sets, robe hooks and towel rails available, it's easy to enhance the look of your new Aruba radiator with our range of heating extras!
Like The Look Of The Aruba Collection?
The Ideal Heating Solution
Our Milano Aruba range is available in a wide range of styles to suit any home. Be it a tight fit, or snug under a windowsill, we've got you covered.
Aruba Electric
Combining contemporary design and excellent quality electric heating, our stylish electric Aruba radiators are perfect for enhancing your interior whilst also helping to reduce your energy usage and costs.
Aruba Slim
Measuring at just 236mm, the Aruba slim range by Milano is the ideal heating solution for small homes and apartments looking to use every inch of wall space effectively, whilst also creating contemporary design features.
Aruba Low Profile
Small yet mighty, our compact low profile Aruba radiators offer the form and function of this modern range in an understated, space-saving design. Perfect for utilising space under windows.
Aruba Ayre
The Lightweight Alternative
Stylish, lightweight and incredibly hardwearing, the Milano Aruba Ayre aluminium radiators will reach their optimum temperature much faster than steel alternatives. Plus, the practical aluminium construction makes them suitable for installing on every type of wall.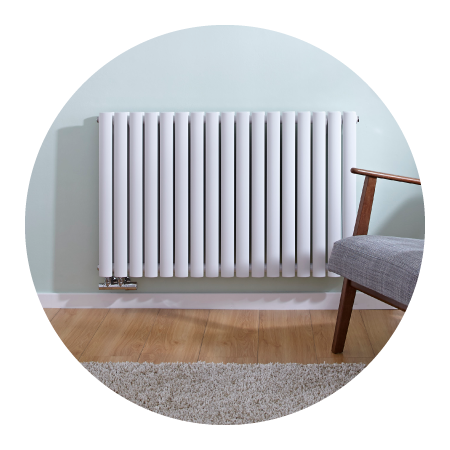 Aruba Flow
Minimalist & Modern Design
Featuring centrally located valve inlets, Milano Aruba Flow radiators offer a stylish solution for disguising pipework, creating a clean finish, and ensuring a constant flow of water around your radiator. Ideal for low pressure central heating systems.
Real Homes, Real Heating
The Milano Aruba range adorns the walls of some truly stunning homes. Our Customers love us - See what all the fuss is about!
Hand Picked From This Collection
Striking Statement
Milano Aruba - Anthracite Vertical Designer Radiator
Modern Minimalist
Milano Aruba - White Horizontal Designer Radiator
Colourful Moment
Milano Aruba - Dark Blue Horizontal Designer Radiator
Need More Inspo?
The BestHeating Advice Centre is packed with inspirational articles, customer home showcases and useful buying & installation guides. Check out the features below for some handpicked content written by our expert team.