Choosing the right electric radiator size
Whether you've decided to make the swap to electric or you are one of the 4 million UK households who do not have access to a mains gas supply, working out what size electric radiator you need is much easier than you may have imagined.
If you have already been through the process of purchasing a standard gas radiator, then you are probably familiar with our BTU calculator which converts BTUs (British Thermal Units) into Watts for you.
So if you are looking for a quick answer to which size electric radiator you need then head straight over to the calculator.
But if you're still feeling unsure about 'Watts what', keep scrolling and you will be an electric radiator expert in no time.
Below, answers to the key questions to help you work out your perfect electric radiator size.
What is the radiator wattage?
Our electric designer radiator range offers many different sizes and outputs to heat various rooms in your home. Each electric radiator is supplied with a chrome heating element that transfers electrical energy from the mains power into heat energy.
The wattage of an electric radiator simply tells you the maximum output of electrical power of the heating element.
The higher the wattage, the more heat the radiator will provide.
However, this isn't always the case.
If you have a large room and are shopping around for an electric radiator or heater with a very high wattage, you might think you have found the perfect one.
But it is important to look out for some other key points too.
For example, inefficient and inadequately designed electric radiators may offer the high wattage you are looking for, but are still incapable of heating the space to your desired temperature.
It's this old fashioned inefficiency that gives electric radiators a bad name as they are known for using huge amounts of energy and increasing bills without getting the job done!
That's why designer electric radiators are a total game changer.
Our electric designer radiators convert every unit of electric power into heat energy, making them 100% efficient.
Plus, the panels are made from the highest quality steel or aluminium depending on the range, so the radiators are efficient convectors to transfer the heat across the entire room.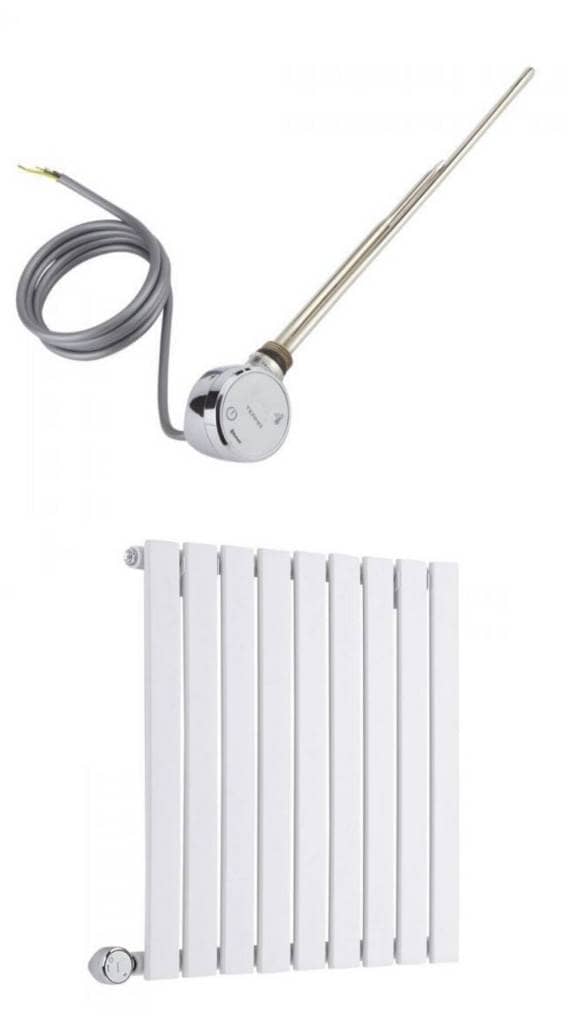 How to find the right size electric radiator
Step 1: Use the BTU Calculator
Just like with a gas radiator, finding the right size electric radiator for your room depends on the kind of space you are trying to heat, how big it is, how well insulated it is etc.
And instead of choosing a radiator based on size, you must select one that provides a high enough heat output to meet your heating requirements and compensate for any heat loss in the room.
The key piece of information you need to find the right size electric radiator is the wattage.
If you have been looking at different heating options and already know the required BTUs for the room where your new electric radiator is going, a quick way to convert BTU outputs into watts is to divide the BTUs by Pi π. This will give you a rough estimate.
Watts = BTUs / 3.14
But, we would always recommend using the BTU calculator for a more accurate figure.
The BTU calculator takes into account the various factors that can affect the amount of heat your space requires and will give you the total BTUs and wattage conversion.
We have inputted some standard values into our BTU calculator to determine the heating requirement as an example below.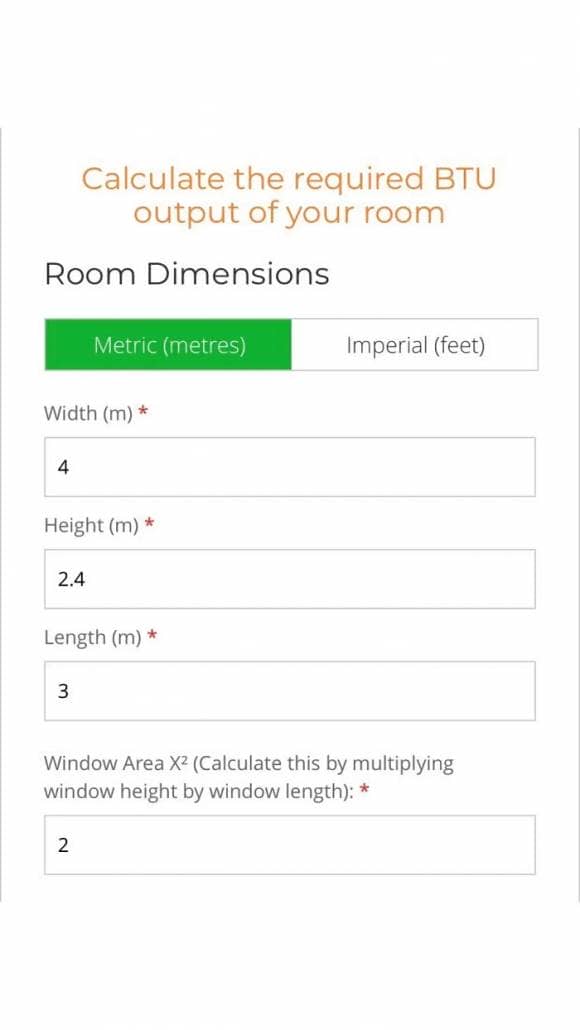 Step 2: Match the required wattage
Now you have your total 'Watts Required' all you need to do is select a radiator with a heating element that matches the wattage. Or, several radiators that add up to the total required wattage.
In this case our total is 1102W.
So we could choose a radiator like the Milano Capri Electric – White Horizontal Flat Panel Designer Radiator 635mm x 1000mm which comes supplied with a 1200W heating element.
Or, we could have two radiators in the room that add up to 1102W or above. For example two Milano Alpha Electric – Anthracite Horizontal Single Slim Panel Designer Radiator 635mm x 630mm with a 600W element each.
You might be thinking that a lower wattage that is close to the required total like a Milano Aruba Electric – Anthracite Horizontal Designer Radiator 635mm x 834mm with a 1000W element will do the job.
But we would strongly advise against this.
It is always best to go higher if your total required wattage is between two options.
If you go for the lower wattage option you may end up with higher running costs because your radiator has to work harder to reach your desired room temperature.
That's if it manages to get there!
This inefficiency and added strain on the radiator could also reduce the lifespan. So you may have to replace the system much sooner than imagined.
And nobody wants to be forking out for multiple electric radiators in quick succession.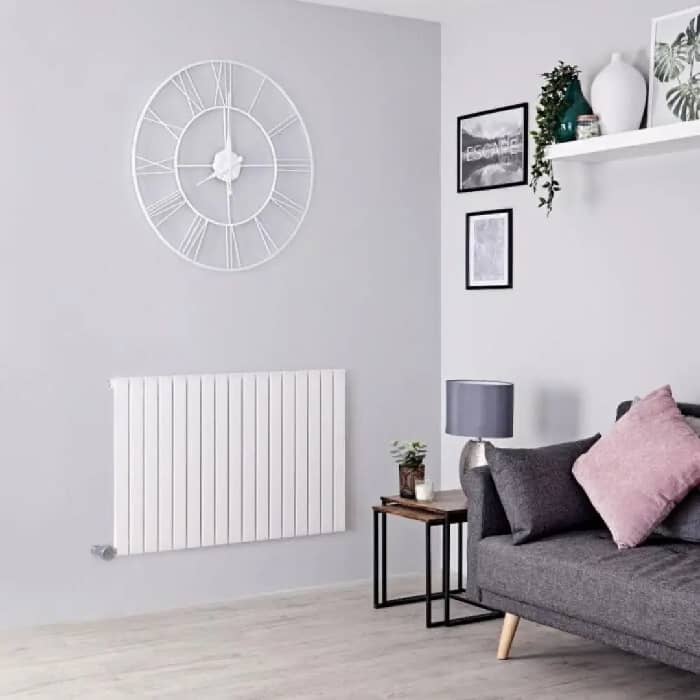 Step 3: Consider space & size
So now you have your total wattage and you have looked at a few different variations by adding up the Watts, the last step is to think about which option will work best for your room.
If space is limited, you might want to consider a slim vertical electric radiator. This will free up space around the radiator for furniture and storage. It also saves you having to install two radiators of the equivalent wattage.
The Milano Aruba Slim Electric – White Space-Saving Vertical Designer Radiator 1780mm x 236mm (Double Panel) features a 1200W heating element which would work well for our example.
Maybe you are looking for a flexible heating system to efficiently heat rooms with fluctuating temperatures like the kitchen or bathroom.
If that is the case, you might want to look at our dual fuel radiators. These hybrid radiators combine electric and central heating to give you the option of both.
Sticking with our example, the Milano Windsor – White Traditional Vertical Dual Fuel Triple Column Radiator – 1800mm x 290mm with a 1200W heating element would be a great choice.
If it's a towel rail you are looking for, all of our electric towel rails can be made dual fuel by purchasing a separate dual fuel T-piece, heating element and valves of your choice.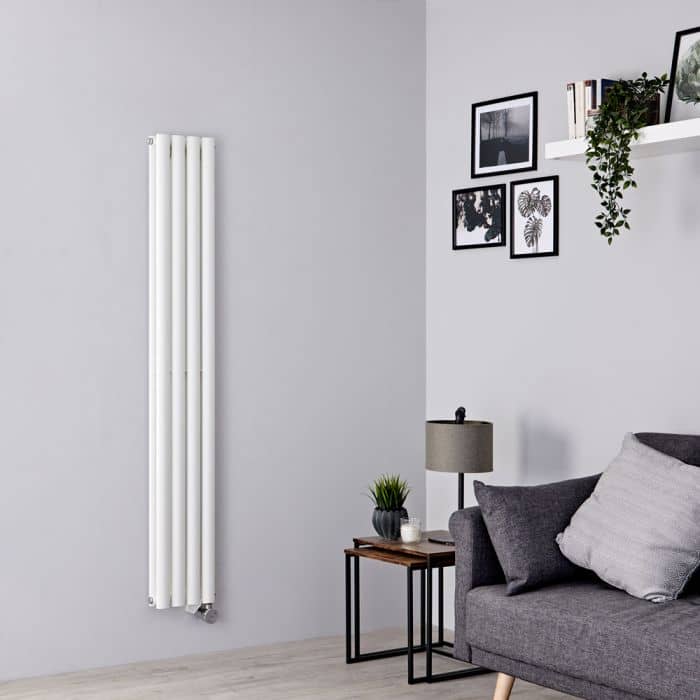 Quick recap:
So the next time you are trying to work out what size electric radiator you need, follow these 3 steps:
Use the BTU calculator to work out the Watts required.
Match up the radiators to the required wattage.
Consider which size/style electric radiator will work best for your space.
We hope we have cleared up any questions you have and you now know exactly what size electric radiator you need!
If you're still unsure, feel free to leave a comment below, send an email to info@bestheating.com or say hello on social and we will be happy to help.
Jess has a passion for interior design and wants to inspire people to look at radiators as home decor. She enjoys keeping on top of the latest design and heating trends to ensure the Advice Centre has all the information and inspiration homeowners need to make the best choice for them.