Is laying underfloor heating easy?
The idea of underfloor heating (UFH) is generally always a positive one.
Whether it invokes dreamy memories of a one-off luxury spa day, or relaxing thoughts of the jacuzzi area you love to kick back in after a hard session at the gym (10 minutes in my case), underfloor heating is something many aspire to have in their own home.
However, a lot of people will be put off by the potential intrusion an underfloor heating installation would cause in the home, as well as perceived high underfloor heating costs. They'll look to 'play it safe' with modern or traditional radiators.
But is it really that bad? Or expensive in relative terms?
This blog will seek to answer the age-old (ok, decade-old at a stretch) question, is underfloor heating easy to install? And we'll also offer up an idea on potential costs for different UFH systems.
As the nearby personal trainer might say as I enter the gym ready to put in the work for all of one sixth of an hour, let's get to it…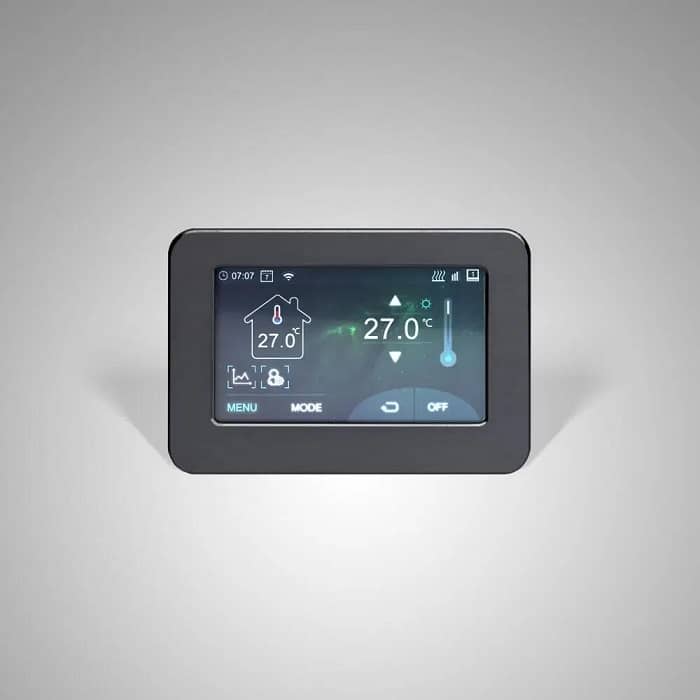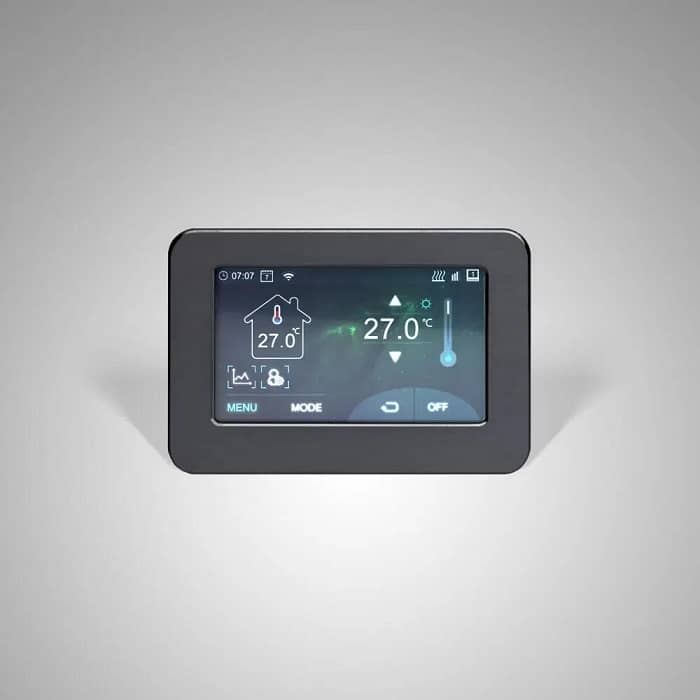 The increasing popularity of underfloor heating
First and foremost, the increasing popularity of underfloor heating in residential UK properties indicates it may not be as troublesome to install, or as expensive, as you might initially think.
Especially in more modern properties such as new-build homes, underfloor heating can actually be fitted with relative ease, and minimal unnecessary disruption caused to your existing floor, surrounding fixtures, fittings and furniture.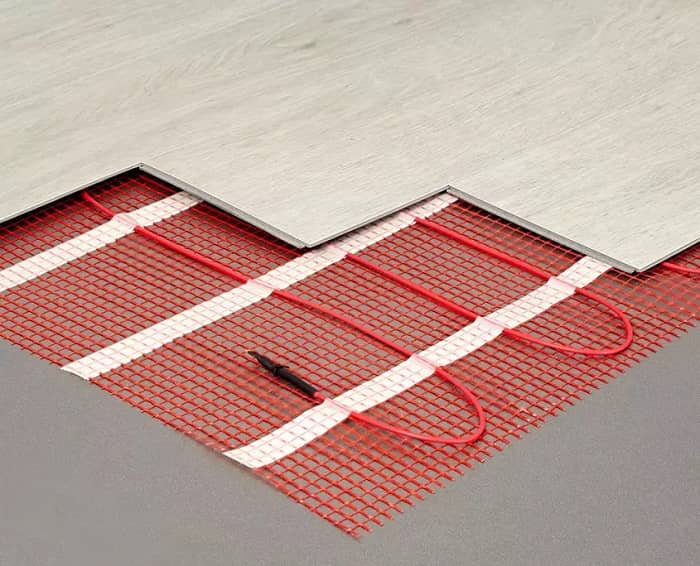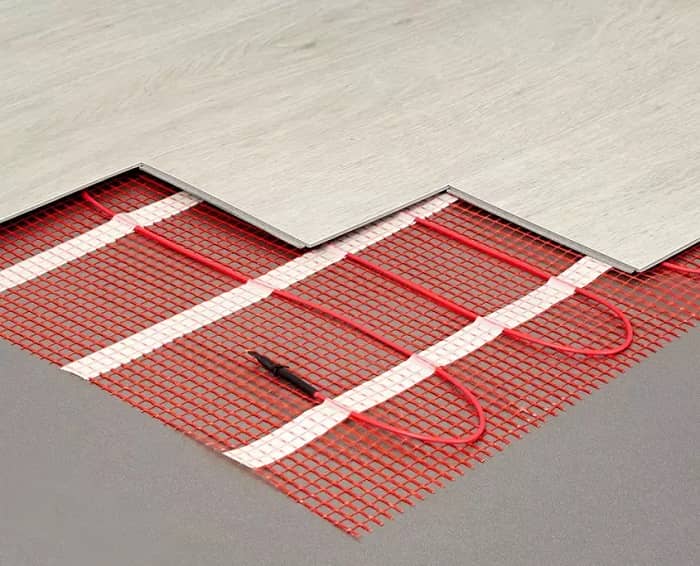 The advantages of underfloor heating
Now, as we've said, most people will have only positive associations with underfloor heating, with connotations of luxury and relaxation most likely. But what are the actual benefits it can bring to your home and everyday life?
Firstly, perhaps more so than other heating solutions, it can deliver an even distribution of warmth throughout each room it is installed in.
And whilst you will never ever hear of BestHeating putting you off investing in designer radiators, it can remove the need for multiple radiators in specific rooms, helping you to save money in the short and long term.
For instance, lovely warm underfoot tiling would be a dream to step out of the bath or shower onto, and depending on your bathroom size, you could probably get by with just a heated towel rail for company.
Underfloor heating is also very easy to run and requires hardly any maintenance. You can set on/off commands for specific times of the day via a programmable thermostat, or with a SMART WiFi thermostat depending on your preference. Though with the constantly evolving benefits and features associated with modern home heating, perhaps the latter option is best. You can find out more in our Ultimate Guide to Smart Home Heating Controls before coming to a decision.
Finally, it would be remiss of us to fail to mention that underfloor heating is as versatile as James Milner.
You really do have free design reign in your home with an underfloor heating system of any sort. Wall and floor space is maximized, and the systems are suitable for fitting with any type of floor.
Carpet, vinyl, wood, laminate, stone, tiling. All good to go.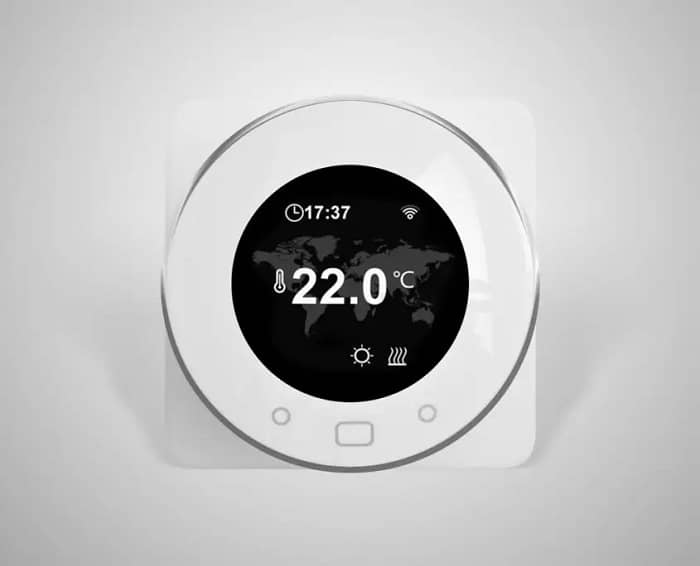 Can I install underfloor heating by myself?
Of course, it might seem a monumental task and a huge overhaul to introduce underfloor heating to your home, but DIY enthusiasts could actually be able to complete an electric underfloor heating system installation by themselves.
You need to feel comfortable and able to do so, so if there's more "you're bloody useless" than "that looks great!" shouts in your typical DIY jobs, it's probably best to leave the work to a qualified electrician.
Either way, you'll want to gain some professional help in the planning process, to make sure you have a properly installed underfloor heating system when all is said and done.
Different types of underfloor heating systems
There are different types of underfloor heating systems, and the style you opt for will reflect which sort of installation is required (and whether you can carry it out yourself).
In general, electric underfloor heating systems follow a more straightforward installation process in comparison with wet underfloor heating systems. However, it should be noted that the running costs could potentially prove more expensive over a longer length of time.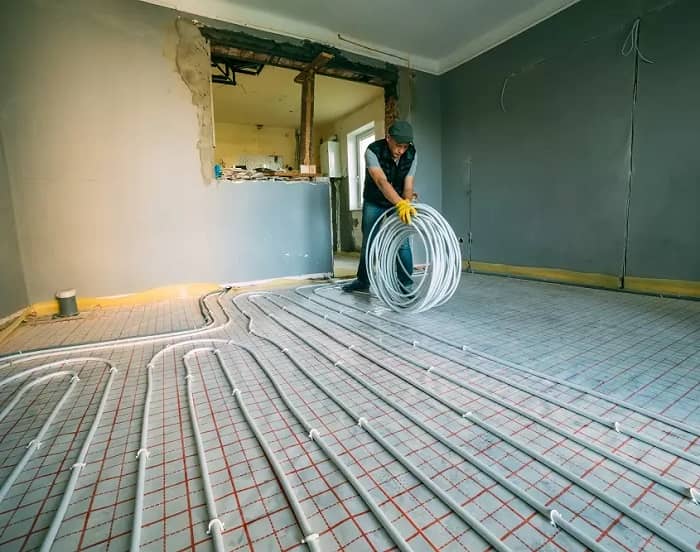 How to install a wet underfloor heating system
For wet underfloor heating system installations, warm water is pumped through a collection of pipes laid out over the floor. In essence, the actual method of heating mirrors that provided by conventional radiators – both receive hot water from the boiler as a component of the central heating system.
But before the installation work even starts, you'll quite literally need to lay the groundwork. A layer of floor insulation should be fitted from the start to provide better overall insulation and retention of heat.
From there, the pipe fixing system and panels can be laid on top, providing a surface on which pipework can be attached. Then, the underfloor heating pipes can be laid along the fixings in line with the shape of the floor.
With the piping all laid out in the correct position, it can be connected to the underfloor heating manifold. The manifold takes hot water from the boiler, controlling the warm water flow to each individual pipe.
You're not done yet, though.
After installing the water underfloor heating, it needs to be tested for leaks in the pipes, joints and manifold. If you are satisfied that everything is sufficiently tight and properly sealed, you can progress to laying the screed. You should take on this task while pressure remains in the system.
Finally, you can place your final layer of flooring atop the system, whether that be tiling, laminate or another type.
Given that the wet underfloor heating systems tend to feature thicker pipework than the wiring in an electrical counterpart, they are usually known to provide a heftier overall heat output. The fact that a larger surface area is usually covered by wet underfloor heating systems also lends weight to this notion.
VERDICT: Leave it to the professionals…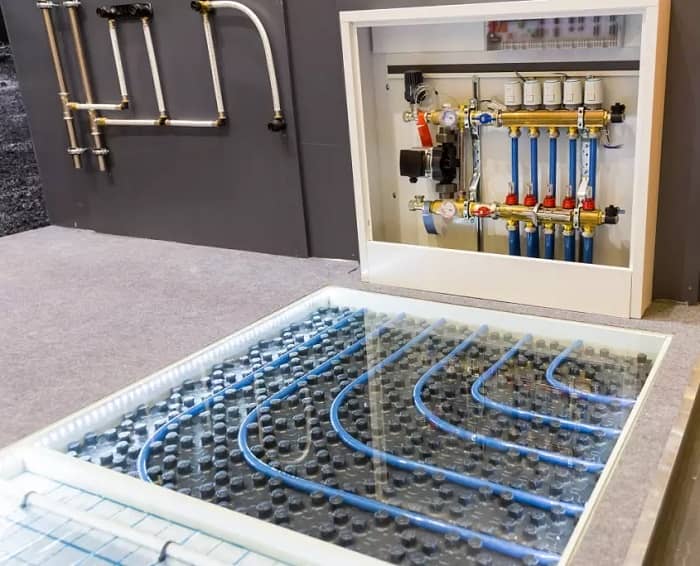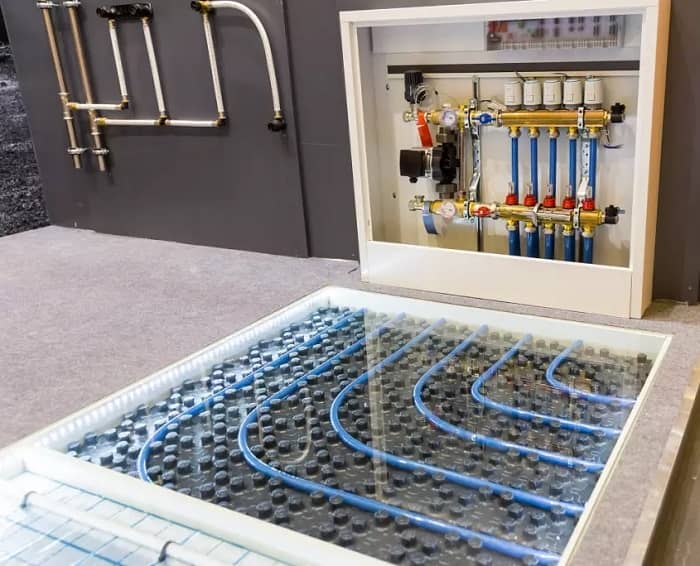 How to install an electric underfloor heating system
When installing an electric underfloor heating system, you should follow many of the same steps as with a wet system. However, there are a few crucial aspects that differ.
Usually, electric underfloor heating systems are reliant on grouped wiring running beneath the flooring. And as with a wet underfloor system, an insulation layer will typically be placed underneath the heating wires to make the best possible use of the resulting heat.
You have a choice between two prominent methods for laying down your heating wires…
Perform an individual wire fitting, allowing you to carefully modify your heating setup in accordance with the room layout and shape.
The other option is to fit pre-wired heating mats. These are a lot easier to install – you just need to roll out the mats over the surface area of the space you wish to heat with underfloor heating. You won't gain quite as precise a grasp on the areas you want to heat down to the nearest inch. In most scenarios though, that shouldn't matter too much at all.
When the floor is fully covered by the layer of insulation, plus the pre-wired mats or individual wires, you can box off the job right. Apply levelling compound or some flexible tile adhesive, ensuring that every inch is covered. When this is completed, you can stick the very last layer on top – your main flooring.
VERDICT: Crack on!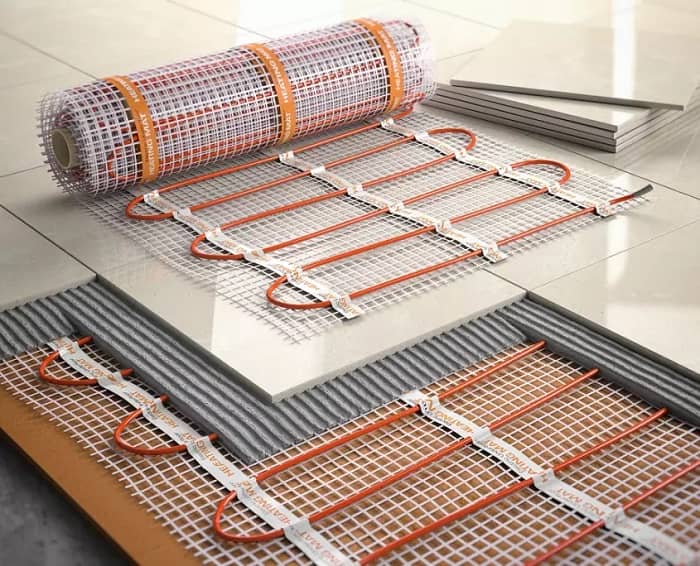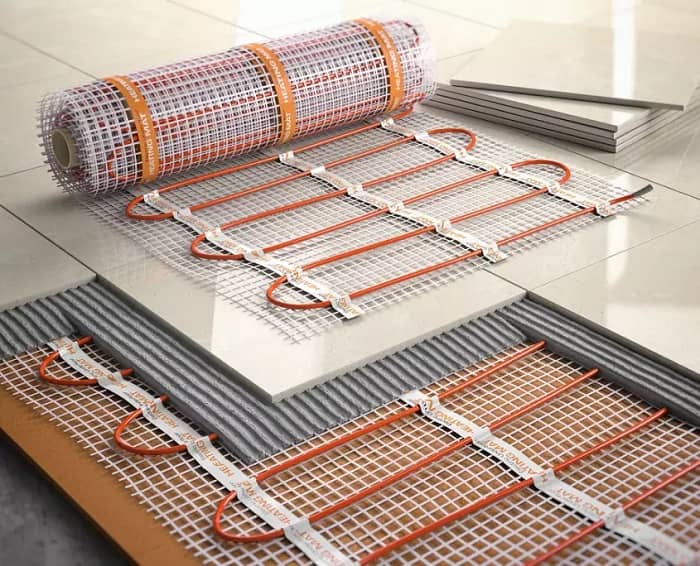 So, is underfloor heating easy to install?
All in all, both main types of underfloor heating systems have their own pros and cons.
If you are looking for the easiest style to fit, and hoping to save on installation costs by getting the work done yourself, then electric underfloor heating has to be considered the Hurley from Lost – the standout candidate.
With pre-wired mats in tow, they simply need to be rolled out across the chosen area, and can be trimmed to size to fit the space accordingly. A relatively straightforward installation is near guaranteed, and you could end up hitting the jackpot when selecting the comparatively cheap option, significantly boosting the value of your property in the process.
Buy low, sell high! Kerching!
Wet underfloor heating systems are definitely more difficult to install, and will cause a greater deal of disruption to the surrounding area as well. Furthermore, the fitting of water based systems should really be performed by a Gas Safe engineer, so the installation cost will be greater too.
For all that wet systems necessitate a more complicated and expensive fitting though, one of the main advantages they offer is that long-term running costs will be lower, as gas is much cheaper than electricity.
Get in touch with BestHeating
If you want to know more about underfloor heating systems, or have any other heating quandaries you need solving, don't hesitate to get in touch with the BestHeating team. Simply put your thoughts or questions in the comments section below, or contact us via Instagram, Facebook or Twitter.
With a background in sports journalism, John counts content writing amongst his key passions. He's always peppering our Advice Centre feed with reasoned and researched home heating tips, and providing expert solutions to the questions you want answering. Fine football and music connoisseur. In his own head, at least.