Take a look at our top 10 low-cost tips to find out how to cool down a room without expensive air conditioning. 
We often talk about how to make your home look cool with our fan-favourite designer radiators. But with summer in full swing, we're going to help you ensure your room feels cooler instead. We're talking rooms without AC or fancy ceiling fans.
Try out our ten tips below to cool down a room quickly this summer:
1. Keep the windows and curtains closed
When you step into a sweltering house or climb into a boiling hot car, your natural reaction is to get the windows open as quickly as possible. But that will only make you feel worse by letting more warm air in! 
Try to keep the windows and curtains or blinds closed in the summer to keep the cooler air inside. Blocking out the sun will help cool down a hot room quickly.
If you really prefer having the windows open, the best time to do it is early morning and late at night when the sun isn't as hot.
You can also opt for thermal blinds or curtains as they are designed to keep the hot air outside. These are ideal for the bedroom since they are also available as blackouts and UV protection. Nothing better than sleeping in a lovely cool dark room!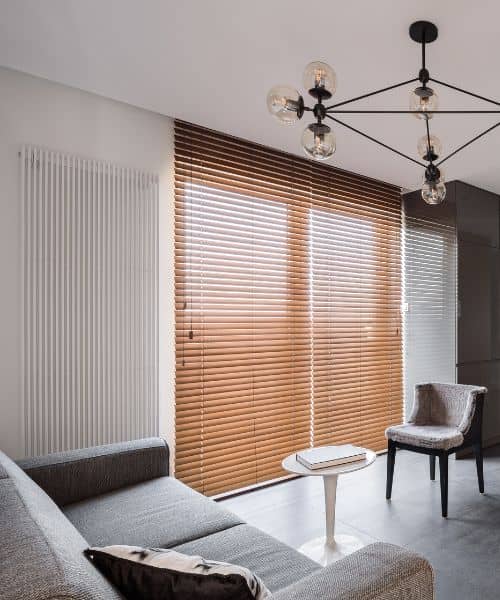 We're not here to state the obvious that using a fan will cool down the room. But, have you heard of the ice bowl hack? It is a super cost-effective, energy-efficient way to create a mini air conditioning system. 
On their own, fans are only capable of blowing warm air around the room. This can sometimes make you feel even more stuffy! But there are simple ways you can make your fan work harder.
If you already have a fan that's great. If not all you need is a cheap floor-standing or table fan. Then, place a bowl of ice cubes and cold water or an ice pack in front of the fan on the same level as the airflow. 
This will cool down the room quickly by allowing the fan to circulate the ice-cold air and create a refreshing breeze without increasing the cost to run.
You can also try the opposite method of placing the fan in front of an open window. Instead of creating a cool breeze in the room, this will force the fan to push the warm air back outside before it can increase the room temperature.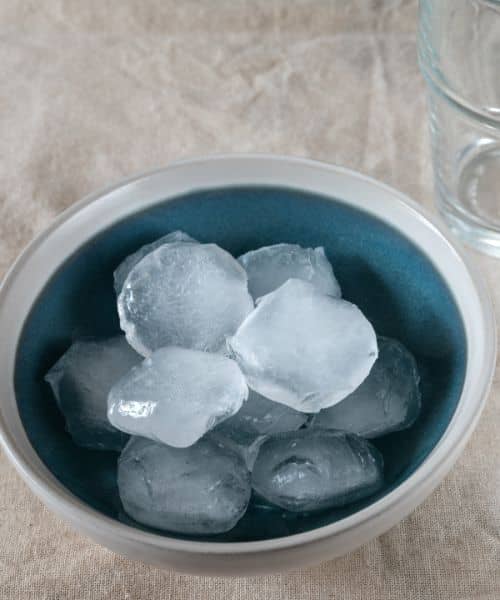 3. Extract that heat away
Did you know that you can use your extractor fan above your oven or in your bathroom to cool down a room? That's right! 
Extractor fans or exhaust fans are not only good at removing steam and odours, but they can also get rid of unwanted heat. 
This works best when you leave all of the doors in the house open to try and remove hot air from each room.
4. Know when to open and close doors
What to do with the doors really depends on the time of day and the situation you are in. For example, if you are only using one room to work or sleep, it is best to keep that door shut. 
This is because all of the tips you are using to cool down the room, trap the cool air in and ensure the room stays cool where you need it most. 
However, say you are relaxing in the living room in the evening when the sun is low, opening all of the doors will allow any cool air to flow throughout the house and create a nice breeze.
5. Use a hot water bottle to cool down
We've not gone mad. Hot water bottles are great insulators. This means that they can stay either hot or cold when you need it whatever time of year! 
In the summer, fill it up with cold water, and add some ice to help it stay colder for longer. If you are really too hot you can put it in the freezer for 20 minutes to turn it into an ice pack!
A good tip to keep your bed cool at night is to put your 'cold' water bottle under the sheets or next to your pillow in the evening. That means when you eventually get into bed it will be lovely and cool not hot and sticky.
6. Drape damp sheets near windows
We know we mentioned earlier that it is better to keep the windows closed during hot days but hear us out. If you open a window and hang a damp towel or sheet in front of it that has been soaked in cold water it can cool the room down.
This is because the warm air will have to pass through the sheet and turn it into cold air before it enters the room. Try draping the sheet over the curtain rail or hooking the towel on a hanger on the window handle.
7. Switch to LED lighting
If you still have any old incandescent light bulbs knocking around, swap them for LED bulbs.
Not only are modern LED bulbs much more energy efficient to help reduce running costs, but they also give off far less heat than older alternatives. 
You might not think it will make much difference. But, when you have a few lights on in one warm space, LEDs can really help cool down a room.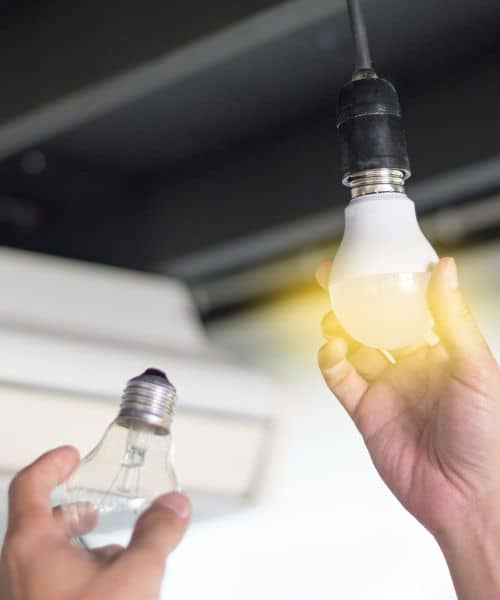 8. Stop sticking to the sofa
Is there anything more uncomfortable than sitting on a hot leather sofa with your skin sticking to the surface? No thanks! 
If you do have a leather sofa the easiest and cheapest way to cool it down is to cover it with a breathable sheet.
Linen or cotton bed sheets or blankets will be much more pleasant to put your feet up on.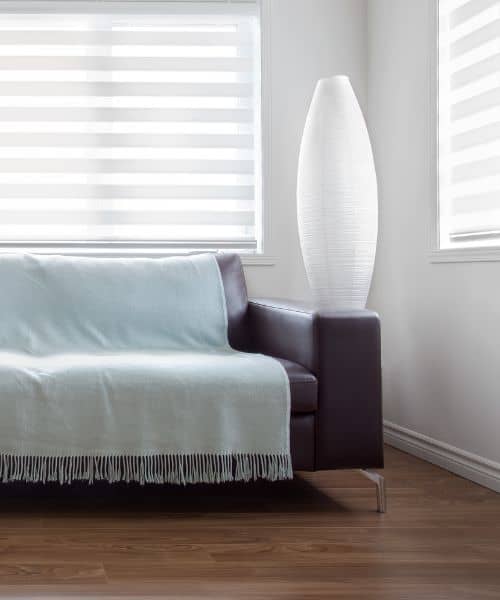 9. Fit reflective window film
Covering your windows in reflective film is another great way to keep rooms cool when it's hot outside. The film is designed to block heat and glare by reducing the solar that is absorbed by the window. 
However, they do not make the room feel dark. So you can enjoy bright summery spaces with regulated temperatures. Most kits also provide installation packs so it is easy to cut to size and install yourself with soapy water. Plus they can be easily removed, ideal for renters.
10. Unplug unused electronics to cool down a room
Did you know that electrical devices from computers to TVs can produce heat and use energy even when they are turned off? 
The best thing to do in the summer is to unplug these units from the wall. This will stop the internal fans from pushing hot air around the room. It could also help to reduce your energy usage and cost as well as cool the room down.
Need more heating advice?
Jess has a passion for interior design and wants to inspire people to look at radiators as home decor. She enjoys keeping on top of the latest design and heating trends to ensure the Advice Centre has all the information and inspiration homeowners need to make the best choice for them.