Why Buy A Vertical Designer Radiator?

Is A Tall Vertical Radiator The Right Choice?
Don't you just love the modern world?
When not putting a telephone on your wrist or transporting you in a driver-less car, it's giving you the chance to completely revolutionise your home heating with Vertical Designer Radiators.
Ok so maybe I'm overselling them a little, but they say a change is as good as a rest, so why not break with tradition and get creative with a stylish vertical designer radiator?
Why Choose A Vertical Designer Radiator?
Vertical Designer Radiators are becoming popular additions to many homes because they are widely available in an extensive range of designs and sizes and are an excellent way of heating a room that has limited wall space, where a more traditionally styled radiator just won't fit.
Conventional wisdom tells us that the best place to install a radiator is directly under the window, and there are two main reason for doing so –
Firstly, a wall with a window is often considered a 'dead space' because you can't attach anything to it, so it makes more sense to put the radiator there as opposed to it taking up more space elsewhere in the room.
Secondly – and there is a bit of science to support this – siting a radiator on a wall with a window allows the cooler air from the window opening to get warmer before it enters the room.
This process is known as 'natural convection' – whereby cool air heads down from the window to be met by the warmer air rising from the radiator.
But, with the advent of double and now triple glazing, the need to place radiators under windows is something of a moot point – with no draughts, there is no natural convection, so does it really matter?
Placing Your Radiator
Double and triple glazing aren't the only advances that have changed the thinking of where radiators can be positioned in a modern home.
With radiator technology coming on in leaps and bounds and the ever improving quality of insulation being used in modern homes, there is no need to feel restricted by the standard conventions of radiator installation – so it could be time for a break from the norm.
Radiators are now readily available in a wealth of shapes and sizes and can even be considered a piece of furniture in their own right, meaning you can choose one that best suits your rooms style and also position it (within reason) wherever you like.
With so many choices available, it's important to consider the following points when choosing the best setting for your radiator.
What About Pipework?
Contemporary radiator design means that you can make the most of your available space, so don't feel restricted by the position of your current pipework.
With a vertical designer radiator for instance, you can remove your old horizontal one from under the window and install your new radiator in a place that may previously not have entered your thinking – because you considered it completely unsuitable.
This is a great way to begin some stylish design changes that could add value to your property and really transform the look of your space.
A good plumber could have the pipework moved and the new radiator installed in an afternoon. So you can get on with making the most of your newly available space.
Don't Block Them With Furniture
Another great benefit of the space created by installing a vertical radiator in a lounge or living area is the fact that you can make real changes to how your room looks. From moving furniture around or perhaps adding more of it, the advantages of vertical designer radiators outweigh what you would have with a more conventional radiator installation.
And Remember Your Kitchen
It goes without saying (but I will anyway) that kitchen units often take up most of the available space in a kitchen.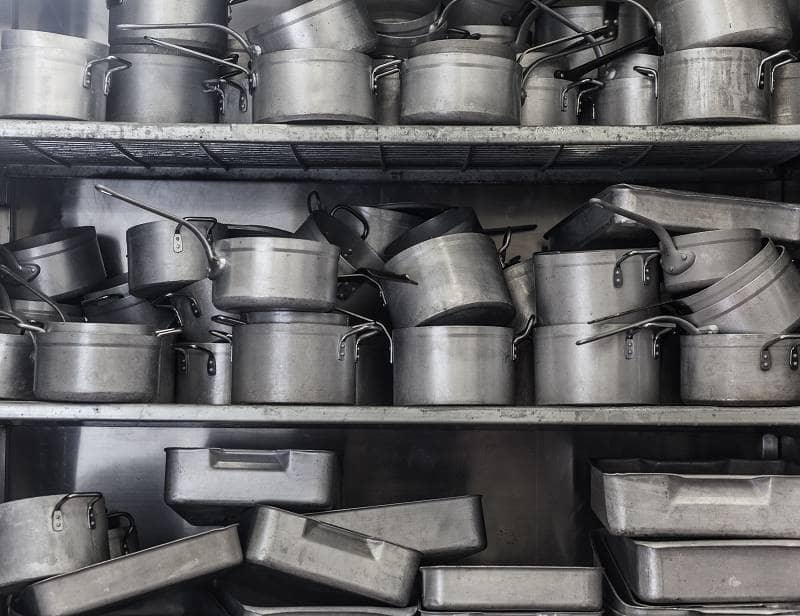 But with a tall and slender vertical radiator, you can position it behind a door or fill a space that you previously considered not wide enough to accommodate a radiator.
This will obviously free up more room for you to make the most of your kitchen space; perhaps installing more storage space or freeing up some room for a wall packed with utensils
Did Someone Say Symmetry?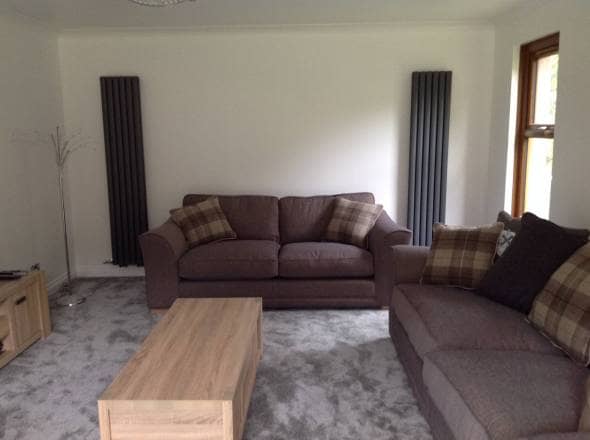 A sure-fire sign that radiators have come a long way from the bland metal boxes that they used to be is by positioning them to highlight a particular feature of a room.
An example of this can be seen in the picture above that was sent to us by one of our customers – Ross Bowie.
Ross has placed two identical anthracite vertical designer radiators symmetrically, one on each side of his sofa. This draws the eye to that area of the room – all he needs now is a 55" Smart TV or a striking piece of art to stick in between – I'd go for a TV (if the wife let me).
And What About Heat Outputs?
Knowing that there are huge numbers of radiators available should give you a real opportunity to put some thought into what the function of each radiator will be in the different rooms of your home.
In the main rooms of your house – the ones that you use the most – you'll need a radiator that offers a higher heat output to ensure that everyone stays nice and warm.
But in smaller rooms such as bathrooms or ensuites – though the radiator will only need to heat a small space – you will want to benefit from warm and dry towels too and that's where the sleek designs of some of our 'grander' vertical designer radiators come into their own.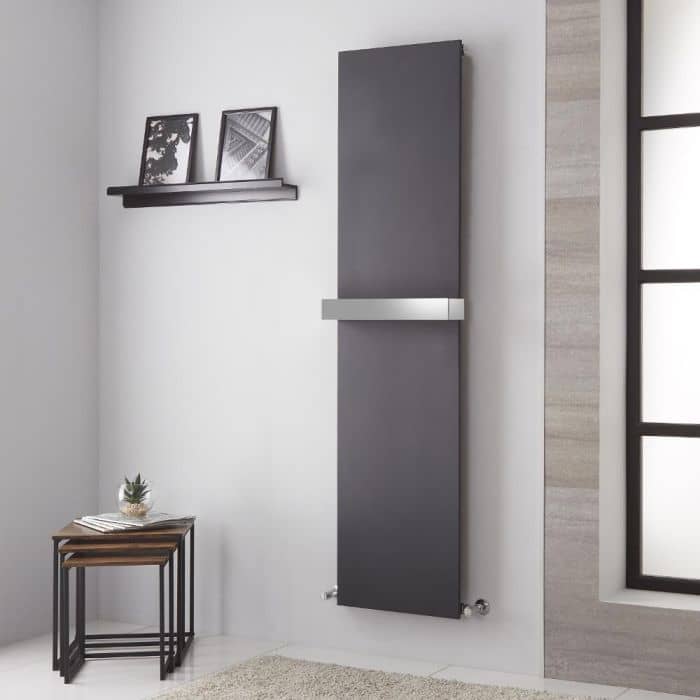 A vertical designer radiator with the addition of a towel rail is a perfect solution for anyone with a large bathroom.
With the advent of more adventurous and modern styles, it's now possible to have a minimalist vertical radiator that incorporates the ability to dry towels.
These are perfect because you may find that a heated towel rail won't provide enough heat output for a larger space, so installing a full-blown radiator that can also heat your towels could be an attractive addition.
So Make Space & Go Vertical!
Here at BestHeating, we are more than aware of the needs of modern homeowners in the 21st century. In fact, we pride ourselves on keeping up with the latest trends and searching for new and improved ways of enhancing the look of your home.
That's why we have packed our site with so many top quality vertical designer radiators, made to the highest standards and from the best manufacturers around. Each of our radiators feature incredible heat outputs and come with comprehensive guarantees, so you can be sure that you'll always have the quality radiator you'll need, to make space and GO VERTICAL!
For more info on our extensive range of radiators and just to have a chat with us about the latest trends, styles and cool stuff, why not check us out on Facebook, Twitter, Pinterest and Houzz.
If you have recently gone vertical, why not let us know in the comments or post some photos to our social media accounts. We'd love to hear from you and see what you've achieved.
Till then, stay safe and happy heating.

John trained in journalism before finding his way to the BestHeating Advice Centre team. He uses his journalism skills to meticulously research heating topics and bring you the latest news and views on all things home heating related. He'll also beat you at any sport that involves a cue!
https://wpcdn.bestheating.com/info/wp-content/uploads/2016/02/Depositphotos_88276744_original.jpg?strip=all&lossy=1&quality=70&ssl=1
3243
6000
John Lawless
https://www.bestheating.com/info/wp-content/uploads/bh-wordpress-advicecentre-logo-196x50-2.png
John Lawless
2016-05-24 18:42:21
2019-10-23 11:01:43
Why Buy A Vertical Designer Radiator?