7 heating options to make your bathroom stand out
If the kitchen is the heart of the home, the bathroom must be the soul; at least, that's how I feel about my bathroom, you may be different.
For me though, my bathroom is the place I go to re-charge, re-invigorate and reset myself, in readiness for what life has to throw at me next.
Without my bathroom, not only would I begin to smell like the inside of a football changing room in no time at all, but the chances are that I wouldn't be able to muster the energy to do much of anything at all.
My bathroom heals me, it infuses me and it has a lot more to do with how it looks and feels than what kind of face mask my missus has insisted I use (the less said about that, the better).
So, because I love my bathroom and we all love our radiators, I thought I'd bring the two together in harmony and showcase 7 of the best heated towel rails and towel radiators that can help to turn your bathroom into the "tranquil wetlands" you desire.
These are the best bathroom radiators – or at least some of the BestHeating favourites!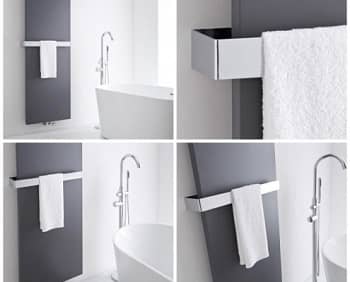 As a 'Super-flat' designer radiator, the Riso- from heating and bathroom specialists Milano – is a supremely stylish and supremely flat radiator (well what did you expect?).
Although you may not normally consider a vertical designer radiator for your bathroom – as the chances are you may not have enough space and they aren't the most practical for towel storage – this model features a rail accessory that offers you the chance to drape a towel over it whilst you bathe away the worries.
Available in white and anthracite, there are options for different types of décor available, but whichever colour you decide to opt for, it is sure to bring style, comfort and warmth to your bathing experience – I mean, look at it!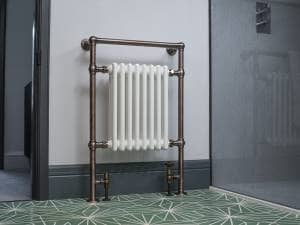 A perfect marriage of traditional style and contemporary build quality, the Milano Elizabeth is a great way to enhance the look of a period property.
Evocative of the old school radiators of the early 20th century – but with enough of a modern twist for it to be suitable for most interior designs – this attractive heated towel radiator is a great way to add warmth to your bathroom in an eye-catchingly different way.
Match it with some traditionally styled radiator valves to complete the look and give your friends something to be envious of.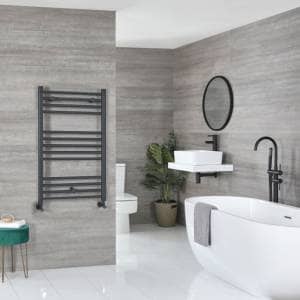 Forget about Orange being the new Black – Anthracite is the new black!
It won't be long and ladies everywhere will be donning a LAD (little anthracite dress) and using their LBD's for cleaning the dust off one of these simple and yet ultra-stylish flat profile towel rails.
Grey seems to be making an ever-increasing impact on the home heating of many of us and it's easy to see why with this Milano Artle heated towel rail – a snip at less than £70 in our store.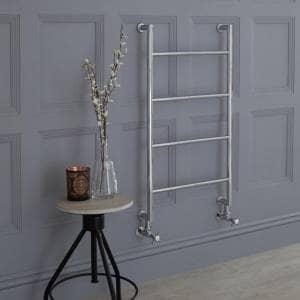 Continuing the traditional theme and really helping you to enhance that period style in your bathroom, cloakroom or ensuite, the Milano Derwent may not offer a lot in terms of outright heat output – it only kicks out 489 BTUs p/h – but it more than makes up for that with its slender lines and clean look.
This slimline towel radiator is only 50cm wide so is ideal for smaller bathrooms with limited wall and floor space, and it's clear to see that there is ample room for it to hold on to at least 4 hand towels and maybe even more.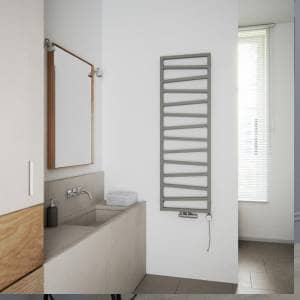 A feature-making towel radiator if ever there was one, this award-winning installation from Polish heating specialists, Terma, is a great way to bring some designer style to any bathroom space.
Conveniently, the Zig-Zag range can also be used as a Dual Fuel radiator, so even in the summer, it guarantees you the luxury of warm and dry towels for when you need them the most.
Sold in a variety of sizes – to suit both large and small-sized bathrooms – and available in either a white or a trendy silver finish, the Zig-Zag is an instant style upgrade that is sure to leave friends and family with their jaws nearer to the floor than ever before.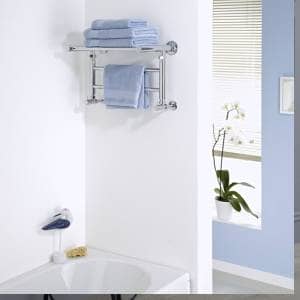 Despite its small stature, the Pendle from Milano Heating offers much in the way of storage and heat output – with an impressive 564 BTUs p/h output.
Ideally suited to smaller bathrooms and perfect for any ensuite set-up, the Pendle is a high-performance model that will help to maximise the available space you have in your bathroom and keep your towels close to hand, but far enough out of the way so they don't cause clutter.
This is the more compact towel radiator model, but if you like the look of the shelf and have a large family bathroom and need more space for even more towels, there are longer versions available too.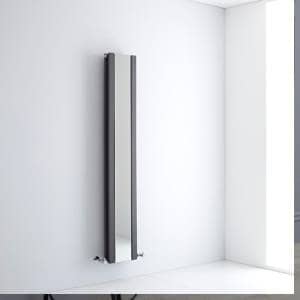 Maybe, in your bathroom you aren't bothered one little bit about whether you have enough storage for towels and all that jazz, you want to make a statement without being practical – and you know what – that's totally fine, and there is a solution.
The Milano Icon fits the bill for the modern bathroom – it has a full length mirror, sleek slimline profile and a trendy anthracite finish. There's no space for towels, no additional storage or anything like that, but who cares?
It has looks and style in abundance and you can always leave the towels in the bedroom or in the old airing cupboard, out of the way. This modern vertical radiator will add value, style and impact to your space unlike many other more practical installations.
Show us your favourite bathroom radiators
You've seen our favourite radiators and heated towel rails, now, we want to see yours!
Do you have a striking, statement-making radiator in your bathroom?
Have you seen one somewhere that filled you with envy and really took your breath away?
Why not tell us what your favourite is and why, we'd love to hear from you.
Follow us on Instagram @bestheatinguk, tag us in your pictures and show us your #mybestheating.
Leave a comment below or drop us a line on Facebook or Twitter.
Stay Safe & Happy Heating.
With a background in sports journalism, John counts content writing amongst his key passions. He's always peppering our Advice Centre feed with reasoned and researched home heating tips, and providing expert solutions to the questions you want answering. Fine football and music connoisseur. In his own head, at least.