Small But Mighty: Meet our Smallest Radiators

Whether you have a tiny bathroom, a compact cloakroom or a narrow hallway, small spaces still require a little extra heat to keep them warm and inviting in the fluctuating UK temperatures! 

In this guide, we'll introduce you to our favourite small radiators in a range of designs and finishes to help you find the perfect heating solution for your smallest rooms.
Smallest Windsor Radiator
Milano Windsor – Horizontal Double Column White Traditional Cast Iron Style Radiator – 600mm x 425mm
600mm x 425mm x 66mm
1377 BTU DeltaT50
White
Although our beautiful Windsors are known and loved for their chunky, vintage-style columns, they are still suitable for small spaces.
The smallest radiator in our Windsor range is a narrow 425mm wide and 600mm tall.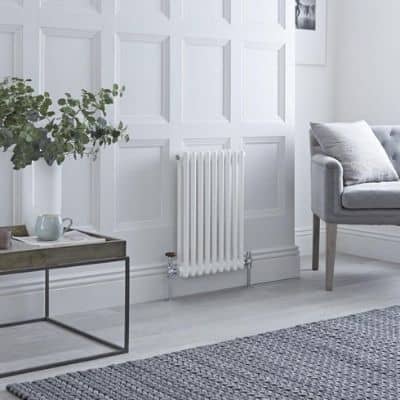 These timeless little radiators are perfect for small period style bathrooms and ensuites where you want to enhance the original feel of the decor without taking over the space.

@ourhome_no31 have done just that and we love the combination of the Windsor columns and the beautiful period panelling in their little cloakroom. And since the radiator is a slim double column design, there is still plenty of room to use the space comfortably!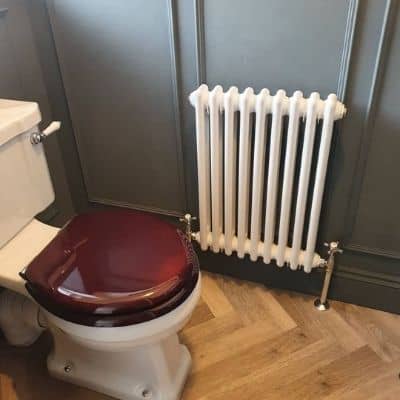 Smallest Aruba Radiator
Milano Aruba – White Horizontal Designer Radiator 400mm x 413mm
400mm x 413mm x 56mm
770 BTU DeltaT50 
White/Anthracite 
With smooth oval-shaped panels and contemporary design, our popular Aruba radiators are total fan favourites and the good news is the smallest radiator in the collection is tiny enough to fit just about wherever you need!
At just 400mm high and 413mm wide, this mini designer radiator is the smallest radiator you can buy from our range and packs the Aruba style, power and durability into one impressive small package.
Shorter than standard horizontal Aruba radiators, this compact design is perfect for utilising under window space in conservatories or dressing rooms like @welcome_to_number_48 decided to do here in this stylish walk-in wardrobe!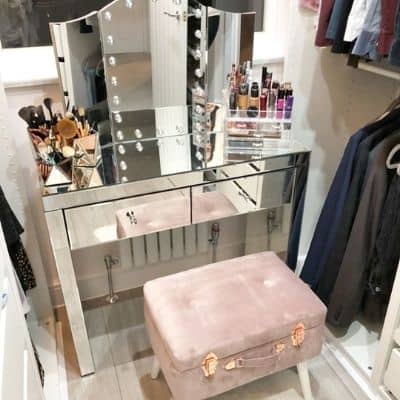 Smallest Cast Iron Radiator
Milano Isabel – Porcelain White Cast Iron Radiator – 4 Column – H 357mm x W 271mm x D 175mm
H 357mm x W 271mm x D 175mm
597 BTU DeltaT50
Porcelain White/Slate Black/Burnt Gold/Antique Silver
When you think of cast iron radiators, you might imagine that they would be way too big and overpowering for a small space, but you would be wrong!
Measuring at just 357mm, our small Milano Isabel cast iron radiators provide the presence and powerful heat output of an authentic cast iron, in a compact, easy to install design.
These little low level cast iron radiators are perfect for creating beautiful statement pieces and adding character to small spaces like cosy dressing rooms, classic ensuites and utilising the space under windows.
With a narrow 271mm four column width, our smallest Milano Isabel radiators feature an elegant design in a range of beautiful vintage-inspired finishes.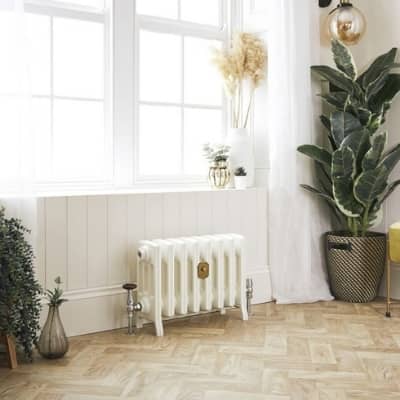 Smallest Alpha Radiator
Milano Alpha – Black Horizontal Single Slim Panel Designer Radiator 635mm x 420mm
 635mm x 420mm x 46mm
1018 BTU DeltaT50 
Anthracite/White/Black
If you are looking for a radiator that brings style and heat without taking up virtually any surrounding space, the Milano Alpha designer radiators are just what you need.
Featuring slimline flat panels and a modern minimal design, these small radiators are incredibly unobtrusive and the clean lines and understated aesthetic complement calm Scandinavian style interiors beautifully.
With six narrow 635mm tall panels and a thin 420mm width, our smallest Alpha radiator offers a stylish, versatile heating option in a range of attractive powder coated finishes.
@sunny_bank_house utilised the space in the window and created a contemporary monochrome look with our little matt black Milano Alpha and we love this cosy cloakroom!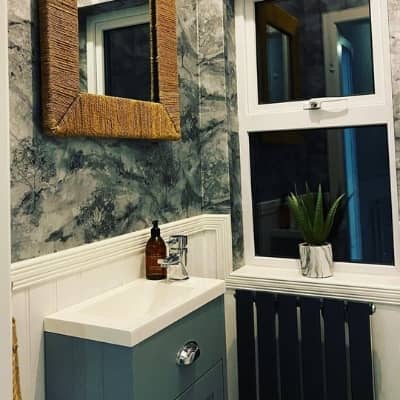 Smallest Skye Radiator
Milano Skye – Aluminium Anthracite Horizontal Designer Radiator 600mm x 375mm
600mm x 375mm x 45mm
1242 BTU DeltaT50
Anthracite/White
The stylish Milano Skye radiators feature a similar contemporary design to the minimal Alpha range, but the great thing about the Skye collection is the aluminium construction which offers plenty of benefits. 
Aluminum is an incredibly lightweight radiator material, meaning that these small radiators are suitable for installing on both internal and external walls
Plus, the middle valve connection design means that the radiator valves don't take up space on either side of the radiator, providing an ideal heating solution for rooms with limited wall space.
Finally, since aluminium heats up much faster than steel and cast iron, the Skye radiators require less water to operate which could help to reduce your energy usage and costs by creating a more efficient heating system.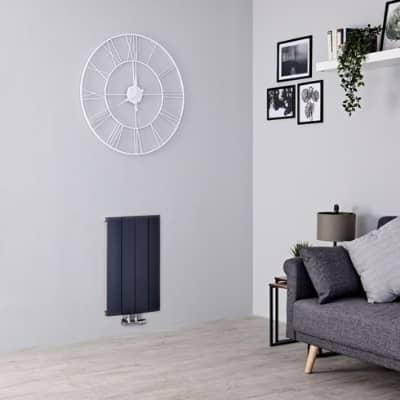 Smallest Vertical Radiator
Lazzarini Way – OneTube – White Designer Radiator – 1800mm x 100mm
1800mm x 100mm x 130mm
1256 BTU DeltaT50
White
Vertical radiators are known for being great space-saving options since they utilise the height of the wall and keep the surrounding area clear for furniture. But this elegant Lazzarini Way One Tube takes space-saving to another level!
Measuring at just 100mm wide, this narrow minimal vertical radiator is incredibly thin and still manages to provide an impressive heat output.
Not only does the slimline design help to save valuable wall space, but the unique tube design creates an impressive statement feature and turns your home heating into stylish home decor.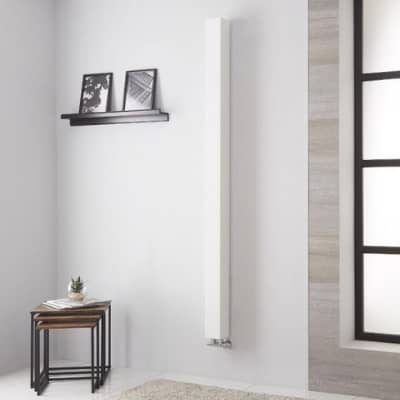 Smallest Heated Towel Rail
Milano Artle – Flat Anthracite Heated Towel Rail 600mm x 400mm
600mm x 400mm x 30mm
611 BTU DeltaT50
Anthracite/White
Whether you need to dry towels in a small bathroom, or hang tea towels in a small kitchen, the little Milano Artle heated towel rail is the perfect heating solution.
At just 400mm wide and 600mm tall, this tiny heated towel rail is the smallest in our collection. With a minimal ladder design available in a stylish anthracite or white finish, the Artle provides a practical and contemporary feature for any small space.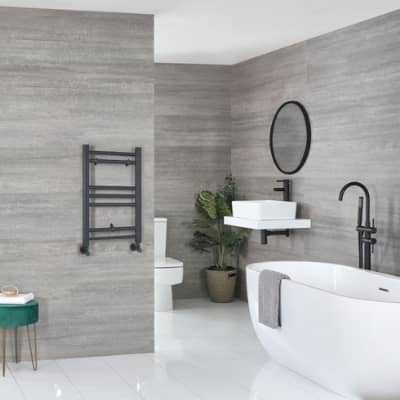 Smallest Electric Radiator
Milano Windsor – Traditional 13 x 2 Column Electric Radiator Cast Iron Style White 300mm x 605mm
300mm x 605mm x 100mm
600W
White
If you live in an apartment or home without central heating, our small energy efficient electric radiators are perfect for creating cosy living spaces and reducing your heating bills.
Our smallest electric radiator comes from the classic Windsor collection. Featuring the timeless stainless steel column design and an excellent quality electric heating element, this beautiful little radiator is the perfect combination of period style and modern technology.
Can A Radiator Be Too Small?
Yes! Radiators can be too small for your room and it is important to not choose a radiator simply based on size. 

If you are looking for a small radiator, you still need to calculate the BTU requirements of your room no matter how small the space is. 

Whether you have a tiny bathroom or dressing room, the last thing you want is for the space to be too cold, and if the radiator is too small it will not be capable of heating the room to your desired temperature.

Where Should You Install A Small Radiator?
Small radiators can be installed wherever you need a little extra heat. They are also great for making use of awkward wall space that would otherwise be wasted. 

Here are a few places you can install a small radiator:
Under a window 
In a small bathroom/cloakroom/en suite 
In a conservatory 
In a dressing room
Need More Inspo?
Head over to our Top 7 Radiators For Small Spaces, or see how BestHeating customers have styled their small radiators over on Instagram!
Jess has a passion for interior design and wants to inspire people to look at radiators as home decor. She enjoys keeping on top of the latest design and heating trends to ensure the Advice Centre has all the information and inspiration homeowners need to make the best choice for them.
https://wpcdn.bestheating.com/info/wp-content/uploads/bh-smallbutmighty-blog.png?strip=all&lossy=1&quality=70&ssl=1
326
940
Jess Steele
https://www.bestheating.com/info/wp-content/uploads/bh-wordpress-advicecentre-logo-196x50-2.png
Jess Steele
2021-05-05 11:55:59
2021-05-05 11:56:07
Small But Mighty: Meet our Smallest Radiators