If you love a good DIY project, decorating above a radiator is a fun job to add to your to-do list. From pretty panelling to shelfie statements, there are so many options to suit your home style. 
Whether you are designing your dream feature wall with your new favourite rad, or sprucing up a radiator cover with some cute styling, we got you covered.  
Keep reading for the dos and don't about how to decorate above a radiator, as well as some dreamy interior inspo from our cool customers. You're gonna love them!
Yes! It is perfectly safe to put things above a radiator. As long as you leave at least a 5cm gap above the top of the radiator to allow the heat to circulate properly. The more empty wall space you leave above the radiator the better. 
However, it is not a good idea and possibly not safe to leave things directly on top of a radiator for a long period of time when the central heating is on. The heat may damage the items, or cause potential burns if you touch or pick them up!

What do you put above a radiator?
One of the most popular decorative items to put above a radiator is a simple shelf. This provides a pretty surface area to display your favourite vases, candles, family photos, you name it. You could also put plants on the shelf above your radiator as long as you water them regularly. 
Wooden shelves such as pine and birch are great options for radiator shelves. MDF is also commonly used for radiator covers. This is because wood is a natural insulator, so it will not get too hot if you accidentally touch the shelf when walking past.
If you are renting your home or simply would prefer not to damage the walls with shelving, you can easily position a console table above the radiator. This will give you the space to give your radiator a glow-up by placing coffee table books, frames, textured planters, or whatever you like on your console. 
For a functional and decorative feature, why not make a stylish storage space by putting hooks high up above the radiator to hang a couple of coats and bags in the hallway. Not only will this create a cosy corner and additional clothing area for small spaces, but it will also keep your outwear warm for winter walks.
Match decor with radiator panel design
One trend that is catching our eye right now is matching the decor above the radiator with the radiator panel design. 
For example, if you have a classic column radiator like a Windsor, or an oval designer radiator, you can enhance the soft circular shapes by choosing decor with similar details. 
We love this example of the dreamy donut-shaped vase on the windowsill above the curvy Milano Aruba radiator. The complementary shapes make such a statement.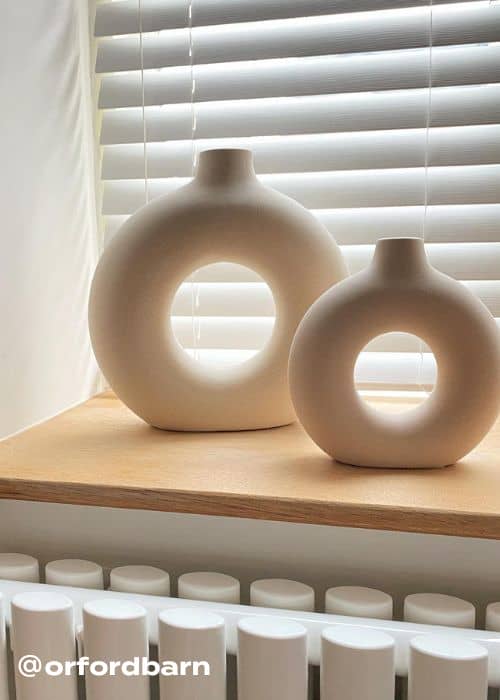 If you are drawn to modern flat panel radiators, emphasise the clean lines by choosing decor with minimal Nordic vibes. Scandinavian-style mirrors, sculptural vases, candles, and prints work perfectly with contemporary designer radiators. 
Or, if timeless cast iron radiators speak to your soul, you can accentuate the ornate design by decorating above the radiator with vintage-inspired ornaments and Victorian-style picture frames to create a considered look. DIY panelling is also a great, low cost way to create an expensive looking feature around the radiator with an authentic period home feel.
Can you place things on top of radiator covers?
Yes! Just like radiator shelves, you can place things on top of radiator covers. Radiator covers are designed to project heat forward into the room instead of above. This allows the top of the cover to remain cool, making it an ideal place to style up with your favourite accent features. 
How to decorate the top of radiator cover?
The great thing about radiator covers is that you can decorate them however you like to highlight more of what you love. Dried flowers, frames, and seasonal festive decorations are an easy and effective way of turning a plain radiator cover into a focal feature.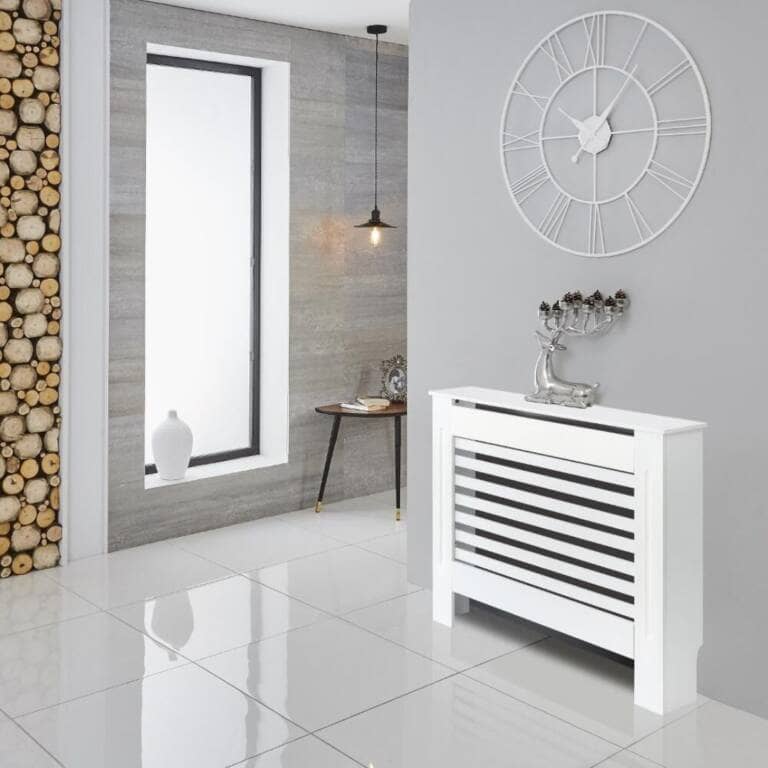 Should I hang a picture above a radiator?
You can decorate the wall above the radiator and draw the eye up by hanging prints and photos to create a personal gallery. This is a beautiful way to add comfort and interest in living rooms, bedrooms, or hallways.
What should you not put above a radiator?
The main thing you want to avoid putting above your radiator is anything that will block the heat. For example, putting a large piece of furniture above or in front of the radiator would not be a good idea.
It also is not safe to hang a TV directly above a radiator. Since heat rises, it could permanently damage the TV by causing it to overheat. If you have a small living space with no other choice but to install your TV above the radiator, pair it with a wall bracket that can be pulled far away from the radiator.
Need more maintenance advice?
At BestHeating, we not only want to help you choose the best radiator for your home, but to learn how to look after it too! We've answered pretty much every radiator-related question you may have over on our FAQs. Or, head over to our how-to guides to learn how to get heating jobs done yourself.
Jess has a passion for interior design and wants to inspire people to look at radiators as home decor. She enjoys keeping on top of the latest design and heating trends to ensure the Advice Centre has all the information and inspiration homeowners need to make the best choice for them.