Whether you're an outspoken eco-warrior like Greta Thunberg or haven't really got to grips with all the "blah, blah, blah" around climate change, one thing is certain – you'll want to live in an energy-efficient home.
Why?
Because "energy-efficiency" is the buzzword of the 21st century and a standard by which all modern homes are judged?
Perhaps.
Though, above appeasing the eco-warriors and avoiding people passing judgement, an energy-efficient home costs less money and is better for the environment.
In our modern day quest to waste less, save money, and care for mother earth, there's a lot that can be done to reduce our carbon footprints at home.
But, before we give you the lowdown on how you can make your home more energy efficient, it's probably worth defining exactly what it means to be "energy-efficient" at home.
What does energy efficiency at home involve?
To put it simply, home energy efficiency involves doing more, with less.
One example of this, that we'll all be familiar with, is with our light bulbs.
An energy saving lightbulb will create the same amount of light, but use less energy than an older bulb.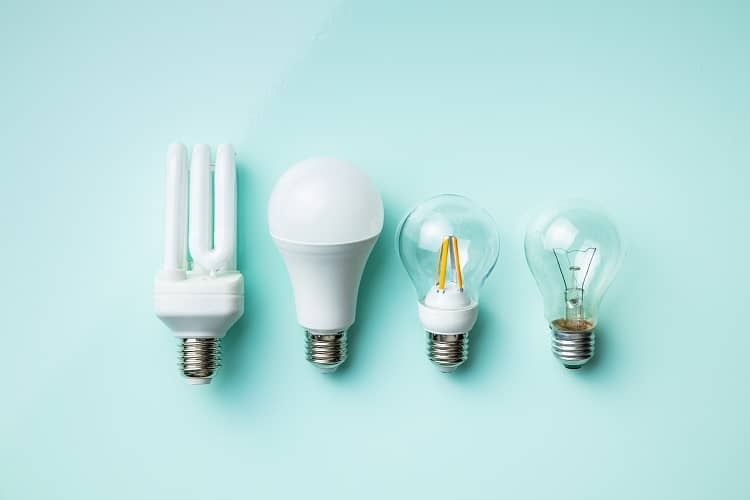 Bulbs like Light Emitting Diodes (LEDs) and Compact Fluorescent Lights (CFLs) require less electricity to operate than traditional incandescent bulbs.
Home energy efficiency is simply using less energy at home.
You can use less energy at home by changing your habits and behaviours, or by purchasing products that help you to use less energy, or use it more effectively.
What is the role of home energy efficiency in combating climate change?
Our homes consume a lot of energy.
And homes that use energy supplied from the burning of fossil fuels are responsible for a considerable amount of carbon dioxide (CO2) emissions.
And the amount is rising.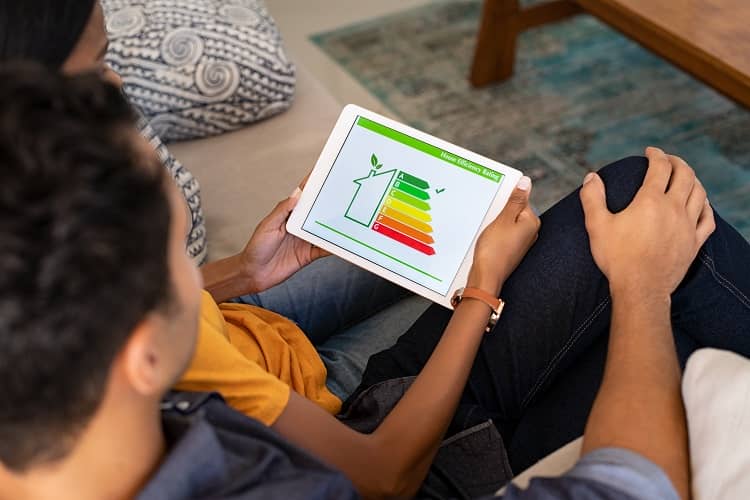 Compared with 2015 levels, emissions from UK homes are projected to increase by 11% by 2035.
That means improving the energy efficiency of our homes, and reducing the use of appliances and services whose energy comes from the burning of fossil fuels.
The UK Government believes reducing household energy consumption is a key factor in shrinking the collective carbon footprint of the nation.
With a view to us becoming a "low-carbon country" in time for 2050, our homes and other residential buildings have a significant role to play in reaching carbon emission targets.
So what can we do to make homes more energy efficient and help to do our part?
Here's how to make your home more energy efficient
Here are 10 steps you can take to make your home more energy efficient!
1 – Turn the thermostat down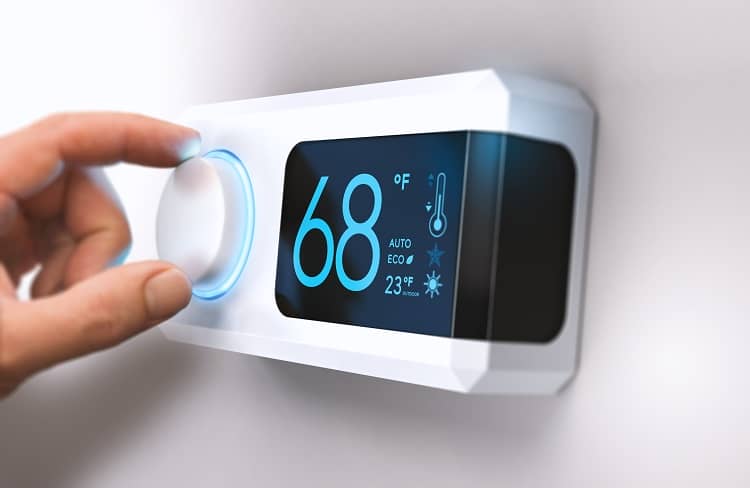 First thing is first, to save energy in your home try to keep your central heating on low, or turn it down just a little to reduce your energy bills.
Though it is not ideal when you want to keep warm – particularly in the colder winter months – turning your heating down by a couple of degrees can have a dramatic impact on the cost of your heating.
In fact, a 2012 report that discussed what energy savings could be made by making small everyday adjustments to our behaviour, suggested that lowering your heating from 20C to 18C was the "top recommended energy saving behaviour".
2 – Stop leaving stuff on standby
We're willing to bet that if you walk round every room of your home, there's a good chance you'll have something plugged in and switched on when it doesn't need to be.
From the TV in your children's bedroom, to your hairdryer, laptop, printer, DAB radio and washing machine, there'll be a lot of appliances and gadgets that are left on standby.
According to the Energy Saving Trust the average UK home spends around £35 a year on powering appliances that they have left on standby – that's around £230m in total lost to standby
This sneaky energy usage is known as "vampire power" (or sometimes phantom power) and to combat this, you could invest in a standby saver.

These clever bits of kit are a simple solution to help you navigate the minefield of energy wastage.
Plug all your appliances into the standby saver and then programme it to respond to a single remote control.
They will also automatically cut the power to an appliance when they realise it has gone into standby mode and some work with your mobile phone too.
3 – Add external wall insulation
Poorly insulated homes lose around a third of their heat through the walls.
A detached home will lose heat on every side because each wall is open to the elements.
Mid-terraced properties and flats won't lose as much heat, but it's still a good idea to insulate their external walls if possible.
External wall insulation involves affixing a layer of insulating material to your outside walls and covering it with a specially designed plasterwork or cladding.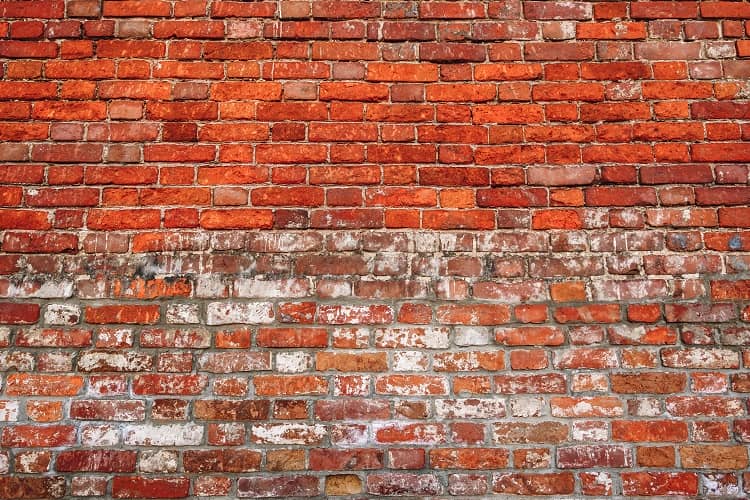 This is not only a great way to improve efficiency, but it will also renew the appearance of your home, provide better weather-proofing and sound resistance, and reduce draughts and internal condensation.
It can be expensive, requires a decent amount of access to your external walls but will increase the lifespan of your brickwork.
You should check with your local council if planning permission will be needed before you start any work.
And, if you have a steel or timber-framed home – or own a prefabricated concrete property – you may need to consult a specialist insulation installer.
4 – Insulate your flooring
Around 10% of your home's heat is lost through the ground floor, so it should be insulated if at all possible.
There's not really much call for insulating your upper floors, but if you have a room above a garage, or another unheated space, insulation could be a good idea here too.
As with the walls, understanding which type of floor you have is paramount to choosing the correct floor insulation.
Some homes may have a mix of suspended, tiled and/or solid flooring, and you'll need to adopt a different insulation approach for each type.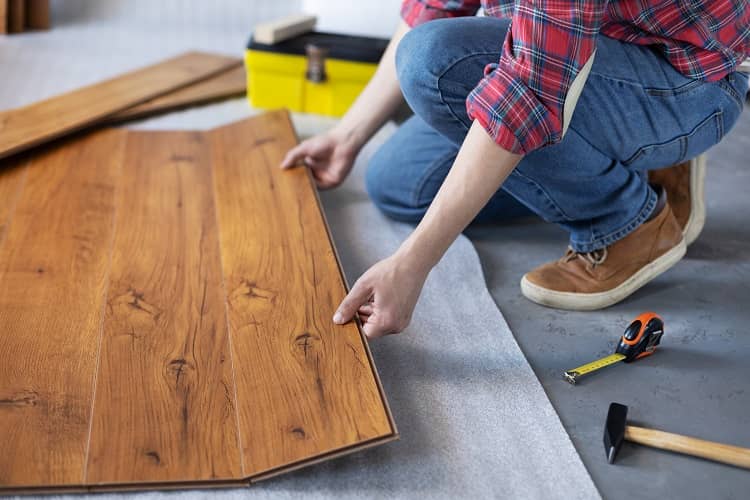 Solid floors are usually made of stone or concrete and insulating them involves laying a layer of rigid insulation across the top of the floor.
Suspended flooring is normally made up of floorboards resting on wooden joists above a void.
You can insulate a room with suspended flooring by using spray foam insulation, rigid boards or a type of mineral wool.
Tiled flooring insulation works in a similar way to solid floor installations, whereby you'll need to lay thermal insulating boards under the tiling to keep off the chill.
Properly insulated floors and skirting will help to keep you warmer and save you money too – with around £70 a year in savings on offer if you get it right.
5 – Add roof & loft insulation
Installing roof and loft insulation is one of the easiest and most cost-effective ways of improving your home's energy efficiency.
Bungalows and bigger detached properties lose a significant amount of heat through the roof, but installing around 270mm of loft insulation will help you to see a big benefit.
The government says that if you effectively insulate your loft space you can cut your energy bill by around 20%.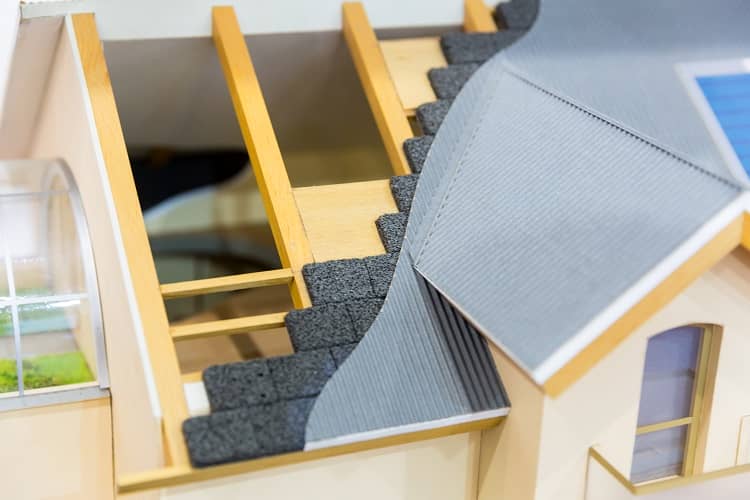 There are a few different insulation materials available, with different recommended depths for each – below are three of the main types and their recommended depths.
Glass wool insulation – 270mm (27cm)
Rock wool insulation – 250mm (25cm)
Cellulose insulation – 220mm (22cm)
The National Insulation Association has some great information about the materials and costs for loft insulation.
6 – Install solar panels
An ever growing and popular trend, the installation of solar panels can be expensive, but despite the initial outlay it is one of the most effective ways of making your home more energy efficient.
The cost of installing solar panels will vary depending on where you live and the number you want to install, with set ups costing anywhere from £2,500 to £9,000.
Larger systems have been found to generate as much as 4kWp which is capable of supplying the energy needed by a family of 3 or 4.
Returning anything from £300 to £500 in the first year of use, and offering around a 5% return rate over a 25 year lifespan, a solar installation will save money and make your home greener.
Check out this great guide from Money Saving Expert on the worth of solar panel installations and this awesome guide on the best solar panels available from the Federation Of Master Builders.
7 – Change windows and doors
Double-glazing has been around for a very long time now, and replacing single-glazed windows with energy-efficient windows will keep it warmer – and quieter too!
It's not always possible to replace windows in every home – like rental properties or listed buildings – but you do have a couple of options if this is the case.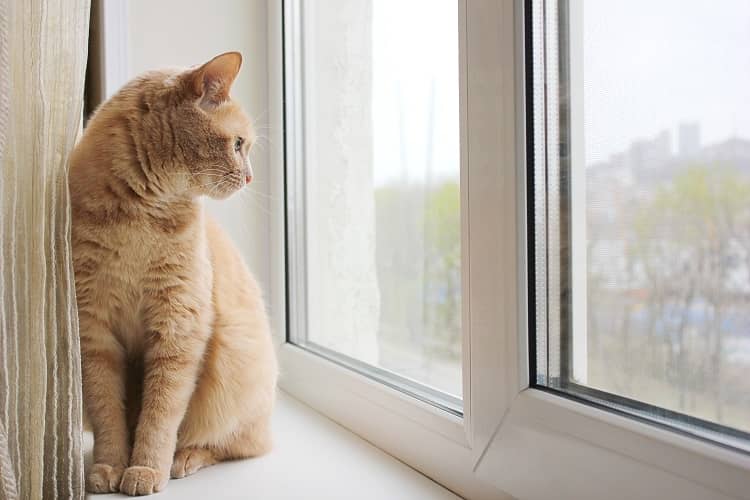 The three main options for windows replacements and improvements are –
Double glazing
The most common type of glazing we have, double glazing is basically two panes of glass with a sealed space in between both panes.
The space forms a layer of insulation between the two glass panes.
Triple glazing
Exactly the same as double glazing, only this time there are 3 panes of glass and 2 voids filled with air.
Triple glazing is more effective at insulating your windows from the elements than double glazing, and it's more expensive too.
Secondary glazing
Less of a replacement and more of an addition to what you already have, secondary glazing is a good choice for rental homes and listed buildings.
Be careful though, as some homes in conservation areas are not permitted to replace existing windows.
8 – Do some draught proofing
Every home has its own unique draughts to contend with.
And, although controlled ventilation is very important to control and prevent damp and condensation build up, an uncontrolled draught can waste heat and energy, and ultimately cost you more.
There are a range of simple draught-proofing jobs you can DIY, and most of them involve products you can get from a local hardware store.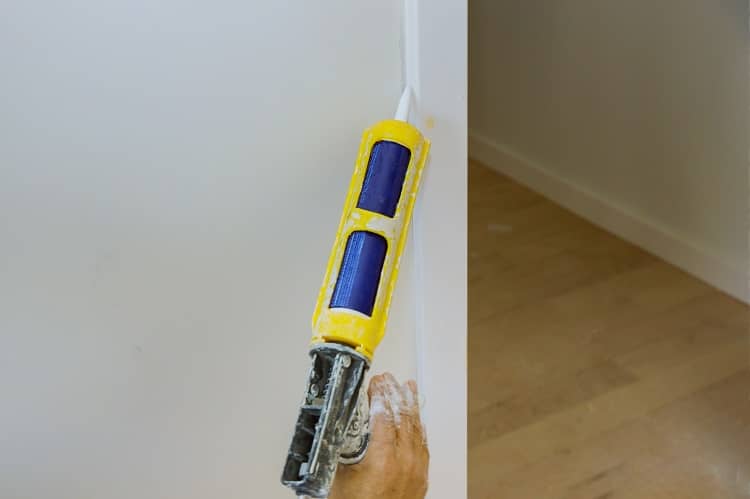 Things like sealing around internal doors, fixing holes in plasterwork and buying a draught-excluder are all worthwhile.
You can find off the shelf products to draught proof keyholes, letterboxes and more, and find plenty of sealant strip options to up the draught defences of your windows and doors too.
9 – Change every bulb you can
We mentioned it above, but swapping out older light bulbs for new energy-efficient ones is one of the easiest ways to make a difference to your home's energy usage.
Though lighting is only a minor part of your home's energy use, it can impact energy performance and forms part of your home's EPC assessment.
The up-front cost of LED bulbs is higher than standard incandescent alternatives, but they use around 90% less energy, so pay for themselves in no time.
10 – Switch to low-carbon heating
A brand spanking new and eco-friendly heating system is perhaps not possible for every home and budget, so it's worth working through everything above before you take steps to update to low-carbon heating alternatives.
That said, if you have double or triple glazing and have excluded draughts and insulated your home to the hilt, perhaps now is the time to consider how you bring heat to your rooms.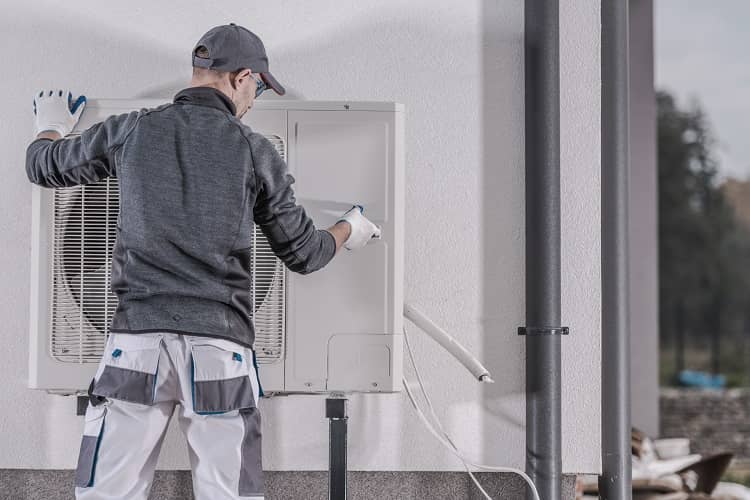 Better insulated homes require less energy to keep warm than poorly insulated ones.
It is important to consider those new heat requirements if you've gone through the steps above.
Lower heat demand means lower costs to buy, install and run a new heating system.
We've got a lot of info on low carbon heating in our Air Source Heat Pump Guide and have given you a lowdown on the Boiler Replacement Scheme too.
Check them both out if you want more low carbon heating info.
What have you done to make your home more energy efficient?
We're certain that you've taken some steps to make your home more energy efficient.
Tell us in the comments below about your energy-saving escapades and help others to reduce their carbon footprint!
If you want more advice on saving energy, check out our Top 20 Winter Energy-Saving Tips and our Christmas Energy Advice.
Stay safe and happy heating!

John trained in journalism before finding his way to the BestHeating Advice Centre team. He uses his journalism skills to meticulously research heating topics and bring you the latest news and views on all things home heating related. He'll also beat you at any sport that involves a cue!