Finding out the facts on air source heating systems
At the time of writing, air source heat pumps are somewhat of a hot topic, amidst recently unveiled government plans to further incentivize their installation in UK and Wales properties.
Naturally, with £5,000 subsidies offered to homeowners to switch from traditional gas boilers to air source heating systems from April 2022, there's plenty of chatter abound regarding the low-carbon heat pumps.
But what's fact and what's fiction?
Are air source heat pumps all they're cracked up to be from the perspective of saving money and helping the environment?
This blog will look to dispel the most popular myths surrounding air source heating systems, and explain how advantageous they can prove for a property, as well as highlighting any potential drawbacks their fitting may entail.
Let's get started.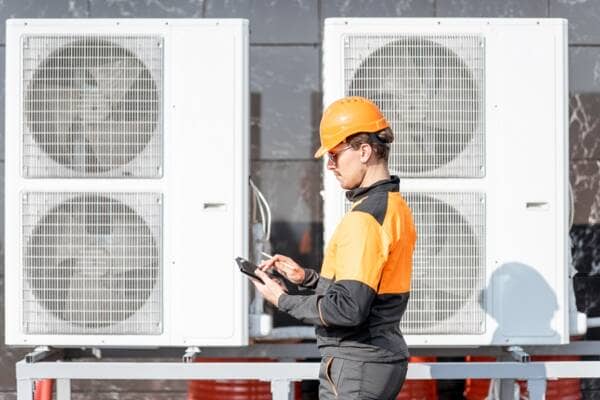 Myth: air source heat pumps take up too much room
In reality, air source heat pumps are installed exclusively outside of the home, with the largest model accounting for only 0.43m3 of space. The more diminutive air source heat pumps can take up as little as 0.22m3, meanwhile, with the more powerful pumps generally being the bigger versions. As a reference point, a standard-sized wheelie bin covers 0.44m3, so there really isn't that significant an encroachment on available space whatsoever.
With regards to positioning an air source heat pump, there are two main points to consider.
The accessibility of the heating solution is a primary concern – it should be situated accordingly to make for easy maintenance and services or repairs. Typically, air source heat pumps will be fitted on the floor at the back of a property. Or, to save space, they can be attached to the wall in some instances with a supportive bracket.
Airflow is the other imperative consideration in terms of where to place an air source heating system, meanwhile. A good airflow is key to ensuring the heat pump will operate with the utmost efficiency, so it will need to be positioned in an area that is not particularly enclosed.
If you are unsure as to the ideal location for an air source heat pump, any professional installer will be able to lend their expertise and advise.
Now, some myths about air source heat pumps…
Myth: air source heat pumps are more expensive than gas boilers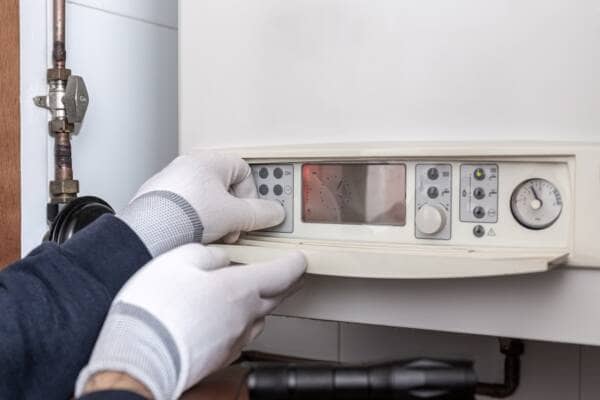 Although the initial purchase cost of air source heat pumps might be significantly greater than gas boilers, a number of factors can actually ensure they are a far more economically viable heating solution over time.
What's more, when taking into account government legislation that entitles UK and Wales homeowners to a £5,000 subsidy when fitting air source heat pumps, much of the up-front outlay can be offset as well. More detail on this specific subject can be found in our dedicated blog, UK Heat Pump Grants – Your Key Questions Answered. But on a basic level, the plans would allow those investing in air source heat pumps to do so for around half their normal price to begin with.
And those switching to the low-carbon heat pumps can look forward to reduced running costs in comparison with boilers as well. As an estimate, the Energy Saving Trust floats the total potential annual savings figure around the £1,300 mark, depending on which type of energy an air source heat pump will replace.
Essentially, air source heat pumps operate at up to 350% more efficiently than boilers, considering that only a minute amount of electricity is required to return a heat output almost three times greater.
But whilst electricity is generally more expensive than gas by up to four times, the fact that air source heat pumps run via electricity from solar and wind power negates this concern.
Here's a breakdown of how air source heat pumps work in comparison with alternative heating options:-
Air source heat pumps – 0% energy loss / 350% energy efficiency
Traditional gas boilers – 25-50% energy loss / 50-75% energy efficiency
Modern gas boilers – 8% energy loss / 92% energy efficiency
Myth: air source heat pumps make a right racket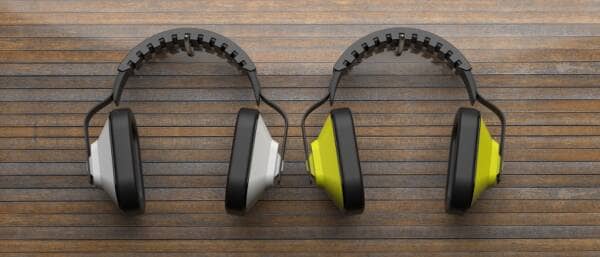 Actually, air source heat pumps emit a din merely similar to that of a standard household fridge. Which is a touch ironic, as they essentially operate in a reverse manner to fridges.
All in all, air source heat pumps will actually be a lot quieter than the likes of washing machines and deliver a slightly lower sound output than a boiler would.
Given that they'll be situated outside a home too, there is little reason to have any real concern over the possibility of installing a noisy air source heat pump.
The ear protectors won't be necessary!
Myth: air source heat pumps will not adequately heat a home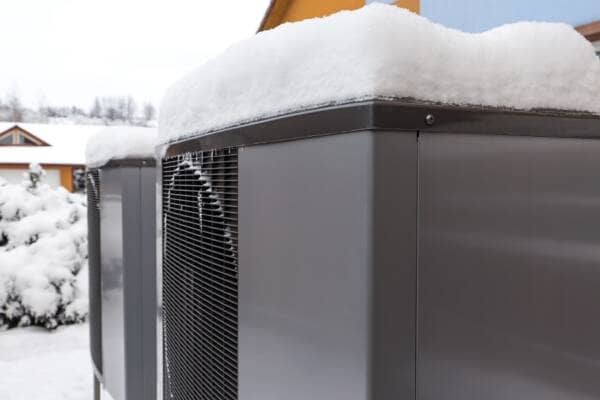 Obviously, our reliance on our home heating systems is accentuated in colder climates, and typically chilly UK winters can pose an issue for homeowners with inadequate or under-performing heating.
However, contrary to seemingly popular opinion, air source heat pumps actually thrive in cooler temperatures, operating at their utmost efficiency at around minus two degrees due to the lower moisture content of the air. This is undoubtedly one of the reasons that air source heating is already so prominent across Scandinavia – close to one and a half million Norwegian properties count air source heat systems as their primary heat source.
A good quality air source heat pump will be designed to perform to requirements, based on the size and layout of the home it is slated to power. For the very best results, opt for the smallest system possible that can deliver a sufficient heat output to comfortably warm up your space.
And consider air source heat pumps for underfloor heating and larger radiators as the standout selection; these forms of heating take longer to heat up so are able to work with the utmost level of energy efficiency.
Myth: air source is only suitable for new build properties
Whilst undoubtedly an excellent option for new build properties, air source heat pumps can also be retrofitted in older homes to replace an existing boiler or alternative heating system.
It actually makes little difference whether an air source heating system is installed in a newer or older house; the only thing to worry about is how much heat loss the property is susceptible to, and how air source heating can help keep that level as low as possible. As such, it is an excellent idea to undertake a review of the existing insulation in any property new or old, so it can be upgraded if necessary to achieve an optimal performance, and gain as much advantage as possible, from an air source heat pump.
Myth: air source heat pumps are only compatible with radiators
Air source heat pumps are compatible, and work particularly well with large radiators, but they are not restricted to operation with this sort of heating device only.
In fact, air source heat pumps also work supremely well with underfloor heating (UFH) systems. And as both UFH and bigger radiators take a little while longer to warm up and deliver strong heat outputs, they allow air source heat pumps to perform with optimal energy efficiency.
As earlier alluded to, the very best results will be achieved when sizeable radiators or underfloor heating work in cohesion with air source heat pumps installed outside very well-insulated properties, whilst extra components such as heated towel rails can work in their presence too.
Myth: reliable air source heat pump installers are hard to find
Actually, a variety of safeguards are in position to protect air source heat pump buyers, and ensure that their installation of the low-carbon heat pumps is completed reliably and professionally.
Amongst these are government-validated accreditations like Trustmark, afforded only to professionals boasting a proven track record of premium quality installation standards.
Of course, it might be a bit more difficult to identify an air source heat pump installer with a multitude of outstanding credentials, but you'll want the job done right. So in addition to Trustmark accreditation, you can also look out for a few more telltale signs that you're making the right heat pump installer selection.
Check out past customer reviews, with Trustpilot providing an especially useful barometer with which to gauge previous work. And compare quotes too – although certain installers may charge more, you might find this indicative of the quality of their work, and reviews might align to support such a view.
Finally, look to choose an installer that offers home survey services in lieu of a heat pump fitting. Thorough and professional installers will be able to help determine that an air source heat pump is indeed the right option for your home, and that the right size and location is picked for installation.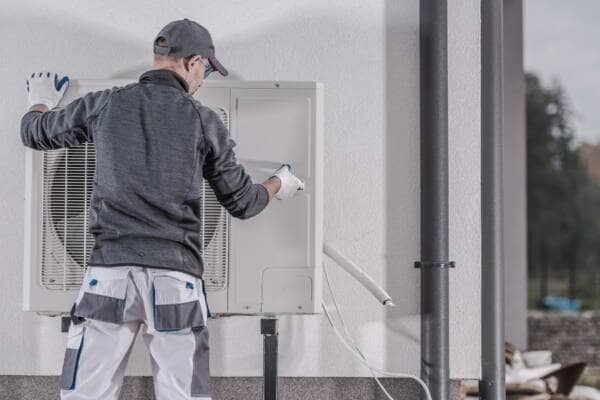 Myth: air source heat pumps are difficult to maintain
Regardless of whether your heating energy emanates from an air source heat pump, traditional gas boiler or any other means, an annual service of the component comes highly recommended to ensure continued optimal performance.
What's more, in many cases, a yearly once-over will be necessary to guarantee the warranty remains intact.
Counting reliability and durability amongst their key characteristics, air source heat pumps are unlikely to require hardly any maintenance outside of an annual service, though buyers can enjoy peace of mind with the security of a warranty.
Typically, an air source heat pump lifespan will range between 15 and 20 years, so they can be expected to last slightly longer than the average boiler whilst delivering a more efficient performance all the while.
Browse BestHeating solutions for air source heat pumps
Hopefully, by now you'll have a good understanding of air source heat pumps, how they operate, and the many merits of their installation. If you would like any further information, you can consult our Ultimate Guide To Air Source Heat Pumps, explore air source heat pump advice from the Energy Saving Trust, or interact with the BestHeating team online.
You can leave your thoughts in the comments section below, or get in touch via Facebook, Instagram or Twitter. And be sure to browse our website to discover an excellent selection of premium quality radiators for air source heat pumps, as well as electric underfloor heating kits and much more.
Got a radiator or heating question?


You can find a range of helpful answers to hundreds of common home heating questions on our FAQ pages.
Click the link or tap the image above to ask a question of your own!
With a background in sports journalism, John counts content writing amongst his key passions. He's always peppering our Advice Centre feed with reasoned and researched home heating tips, and providing expert solutions to the questions you want answering. Fine football and music connoisseur. In his own head, at least.