Type 22 double panel convectors – What do you need to know?
Convector radiators are one of the most popular ways to heat our homes and offices as they offer great value for money and long-lasting durability.
They are also great at heating a room quickly and effectively, as they have the added benefit of convecting fins to disperse warm air around the room – take a look down the back of any of your rads and you'll probably see them.
Why buy a Type 22 convector radiator?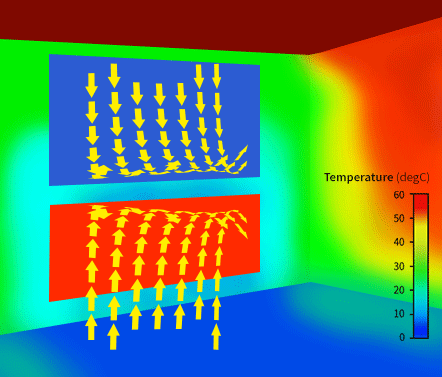 A double panel convector radiator (also known as a Type 22) is an even more efficient and effective way of heating a room because it features two panels and two sets of convector fins, so the surface area of the radiator is vastly increased. This means there is a larger area for cold air to make contact with and acquire heat.
Cold air mixes with the warm air from the radiator before being dispersed throughout a room – this is why you'll normally find radiators underneath windows.
What are the benefits of a Type 22 convector radiator?
The beauty of the double panel convector design is that the added power and efficiency that you get from the design doesn't take up any extra room. The convector fins and second panel are simply incorporated into the design. So, you get a significantly higher heat output from a radiator with the same dimensions as a single panel or double panel plus.
Like all convector radiators, double panels have a simple and yet versatile design with the instantly recognisable grooved front panel and white finish which complements any style of décor. In fact, a Type 22 panel radiator looks as stylish and at home in a modern house as it does in a traditional property.
For all these reasons, double panel convector radiators are a hugely popular choice among UK households.
DID YOU KNOW? – The numbers in 'Type 22' convector titles are significant, as the first 2 is the number of panels the radiator has and the second 2 is the number of convectors attached.
Type 22 convector radiators at BestHeating
At BestHeating.com you'll find a great choice of double panel radiators from some of the country's biggest brands, at the most affordable prices.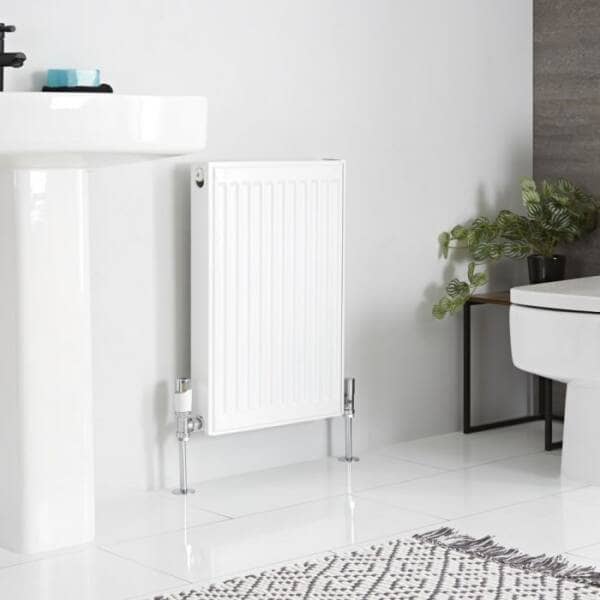 There's no need to compromise on space or style with this compact double panel convector radiator from Milano.
A great way to make the most of a small space, it offers an impressive heat output at a low price.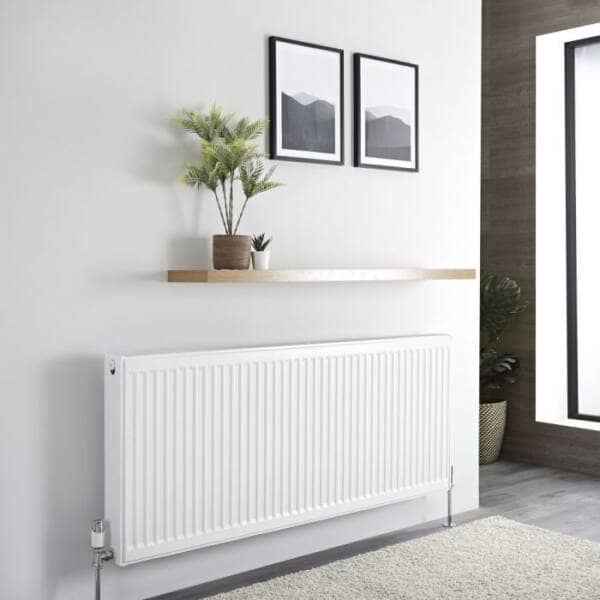 Offering a greater heat output – while still helping you to make the most of your space – this Milano Compact convector radiator features an impressive heat output of over 8000 BTUs.
Its simple style is perfectly suited to any room of your home.
And don't forget, there's even a range of designer convector radiators to take a look at too.
Designer convector radiators
One of our most popular – and certainly most attractive designs is this Milano Alpha Double Slim Panel Designer Radiator.
A great way to instantly upgrade your home heating and transform a hallway, lounge or dining room, this sleek contemporary radiator offers something a little bit different from the norm.
So what are you waiting for?
At BestHeating, each of our double panel convector radiators feature extensive guarantees, exceptional build quality and are available at some of the lowest prices available anywhere on the web.
If you don't believe me, just look at what some of our customers have said about our commitment to high quality and great value.
We're sure you'll find exactly what you're looking for and so much more with our inspirational heating ideas at affordable prices.
Stay Safe and Happy Heating.

John trained in journalism before finding his way to the BestHeating Advice Centre team. He uses his journalism skills to meticulously research heating topics and bring you the latest news and views on all things home heating related. He'll also beat you at any sport that involves a cue!