What Should The Boiler Pressure Be When The Heating Is On?

What is the right boiler pressure?
Your boiler must be at just the right operating pressure for your heating to work properly.
If the boiler loses pressure or if the pressure is too high this may cause your boiler to shut down or 'lockout'.
But, what is the right amount of water pressure for your boiler?
We've answered the top FAQs to help you understand what pressure your boiler should be at and what to do if it gets too high or falls too low.
What Should The Boiler Pressure Be When The Heating Is On?
When the heating is turned on your boiler pressure should be between 1.5 and 2 bar.
Most boilers will highlight this area on the pressure gauge in green to help you see if the needle is pointing to the correct amount of pressure.
Some boilers will also have the critical zones below 1 and above 2 marked in red to help you identify any issues.
What Should The Boiler Pressure Be When The Heating Is Off?
If your central heating system is turned off the boiler pressure should be between 1 and 1.5 bar. This means that the needle should still stay in the green area of the pressure gauge.
Depending on the make of your boiler, the recommended optimal working pressure by most manufacturers is 1.3 bar.
We would always advise checking your boiler manual to make sure your boiler is operating at the optimal working pressure.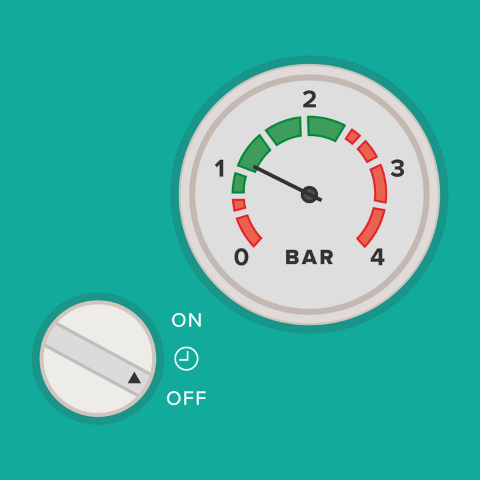 Why Is The Boiler Pressure Higher When The Heating Is On?
When you turn the heating on the water in the pipes and radiators heats up and expands. This water expansion causes the pressure to increase in the whole system.
So, when the heating is on you should notice the boiler pressure on the gauge to increase slightly but not above 2 bar.
Boilers are built to quickly control these jumps in pressure via the pressure relief valve. This means that you can safely use your central heating and run hot water at the same time.
Your boiler pressure should not increase by more than 1 bar above it's optimal working pressure when you turn the heating on.
Do You Have A Faulty Boiler?
If you do see a jump up by 1 bar or your pressure needle rises into the red section above 2 bar this could signal a fault with the pressure relief valve or expansion vessel. These kinds of faults will require an authorised and regulated service engineer.
The price to repair these issues can vary depending on the extent of damage. Most plumbers have fixed prices per hour, but we would always advise that you check their credentials and ensure that they are regulated by the financial conduct authority.
How Often Should I Check My Boiler Pressure?
Check your boiler pressure once a month to make sure it's not too high or too low.
You should also check the pressure after bleeding your radiators in case it has dropped below 1 bar.
It's a good idea to keep an eye on the boiler pressure just before the heating season starts so that your boiler is in top shape for winter.
How To Increase Boiler Pressure
If your boiler pressure gauge needle is below 1 bar or in the critical red zone you will need to repressurise the system.
To increase the boiler pressure you will need to add mains cold water to the system using the external filling loop. Make sure that the boiler is turned off and completely cooled down before you start.
You should only have to increase the boiler pressure once or twice a year.
But, if your boiler keeps losing pressure this could mean that the water from the system is leaking. Please always contact a Gas Safe engineer to repair the boiler if you spot a leak – you can find an engineer near you with Gas Safe's – Find An Engineer Tool.
Ready to top up? Head to our full guide on how to fill a pressurised heating system.
If you have a combi boiler like a Worcester Bosch, you can easily repressurise the system using the keyless filling link. at the bottom of the boiler.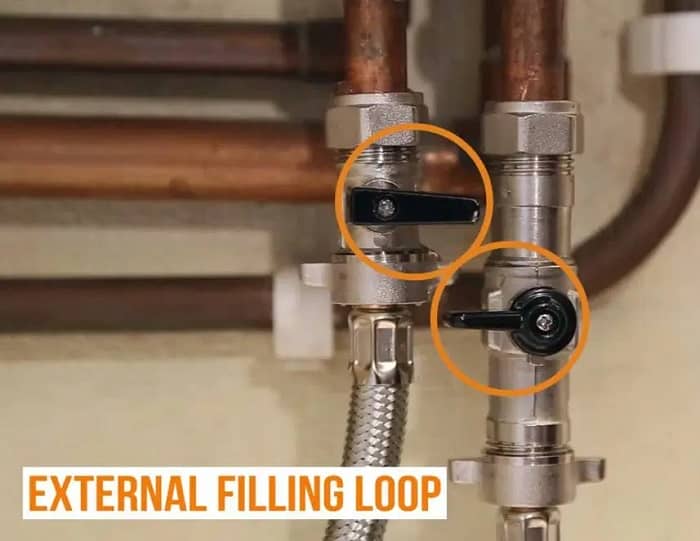 How To Reduce Boiler Pressure
If you notice that your boiler pressure is too high, it may be that you have recently topped up the boiler pressure by too much.
It may also mean that you have forgotten to close the pressure relief valve after topping up or accidently knocked the valve and loosened it.
When air goes in, the pressure goes up. So make sure to check that they are tightly closed before you start to lower the pressure further.
After this, if you still need to reduce the boiler pressure you will need to bleed your radiators.
Take a look at our simple run through of how to bleed your radiators and towel rails.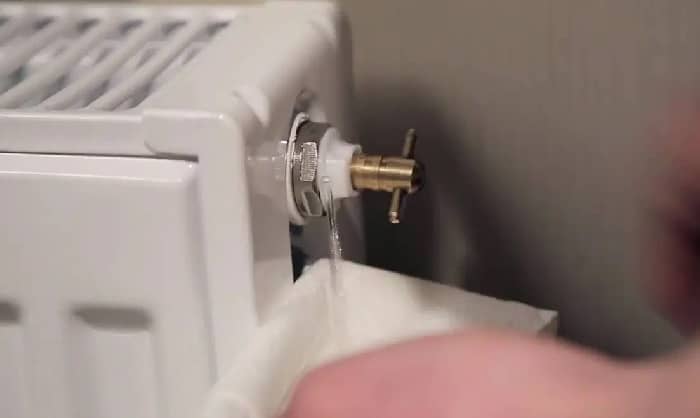 Remember:
Heating on – boiler pressure between 1.5 and 2 bar
Heating off – boiler pressure between 1 and 1.5 bar
To increase boiler pressure – top up with water
To reduce boiler pressure – bleed your radiators
Check your boiler pressure once a month
Always use a registered engineer for any boiler repairs
Jess has a passion for interior design and wants to inspire people to look at radiators as home decor. She enjoys keeping on top of the latest design and heating trends to ensure the Advice Centre has all the information and inspiration homeowners need to make the best choice for them.
https://wpcdn.bestheating.com/info/wp-content/uploads/bh-boiler-blog-topbanner-2.png?strip=all&lossy=1&quality=70&ssl=1
522
1502
Jess Steele
https://www.bestheating.com/info/wp-content/uploads/bh-wordpress-advicecentre-logo-196x50-2.png
Jess Steele
2019-11-07 15:43:05
2022-06-15 16:33:47
What Should The Boiler Pressure Be When The Heating Is On?