Thinking about upgrading your central heating radiators? Our timeless, vintage-inspired radiators make beautiful options. But, before we take a look at our top five traditional central heating radiators, let's discuss why you might want to upgrade your central heating radiators in the first place!
Why upgrade your central heating radiators?
Efficiency
Since old radiators tend to look ok from the outside, they are often overlooked when upgrading the boiler. But in reality, radiators should be replaced after ten to fifteen years too.
If your central heating radiators are not updated often enough, your system may be performing inefficiently and costing more than it should to run. This is because old radiators often have issues with sludge and internal corrosion.
Therefore, the radiators will not be able to heat up properly, even with a brand new boiler. So, make sure to check the age of your radiators. Particularly if you are purchasing a property!
Style
Another great benefit of upgrading your central heating radiators is to complement the style of your home. For example, our beautiful traditional radiators are perfect for enhancing the original character of period properties.
And with an eclectic collection of modern and vintage-inspired finishes to choose from, you can match your central heating system to the details and colours of your home.
Value
Finally, just like with other home renovation projects, investing in new central heating radiators is a fantastic way to add value to your property.
Plus, by opting for new radiators, you are given the option to move the current position of the originals. This means that you are improving the layout and flow of the property, thus helping it to function more effectively.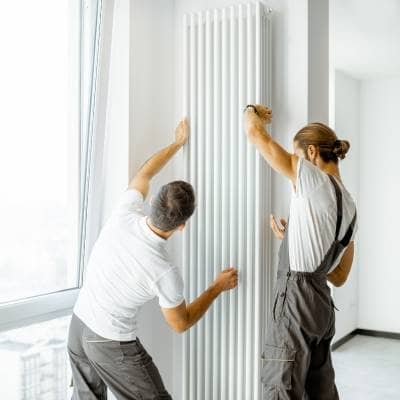 1. Milano Windsor
First up, from one of our most popular ranges, let's talk about our Milano Windsor traditional column radiators. With plenty of size options and colours to choose from, these beautiful central heating radiators are perfect replacements for standard convector radiators.
Whether you have a small space or large living room, the Windsors range from double panel to four panel designs to suit your heating requirements. Plus, each size is available in a delightful selection of neutral and metallic finishes to complement your colour scheme.
The smallest in the range features a 300mm x 605mm double column design and 1122 BTU output at Delta T50. For a powerful heat output, the largest Windsor radiator features a 750mm x 1456mm triple column design, 7858 BTU output at Delta T50 and a beautiful selection of metallic finishes to choose from.
Another great feature of our classic Windsor range is that they are available as space-saving vertical radiators. This means that you can still enjoy the timeless, traditional radiator design no matter the size of your space.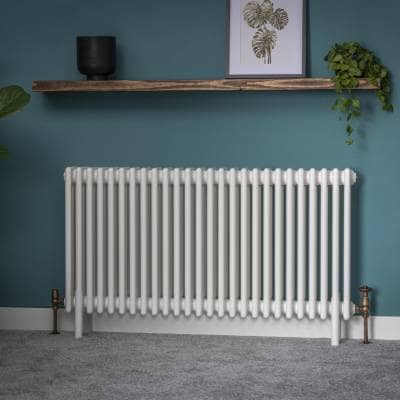 2. Milano Elizabeth
If you're a fan of the Windsor columns but you are looking for a radiator with space to hang towels, our beautiful Milano Elizabeth heated towel rails offer the best of both.
Featuring a vintage-inspired rail design and a traditional column insert, these charming central heating radiators provide plenty of pretty details. Perfect for complementing traditional style bathrooms.
We also love the Elizabeth range for the eclectic selection of modern and antique style finishes. For a more contemporary look, combine chrome rails with white or anthracite columns. Or, for more of a cosy traditional feel, the oil rubbed bronze and brushed brass are beautiful options.
For small bathrooms and cloakrooms, the narrow four column 930mm x 450mm Elizabeth provides a 1170 BTU output at Delta T50. On the other end of the scale, the largest 930mm x 790mm features 12 triple columns and a powerful 2543 BTU output at Delta T50.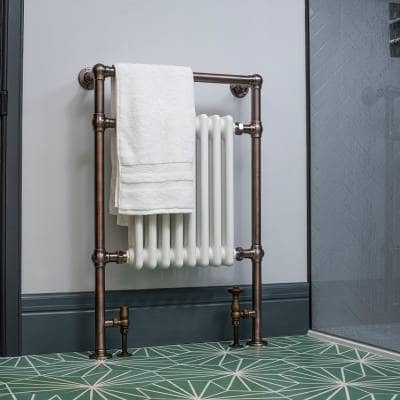 3. Milano Beatrix
Next up is our exquisite Milano Beatrix traditional central heating radiator. These beautiful, powerful, horizontal radiators feature elegant ornate detailing to add texture and drama to your home decor.
We have selected the gorgeous burnt gold finish for this line up. But, the Beatrix collection offers plenty more vintage-inspired finishes from antique copper to slate black and more.
Not sure which colour to choose? Our top tip is to coordinate your radiators with the fixtures and fittings in your home. You may have beautiful gold door handles for example. Therefore, going for a matching finish will really enhance the small details in your home.
Unlike our Windsor column radiators which are made from high quality steel, Beatrix radiators are constructed from real cast iron. This means that they hold the heat for much longer and keep the room warm even after you turn the heating off.
You might be thinking that your home is a little too small for a grand cast iron radiator, but you would be surprised! The smallest Beatrix radiator features a narrow four column design measuring at H 510mm x W 351mm x D 220mm. This is a great option for creating a beautiful focal feature in a small space and ensuring the room is cosy and warm with a 1058 BTU output at Delta T50.
Alternatively, for large living spaces, the H 510mm x W 1153mm x D 220mm Beatrix radiator provides a powerful 3702 BTU output at Delta T50. Plus, the impressive 14 column design draws the eye and brings a stately home feel to the property.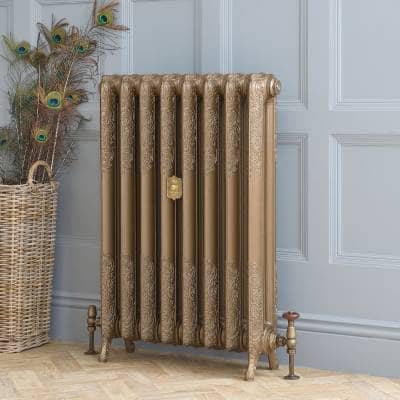 4. Stelrad Regal
If real cast iron isn't what you are looking for, a striking Stelrad Regal could be the best radiator for your home.
Similarly to the Windsor range, Regal central heating radiators are constructed from high quality steel. This means that they heat up faster than cast iron. But, they don't retain the heat for as long when the heating is off.
Combining traditional style and modern heating functionality, these beautiful column radiators are amazing for both new homes and period properties. Choose from clean white or attractive anthracite finishes in both vertical and horizontal orientations.
For a chunky little radiator that will fit just about wherever you need, the smallest Regal measures at 600mm x 444mm and provides a 2450 BTU output at Delta T50.
If you require a radiator that packs more or a punch with its heat output, the largest Regal features a 750mm x 1272mm design. Consisting of 27 columns, this radiator provides a whopping 8974 BTU output at Delta T50.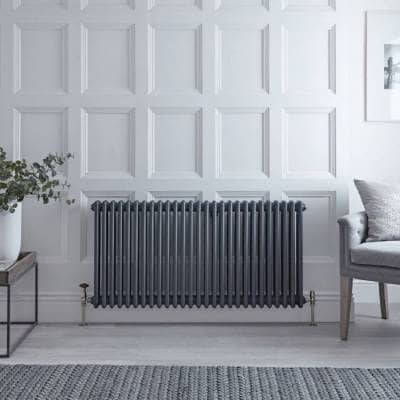 5. Milano Derwent
Last but not least, we are returning to our timeless traditional heated towel rail collection. Meet the beautiful Milano Derwent.
These minimalist heated rails have a stripped back, almost exposed pipe aesthetic which works perfectly in both industrial and vintage-inspired interiors.
The Derwent collection offers sizes and installation options to suit both large and small bathrooms. Ranging from 3 to 6 rail designs from 607 to 976 BTUs at Delta T50.
For example, depending on your current pipework and room layout, you have the option to choose a floor standing or wall hung Derwent rai.
If you want to create a classic, antique style colour scheme, the oil rubbed bronze or brushed brass Derwent rails enhance the cosy, warm tones. For more of a clean contemporary look, the chrome Derwent rails are the perfect choice.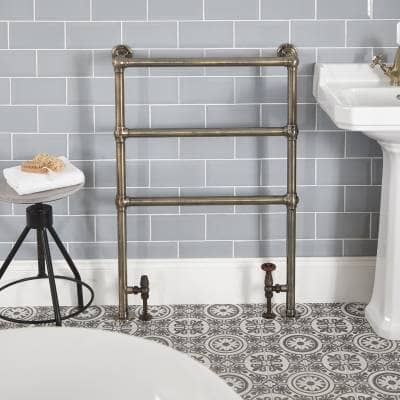 Need more traditional radiator inspo?
We hope our top five traditional central heating radiator roundup has helped you find a radiator you love! But, if you need some more inspiration, head over to our Period Charm style page. There you will find for some of our favourite traditional radiators from customer homes.
Also, if you love the traditional style but you want to make your central heating more efficient, most of the radiators we have mentioned above are available as electric radiators.
Jess has a passion for interior design and wants to inspire people to look at radiators as home decor. She enjoys keeping on top of the latest design and heating trends to ensure the Advice Centre has all the information and inspiration homeowners need to make the best choice for them.