In 2021 house prices peaked at their highest levels since 2007 – with one-in-16 properties across the UK changing hands and getting new owners.
Wales and the North West of England (that's where we are!) saw the largest jump in average house prices – and that got us thinking: where are the best places to "flip" a house in the British Isles?
So we've put together the UK's Flipping Hot Spots Report which lists the very best locations to buy a house with the intention to renovate and sell for a profit.
Creating the "flipping" report
To determine the top cities, we've broken down the report into several distinct data categories.
To discover how popular (or unpopular) a location is with buyers, the data includes –
The number of houses sold.
The average number of home improvement stores per square mile for each location (showing access to nearby renovation resources).
The increase in property value & the likelihood of returning a profit.
We also polled house "flippers" to ask them about the value they have added to their homes following all their hard work and renovations.
"And the winner is…"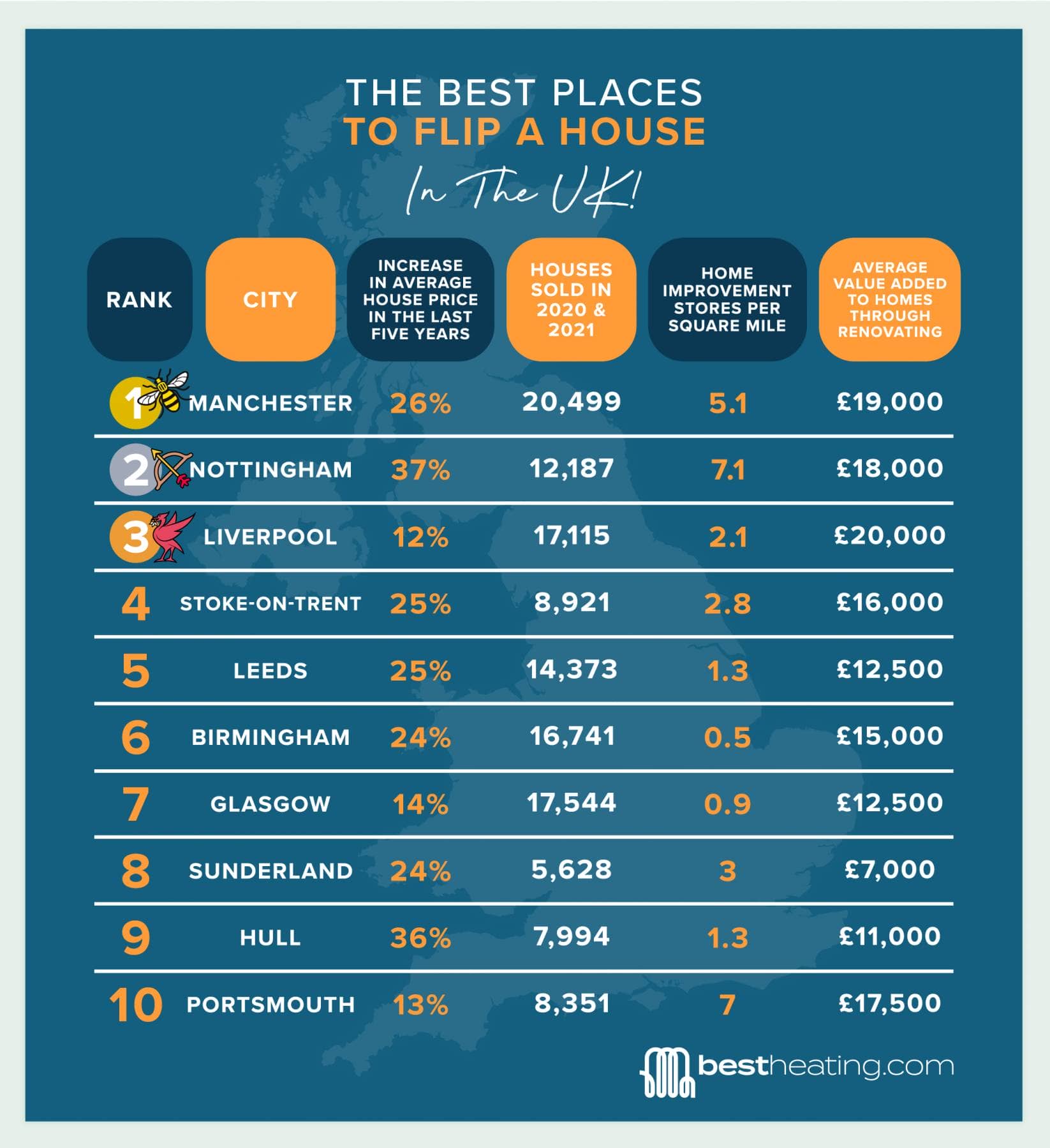 Results from the report show that the very best place to "flip" a house for profit is Manchester, which ranks well in every category we covered in the report.
Mancunians sold the second highest number of homes between 2020 & 2021 – with 20,499 changing hands – second only to London in our list.
Manchester also has the third greatest number of home improvement stores per square mile – perhaps making the city a little less famous for football and now more infamous for home improvements!
Mancs – Taking it to the banks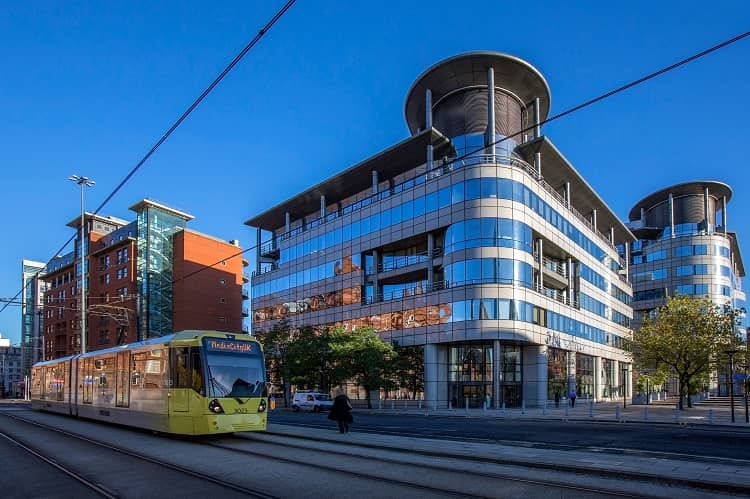 In the last five years, house prices in Manchester have risen by more than a quarter (26%) – with the average property commanding a price tag of £261,655.
And Manchester homeowners must know a bit about home renovations too, seeing as they have added an average of £19,000 to the value of their properties – second in the rankings – making Manchester the hottest of hotspots to gain a profit from flipping!
Amazingly, just under a third (31.9%) of Manchester homeowners in our poll said that they didn't make any mistakes when renovating their properties – which is the lowest in the list of the top 20 – perhaps highlighting that the residents of Manchester know their stuff about flipping hotspots.
That said, though, the same homeowners did admit to not being great with a tape measure – with 35% of them admitting to measuring up incorrectly!
None too shabby nottingham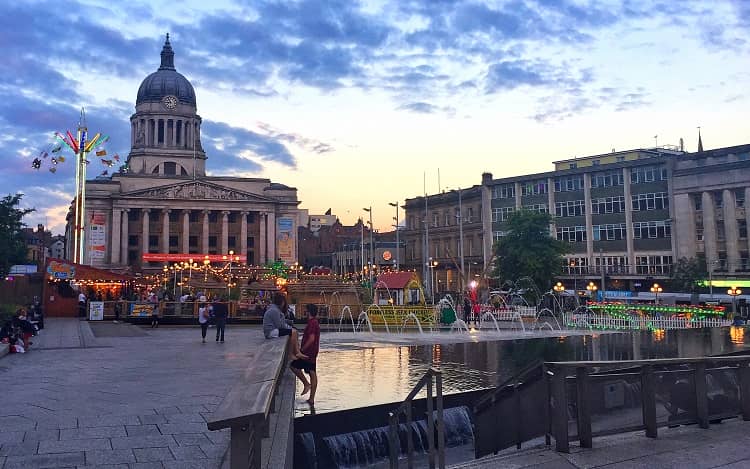 Nottingham is the second-best city to head to if you're wanting to flip a house – where prices have risen 37% in five years.
It also has a whopping 7.1 home improvement stores per square mile – more than anywhere else in the UK – and the average value added to properties through renovation is £18,000, which is the third highest in the country.
Damp (81%), structural issues (81%) and not enough outdoor space (68%) topped the list of things that would put off Nottingham house flippers – with big gardens at the top of the list of desires for potential buyers.
Lovely liverpool lolly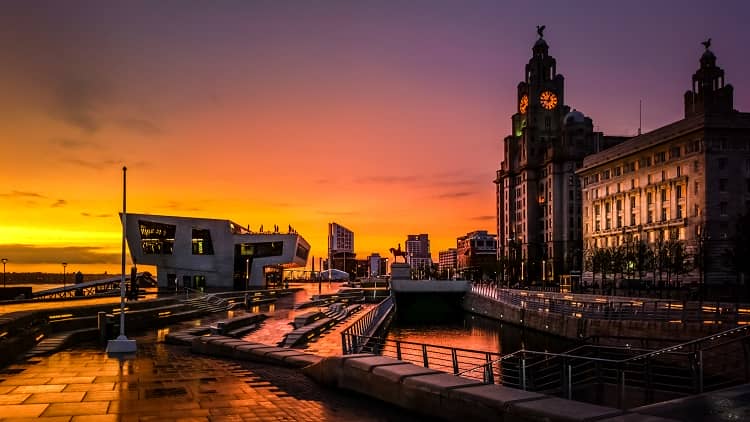 In third is Liverpool – a city where renovators have added more value to their home than anywhere else in the country – with £20,000 increases achieved on average.
There's a big appetite for property buying in Liverpool too, with 17,000 sold in the past year alone, and there are 2.1 home improvement stores per square mile.
Despite huge increases in the value of their homes, 6.5% of Liverpool flippers felt that they had spent too much money on renovations, and 8.7% believed they had rushed the process.
Stoke-On-Trent's super sellers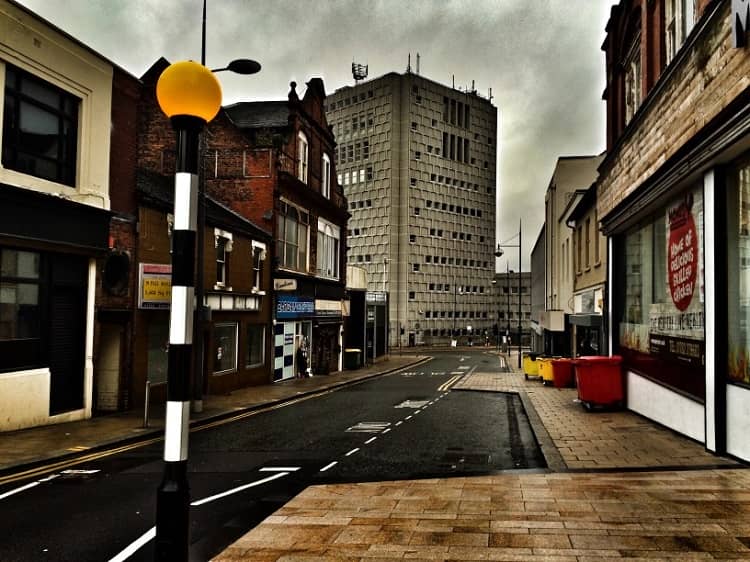 Ranking fourth is Stoke-on-Trent, with house prices going up by a quarter in the last five years.
The "Potteries" city also ranked highly for the number of DIY stores (2.8 per sq mile), making it super easy for residents to purchase tools and other items needed to update and add value to a property.
The vast majority of homes sold in Stoke over the last few years have tended to be semi-detached, and fetch around £145,000 on the market.
Lush & lavish leeds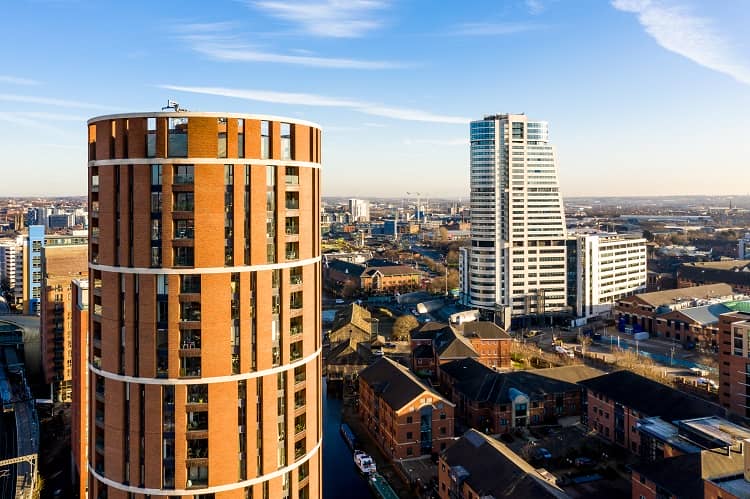 Next up, is Leeds where house prices have risen by a quarter and 14,373 houses have been sold in the last two years – both indicating that it is a great place to purchase and do up a house.
Renovating has added an average of £12,000 for flippers in the West Yorkshire city, with almost half of residents polled saying they had savings in the bank to make those renovations.
Strikingly, despite adding £12k to the value of their homes, nearly 10% of Leeds' homeowners polled spent in excess of £70,000 on their renovations (and we'd love to visit those homes!).
Put your "flipping" money in the bank
It's clear that the number of people purchasing a house to renovate and sell on for profit has increased greatly in popularity over the last few years, providing a strong second source of income for many.
Our report shows that there is a north and south divide when it comes to flipping a house with seven of the top 10 places being in the north of England or Scotland.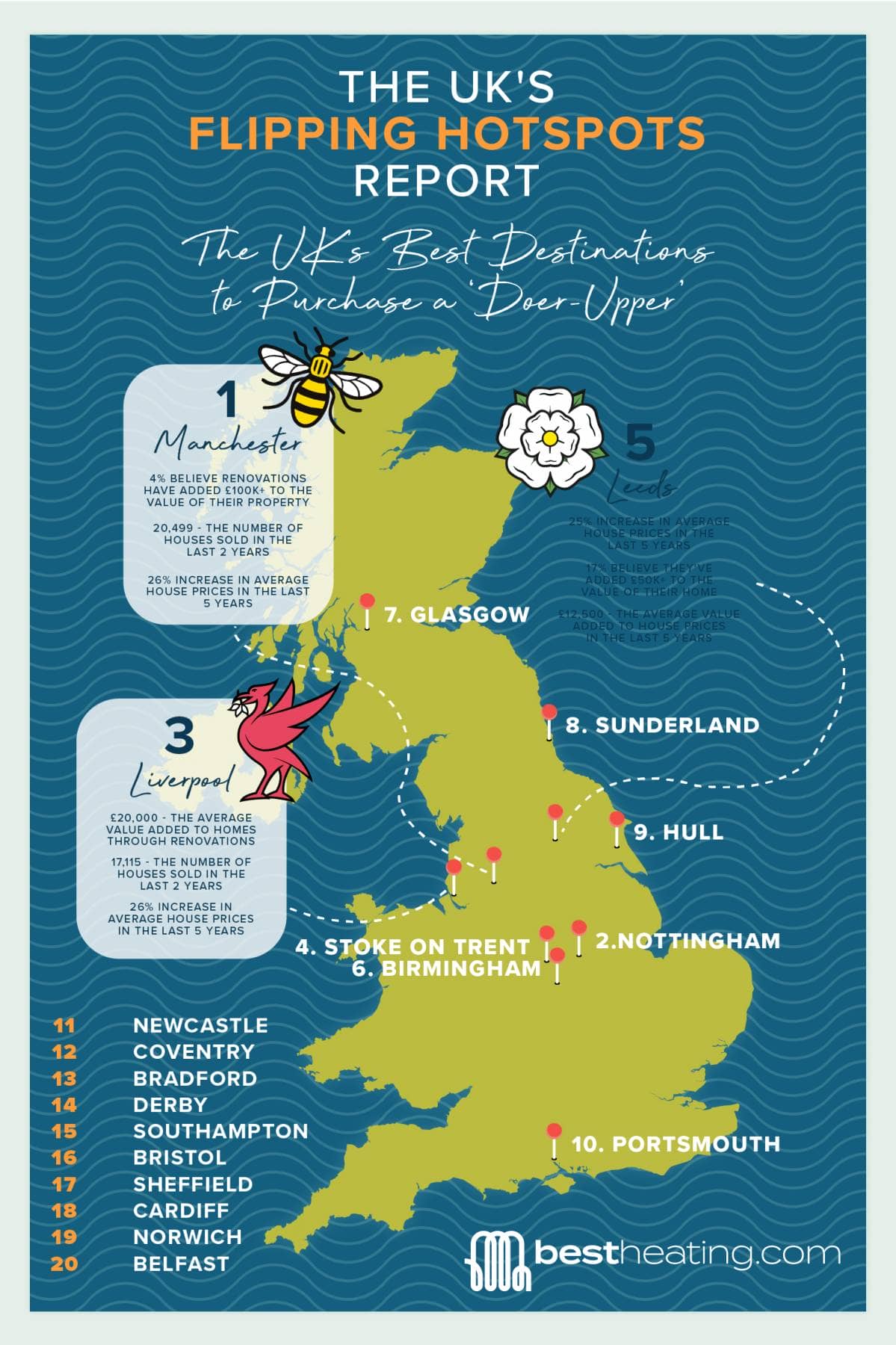 Manchester provides the perfect balance for those who wish to do this as house prices are rising at a nice rate as well as lots of people selling houses.
The number of nearby home improvement stores is key to this as it is easily accessible when making updates which will help add value when someone is 'flipping' a property.
By ranking cities in this way, we can support the high proportion of Brits that are looking to begin renovating by showing them the places that will provide them with the best chance of flipping a house successfully.
The final word…
For anyone planning to take on a renovation, it is important to remember to check a property thoroughly before purchasing as you don't want to lose money by not making basic checks – and don't forget the radiators!

We Buy Any House
The methodology
Data from Home was used to find house price data and the number of houses sold.
The number of home improvement stores was calculated from Google listings, including every home improvement or DIY retailer in a four-mile radius for each city.
BestHeating surveyed Brits that have renovated a home to determine how much value they've added to their property.
Sources
*BestHeating independently surveyed 2,003 Brits in December 2021
*House price data: https://www.home.co.uk/
*Home improvement stores data: https://www.google.com/maps/
*https://advantage.zpg.co.uk/house-price-index-report/
Jess has a passion for interior design and wants to inspire people to look at radiators as home decor. She enjoys keeping on top of the latest design and heating trends to ensure the Advice Centre has all the information and inspiration homeowners need to make the best choice for them.