As you well know, the bathroom is a warm, moist environment. Unfortunately, this means that it's very easy for soap scum, mildew and water marks to build up and spoil the shine of your stainless steel fixtures with a chrome finish.
But if your chrome bathroom radiator has lost some of its gleaming beauty, fear not!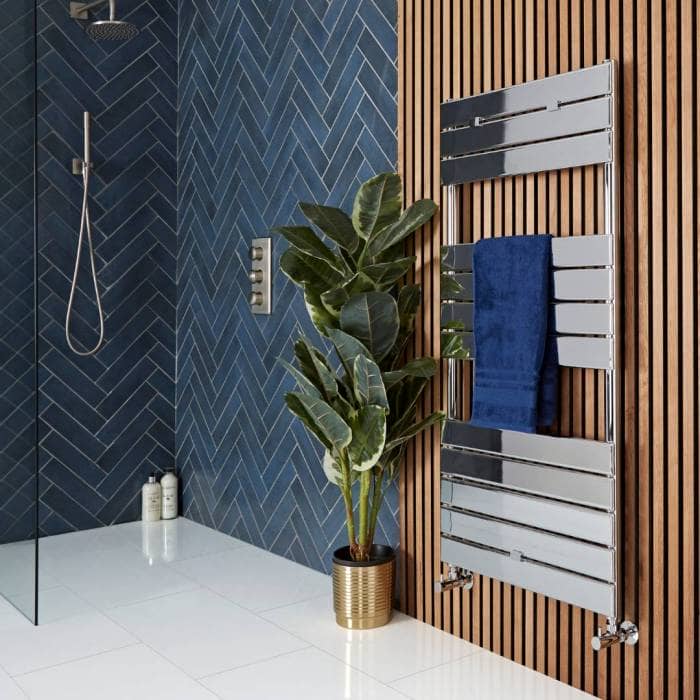 The good news is, it is also an easy job to remove the stains and reclaim the original sparkle. Plus, you probably have most of the cleaning products you need in your cupboard!
Here's what you'll need to clean your chrome radiator:
Radiator brush or duster
Four Microfibre cloths
Old toothbrush
Soap/white vinegar/lemon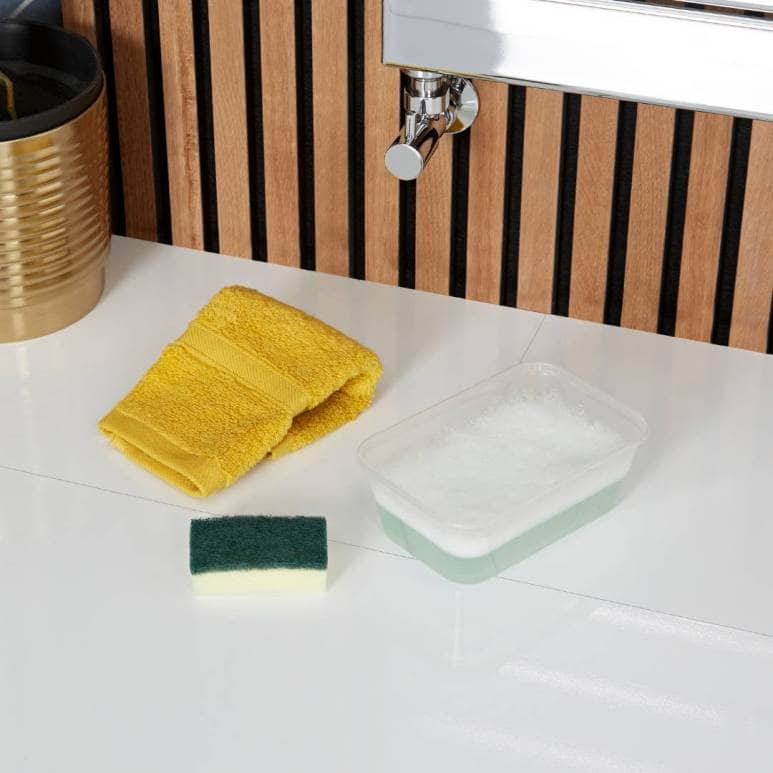 How To Clean Chrome Bathroom Radiators
Time needed: 10 minutes.
Before you start, please bear in mind that this cleaning guide is for general maintenance and not for removing rust from your radiator. To get rid of the rust you will need some additional tools like aluminium foil.

Turn the heating off

Like with any radiator related job, make sure you turn the heating off and let your radiators cool down to avoid any accidents.



Remove the dust and debris

Before you start using any cleaning products, make sure you remove any dust with a radiator brush, a duster or a dry microfibre cloth. 

Dirt and dust will dull the shine on your chrome radiator, and isn't the polished finish the reason you loved it in the first place? 

Radiator brushes are great for chrome panel radiators or ladder towel rails to remove the trapped dust between the gaps. 

But if you don't have a radiator brush, microfibre cloths are amazing dust collectors and fingerprint removers with their ultra fine textured fibre feel. 

After removing the dust, set this dirty cloth aside to make sure you don't use it again later!



Wipe down the radiator with your cleaning solution

Use a new microfibre cloth and a cleaning solution of your choice to wipe down the chrome radiator. 

For ladder style chrome towel radiators, an old toothbrush is a great way to clean between the rails and achieve an even brighter finish.

There are lots of different options when it comes to chrome cleaners. 

One of the most effective is a simple 50:50 solution of water and white vinegar. You can pour your mixture into a spray bottle to apply the solution, or simply dip your cloth into a bowl of the liquid. The acidic vinegar is great for getting rid of those irritating calcium deposits from hard water droplets. 

Other household items that remove stubborn stains, bacteria and maximise the mirrored shine of your chrome radiators and heated towel rails include soapy water, baking soda and lemon juice, anti bac wipes, and cola! 

You can even cut a lemon in half and rub it directly onto the radiator. With a bit of elbow grease the citrus juice will clean the surface beautifully and leave a fresh fruity scent. 

If you prefer manufactured bathroom cleaning products, just make sure to check the label that the product is suitable for chrome plating to avoid damaging the finish. 

After cleaning the surface, rise off any remaining cleaner with some fresh water and a damp cloth.

Play around with different cleaning products to see what you think works best on your chrome bathroom radiator. A small amount of baby oil is also known to boost the polished shine!

Top Tip: Distilled/De-Ionised water is great for preventing streak marks and can be found in most supermarkets.



Dry the radiator

Once you have given the radiator a good clean, the next thing you need to do is dry the surface with another microfibre cloth. 

This will ensure that any remaining cleaning solution will not leave any drip marks or smudges and ruin your hard work.



Buff the radiator

Finally, take another dry cloth and rub the radiator in a circular motion to buff the surface. This will create an immaculate shine and make the chrome finish look good as new!


Chrome Cleaning Routine
Just like every other part of our homes, the best way to prevent any damage to your chrome radiator surface is the unavoidable task of regular cleaning!
The more you keep on top of it, the more beautiful and sparkly your radiator and chrome fixtures will be in the long run.
Here's how to keep your chrome radiator clean:
Wipe down your chrome radiator and other chrome bathroom fixtures every day with a dry microfibre cloth. This will prevent any condensation marks from building up and causing corrosion.
Give your chrome radiator a good clean with soap and water once a week following our step by step method.
What not to do
Chrome is a hard-wearing finish, but like with most metal plating it is important to stay away from harsh materials and cleaners that may scratch the polished surface.
Avoid cleaning chrome bathroom radiators with:
Scouring powder
Steel wool
Abrasive calcium-dissolving detergent containing alcohol or other harsh chemicals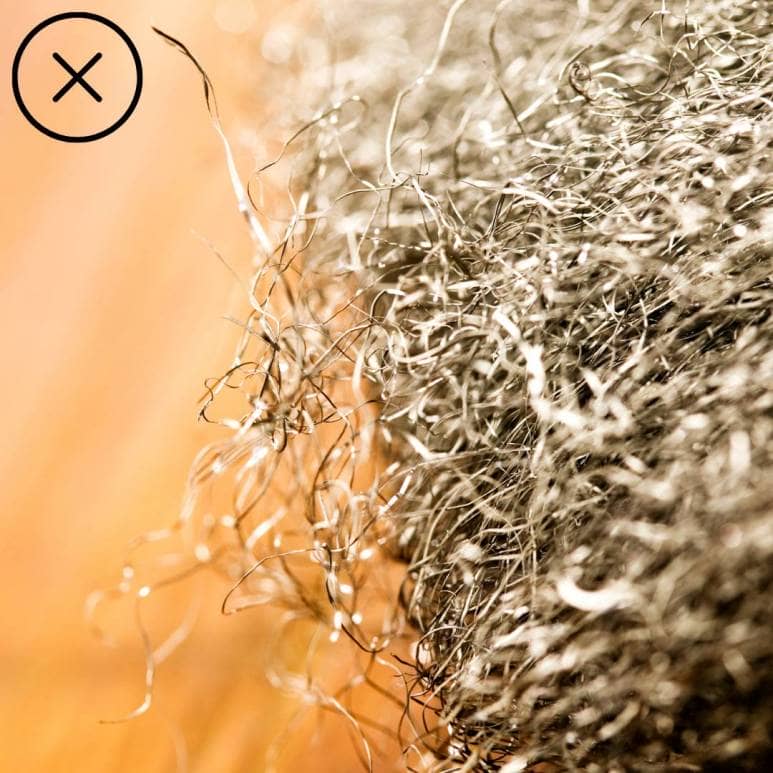 We hope this quick guide has helped you to bring back the original shine on your polished chrome radiator! Head over to our complete cleaning guide for more info and expert advice on how to clean and look after your radiators.
Jess has a passion for interior design and wants to inspire people to look at radiators as home decor. She enjoys keeping on top of the latest design and heating trends to ensure the Advice Centre has all the information and inspiration homeowners need to make the best choice for them.
https://wpcdn.bestheating.com/info/wp-content/uploads/bh-clean-chrome-blog.jpg?strip=all&lossy=1&quality=70&ssl=1
326
940
Jess Steele
https://wpcdn.bestheating.com/info/wp-content/uploads/bh-wordpress-advicecentre-logo-300x81.png
Jess Steele
2021-02-16 15:43:15
2021-02-16 15:43:26
How To Clean Chrome Bathroom Radiators