A Guest Post From Tiles-Direct.com
With winter well underway, most homeowners are heading indoors to escape the cold weather. But for those with an outhouse or shed, it can be a big mistake to forget about your garden building over the cold period.
From collapsed roofs to rotted corners, abandon it over winter and you could come back to a costly headache when the frost thaws come spring. In this guest post, we're going to help you spot potential problems before they start, giving you our top tips on how to protect your garden building against the harsh weather to come.
Watch Out For Snowfall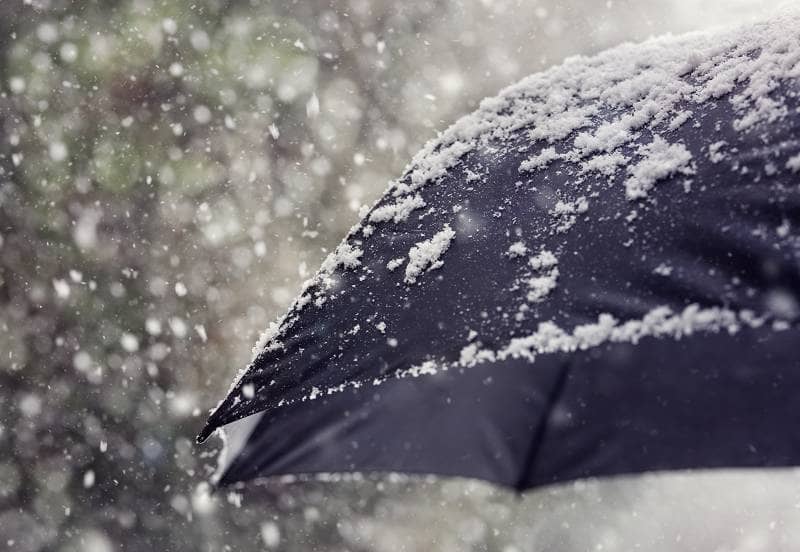 With snow already arriving this year, it's clear this winter is going to be a white one – which means it's more important than ever to stay on top of clearing snow.
While this iconic wintertime sight may seem harmless, leaving snow to rest on your roof places immense pressure on the structure – which can cause it to collapse, crack or leak if left to build up.
The fix for this is simple, requiring you to manually clear it off when you can see that it won't slide off by itself. This is especially important if the roof is flat, as the snow is unlikely to move without a helping hand.
Trim Back Surrounding Trees & Shrubs
As we head deeper into the season, the cold weather is often accompanied by wind. While your garden buildings are unlikely to blow away, you should consider how surrounding trees could cause preventable damage.
From scratches across the paintwork to snapped branches causing guttering to come loose, trees can easily cause wear and tear – which is why it's important to cut back nearby branches in preparation.
Shrubs will also stop your shed or outhouse from receiving adequate ventilation, so try and ensure they're not pushed right against its walls – as, this way, your garden building stands a better chance of avoiding damp and decay over winter.
Check That Drainage
If there's one thing that's guaranteed when it comes to British winter, it's wetness. Whether we see snow or rain, when the sky opens up over our garden buildings, they'll need to be properly protected to come out the other side unscathed.
When pools of water sit still for extended periods, it can begin to soak into the material – and if that material is wood, it will quickly cause rot and warping. Check for any holes in the roof, an uneven base or damaged guttering, and make sure you take the time to fix any issues you spot before the rainy season starts.
Test Window Seals
Windows are often forgotten when it comes to protecting your outdoor buildings, but they play an important part in preventing unwanted water and draughts from finding their way in.
This is a particularly prevalent issue in older outhouses, where panes can become loose over time and pools of water can begin to gather – but the fix is easy. Look out for moisture or fogging between panes for a quick visual inspection and use a lit candle to identify if any draughts are coming through.
If you spot a problem, silicone, wood filler or timber beading offer an inexpensive solution that can save you money further down the line by preventing more serious issues from developing.
Heat & Insulate
As temperatures plummet, your garden building will have to contend with extreme cold. For those who use their shed throughout the winter, keeping it cosy and comfortable will be high on the agenda – and that means it'll need both heating and insulation.
If your shed or outhouse has either floor tiles or wooden slats, underfloor heating can be installed easily to provide an energy-efficient source of warmth – just ensure you use a breathable membrane and check it regularly for spots of damp.
On the walls, you can use bubble wrap or fibreglass to provide the final insulation. Of course, as mentioned above, make sure to check window seals, too, to prevent draughts from coming in.
Start Protecting Now!
Whether you use your garden building throughout the winter or simply want to keep it in good working condition ready for your return in spring, protecting it against the harsh elements of this season doesn't have to require extensive work.
With regular checks, standard maintenance and a little legwork, you can make sure your garden building isn't damaged this winter – and, with our tips, you know exactly what you need to do.
Tiles Direct is one of the UK's largest independent tile distributors – with over 31 years experience in supplying tiles to architects, designers, contractors and more. To discover more about them, please visit www.tiles-direct.com.

John trained in journalism before finding his way to the BestHeating team. He uses his journalism skills to meticulously research heating topics and bring you the latest news and views on all things home heating related. He'll also beat you at any sport that involves a cue!
https://wpcdn.bestheating.com/info/wp-content/uploads/2017/12/bh-winterweather-blog.png?strip=all&lossy=1&quality=70&ssl=1
245
700
John Lawless
https://wpcdn.bestheating.com/info/wp-content/uploads/bh-wordpress-advicecentre-logo-196x50-2.png
John Lawless
2017-12-20 14:07:26
2020-01-02 13:28:29
Winter Weather: How to Protect Your Garden Building