Bench radiators? Heating AND seating? What's that all about then? 
In terms of home heating and comfort, it's just about the very best of both worlds…
Sit back and relax as we introduce to you our latest Milano Windsor Horizontal Cast-Iron-Style Bench Radiators.
What is a bench radiator?
Helping you to push past conventional radiator designs, a bench radiator – or "seat radiator" if you prefer – is a multifunctional heating item that will add warmth and style to any room of your home.
Providing the ultimate in comfort and warmth during the colder months and doubling as a convenient radiator seat area all year round, a bench radiator combines a wooden seating platform with a row of radiator columns beneath that seat.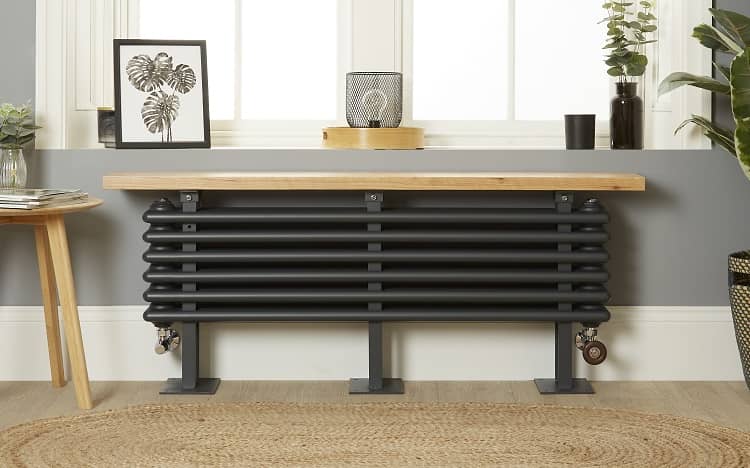 Featuring a radiator made from high-quality steel, radiator benches are attractive and durable pieces of heating kit which are ideal for any space, but are particularly useful in the hallway, conservatory or perhaps even in a wet room or utility space. 
But the limits to the positioning of a bench radiator don't stop there – as there's nothing stopping you from throwing out your dining chairs and replacing them with a seat radiator instead!
Bench radiators at BestHeating
The BestHeating range of radiator bench seats features the ever popular Milano Windsor radiator bench design, available in both white and trendy anthracite finishes and each topped with a hard wearing light oak wooden bench seat.
Designed to be used with your existing central heating system, Milano Windsor bench radiators have a timeless quality that makes them perfect for all types of interior design styles.
Available in 3 different lengths to suit your space, these multi-functional seat radiators cleverly combine heating and seating to help you maximise your available space while giving you a place to sit in comfort without getting cold.
With impressive heat outputs across the collection, these seat radiators are more than just a match for conventional radiator designs.
With open columns allowing the air to circulate both beneath and between them, they are just as efficient and effective at heating a space as any other radiator at BestHeating.
Made from mild yet durable 1.5mm thick steel, all Milano Windsor bench radiators come with an outstanding 10 year warranty for added peace of mind.
Working best with angled radiator valves and pipework that comes from the wall – though (with a little DIY on your part) they could just as easily work well with straight valves and pipework that rises from the floor.
Discover the key features of both our white and anthracite bench radiator designs below.
White bench radiators
With their crisp white powder coat finish, our white seat radiators are timeless classics that are capable of remaining understated while still standing out from the crowd.
There are three lengths available – 850mm, 1000mm and 1200mm – with each measuring 480mm in depth – offering ample sitting space for between 2-4 people (or maybe 5-6 small kids).
Complete with a simple though striking light oak bench seat, these stunning radiator bench seats are sure to be popular in both modern and more traditionally styled homes.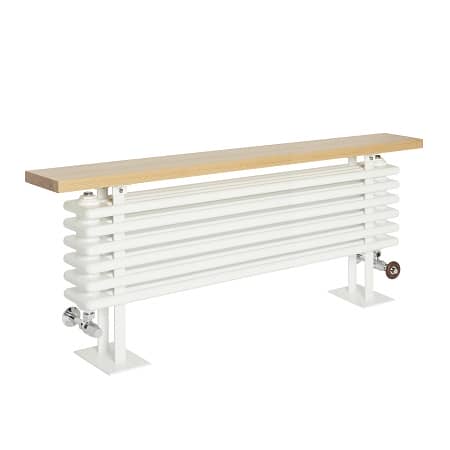 | | |
| --- | --- |
| Range | Bench, Windsor |
| Style | Traditional |
| Radiator Valve Type | Angled Valves |
| Colour | White |
| RAL Code | 9016 |
| Material | Steel |
| Certification | CE, EN442 |
| Guarantee | 10 Years |
| Price | Starting at £499.95 |
| BTU Output Range | |
Anthracite bench radiators
As with the white bench radiator variations, our collection of anthracite column bench radiators features 3 differing lengths of 850mm, 1000mm and 1200mm – with each measuring 480mm deep.
Create a practical and eye-catching heating feature with a new radiator seating area that exudes traditional style with a contemporary and trendy anthracite twist.
| | |
| --- | --- |
| Range | Bench, Windsor |
| Style | Traditional |
| Radiator Valve Type | Angled Valves |
| Colour | Anthracite Grey |
| RAL Code | 7016 |
| Material | Steel |
| Certification | CE, EN442 |
| Guarantee | 10 Years |
| Price | Starting at £499.95 |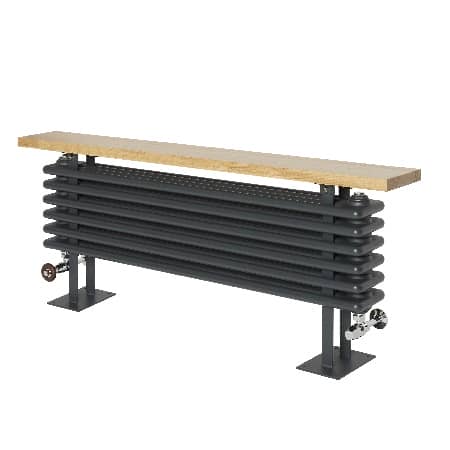 Discover our bench radiator collection
To learn more about bench radiators at BestHeating, check out our dedicated bench radiator page for more info on our range of products.
And if you have any further bench radiator questions, don't forget to check out or Heating FAQ Pages for extra advice, tips and know-how on all things home heating related.

John trained in journalism before finding his way to the BestHeating Advice Centre team. He uses his journalism skills to meticulously research heating topics and bring you the latest news and views on all things home heating related. He'll also beat you at any sport that involves a cue!