We're very excited to be continuing our collaboration with Best Heating into 2020 and looking forward to sharing our monthly interior designs tips in their customer newsletter.
This month's feature is all about spaces for children and how to make them fun and playful but also ensuring they have longevity and won't date too quickly. This specific project is a bedroom for a 2-year-old girl, but lots of the same theories can apply to other spaces like playrooms and to older children as well.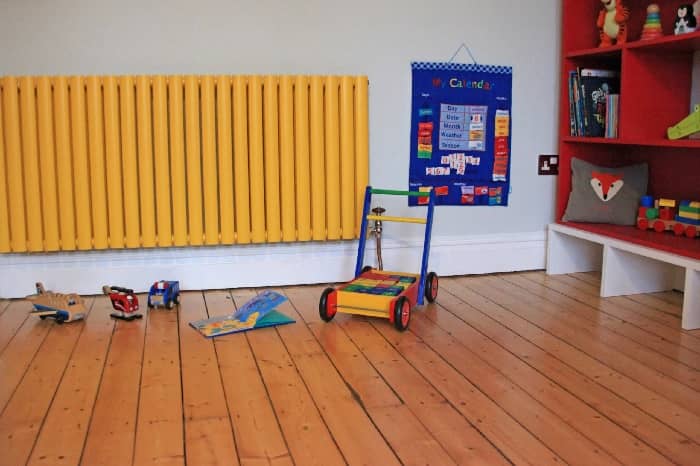 Having a core theme or idea for the space
Edith's favourite things are rainbows and unicorns, and her favourite colours are pink and yellow. Those things could lead you down a very specific path with a 2-year-old girl's bedroom and we were quite keen to make sure it wasn't a traditional 'girly' bedroom and that it wouldn't need an update when she's into something different.
However, we couldn't avoid those things altogether. So, we decided that rainbows were more likely to have longevity and that we could incorporate them in a more permanent way. Unicorns could be added in less permanent ways with accessories. We also decided that we were happy to embrace colours in the scheme (how could you not in a kids' bedroom?!), but those colours needed to be bold and bright rather than the traditional baby pink that you might associate with a girl's bedroom.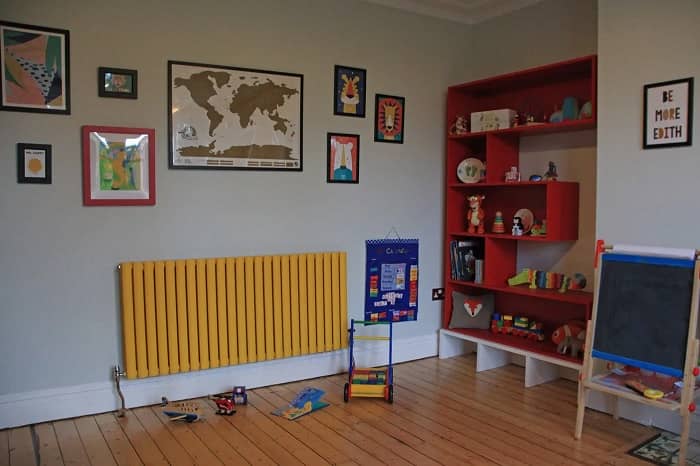 Think about storage and how you use the space
One of the most difficult things about a child-based space is making sure that it's usable now and in the future. Their needs change so much, so you need to think ahead and pre-empt how things you create for how they live now will adapt in the future.
Edith has recently moved from sleeping in a cot to a bed. She's also moved out of nappies and is now toilet trained. This means that we no longer need the changing table/chest of drawers that we've been using to store her clothes.
So, we've decided to build a large built-in wardrobe which will be practical now and in the future. It can house all her clothes, bedding and towels as well as other things like dressing-up clothes etc. It should also be plenty big enough for when she gets into clothes a bit more and needs more wardrobe space.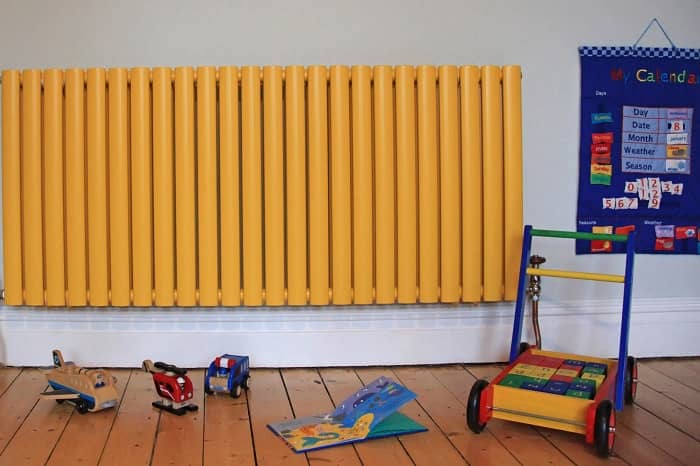 We've also bought a Mustard Made locker which will be used as a bedside table. This means we can store various things like her hairbrush, creams and other paraphernalia whilst also having somewhere for the GroClock (every parent has one!) and her beloved Unicorn neon light. The locker element should also grow with her as she'll be able to lock her own personal things away in here.
Last but not least, we've built a large storage unit in the shape of the letter E to store books, toys, piggy bank and other things she's been bought along the way. This makes the space uniquely hers as well as providing much needed storage space that can be easily accessed by a small person.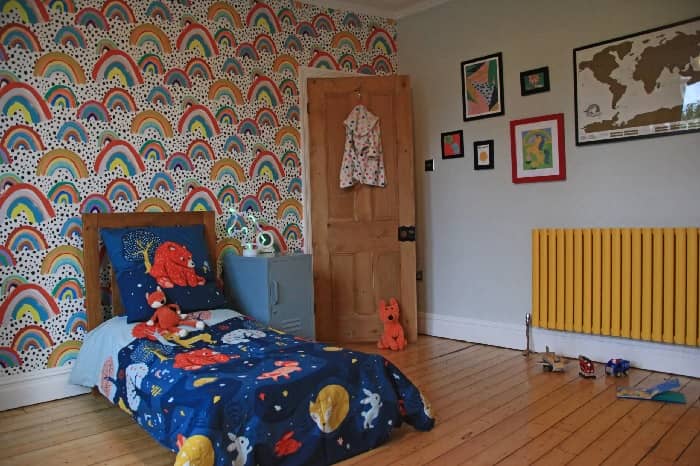 Don't be afraid of playing around and mixing colours!
We've never been afraid to play around with colour in our more grown-up spaces, but a children's space means you can really go to town. And, in our opinion, the more colours the better!
The starting point for us was the Eleanor Bowmer Rainbow Spot Wallpaper. It ticked Edith's rainbow box, but it does so much more than that! It's a much cooler version of rainbows than what you normally find and has the added dalmatian style print in the background, something which can then be pulled out in the blinds.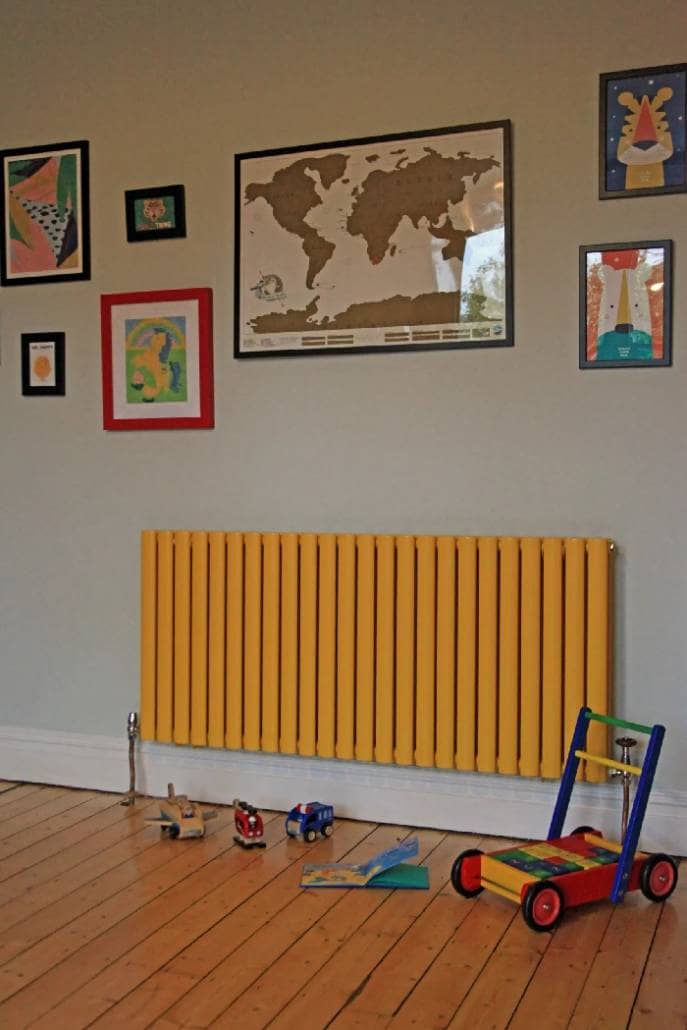 It also helped us to shape the rest of the colour palette. The turquoise blue is pulled out in the locker bedside table. The cranberry red is used for the shelving/storage unit. The darker blue and orange are pulled out in the bedding and other accessories dotted around the room. But all the colours are bright and vivid, rather than muted or pastel versions of those colours.
But one of our (and Edith's) favourite coloured elements in the room is the bright yellow radiator that now heats the bedroom during these cold winter months. The old convector radiator was great at pumping out heat but was not something to be put on show. So, it had always been hidden behind a radiator cover since we moved in. But we'd always wanted to replace it with something that was more decorative and in keeping with the rest of the space.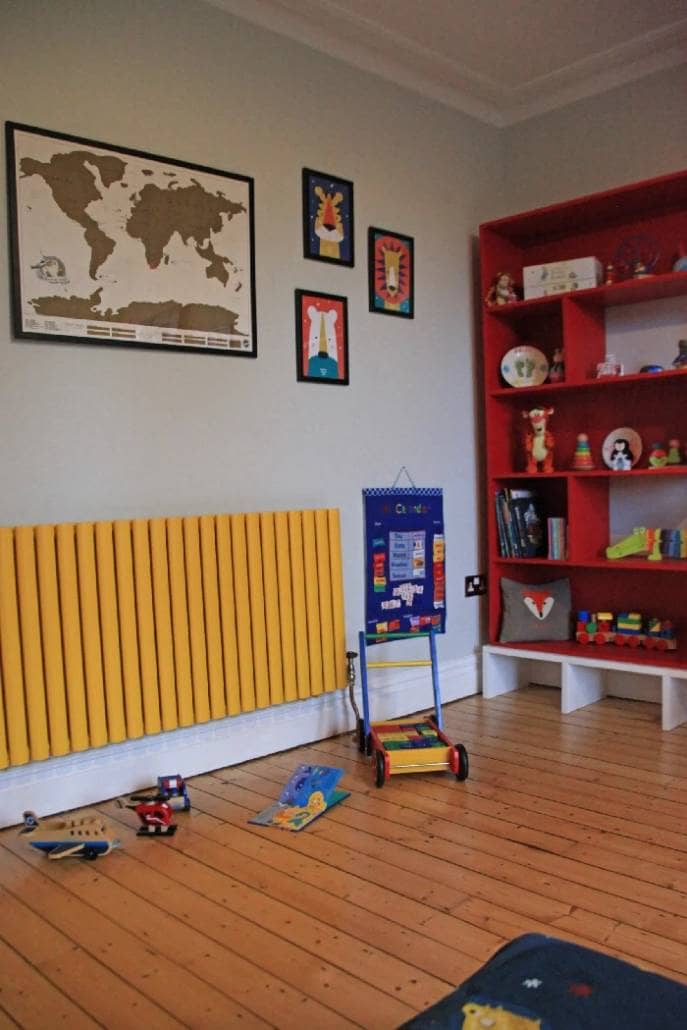 As part of our collaboration with Best Heating, they kindly offered to gift us a Milano Aruba Yellow Horizontal Double Panel radiator. It's a departure from the more traditional style of radiator that we've opted for in the rest of the house. But its modern look really elevates the playful scheme in this room and the colour is just perfect! Edith loves telling everybody about her yellow radiator and rainbow wallpaper, she's been more excited about this than Father Christmas to be honest! We're so grateful to Best Heating for helping us to create this fantastic space for our little girl and can't wait for her to create memories in here for years to come.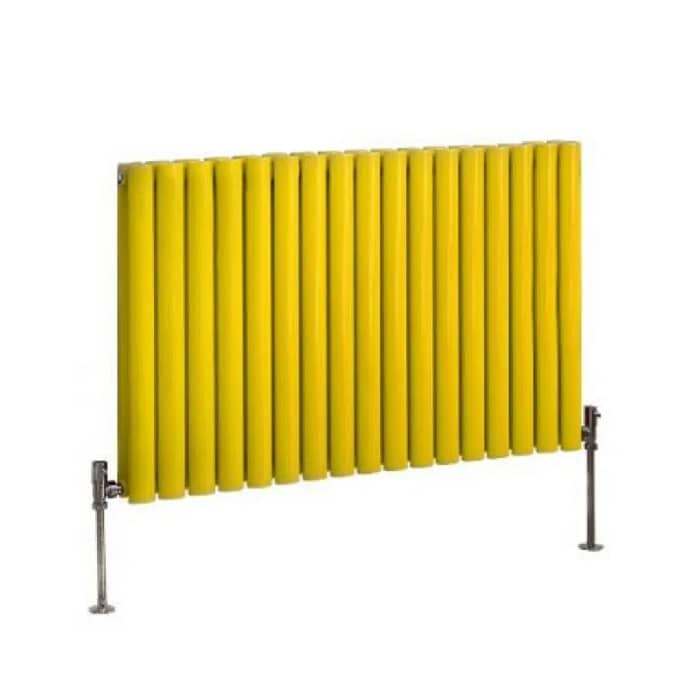 Milano Aruba – Yellow Horizontal Double Panel Designer Radiator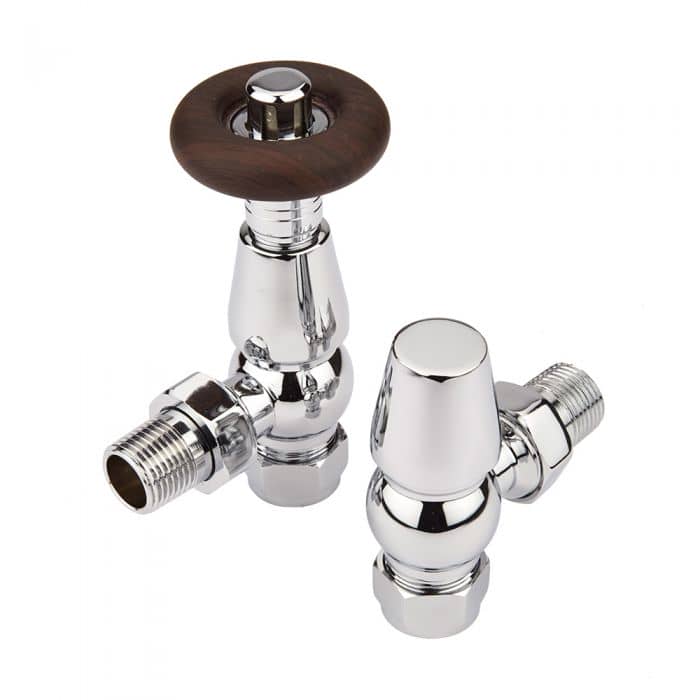 Milano Windsor – Traditional Thermostatic Angled Radiator Valves Chrome
Say hello to Fresh Start Living
If you are thinking about renovating your home or commercial space and need some help or interior design inspiration, do get in touch with us here. And don't forget to follow us via Instagram, Facebook and our upcoming blogs.
Fresh Start Living is based in Leeds, West Yorkshire and covers the surrounding areas as well as offering a remote interior design service.
Jess has a passion for interior design and wants to inspire people to look at radiators as home decor. She enjoys keeping on top of the latest design and heating trends to ensure the Advice Centre has all the information and inspiration homeowners need to make the best choice for them.