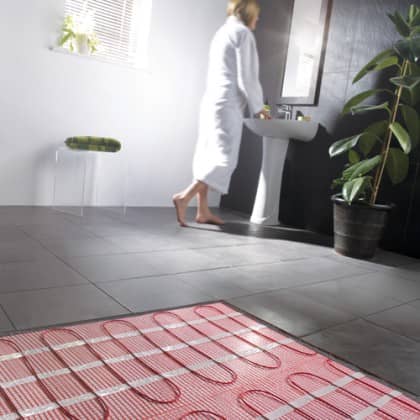 The Who, What, Where, Why & When Of UFH
If you have ever entered into a discussion or debate on how to heat your home (it can sometimes be interesting at parties) you will have probably had a brief and somewhat misinformed chat about underfloor heating (UFH).
Whenever you are discussing the benefits of any product, be it a new car, lawnmower or radiator, a great place to start is by asking people who already have the thing you're talking about, what they think. I know this served me well when it came to buying guitars in my youth (when I incorrectly thought I would be the next Noel Gallagher).
It's common sense to do this and although the straw poll that we have undertaken in the BestHeating office may not be the most algorithmically significant ever conducted, it did seem to suggest that when it comes to the merits of underfloor heating, there appears to be a proverbial melting pot of opinion on the subject and a surprising number of people who 'think' they know what they're talking about.
So we thought it might be high time to seriously examine what's hot and what's not in the world of underfloor heating systems and what advantages (if any) that they can offer you. So kick back, relax and put your feet up. Unless you have it already, in which case, find a nice warm spot on the floor, get comfy and read on.

How Does It Work?
The clever thing about underfloor heating is that it works by effectively turning your floor into a large, comfortably warm and cosy radiator. Once the temperature of the floor rises above the ambient temperature of the air, the heat is spread evenly across the surface of the floor, creating an inviting warmth that should leave no cold spots, anywhere.
The even more clever part to how it works is that, as the area of the floor is much larger than a conventional radiator, it doesn't have to be heated to the same high temperature to provide you with sufficiently comfortable heat; making it more energy efficient.
There are two types of underfloor heating.
One of them features water that is fed around pipes in a sub-floor (wet) and the other uses electric wires or matting that are either set inside concrete screed or tiles, or just simply installed under your floors (dry).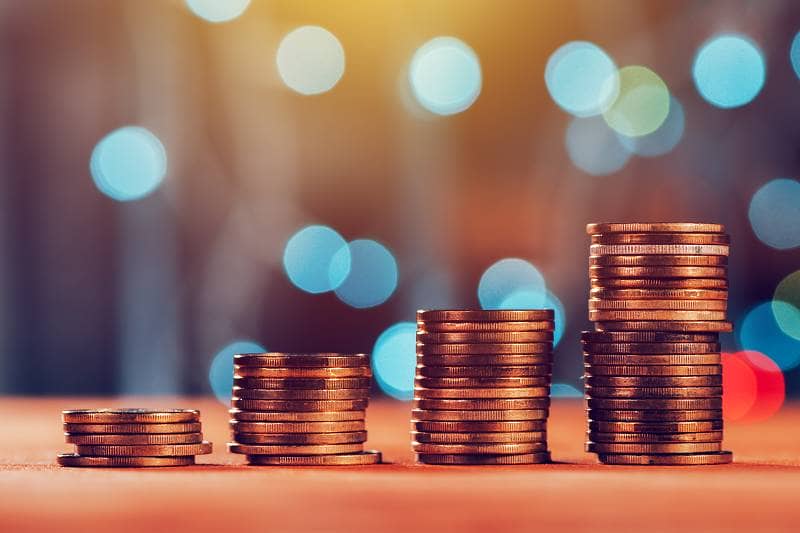 Is It More Expensive?
I'm not going to lie to you, UFH is probably almost always going to be more expensive than more conventional central heating systems, because it requires more materials and involves more labour intensive work; though if you do the work yourself the costs will reduce dramatically.
If we compare a UFH installation to a standard pressed steel radiator system (excluding the boiler), the costs on average are approximately £15 p/m² for the radiator set-up, about £23 p/m² for a warm water installation and around £21 p/m² for an electric system (screed installations).
I am basing these figures on the most basic of radiator installations, so if you bear in mind that you may opt for more extravagant features, such as designer column radiators or more elegant designs and radiator covers, the gap between the prices can be substantially reduced.
A good way to compromise and still feel the benefits, if you have a limited budget, is to perhaps install underfloor heating on your ground floor and stick with more conventional radiators upstairs, maybe squeezing a smaller UFH installation into the bathroom.
It makes sense to do this if you think about it. Radiators heat up almost instantly making them perfect for your bedroom, where you only really require heat for a couple of hours in the morning and maybe at night for a while before you get to bed; a point that's definitely worth keeping in mind.
Is It More Efficient?
How much UFH costs to operate in the long run will mostly depend upon the fuel you use, the cost of that fuel and the overall efficiency of the system – especially the quality of the boiler and level of insulation in your building. These are far more important factors than the minimal cost differences between underfloor and other types of central heating.
It is essential that your floor is suitably insulated for your UFH to have an effective and efficient output and the higher the quality of the insulation, the greater the impact on the overall running costs. Indeed, quality insulation is a big contributing factor to the increased initial costs of UFH installations, but it's worth it in the long run.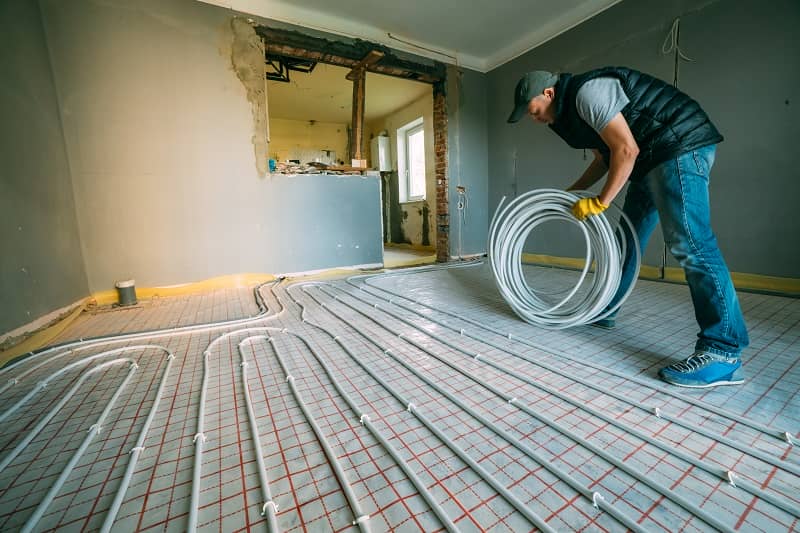 Warm Water Or Electric UFH?
Good question.
Well, electric underfloor heating is generally believed to be slightly quicker, and therefore normally cheaper, to install than the warm water alternative, but both can be used to heat your entire house or just individual rooms – for example only the ground floor or perhaps just in the bathroom to take that often unwelcome chill off the tiles.
If you are undertaking a retrofit installation it is perhaps best to use an electric system because they tend to be thinner and more manageable than warm water systems. In fact, for this very reason, electric or 'dry' systems are normally the primary options for renovators looking to install UFH.
Available in differing styles, electric systems can come in the form of heating mats which can be rolled out to cover large areas, or, for those smaller more awkward spaces, you can purchase versions that consist of more loose fitting flexible wiring.
Though slightly cheaper to buy and install than the warm water alternative, from a more long-term point of view, electrical systems are thought to be more expensive to run and are not recommended for heating large areas.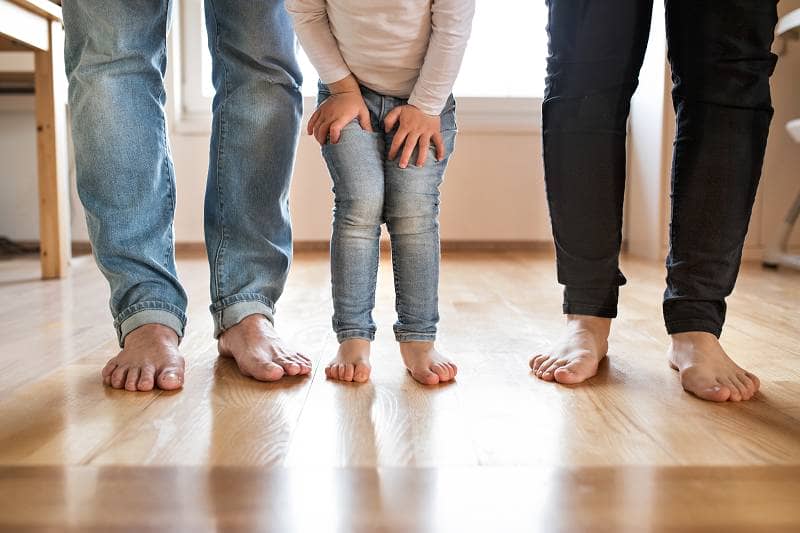 Does The Floor Covering Matter?
Another good question.
Wood – There are generally two types of wooden floor. These are engineered timber, like laminates and solid timber flooring. When it comes to UFH in screed, we would recommend that the best method of installation is to float the flooring on top of a 2-3mm polythene foam that allows the wood to lay flat and expand and contract naturally.
Remember that solid wood floors have a tendency to move more than laminate. You can help to prevent this by leaving your wood to acclimatise to the room for a few days before laying and ensuring that the screed and the building itself is thoroughly dry before installation.
It is also a good idea to bear in mind that wood is not the best conductor of heat. Heavy, dense wood grains help to give you a better heat output, whereas light woods are less effective. The very worst thing you can do to waste your time, energy and money is to install UFH under wood and then cover your floor with lots of rugs that make it harder for the heat to penetrate the floor.
Carpet – If you have ever been in a makeshift recording studio, or lived in a flat with really thin walls and ceilings, you will already know that carpet acts as a great insulator (not only of noise but also of heat), meaning that the thicker the carpet, the lower the heat output of your UFH.
It is generally accepted throughout the industry that your carpet and underlay should not exceed a combined tog (thermal resistance) rating of 1.5 – the higher the tog, the more pipes and cables you'll need to install to compensate.
Flags, Slate & Marble – Probably the very best suited to UFH, stone and stone flags have a high thermal mass that makes them great heat conductors that achieve a temperature that you will find extremely pleasurable underfoot.
Sawn or cut flagstones with a bed of 25-50mm (1" – 2") are best laid in an adhesive or a bedding with a special additive that will allow the floor to expand and contract. You can also use random depth flagstones with your UFH too, but remember that their large thermal mass and differing depths may slow down your UFH response time and it's always best to use a flexible grout with stones too.
Ceramic – Great for use with UFH because of their relatively high thermal mass, ceramic or terracotta tiles are excellent conductors. They should be laid with an appropriate tile adhesive and grout that is compatible with UFH and that allows for movement; ensuring that you have switched off the system before installation.
PVC Tiles / Linoleum – Glue the tiles with a flexible adhesive that won't degrade with the heat. Something like Styccobond is good. Ensure that the UFH is turned off for a good 48 hours before and after installation and lay the tiles directly onto the screed.
Will I Need A Special Boiler For UFH?
How you design warm water underfloor heating does need to take into account the boiler that you are using and the sophistication of the built in controls. It goes without saying that the more efficient the boiler, the more efficient the system will be.
If you have a gas powered system, a condensing boiler is more than worth the investment as it will operate at its most efficient with a low-temperature system like underfloor heating and it is also good to remember that UFH can also be used with renewable heat sources like heat pumps and solar panels.
Some Final Pieces Of Advice
Installing underfloor heating may not always be as cost effective as you first assume and the expense of installing may indeed outweigh the advantages – especially if removing and re-screeding floors is on the cards.
In houses that are not occupied during the day, the slow warm-up and cool down time of UFH may not be the most effective and efficient way of heating your home either, so just bear this in mind when you make your decision.
A combination of both types of system (radiators and UFH) can often be the most suitable solution for many homes, as radiators can easily be incorporated into an underfloor heating system. As many of us still want toasty warm towels in our bathrooms and en-suites, a good compromise is to install the UFH downstairs and have radiators in your bedrooms; not forgetting to treat yourself to a statement-making heated towel rail in the bathroom for good measure.
Well, that's all for now.
We do hope this proved helpful and if not, at least you are now armed with the knowledge to impress your mates at your next party.
Stay safe and happy heating!

John trained in journalism before finding his way to the BestHeating Advice Centre team. He uses his journalism skills to meticulously research heating topics and bring you the latest news and views on all things home heating related. He'll also beat you at any sport that involves a cue!
https://wpcdn.bestheating.com/info/wp-content/uploads/2012/11/image1_7.jpg?strip=all&lossy=1&quality=70&ssl=1
420
420
John Lawless
https://wpcdn.bestheating.com/info/wp-content/uploads/bh-wordpress-advicecentre-logo-196x50-2.png
John Lawless
2016-03-08 18:42:21
2019-10-23 12:29:12
Underfloor Heating Explained