Buying Trade Radiators At BestHeating
Get Trade Radiators @ BestHeating.com
Buying new trade radiators, heated towel rails or any new home heating product isn't just something you wake up one morning and decide to do – it's a considered purchase, something you'll want – and probably need – to think long and hard about.
Whether you need a trade radiator deal, or you're just looking to freshen up your home heating with a new designer radiator, we want to be there every step of the way to provide a safe and secure service that is second to none.
It doesn't matter to us if you are an experienced and seasoned trades-person, or a first time buyer with a passion for sleek designer radiators, we want to help you make the right choice from the moment you land on our home page to the day your shiny new designer or trade radiators arrive at your door.
Don't believe us? Just look at what we can offer you compared to some of our main competitors.
Why Buy From Best Heating?
1 – Calculating the Correct BTU Output
We've said it before and we know we'll say it again, but calculating the correct BTU output of your designer radiator or heated towel rail is massively important for a number of reasons.
It isn't just something to gloss over in the hope you will get it right. Check out this video to find out why.
That's why we have a comprehensive calculation system that takes into account what is above, below and beside your room, what your walls and windows are made of and the metre/square area of your space.
Unlike many of our competitors versions – where you only input the length and width of your room to get a results page – our BTU Calculator will give you a more precise calculation of the size of radiator you'll need. That means you will save money by not wasting energy and be sure that you are adequately heating any space you need to in true Best Heating style.
2 – Google Trusted Store Membership
When shopping online you need to know that your address, bank and card details are safe and secure and not at risk of being hijacked by some dodgy individual in a backwater café in Timbuktu or elsewhere.
That's where the Google Trusted Store scheme comes in.
Designed to help customers feel safe and secure whilst shopping, the Google Trusted Store scheme is there for sellers to show that they meet certain shipping and customer service criteria, as well as protecting customers when they buy things – all of which is provided completely free of charge by Google.
If you buy from Best Heating and we get something wrong (see number 3 as to why this is very rare), you can contact Google and they can help you to find a solution to the problem.
Google (pretty much) owns the internet, so if there's a badge on a site that looks a bit like the one above, the company must be doing something right – so keep your eyes peeled.
We have one, but many of our competitors don't.
3 – A Huge Range of Trust Pilot Reviews
At Best Heating we're proud of our customer service record. Of course, there are always ways in which we can improve and we actively seek out the opinions of our customers in order to understand what we're doing right and where we could be doing better.
That's why we have over 22,000 individual opinions on our Trust Pilot page – that's thousands more than many of our closest competitors.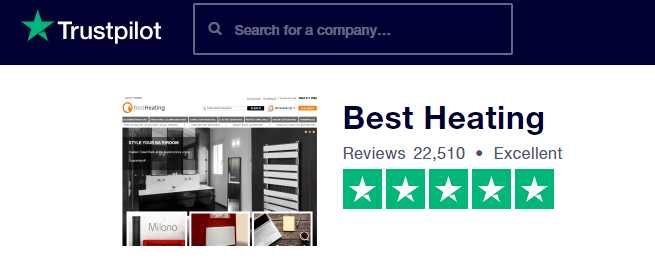 So whether you're looking to purchase underfloor heating, an electric designer trade radiator or one of our many heating accessories, there are reviews on almost every one of our product pages and a whole host of differing opinions on our Trust Pilot page.
All of which means you can shop – or not shop – depending on what others have said and experienced when they have dealt with us – allowing you to make a more informed and clearer decision than perhaps you could with other less reviewed and transparent trade radiator stores.
4 – Extended Opening Times
Here at Best Heating we understand that our customers lead busy lives (cos we do too!) that's why we have extended our phone line opening ours, so if you need to give us a call in the evening – for any reason at all – you can get hold of one of our specialist team between 8:30am & 9pm Monday to Thursday and up to 5pm on Friday too!.
And the convenience doesn't stop there!
If you and your family are spending some time planning your next big home improvement project on a rainy Saturday afternoon and you need to ask any questions about one of our products, there will be someone at the end of the line between 8:30am & 5pm on Saturday to help you make the right choice..
As good as they are at what they do, you just don't get that kind of attention to detail with other (so-called) 'specialists' in the trade radiator market.
5 – Exclusive Deals on Trade Radiators
Unlike many of our closest rivals in the world of radiators and heated towel rails, we offer an exclusive trade radiator package to plumbing and heating engineers up and down the country.
If you give us your credentials and open an account with us, not only will you benefit from some of the lowest prices available for trade radiators on the web, but you can also take advantage of huge trade discounts that we'll send you once a month; meaning you'll make MASSIVE savings on a range of already incredible trade radiators and exclusive home heating deals.
And if that's not enough…
As well as providing first-class customer service, regular offers on a huge range of trade radiators and a safe and secure shopping experience, at Best Heating we have a range of video tutorials, social media advice and interior design solutions in our Advice Centre too.
So regardless of your professional background, your plumbing ability or the size and style of your wallet, you'll find designer radiators, heated towel rails and a wealth of trade radiators to suit your every need right here at Best Heating and we're always pleased to heat you (Yep, we're even a bit cheesy sometimes too!)
So remember just what you get when you shop for trade radiators at Best Heating –
The Correct BTU Output
Safe and Secure Shopping
A Wealth of Customer Reviews
Late Night & Weekend Opening Times
Exclusive Trade Radiator Deals
So don't hang about, come and look at what we can do to help you to make the most of your home heating at www.bestheating.com

John trained in journalism before finding his way to the BestHeating Advice Centre team. He uses his journalism skills to meticulously research heating topics and bring you the latest news and views on all things home heating related. He'll also beat you at any sport that involves a cue!
https://wpcdn.bestheating.com/info/wp-content/uploads/2016/07/bh-blog-trade-rad.png?strip=all&lossy=1&quality=70&ssl=1
245
700
John Lawless
https://wpcdn.bestheating.com/info/wp-content/uploads/bh-wordpress-advicecentre-logo-196x50-2.png
John Lawless
2016-07-17 12:42:21
2019-07-15 13:40:54
Buying Trade Radiators At BestHeating