Heating trends for the year ahead
It is that time of year again where we peer into the future and make our predictions for some of the interior trends we can look forward to in the year ahead.
From Instagram-worthy Japandi decor, to cosy, post-pandemic home offices, interior designers have given us plenty to get excited about in 2022, and we have just the radiators to enhance these stylish spaces.
Let's take a look at the hottest heating trends to expect in 2022!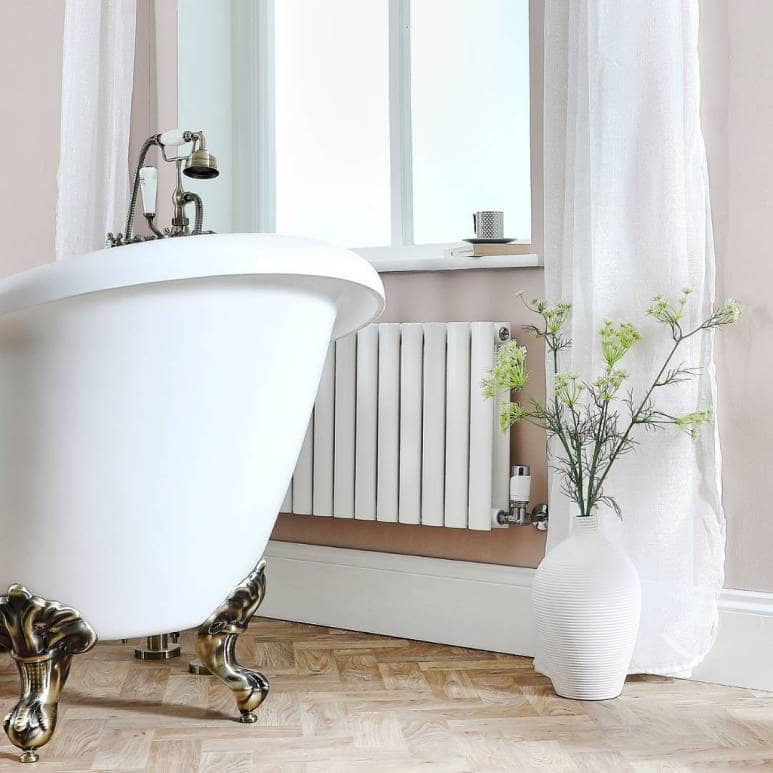 Pretty pastels
Pastels made a pretty powerful introduction in 2021, with candles, prints and textiles in soft lilac, lemon, pink and blue tones making a subtle, yet strong statement in many of our homes.
Looking forward into next year, we predict there will be plenty more pastel colour palettes, and the good news is we have the radiators to match.
For those planning on taking their pastel passion beyond home accessories, our colourful Milano Aruba and Capri collections are just what you are looking for.
Whether you love pretty pink shades, or calm blues like the Dulux Bright Skies Colour of the Year 2022, a pastel radiator is a beautiful way to complement your colour scheme.
Rounded shapes
From curvy sofas to wavy mirrors, soft rounded shapes added a serene, feminine feel to interiors this year, and we're sure they will continue to do so in 2022.
Furniture, accessories and functional features like radiators will be designed without corners to create comfortable, calming interiors.
If you want to replace strict lines with smooth shapes, we have a couple of beautiful heating options for you to enjoy.
For a modern, designer feel, the Milano Aruba collection features flowing, oval shaped panels in a range of subtle and strong finishes.
If cosy, vintage-inspired interiors are more your taste, the elegant columns of the Milano Windsor and Tamara radiators are a beautiful way to bring this curvaceous trend into your home in a timeless form.
Timeless traditional
Some trends are more than a temporary Insta incident and eclectic, vintage-inspired interiors with classic column radiators are one of them. This timeless trend will still have a place in our hearts in 2022 and interior blogger Lily Sawyer tells us why.
"Traditional radiators have made a comeback in recent years, especially cast iron radiators. More and more interior designers are incorporating cast iron radiators in interior design, making them a feature rather than hiding them. Ornate designs of these traditional radiators harking back to bygone eras are also enjoying a revival.
For me, the most exciting thing about traditional radiators is the reinvention of their classic look into much slimmer versions thereby marrying nostalgic and contemporary designs. This is not only beautiful but also practical for small spaces and narrow halls. Add a beautiful wall stay and you see form and function perfected!" @layered.home
Home office heating
Of course, home office design was a hot topic in 2021 as many companies made the transition to remote working. But after a year of productivity improvements and wellbeing benefits, many businesses are choosing to continue to work from home next year.
This means that creating a comfortable work space is more important than ever. Plus, it is a fun opportunity to personalise your decor in more interesting ways than you could back in the real office!
Often, one of the most difficult challenges in designing a home office is finding the space to set it up. Many of us don't have an additional room that can be converted into a dedicated office.
So, utilising space in smart ways in existing rooms is key to creating a comfortable space to work. As the saying goes, work smarter not harder! Effective heating can certainly help you achieve this.
In 2022, we predict that remote workers will be improving the layout of their home offices by switching to space saving radiators like vertical and low level designs.
We also believe that many people will opt for an electric radiator for the added functionality and energy saving benefits.
Since electric radiators work independently from the central heating, you can turn them on for a cosy heat boost as you work, without wasting heat on the entire house.
Cottagecore continues
No surprises here, cottagecore boomed this year and we can confidently bet that it will continue to inspire sustainable living and cosy country decor throughout 2022.
The cottagecore vibe is all about embracing nature, recycling, upcycling, and creating comfortable, inviting spaces with a warm, rustic, aesthetic.
We predict that classic column Windsor radiators and chunky cast irons will become popular choices for these rural-inspired living spaces.
If you fancy revamping your existing radiators in the true cottagecore spirit, why not have a go at painting your radiator and enjoying a creative upcycling project?
Bring the outside in
After being cooped up inside for so long in lockdown, we began to crave the outdoors more than ever and savoured every second of our daily walk.
Since then, the idea of bringing the outdoors in to invite a sense of freedom has become paramount to the way we live and design our homes.
With that in mind, indoor plants and fresh leafy tones will continue to brighten up our interiors and our heating.
Our white and sage green Milano Aruba radiators are sure to flourish in 2022 with the smooth oval panels and calming colours.
Japandi comfort
Timeless Japanese design meets sleek Scandinavian style, Japandi decor really is a thing of beauty and this recent hybrid interior trend is ready to take over 2022.
Combining clean lines, soft warm hues and natural textures, the aesthetic is all about creating minimal spaces that feel comfortable and inviting.
With the understated, less is more vibe, we believe that contemporary designer radiators with beautiful, simple shapes like the Milano Capri and Alpha will become a popular choice for Japandi style homes.
In terms of radiator colour, serene finishes like calm greys and monochrome tones will take precedence in the Japandi palette.
70s retro rads
With funky designs, playful aesthetics and cosy colour schemes, it's no surprise why the iconic 70s decor is back in style for 2022. Or, did it ever really go out of style?
Although the 70s vibe has always been popular, the radiators of that time were not so dreamy.
Fortunately, if you love the 70s look, there are now plenty more pretty heating options that complement the character of the decor.
To enhance the recognisable 70s colour palette, we predict that the sunset orange and yellow Milano Aruba radiators, and the beautiful metallic gold and copper Windsors will be welcomed into wonderful retro homes in the year ahead.
Dreamy DIY panelling
DIY panelling took Pinterest by storm in lockdown, and the period-inspired trend is still spreading like wildfire.
As we look into 2022, we are likely to see more and more homeowners transforming plain walls into panelled features and replacing standard convectors for timeless radiators.
This trend works beautifully in period properties that already have some original features like ornate ceilings and fireplaces.
But, it is also a great way to add the same character and charm to new build homes to create that cosy, vintage feel.
So, what radiators suit a panelled wall? Pretty much any! Of course, traditional column radiators like the Milano Windsor are a lovely choice as they enhance the traditional details.
But, we also love the elegant combination of contemporary designer radiators on panelled walls to add a modern touch to a traditional space.
Statement wallpaper
From panels to paper, 2022 is sure to see plenty more detailed wall features and we are ready for an influx of statement making wallpaper with pretty palm and floral pattern designs.
Beautiful walls deserve attractive radiators and we predict that both modern designer radiators and classic columns will play a huge part in creating bold, wall spectacles.
Vertical radiators are a great way to draw the eye up and down the space to invite visitors to take in the beauty of the entire wall design.
Revamp your radiators for 2022
So, there you have it! We hope we have left you feeling inspired to explore new interior and heating styles for 2022.
Switching up your radiators is a great way to complement the trend you want to create and enhance the overall aesthetic.
Plus, replacing a radiator is an easier job than you might think! Head over to our how to replace a radiator guide for more info.
We hope you all have a wonderful 2022!
Jess has a passion for interior design and wants to inspire people to look at radiators as home decor. She enjoys keeping on top of the latest design and heating trends to ensure the Advice Centre has all the information and inspiration homeowners need to make the best choice for them.