Greener heating, now there's an idea.
With climate change discussions, green Government grants and carbon free targets dominating global discourse, the time to start looking at low carbon heating technologies is now.
Over the coming decade, the UK will see practical, gradual changing behaviours with home heating and energy use.
To simplify the process, we want to help support and update your knowledge on the subject. Then you can be sure you feel confident to make changes that will work for you and your home.
With that in mind, we wanted to introduce you to some greener radiators alternatives. Ranging from modern electric radiators to timeless and efficient designs, here are our top 10 energy efficient electric radiators.
Ready to give your home heating an eco-friendly makeover?
Take a look at some of the best green energy electric radiators.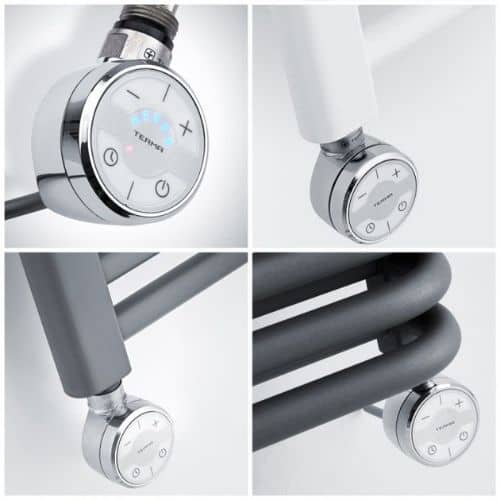 Modern eco friendly electric radiators
When it comes to making positive changes for the environment, the best options are those that offer maximum results with minimum sacrifice. That's exactly what our modern electric radiators are all about.
1. Milano Aruba electric
Combining the sleek, contemporary design of one of our most popular ranges with efficient electric functionality, you can do your bit for the low carbon targets and complement your home decor simultaneously with our Milano Aruba electric radiators.
There are plenty of sizes to choose from depending on the type of space that requires electric heating. For example, the smallest electric Aruba measures 635mm x 413mm and is supplied with a 400W heating element.
On the opposite end of the scale, the largest electric Aruba is a vertical double column radiator that measures 1780mm x 236mm and features a 1200W thermostatic heating element.
With the slim design and powerful heat output, this space-saving electric heated designer radiator is a great eco friendly option for modern homes.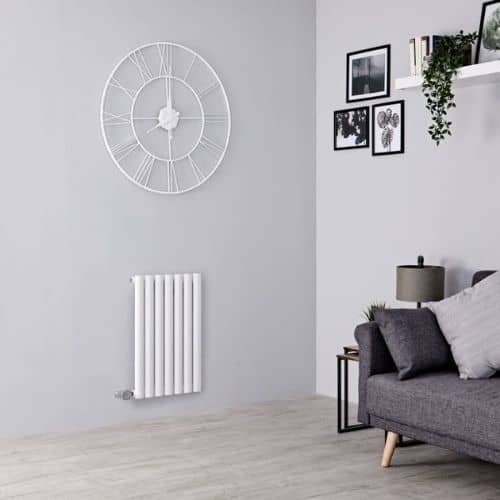 2. Milano Alpha electric
The modern, minimal Milano Alpha electric radiator collection eliminates all outdated notions that electric radiators are bulky, unsightly metal boxes.
With minimal panels, clean lines and a choice of contemporary monochrome finishes, Milano Alpha electric radiators offer the form meets function of simple, stylish, Scandinavian interiors.
For smaller rooms that require a little extra warmth, the smallest Milano Alpha electric radiator measures 635mm x 420mm and contains a 400W heating element.
Or, if you're looking for a low energy radiator to heat a large space without compromising on style, the 635mm x 1190mm electric Alpha with a 1000W element is the biggest in the collection.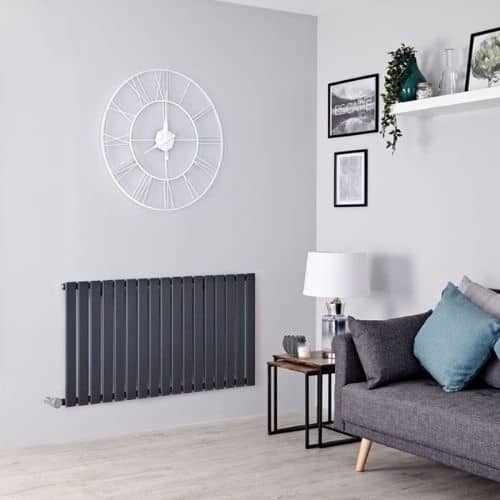 3. Milano Riso electric
If minimalist is your style and you are looking for an efficient electric radiator with a striking contemporary design, the Milano Riso is the way to go.
Built from one vertical 40mm thick steel panel in clean white or anthracite, these unique vertical radiators adopt a modern art aesthetic. Perfect for making an impressive feature on their own or part of a gallery wall.
For hallways and narrow spaces, the smallest electric Riso in the collection features a 1800mm x 400mm design. Supplied with a 1000W heating element equivalent to 3,412 BTUs.
The largest option in the range measures at 1800mm x 600mm for a bold statement piece. This radiator is also complete with a 1000W heating element.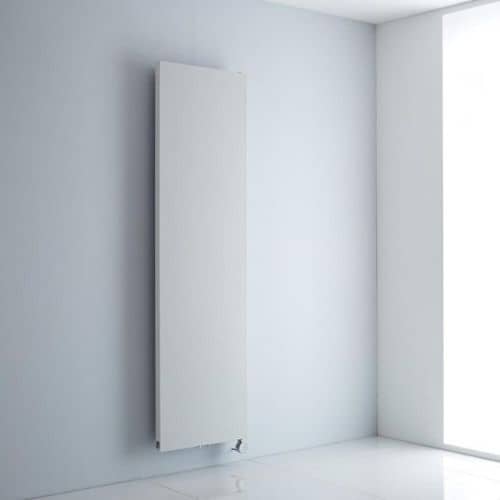 Traditional style electric radiators
Whether you live in a period home filled with original character, or want to add a timeless feel to a contemporary living space, our vintage-inspired Milano Windsor electric column radiators make beautiful green heating options.
A look at some of the best traditional electric radiators…
4. Milano Windsor electric
Windsor electric radiators offer the best of period property aesthetics and modern green heating technology. Featuring charming, cast iron-style steel columns and efficient electric functionality.
If you want to heat a small space efficiently and still showcase the chunky vintage design, the narrow 600mm x 605mm double column electric Windsor is a great option. This small electric radiator is supplied with an 800W heating element and available with a choice of thermostat.
For a traditional electric radiator that boasts a low energy usage and a powerful heat output, the 1800mm x 380mm vertical or 600mm x 1505mm horizontal electric Windsors are both supplied with an impressive 1500W heating element.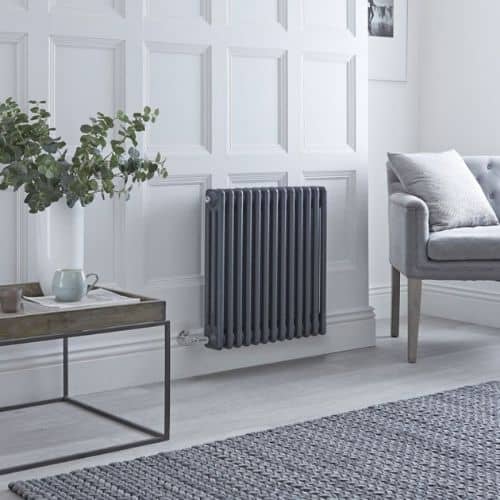 5. Milano Windsor low level electric
Measuring at just 300mm tall, our low level electric Windsors are ideal energy efficient heating options for utilising space effectively and creating a green heating system.
Since they take up very little wall space, they are great for installing under windows, in conservatories or small bathrooms.
The smallest low level electric Windsor is a double column radiator with a 300mm x 605mm design and 600W element. The longest is a chunky four column electric radiator measuring at 300mm x 1505mm heated by a 1500W element.
6. Milano Windsor dual fuel
If you are new to electric radiators and want to become more familiar with them before you make the transition, dual fuel radiators might be what you are looking for.
Our dual fuel Windsors are able to operate with your central heating system as a hot water radiator. Or independently from it as an efficient electric radiator.
When you use your dual fuel as an electric radiator, this gives you the option to only heat an individual room when required. This means you don't waste heat on the entire house.
For example, you might want to create a little extra heat in the bathroom in the summer when the central heating is turned off.
Then in winter, the dual fuel functionality allows you to control the radiator with the central heating system when you are likely to need heat in every room.
For a timeless, traditional style electric heating option, take a look at our vertical dual fuel Milano Windsor column radiators.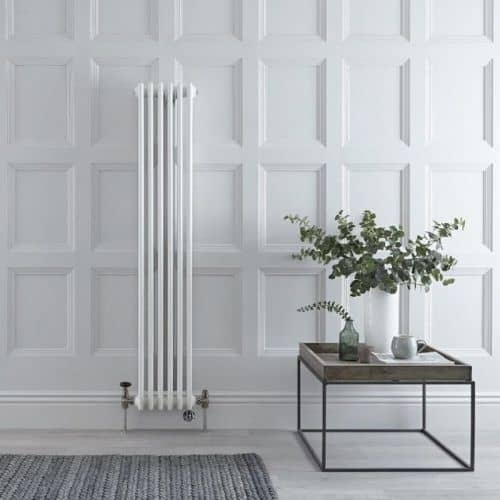 Stylish electric heated towel rails
Electric heated towel rails are one of the most popular types of electric heating right now. The reason for this is because the bathroom is an ideal space to utilise its functionality.
There's also plenty of design options to choose from to complement modern and vintage-style bathroom interiors.
What are some of the best electric towel rails?
7. Milano Elizabeth electric
For a cosy cottagecore vibe meets modern electric heating, the Milano Elizabeth electric heated towel rails are the perfect choice.
These beautiful towel rails add timeless details to any bathroom decor. Featuring a classic column radiator insert in a choice of black, white or anthracite and a traditional style chrome frame.
You can also choose between a flat or overhanging rail depending on how much towel storage you prefer.
You might think that the column insert makes the Elizabeth more suited to large bathrooms. But, the narrow 930mm x 450mm option is great for small ensuites and cloakrooms. This small electric rail is complete with a 400 Watt Rotfil heating element.
On the other end of the scale, the 930mm x 450mm features a 800 Watt Rotfil heating element. Ideal for large bathrooms and kitchens.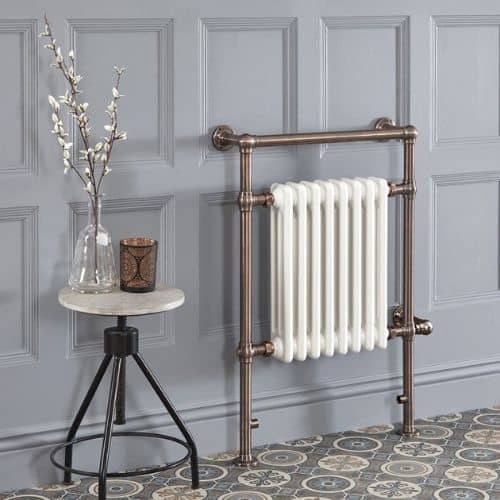 8. Milano Nero electric
When the black bathroom accessory trend emerged we were instantly obsessed. So we wanted to provide a modern, efficient electric towel rail to complement these bold features. The Milano Nero range does just that.
With the smallest 600mm x 400mm Nero, you can still achieve this trend in tiny bathrooms and cloakrooms. This modern little electric rail features a 200W Rotfil heating element.
For large bathrooms and busy family spaces that require plenty of heat and towel storage, the 600mm x 400mm offers rails and a powerful 1000W Rotfil heating element.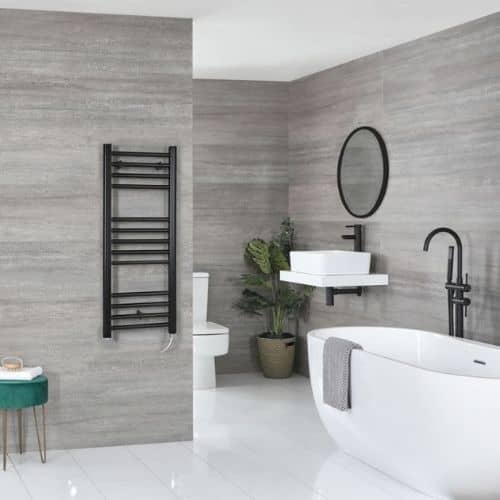 9. Milano Ive
If clean white interiors are more your thing, the efficient, pure white Milano Ive electric heated towel rail range will both brighten and warm up your space.
The simple ladder design ranges from a small 600mm x 400mm with a 200W Rotfil heating element, up to a 1800mm x 600mm powered by a 1000W Rotfil heating element.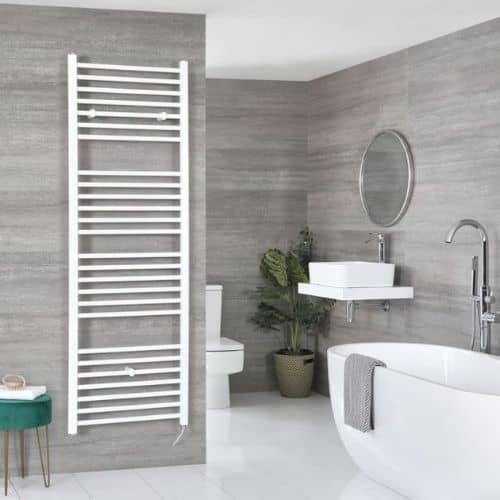 10. Milano Esk
Last but absolutely not least, the final electric towel rail we have selected is the stylish Milano Esk. Made from long-lasting Grade 304 stainless-steel, these modern minimal rails have an understated industrial aesthetic and a high quality chrome finish.
Strong and durable, stainless steel heaters are excellent heat conductors and non-corrosive. This means that they are easy to maintain and stay warmer for longer even after they are switched off.
The smallest Esk in the collection features seven horizontal bars, measures 800mm x 500mm. This towel rail features a 200W Rotfil heating element.
Alternatively, the tallest option features a 1200mm x 600mm design with nine bars. Plus double the heat output with a 400W Rotfil heating element.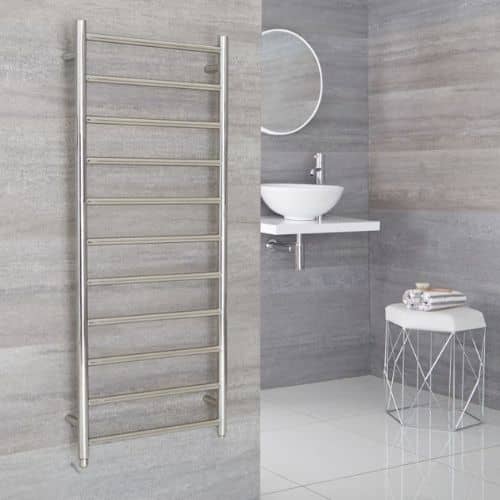 Ready to go electric?
Whether you have spotted something you like from our top ten, or you still want to browse our full electric heating collection, remember to calculate the heat requirements of your room before you make a purchase.
Just like central heating radiators, all you need to do to work out what size electric radiator you need is to visit our BTU calculator.
Enter the information about your space. Then the results will give you both the BTU and Wattage required to ensure your radiator can provide enough heat. Make a note of the wattage and use this to compare electric radiators as you shop.
Jess has a passion for interior design and wants to inspire people to look at radiators as home decor. She enjoys keeping on top of the latest design and heating trends to ensure the Advice Centre has all the information and inspiration homeowners need to make the best choice for them.