The BestHeating guide to SMART home heating
You've heard of smart cars, are likely to be more than used to using smartphones and you're probably familiar with all of the stuff that the 'internet of things' has to offer.
In fact, I would probably place a safe bet that you've heard so much about how your life should be filled with interconnected, network dependent devices, that you've been tempted to build a time machine to take you back to when the world was a much simpler place.
(I know I have)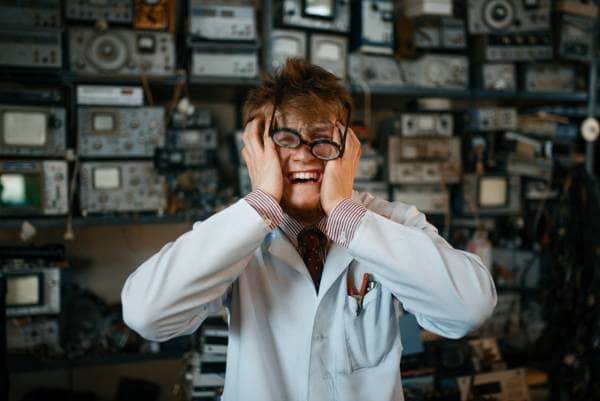 But – before you go all Doc Brown – adding a smart device that controls your home heating, saves you money on fuel bills and completely revolutionises how you keep your home warm, isn't as futuristic (or as daunting) as you might think and is definitely something to do a bit of research on.
So because we love to investigate stuff – and we're all about offering quality service and advice here at BestHeating – we thought we'd put together a comprehensive guide to SMART heating controls so you have everything you need to get started.
So, without further ado, what is SMART home heating, how does it work and why should you (or shouldn't you) get it?
What Are SMART Heating Controls?
SMART stands for "Self-Monitoring Analysis & Reporting Technology", but what exactly is it that makes a 'smart' thermostat smart?
Well, while a standard run-of-the-mill boiler thermostat offers some basic functions like switching the heating on and off, timer settings and some rudimentary temperature controls, a SMART thermostat lets you manage every minute of your home's heating schedule from the palm of your hand, through a tablet or smartphone.
So you don't even need to leave the comfort of your sofa to be in complete control.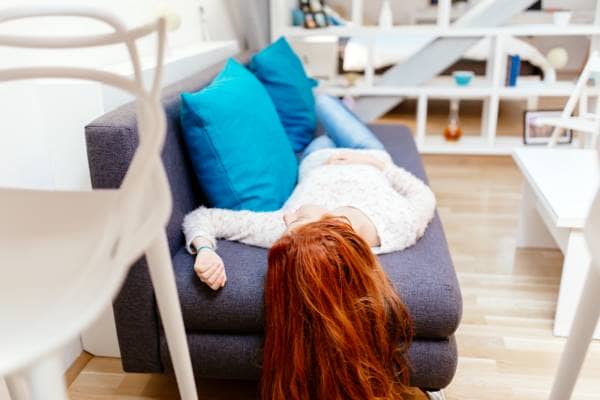 In fact, provided you have access to the internet, you could be at the top of a mountain in the Himalayas and raise or lower the temperature of your heating from one of the highest peaks in the world.
That may sound a bit far-fetched (though if I ever get the chance I'll be trying it) but it does give you an idea of what can be achieved with a smart heating device.
But does the fact you can adjust the temperature of your heating from pretty much anywhere really mean that your thermostat is smart?
We'll get to that in a minute, I promise.
How does a SMART thermostat work?
Well now, that is a question, isn't it?
But to be honest, when it comes to just having control over your heating, the process of how it works is pretty simple.
While a typical thermostat lets you make changes to the temperature in your home using a dial or a control panel, a smart thermostat does it a little differently and more efficiently; using three basic components to provide a more user-friendly and accessible way of controlling your home's heating.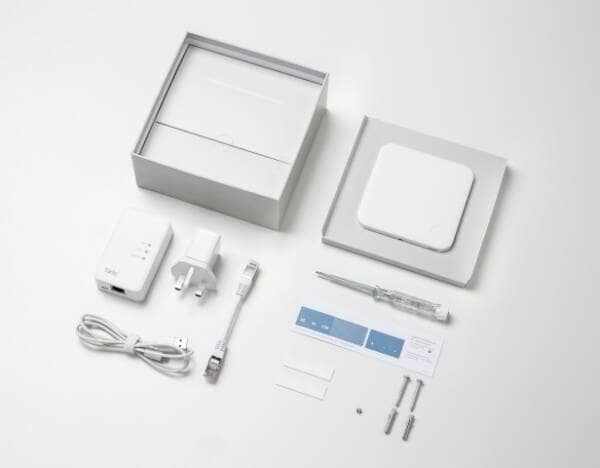 The first of these components will usually plug directly into your boiler and talk wirelessly to the second component – an in-home device that is the main control unit and thermostat controlling what is and isn't going on – while the final component is the app that you download to a smartphone or tablet.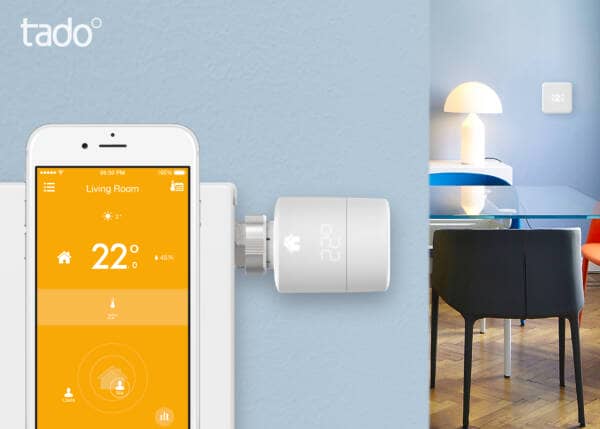 From top to bottom, that's basically it.
1 – SMART boiler connection (plugs into your boiler & connects to number 2)
2 – Control unit or thermostat that connects to the internet via your home's WiFi
3 – Mobile/Device application that lets you take control of all the settings and times
There are many different variants of this theme, but from a simple – "what does a smart thermostat do?" perspective, the Wi-Fi controls, internet connection and smart device connectivity is pretty much the foundation of what smart heating controls are all about.
There are some other clever bits to consider (that we'll cover in detail later), but the basic outline and function of SMART heating controls are that they will make life easier and mean that heating your home is simpler and more affordable.
Allowing you, or whoever it is in your home that wants to control the heating, to control the temperature from virtually anywhere that you want.
When is a SMART thermostat, not a SMART thermostat?
Programmable thermostats are a pretty common feature of most homes nowadays, but a programmable or connected device isn't necessarily a 'smart' device.
To configure this type of thermostat, you would simply have to enter a general schedule that is consistent with the times that you expect to be in or out of the house – or perhaps awake or asleep.
If you work in a traditional Dolly Parton 9-to-5 job, this type of thermostat will serve you pretty well – simply set the heat output to a more energy efficient temperature while you're at work (or, for the sake of the planet, switch it off entirely) and then program it to kick back on again just as you come home.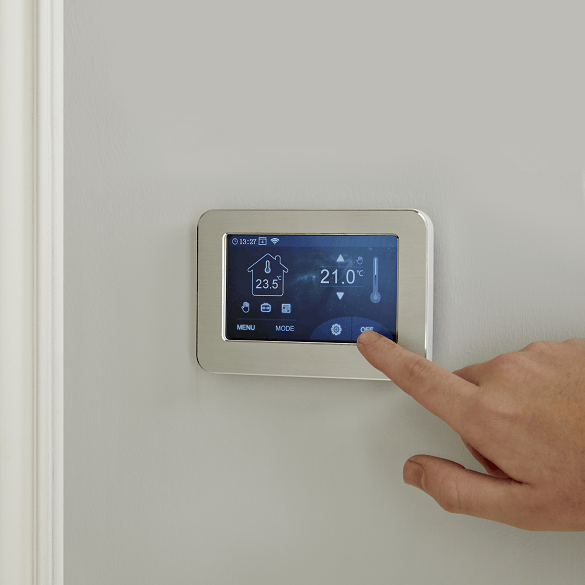 In a system like this, you can have one heating setting for the weekdays and another one entirely for the weekends – and you can, of course, make any manual adjustments that you want as and when required.
So while these programmable thermostats are a kind of home automation, it's a pretty primitive approach when compared to some of the newer types on the market and they certainly cannot be deemed to be 'SMART' technology – not as we now know it to be, anyway.
One reason for this is that they do not have the ability to automatically adapt to your changing schedule – they aren't 'learning' what you do and how you like your heating to function.
As handy as they are in letting you control your heating and set times for x, y and z, you will still have to make manual adjustments if you ever have the need to tweak the settings, because it isn't SMART enough to do it for you.
In sharp contrast to this, smart models like Tado SMART Thermostats and the Nest Learning Thermostat are designed to offer greater control over heating (and also cooling) through Wi-Fi integration, web and mobile apps and, in some cases, even sensors that can tell if you're at home.
And the best thing?
These type of models are DIY options, meaning you don't have to get in touch with a dealer or a heating engineer unless you really want to.
Instead, you can buy them right off the shelf or in an online store; making them a relatively easy upgrade to make for pretty much anybody.
How do SMART heating controls benefit me?
You may feel that you are totally happy with the programmable thermostat set-up that you already have, and therefore have zero need for a smart thermostat or other smart heating controls.
And do you know what? It's perfectly fine to feel that way.
But knowing how smart heating controls may benefit you directly might actually change your mind.
So let's look at the main benefits of smart thermostats and smart heating in a little more detail.
Do SMART heating controls save me money?
The short answer is yes, certainly, if you use them in the right way.
Many of us who are without a SMART thermostat or some other type of SMART linked heating controls won't be surprised to learn that we are (more often than not) wasting money heating an empty home.
It's easy to see why, too.
More or less everyone I know wants their home to be warm and cosy when they come in from a long day at work – especially in the colder months – but some central heating systems just can't be relied upon to guarantee this, so they end up leaving their heating on all day.
This is not only expensive but incredibly inefficient too – something that the carbon footprint obsessed generation of the 21st Century is seeing increasingly as a taboo.
However, with SMART heating systems, you can set the temperature well in advance and your system will work out when it needs to turn back on again – just in time to get your house up to the required temperature for when you come home.
Some of the newer, more intelligent SMART heating controls also have a function that takes into account the outdoor temperature.
The really 'smart' thing about this is that if the temperature outside is colder than usual, your heating will come on a little bit earlier than normal in order to make up for it (but more about that later).
A thermostat like the Tado SMART Room Thermostat also features geo-fencing – which tracks the location of the people in your household via their mobile phones – turning the heating on automatically when they're getting near home.
This is perfect if you find yourself making your way home unexpectedly.
Let's say that you've decided to leave a party early because that girl/guy you have a big dose of unrequited love for has shown up and you just have to get out of there, your heating will know!
A SMART thermostat with geo-fencing will track your location and over-ride your scheduled heating timer to switch your heating on in time for your return, so although you may be feeling a little down in the dumps about another missed opportunity with the person of your dreams, at least you'll be able to wallow in the comfort of a warm and cosy space.
But, having said that a SMART Thermostat will save you money, research does suggest that you might not always benefit, so it's important to understand what kind of person you are and whether they will make a difference to you, or not.
Does everyone save money with SMART heating controls?
As we sell a range of SMART Thermostats, SMART radiator valves and other SMART heating controls, you could probably forgive us for stating that everyone should upgrade their central heating to feature some form of a SMART heating appliance or another.
The truth is though, there are a few factors that will determine whether installing smart heating will definitely save you money on your heating bills or be a complete waste of time and effort.
So, after doing a bit of digging around the web, we have come up with a couple of lists to determine who WILL and who WON'T make savings with SMART heating controls.
Who will (probably) save money with SMART heating controls?
People who love tech – smartphone lovers, computer users, people who are comfortable and adept at using apps.
Anyone that wants to be able to see exactly how much energy (heat) they are using and how much it costs to do so.
Busy people that want to be in control of their home heating on the go.
Those with a regular routine that can be learned by a smart thermostat to ensure the home is always warm when it needs to be.
Anyone that isn't planning on moving house anytime soon (you can recoup the installation costs through saving on bills – you can't do this in the same way if you move house).
Who will (probably) not save money with SMART heating controls?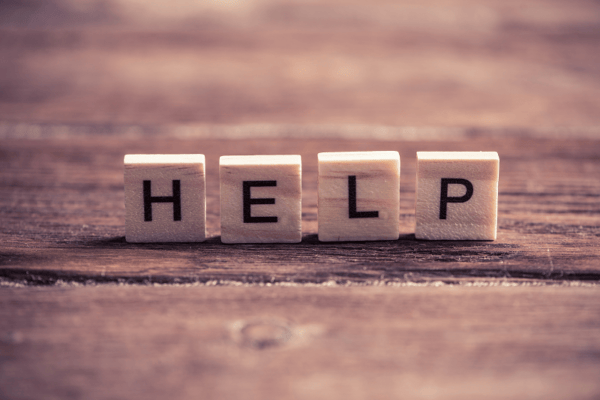 Anybody that is planning to move house in the next 12 months or so, you may not have the time to recoup the installation costs – though, with a system like Tado°, you can take the SMART thermostatic radiator valves with you, so it's not all bad news.
People who don't love a smartphone or aren't too familiar with computers and smart devices – although you could opt for a learning thermostat that will remember a routine for you, meaning you don't need to really use any electronic devices.
People who are forgetful – it may be SMART heating, but it does still require you to have some input, so if you're forgetful, forget it.
Anybody with a poorly insulated home. Before considering SMART heating controls, you really do need to ensure your property is adequately insulated.
How long 'till a SMART thermostat pays for itself?
Pay a visit to any SMART thermostat manufacturer's website and you'll find a whole host of claims based on how quickly your new device will pay for itself, how much money their respective smart kits will save you and the impact it will have on helping you to save planet Earth.
For instance, tado° states that its SMART room thermostat "will pay for itself within a year" by bringing your overall heating bill down by anywhere between 14 and 26%.
Netatmo makes the claim that their SMART heating thermostat can reduce your carbon footprint and help you to use 37% less energy than you will without it.
And according to British Gas, their Hive SMART system "could save you up to £150 a year on your energy bills".
But, is that really an accurate picture of the potential savings you can make with smart heating controls, or is there more to it?
Well, it may surprise you to learn that each of these estimates assumes that you are already the kind of person that left your heating set to maintain a constant temperature throughout the day.
So if you're the thrifty sort – and already switch your heating off when you leave home, go out anywhere, or switch it off before you go to bed – the chances are that you won't save as much with smart heating controls as what the manufacturers claim.
Indeed, a study carried out by some heating boffins at British Gas actually discovered that the energy savings you achieve with their Hive system would be considerably smaller if you only had your heating on for part of the day.
And the same study revealed that – in a world in which your heating was previously on for just a few hours a day on the weekdays – making the switch to Hive's default schedule would mean that you spent MORE money and used MORE energy than you did before.
So with that in mind, it's important to try and see past the big headline-grabbing claims about saving planet Earth and keeping money in your pocket and probably best to do some serious research into what will be the best smart heating option for you – or conversely, which won't be the best option.
How to buy the best SMART heating controls
So with these points in mind, how can you buy the best SMART thermostat? What do you need to look for to make sure you get the one that's right for you and for your home?
Well, thankfully, I'm in the mood for some serious digging and the deeper I go the better informed you should be, so here I go.
As we've seen above, SMART heating controls offer a wide range of different features and functions and deciding which ones are more important to you – and better suited to your lifestyle – is key to selecting the right thermostat for your home.
So let's look at some of the functions in a little more detail.
SMART Hot Water Controls
As well as controlling your central heating's output, some SMART heating controls can be used to control your hot water too.
If you have a combination (combi) boiler in your home – that provides instant hot water when you turn on a tap or perhaps your shower – then you won't require a thermostat that controls your water temperature.
It's also important to note that not every SMART thermostat with a hot water control has that function included as standard – some manufacturers actually charge an additional fee for you to use it – so, make sure you watch where you could be spending those ever-increasing pennies.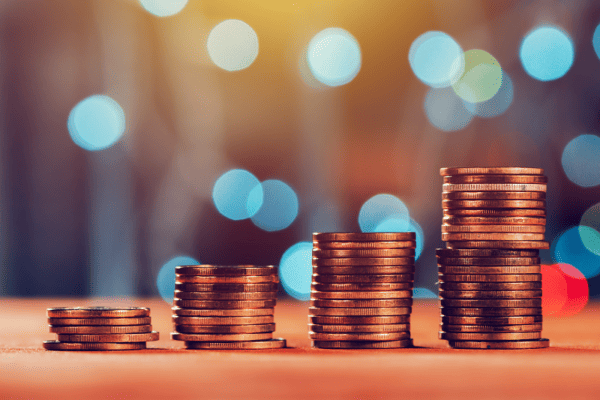 But having the ability to adjust your hot water from an app does offer some serious convenience.
Let's say for example that you've switched the water off for the weekend while you've been away and you fancy a nice hot bath or a shower when you get back from your journey – simply use the app on your phone or SMART device to turn the water on again before you get home and 'hey presto'.
Just like with a traditional hot water thermostat, you can program a schedule so you never have to suffer the pain of a cold shower because you neglected to put the hot water on.
The difference with a SMART thermostat, though? You can use your phone, or in some cases, your computer, to take back control.
SMART multi-room thermostatic controls

Multi-room thermostat controls are brilliant if you're a lazy, idle type like me.
But, they are just as good for anyone with a large home, that boasts an abundance of rooms, or for those amongst you that are determined to reduce bills and keep a tight reign on finances.
So let's say you're kicking back relaxing and watching TV in your living room on a quiet Thursday evening – is there really any point in having the heating on in the bathroom or the hallway?
With multi-room controls, you can turn the heating off – or perhaps just down a little – in each of the rooms you aren't using – saving cash, energy and the planet.
To make use of this feature, you'll have to spend a little more on an extra thermostat or some other smart heating controls for each of the rooms or areas that you want to use different settings for – so with one, two or even three thermostats (or more if you're really serious) you could have different settings in different rooms on different floors, all over the house.
Very different!
You'll have to be wary though because each new smart thermostat you require will cost extra and they aren't always cheap.
Some manufacturers even charge the same for an additional smart thermostat as they do for the original kit that you buy, so it is important to weigh that cost against any potential energy bill savings you might make by not heating parts of your home that don't need heating.
The SMART learning thermostat
Some smart thermostat manufacturers make the claim that their products will learn your routine and the kind of temperature that you prefer a room to be and then set the programs accordingly to those settings.
This does save you a lot of time and trouble by removing the need for you to set the programs yourself, though it does limit your control of the device and, ultimately, the level of control you have over your heating.
Some of the more prominent learning thermostats also make some pretty bold claims about the levels of energy they can help you save and how much they have contributed to energy saving as a whole.
The Nest Learning Thermostat, for example, makes the very green claim that, since 2011, it has helped to save "over 8 billion kWh of energy in millions of homes" around the world.
But what they don't shout about – but merely mention in the small print – is that the claim they are making is based on an estimation of how much energy customers would have used if they had NOT taken the time to buy their smart heating controls.
This is perhaps not an entirely accurate representation of what can be achieved – it is an estimation after all – and as I've already mentioned they base a lot of their claims around the premise that you leave your heating on all day, every day, 365 days a year (and twice on Sundays) – so just be sure to do some detailed and in-depth research into the claims being made BEFORE you part with your hard-earned cheddar.
And don't worry if you don't want to use the settings that your new SMART learning thermostat has decided to program, you can always switch back to the manual controls and program it yourself.
SMART heating that responds to the weather
One function that a lot of the SMART heating control systems have is a weather-response function – and its probably one of my personal favourites.
Now, let's not get carried away, the idea that your heating can respond to the weather and the outside temperature isn't something that is entirely new-fangled and groundbreaking; a similar system has existed for years to control your boiler temperature.
Also known as an 'outdoor reset control', it essentially reduces the size of your boiler (not literally) by using a tiny computer chip to balance water temperature with outdoor temperature.
This type of control features a sensor on the north side of your home that works with another sensor mounted to your boiler, to control the temperature.
And some more advanced systems use an internal room sensor to provide even more information; detecting heat gains from solar sources, your fireplace, cooking and people and any extreme heat loss too.
The difference with more modern SMART heating controls is that – rather than simply using a number of different sensors to determine how hot or how cold your water and heating system should be – they operate with complex algorithms to achieve the same thing.
For example, tado° uses a weather adaptation function that checks the weather forecast to help you make use of more natural heat sources; so if it's sunny outside, tado° knows that the residual heat that may enter the home from the power of the sun could mean it would be best to turn down the heat by a few degrees – saving you money and energy.
The vast majority of SMART heating controls have this functionality and each will adapt the ambient temperature in your home in their own way, to make use of natural heat and ensure you're always cosy on colder days – ideal for anyone that hates getting up to a cold room in a cold house!
SMART motion sensors & GPS tracking
As I mentioned above – and at the risk of repeating myself (it must be the old age) – the tado° SMART thermostat features geolocation tracking to tell where you are in order to turn your heating up or down, or make any other adjustments based on your whereabouts.
It makes these calculations automatically and will adjust the temperature in your home to a setting that you have already pre-installed and pre-set into the thermostat – your 'favourite' heat setting if you will.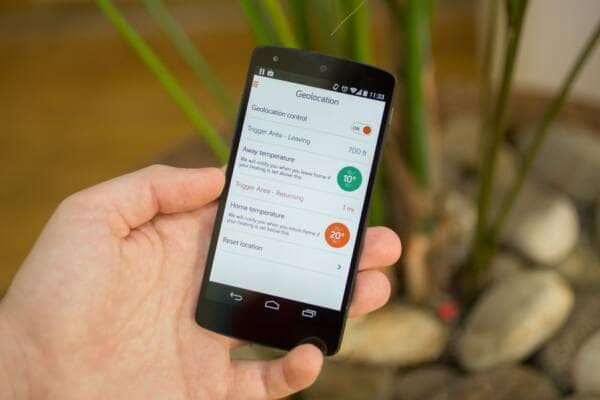 Conversely, the Hive geolocation feature operates a little differently. While you can set distances to determine when your heating turns on and off when you leave and return home, it also has a feature that alerts you if you happen to have left the heating on when you go out or if the temperature is set lower than you'd like.
Unfortunately, though, Hive won't adjust the settings automatically, but it is easy enough to control from your mobile device.
The geolocation feature may not be for everyone and is probably most useful for people that may be in and out of the house at irregular times of the day and night. If you're not that kind of person, just using the timer schedule will probably be sufficient enough to ensure you stay warm and cosy.
Which is the best SMART heating kit?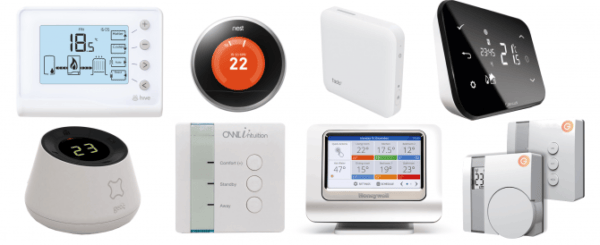 So now we've covered pretty much everything that SMART heating controls can do for you, which is the best SMART control you can get your hands on?
Well, as the vast majority of these type of controls are always evolving, it's difficult to say for sure which is the best and a lot will depend upon what you want to use it for.
So, as this is a bit of a minefield – and because I don't want to appear biased to those products we have in our store – I took the time to look at some reviews from Tech Advisor who have put together a list of SMART heating controls and thermostats for 2018.
So, in the order they have listed them on their website, here's the very best SMART heating for the year.
Milano Connect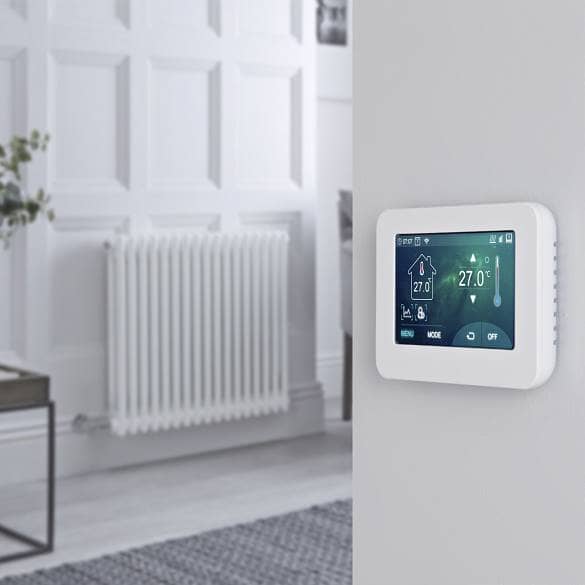 Price: £149.00
Entirely new to the UK market, the Milano Connect is designed for use with electric heating systems, helping to provide greater control over your home's heating. Compatible with Google Home & Amazon Alexa and working with the Smart Life app, the Milano Connect is Milano's first venture into smart controls and is a welcome addition to the market from one of our trusted partners.
To find out more, check them out in our store.
Honeywell Evohome

Price: £249.00
According to the Tech Advisor boffins that tested the Evohome in May 2016, it is the best SMART heating system that is currently on the market – but they do warn that it's not perfect and can be (very) expensive. But, if you want to save money in the short term, they reckon that this is your best option.
To read the full Tech Advisor review, click here
Genius

Price: From £249.99
Easy to use and highly efficient, second on the Tech Advisor list is Genius from the aptly named 'Heat Genius'.
If you're looking to install a 'zoned' SMART heating system, the Genius could be the way forward and Tech Advisor is impressed by the potential of the device and its true SMART home capabilities.
Read the full review here
Drayton Wiser Multi-Zone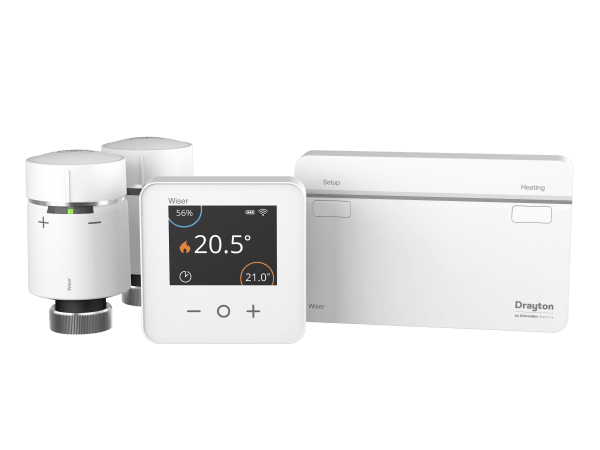 Price: From £139.99
One of the cheapest SMART heating controls on the market, according to Tech Advisor the Drayton Wiser Multi-Zone kit is a pleasure to use and – despite lacking some of the more advanced settings that you get with more expensive alternatives – it is considered one of the best choices for UK homes.
Read the full review here
Nest Learning Thermostat (3rd Generation)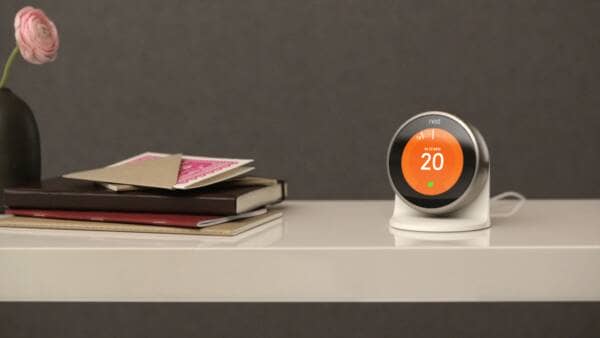 Price: £219.99
One of the most popular and well-known SMART thermostats, the 3rd generation of Nest products is reliable, well-designed and simple to get used to.
Though it may not have a huge range of accessories or the same level of compatibility as other SMART heating controls, it does feature hot water control and the most recent updates to the mobile app have meant that it now features a simple geolocation that tells the system when you have gone out for the day.
Read the full review here
Hive Active Heating 2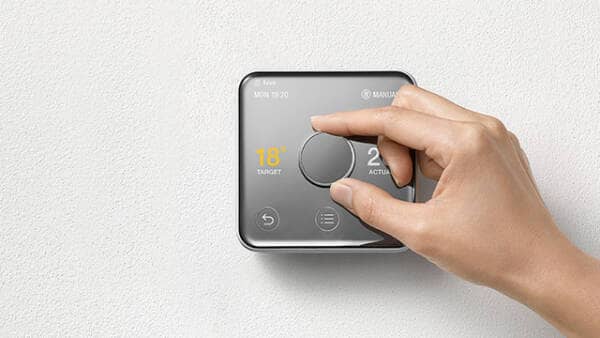 Price: £179.00 (Can rise to £249 with installation)
Another easy to use product, the Hive Active Heating 2 is a great system for anyone looking to remotely control their heating or hot water.
This second edition is far more exciting than the rather bland first incarnation too – more intuitive and easier to understand and a great way to help you save money on your energy bills.
Read the full review here

Tado SMART Thermostat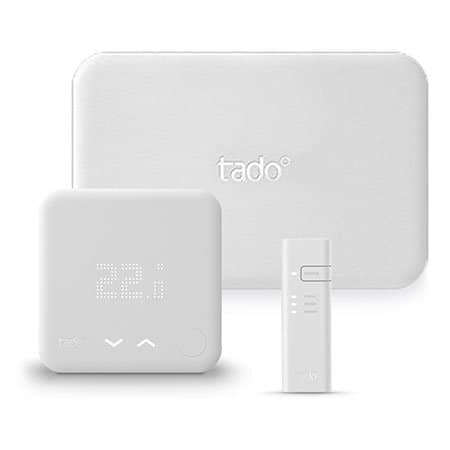 Price: £199.99
Though the initial outlay is a little pricey, Tado smart heating controls will start to save you money within a few days of installation.
According to Tech Advisor, it is also the best SMART thermostat for controlling when to turn the heating up and down because its presence detection is linked to your smartphone.
Control from your smart device can also be done from anywhere, so changing your settings is more accessible than with almost any other SMART thermostatic controller.
Read the full review here
Netatmo SMART Thermostat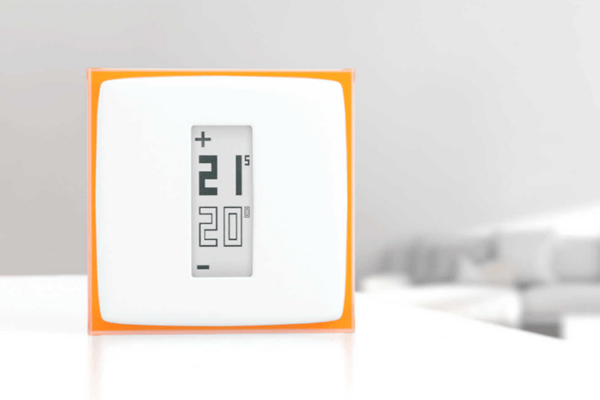 Price: £139.99
One of the cheapest available options, Netatmo is pretty basic when compared to some other devices – as it lacks any geolocation detection, but you can adjust from a smartphone or tablet and control most of the system from the palm of your hand.
Read the full review here
Devolo Home Control Radiator Thermostat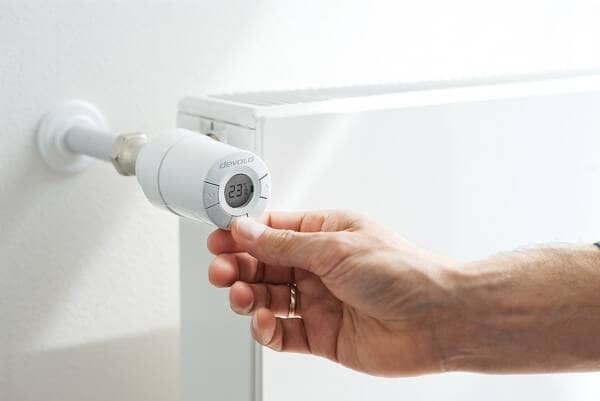 Price: £59.99
There is a range of home automation products in the Devolo arsenal, but their heating accessories make for a great SMART heating system.
With no need for an engineer to install the device, it can be relatively inexpensive to put together and will provide room-by-room temperature control.
According to Tech Advisor, the app is a "bit of a letdown", but help on the Devolo website more than makes up for where the mobile app is lacking.
Read the full review here
Tell us about your SMART heating experience
So, there you have it, 4712 words later, you came to the end of my ultimate SMART heating guide. I hope it helped.
But, there's a good chance you already know all there is to know about SMART heating controls, and you'll probably be better versed in it all than I am, so if you have a SMART story to tell leave a comment below and share your experience with our blog readers – I'm sure they'll appreciate it.
If this is your first foray into the weird, wireless and wonderful world of SMART home heating automation, I hope this guide has helped you to understand it a little better and be better informed.
I'm off to the Himalayas now to test out my Tado thermostatic controls. I do hope my lady wife isn't too concerned about the heating being switched off from 6000 miles away, we'll find out soon enough.
Stay Safe & Happy SMART Heating.

John trained in journalism before finding his way to the BestHeating Advice Centre team. He uses his journalism skills to meticulously research heating topics and bring you the latest news and views on all things home heating related. He'll also beat you at any sport that involves a cue!