Low level radiators have come a long way in terms of style and performance. They are no longer simply small heating units designed to fit into tiny spaces and forget about. Instead, they are now beautiful interior design features that can provide warmth and comfort in a variety of rooms. Our collection of low level radiators offers everything from steel columns to cast iron and modern designer ranges. So to save you scrolling, we've put together our top 10 low level radiators to help you find your favourite. But, before we start let's answer some of your FAQs.
Low level radiators are shorter than standard radiators. Any radiator below 600mm height is considered a low level radiator. These small horizontal radiators are ideal for homes struggling for space. But they can also create stylish focal features in larger rooms and utilise areas that you may not have thought about. 
Low level radiators can be either hot water which means that they work with your central heating system like standard radiators, or electric so they can be used to heat individual rooms and controlled with smart devices. They are also available as a convector radiator, designer or cast iron radiator depending on your interior design preferences.
Are low level radiators good?
Low level radiators are good options for every room. They can be as long or as narrow as the space requires and offer heat outputs similar to standard radiators, sometimes with higher BTUs! This means they are good for cosy living rooms, bedrooms or small bathrooms and kitchens. 
For example, our most popular size 600mm x 1010mm double column Windsor has a 3367 BTU output. Whereas, the low level triple column Windsor such as the 300mm x 1415mm has a 3391 BTU output. Our low cast iron radiators can even pump out a heat output of BTUs into the 5000s!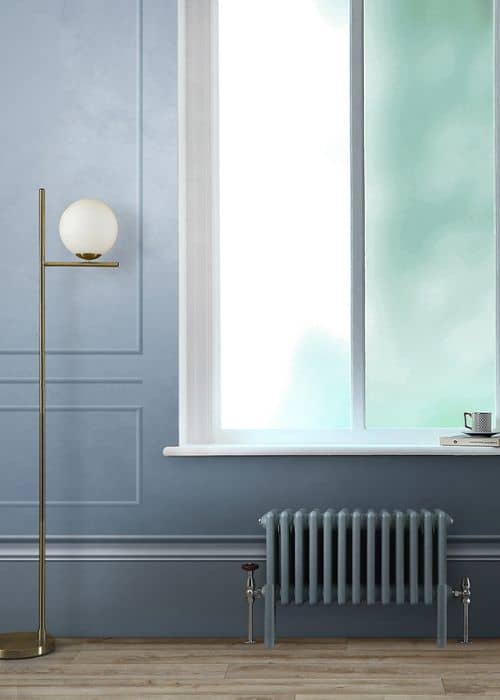 Is it ok to put a low level radiator under the window?
Yes, it is ok to put a low level radiator under the window. This is actually one of the most common places to install them! The reason for that is for both space and performance. 
The area under the window doesn't really provide much opportunity for furniture or decor. So it makes sense to utilise the space for a purpose with a radiator to free up space around the room. Low level radiators are great for rooms with low windows and conservatories because they will not reach the window sill. 
There is also argument that positioning radiators under windows is the best option to heat the room faster and more effectively. This is because the air in front of the window is the coldest in the room. So the radiator under the window will heat up the cold air above, allowing the hot air to circulate around the room efficiently.
Are low level radiators suitable for bay windows?
Yes, low level radiators are suitable for bay windows. Although we do not feature curved low level radiators in our collection, we often see beautiful bay windows in customer homes with multiple small low level radiators underneath to add up to the BTU requirement of the room. This cosy, vintage-style living room over at @littleclarencehouse is a perfect example!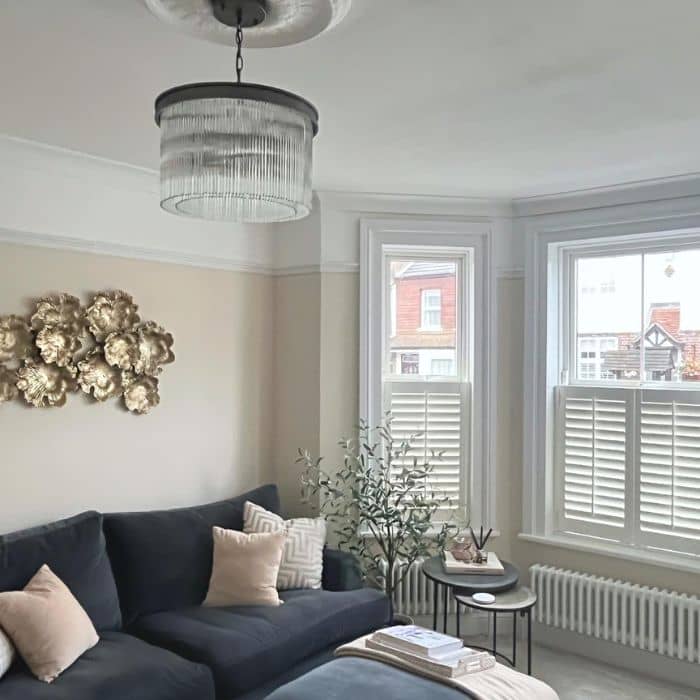 Top 10 low level radiators
Now let's take a look at our top 10 low level radiators that we have selected from our collection. These stylish small radiators all come from our most popular ranges, meaning they have the attractive details you want in compact versions. You're going to love them! 
1. Milano Windsor column radiators
First up are the timeless low level Windsor column radiators. These small traditional radiators offer the character and charm of beautiful period property features, without taking over the space. Made from high quality steel, they are more lightweight than real cast iron. Plus they heat up faster. 
These low column radiators are 300m tall and range from 605mm wide up to 1595mm if you require a long low radiator. The smallest radiator in the range provides 1122 BTUs and the longest provides 4501 BTUs. 
Choose between double, triple or four column options depending on the heat output your need. These elegant, space saving radiators are also available in clean white, modern anthracite or industrial raw metal finishes to complement your colour scheme.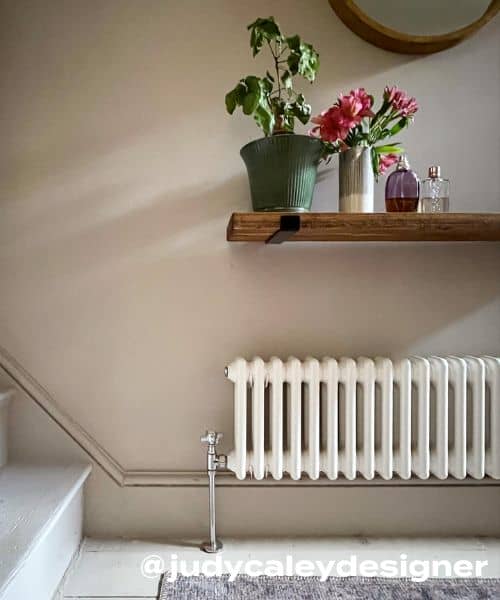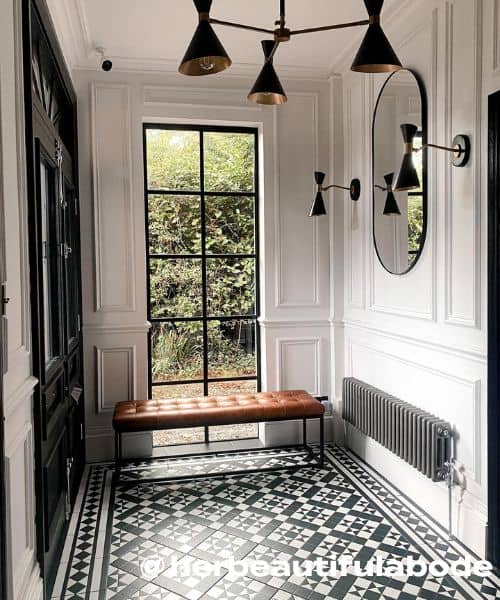 2. Milano Windsor electric column radiators
Staying with the Windsor collection, these low profile radiators offer electric options to combine vintage design with modern efficiency. These low radiators are also 300m in height and range from a narrow 605mm width up to 1505mm. 
Double, triple and four column options are available in white and anthracite. The smallest double column features a 600W heating element, with the most powerful triple and four column models featuring a 1200W element.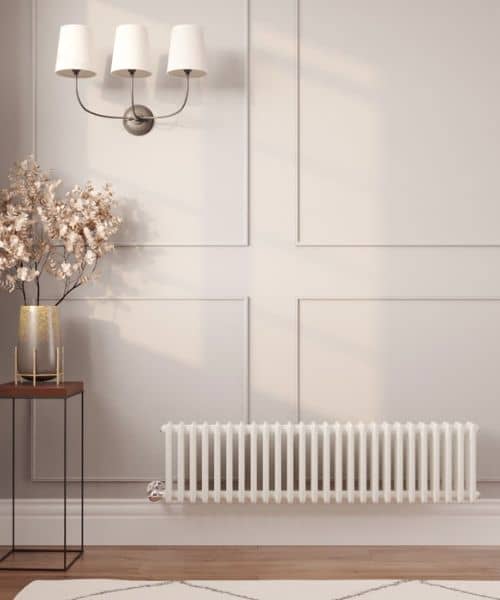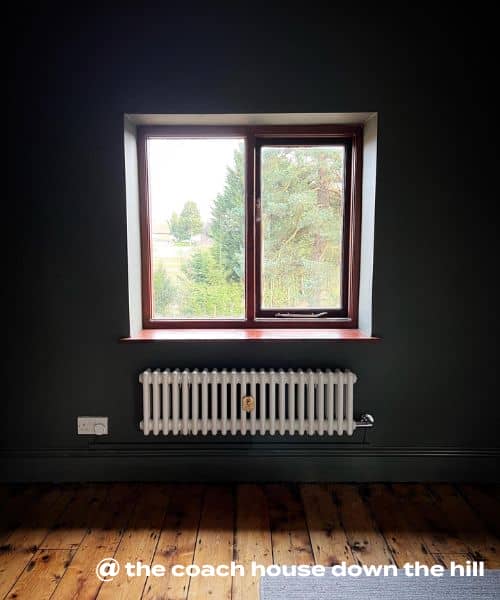 3. Milano Alice cast iron radiators
If you are looking for a small horizontal radiator that is going to provide a powerful heat output and create a real focal feature, a low level cast iron radiator is hard to beat. These beautiful Milano Alice floor mounted radiators create an industrial-inspired look with the 460mm tall four column linear design.
The smallest in the range has a 218mm width and a 568 BTU output, whereas the largest features a 1255mm width and an impressive 3787 BTU output. Complement your classic colour scheme with vintage-style antique brass, copper and pewter finishes.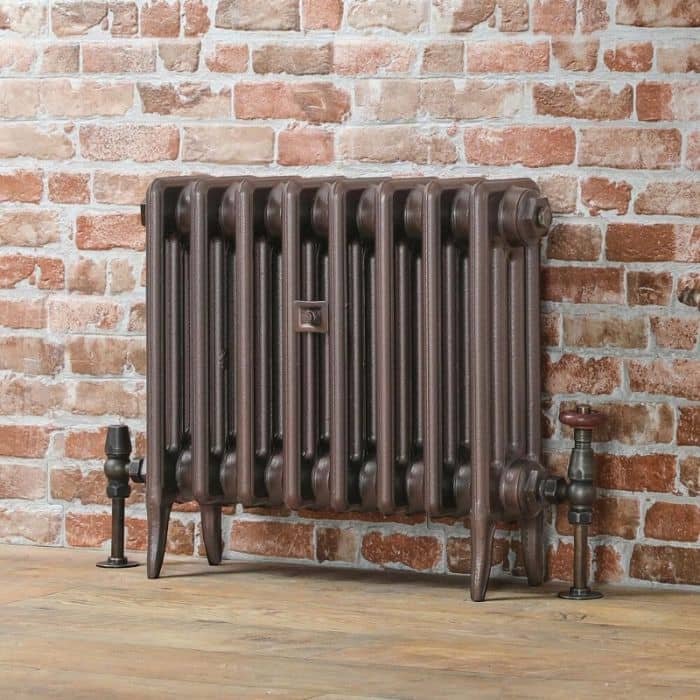 4. Milano Aruba designer radiators
For more of a modern minimal aesthetic, the low level Milano Aruba designer radiators are the perfect option. Each 400m tall panel features an oval shaped design for a soft contemporary feel available in white or anthracite. 
For small spaces, the tiny 413mm wide single panel Aruba provides 770 BTUs. On the other end of the scale, the longest 1647mm wide double panel option has a 4681 BTU output.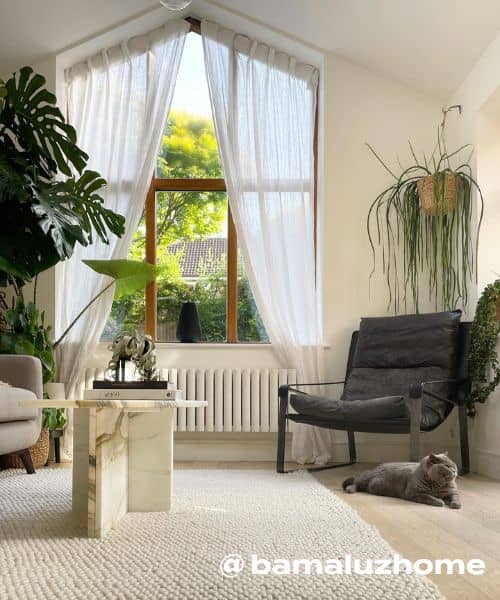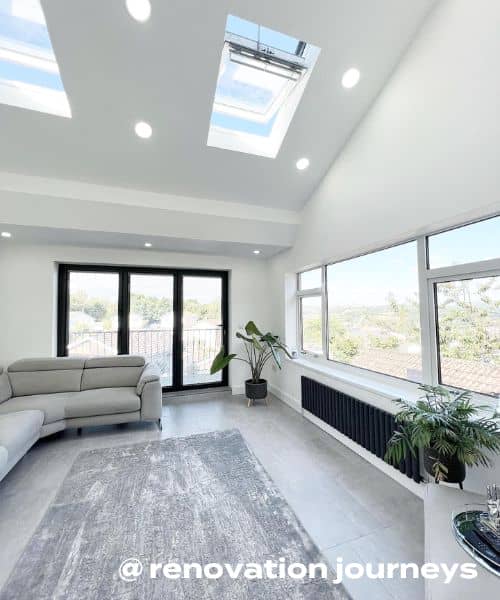 Staying with the Aruba collection, if you are looking for a long low radiator in a modern style, the slimline design may be just what you need. These low radiators are essentially vertical radiators turned on the side. This allows you to consider the flow and function of the room and position the radiator in an ideal position. 
Measuring just 236mm in height, these short long radiators feature 4 single panels and range from 1600mm with 1447 BTUs or 1780mm with 2491 BTUs. We also have 6 single panel options at 354mm tall and 1600mm wide providing 2228 BTUs. Each size is available in clean white, modern anthracite and bold black finishes to suit your style.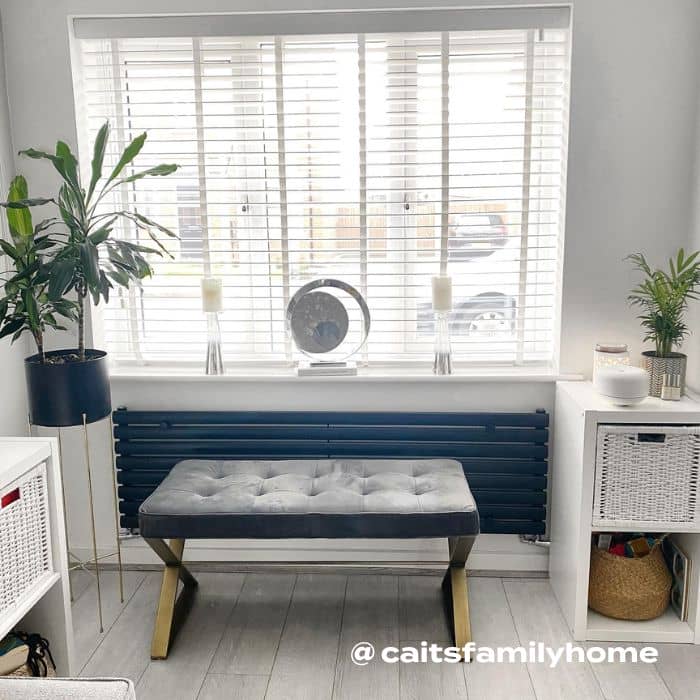 6. Milano Capri designer radiators
If modern interiors are your thing and you live for clean lines and and simple details, the Milano Capri low radiators will be your new favourites. Each radiator in the range features a 354mm height in black, white, anthracite and silver. Similar to the Aruba collection, 1600mm and 1780mm versions are available in single or double panel designs. The smallest option provides 2122 BTUs and the largest 3910 BTUs depending on how much heat you require. 
7. Milano Beatrix cast iron radiators
Back to our beautiful low level cast iron radiators, the Milano Beatrix collection offers so much character and charm in small compact designs. If you love grand period home decor but don't have the space for a huge cast iron, these ornate heating beauties are perfect. 
Each 510mm tall panel is adorned with elegant floral etchings to add vintage-inspired pattern and texture. To enhance the timeless Victorian vibe, our Beatrix collection offers a beautiful selection of Farrow and Ball finishes such as duck green, eating room red, hague blue. 
Plus our own antique brass, copper, silver, graphite, slate black, porcelain white, burnt gold, natural brass, dark pewter, and full polish. The smallest 351mm radiator features four section providing 1058 BTUs, with the longest 1554mm 19 section powerful radiator providing 5026 BTUs.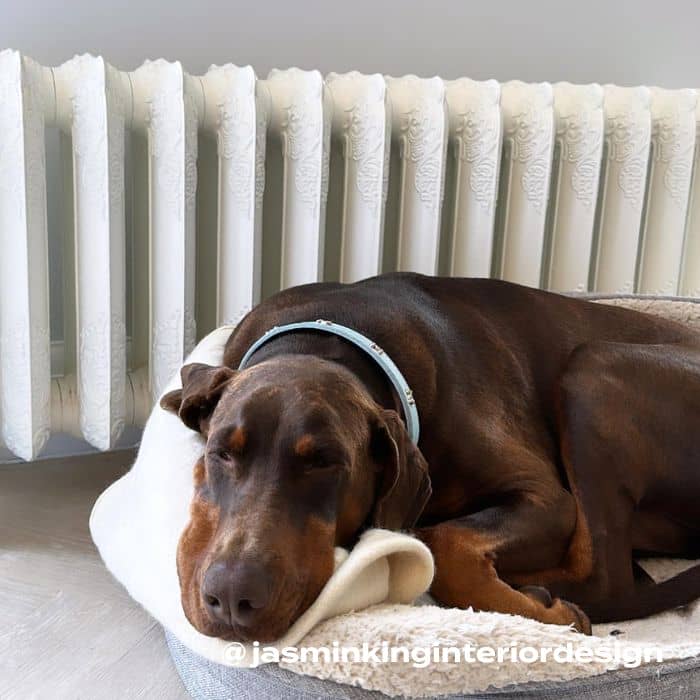 8. Milano Isabel cast iron radiators
If you love low cast iron radiators but you prefer more of a minimal column design, our Milano Isabel collection is the one. These sophisticated four column radiators feature a linear design with slightly curved details on each corner of the sections. 
The low level Isabel radiators measure at 357mm tall. The smallest features four sections with a narrow 271mm width and a BTU output of 597. Whereas the longest 1174mm features 19 sections and a cosy 2832 BTU output. 
Our pretty little Isabels come in a range of vintage-inspired colours such as natural brass, porcelain white, burnt gold, antique silver, slate black, antique graphite and full polish. Plus the beautiful Farrow and Ball finishes that we mentioned earlier including duck green, eating room red, hague blue and railings grey.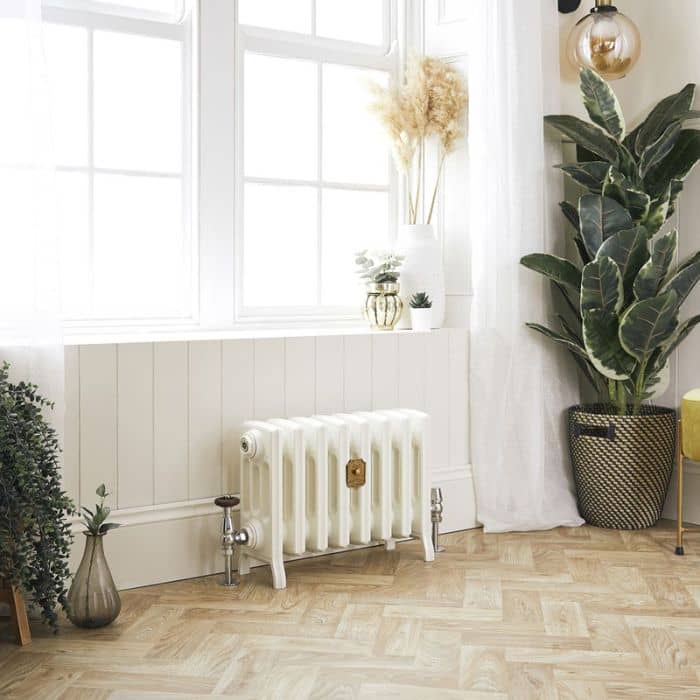 9. Milano Mercury cast iron radiators
Similar to the Isabel collection but with a slightly taller low level build, the Milano Mercury cast iron radiators measure in at 560mm. The slim floor standing cast iron sections feature a four column design ranging from 4 sections at 263mm wide with 969 BTUs up to a huge 27 section 1601mm with a whopping 6541 BTUs! The Mercury collection features all of the same elegant finishes that you will find in the Isabel range to help you create a beautiful period home colour palette. 
10. Milano Windsor bench radiator with seat
Last but definitely not least, if you are looking for a low level radiator that combines form and function, the Milano Windsor bench radiators offer the best of both. Featuring the fan favourite Windsor style columns in white or anthracite, these 480mm tall radiators provide warmth and comfort with an additional seating area.
Ideal for sitting and putting your shoes on in the hallway! The bench style Windsors are also great low radiators for under windows to create a cosy seating area that becomes a beautiful focal feature. 
This multifunctional low level radiator is constructed from excellent quality light oak wood for the bench that sits on top of the steel tubular columns. The smallest of these bench radiators measures at 850mm wide and provides 1652 BTUs. The longest in the range is 1200mm wide and offers a 2489 BTU output.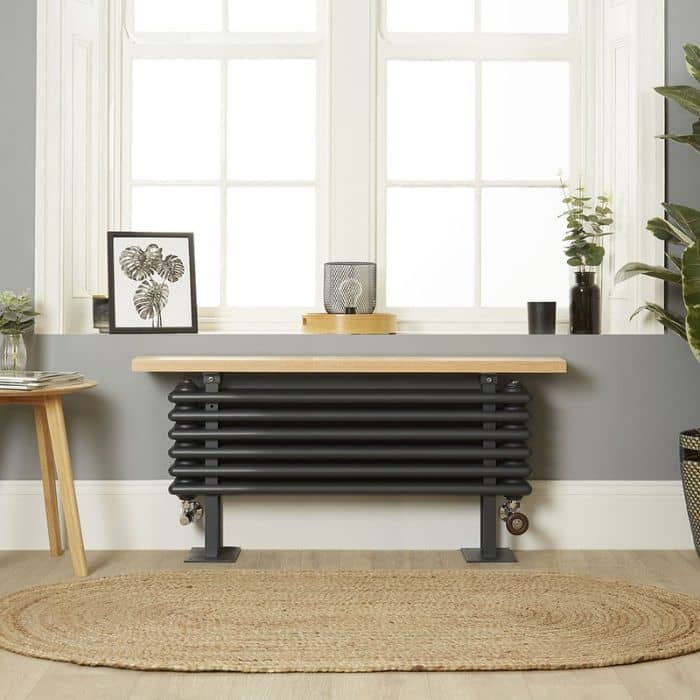 That brings us to the end of our top 10 low level radiators! We hope this has helped you to find a design that will work for your space and enhance your decor. If you have any questions about any of the radiators we have mentioned, you can get in touch using the live chat on our website! Don't forget to tag us in your radiator renovations over on Instagram! 
Jess has a passion for interior design and wants to inspire people to look at radiators as home decor. She enjoys keeping on top of the latest design and heating trends to ensure the Advice Centre has all the information and inspiration homeowners need to make the best choice for them.