Designer radiators for the living room
The meteoric rise of the designer radiator has meant that the days of installing a standard radiator in your living room – just because it was the only heating option available – are at an end.
In the 21st century, the sheer variety of lounge radiators on the market is pretty staggering – and we should know, we stock most of them!
In the past, home heating has been about functionality and practicality, but with the advent of the designer radiator, the heating requirements of living rooms and lounges up and down the country are beginning to take on a more aesthetic quality.
And why the hell not!
Designer radiators are available in a huge array of shapes and sizes and are an excellent modern twist on a traditional necessity; one that will not only heat your sitting room but also help you to complete your home improvement project and finish it off in style.
So let's take a look at how you can choose the perfect designer radiator for your living room.
Choosing your living room radiator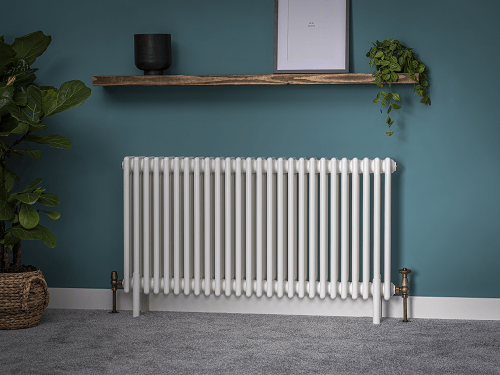 Obviously, choosing a radiator for your living room just for its looks, is the folly of fools.
It could be the sexiest looking lounge radiator this side of the Kuiper belt, but it still needs to kick out the required heat to make your living room cosy, warm and inviting.
If it can't do that, it's just a pretty collection of metal – not unlike what you'll find in the Kuiper belt, apparently.
With that in mind, it may take a bit of time for you to decide exactly what size and type of rad is perfect for your living room (our BTU Calculator could help).
But, stepping back to make a considered purchase could mean you reap huge benefits – in terms of energy efficiency and money saving – in the future.
The first thing to keep in mind before buying a new designer radiator (for any space) is the existing décor of your home.
Any new radiator you purchase should continue the themes that you already have in your home, but obviously still retain the capability of a functional home heating product – namely, keeping you warm and dry (otherwise what's the point?).
Unless you are planning a refurb that completely changes the way your living room looks, you should think of your new lounge radiator as an extension of all the other design efforts you have already made and make your choice on that understanding.
Thankfully, we stock a huge number of designer rads that will help you to make the correct choice, no matter what wallpaper, paint or brickwork your living room is currently sporting.
Living room radiator materials
What your sitting room radiator is made of is also important in ensuring that you're making the most of it, and as you'd expect – in a world that can put the tech that took mankind to the moon in the palm of your hand – modern radiator materials are quite varied.
Stainless steel and aluminium designs are excellent conductors of heat, meaning they heat up and cool down rapidly.
Cast-iron radiators, however, will take longer to warm up and cool down and, because of this, they let out a more gradual, low-level heat that will last a little longer.
Choosing what your lounge radiator should be made of will depend greatly on the style of your house and your individual heating needs, though it's also important to consider the impact on both your long-term and short-term budgets.
Aluminium and steel take a shorter time to heat up and so require less water to attain optimum temperatures – making them cheaper to run.
In contrast to this, cast-iron rads are cumbersome, take longer to warm up, and weigh much more than the alternative, meaning you better have strong walls and floors to support their weight.
It's important to consider all of these factors before purchasing designer radiators for living rooms.
Designer radiator placement
Once you've chosen the material, it's time to move on to where you want the radiator to go.
As the size and shape of living rooms and lounges will vary greatly from home to home, it can be quite difficult to choose the correct radiator and where you should place it.
Before you even arrived at our blog or found your way to our website, chances are that you already had a style and a position in mind for your new rad – but some designs that you like may have altered your initial plans.
Before you go jumping in and making a purchase – without any thought for the installation process – just remember that there are consequences to each of your actions.
Ideally, what you want is for your first choice installation point to remain unaffected by your choice of design.
Also, from a financial perspective, it makes the most sense to make use of pipework that is already fitted and not move the new radiator too far from the position of your old one, as this will certainly drive up the cost of installation and add time to the job.
Read more about radiator positioning in our blog.
Stay sensible, or don't!
As discussed in our Radiator Buying Guide the most common, and arguably most sensible place to site your radiator is under the window.
The radiator you intend on replacing is probably already there and there's a good reason for it – natural convection.
Cold air enters your room from the window and interacts with the warm air generated by the radiator, circulating the air throughout the room.
You have to consider carefully if you plan to leave the space under your window clear as cold air is going to enter the room regardless of if you have a radiator situated there or not, so take into account any draughts and insulate your window accordingly, otherwise you could have a very cold spot in your room.
Positioning the radiator under the window can be just as important from a visual perspective too, because – unless you have lots of space to play in – you won't have any need to move your furniture around the room.
Though putting your radiator on the opposite side of the wall to your window will have an effect on the amount of cold air that is let into your house, it shouldn't stop you from trying something a little different.
If you are going to invest in a designer radiator, you will probably want to show it off, so making it a centrepiece in your sitting room could be a healthy design option. (That's not to say there aren't plenty of stylish cheap designer radiators available from BestHeating either, mind.)
As long as you don't mind paying to move a few pipes around, can find the wall space to accommodate it and it's not going to cause any major headaches and chaos to your furniture arrangement, then let people know that your living room radiator is far from just a product of convenience and more like a real player in the world of interior design!
Designer radiator choices for your living room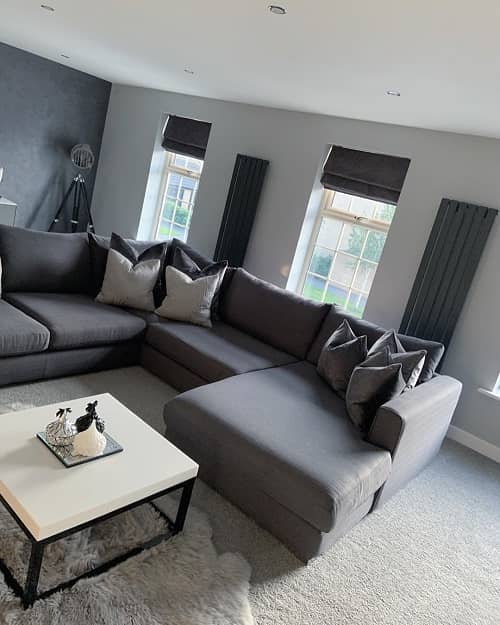 Vertical designer radiators for the living room
No matter whether you are a bohemian goddess, a traditionally minded afternoon tea lover or a new-age design freak that loves state-of-the-art tech, there a number of different lounge radiators in a range of sizes, styles, colours and finishes that can help you to add a sleek finishing touch to your living room.
Let's take a look at the range that we offer and some of the best sites for each of the selections – get ready we're going 'radding'!
If you are looking to install a radiator that is worth showing off and perfect for causing the minimum disruption to fittings and furniture, then a vertical radiator could be perfect.
Vertical radiators are great for more minimalist looking spaces and our collection has been chosen for their ability to help you save space.
They're perfect for rooms that lack adequate wall or floor space to accommodate a horizontal radiator – hallways, cloakrooms and perhaps an en-suite WC are all often tight spaces that could benefit from a tall narrow radiator, but they are equally as impressive in your living room too.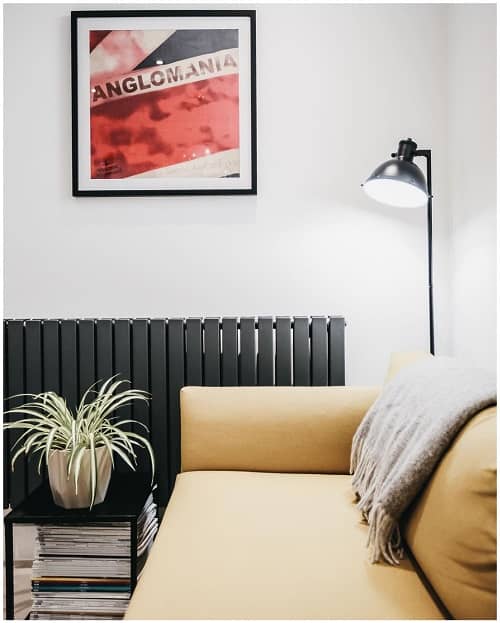 Horizontal designer radiators for the living room
For those of you that prefer to maintain an element of the traditional in your home heating approach, horizontal designer radiators could be the answer.
Though vertical designer radiators have gained a lot of momentum in the last few years, the newer horizontal designs have finally caught up and are definitely on a par with their supposedly 'trendier' vertical counterparts – our collection proves that assertion.
With large surface areas that allow for optimum heat output, horizontal designer radiators will provide your home with comfort and warmth throughout the year.
They can make a huge difference to the look of a room when compared to the normal, everyday standard panel radiators that are found in nearly every home, nearly everywhere, nearly always!
Fat, thin, slimline & double panel living room radiators
No, I'm not talking about the lineup at this year's World Darts Championship, but the huge range of sizes, shapes and outputs that designer radiators come in. And as such, there's an immense variety of designer radiators for sale from BestHeating.
Like I said right at the beginning, there's no point buying a radiator just for its looks!
That's why we offer so many different types of designer living room radiators; each perfect for any type of living room – there are even electric designer radiators to help you to heat a sitting room that may not have the luxury of central heating.
Dive in, take a look and transform your living room now, with our stunning living room radiators!

John trained in journalism before finding his way to the BestHeating Advice Centre team. He uses his journalism skills to meticulously research heating topics and bring you the latest news and views on all things home heating related. He'll also beat you at any sport that involves a cue!