Thinking about replacing storage heaters for electric heating? Good choice! Storage heaters are not only unattractive in terms of home decor, but they are also outdated in functionality and efficiency. 
In this guide, we will help you through the process of replacing storage heaters. Plus answer your important questions about cost, choosing the right alternative and installation.  
You should get rid of your storage heaters for several reasons. Here are some of the main factors why replacing electric storage heaters will benefit your home.
Difficult to control the temperature
The main purpose of home heating is to provide heat when you need it the most. However, the way storage heaters work makes this simple task difficult. Storage heater bricks hold heat overnight using night time electricity and release it during the day. In some instances this can mean that the house is too hot in the morning and too cold at night.
With smart controls taking over our homes, anything manual now seems like a chore! Old storage heaters are another job you don't want to think about. Considering they do not feature thermostats, they are unable to automatically adjust the room temperature to maintain an ambient level. The manual set up also means that you have to check the weather for the next day and prepare the storage heater every day!
Another major disadvantage of storage heaters is the Asbestos safety hazard. Storage heaters from the 70s, which used Asbestos to prevent fires, usually cause this concern. However, nowadays it is illegal to use as insulation because of its link to health and respiratory issues. 
If you think that your storage heater has been in the property since the 70s, contact a certified professional to conduct asbestos testing before hiring an electrician to disconnect the system. If the results are positive for asbestos, get in touch with your local council for information on how to properly dispose of the heater.
If you are happy with your storage heater but you want to upgrade the system for an improved model, modern storage heaters are very expensive to purchase today. Not only that, the removal and installation of both storage heaters is a big job for the electrician which also comes with a heavy price.
What is the best heating to replace storage heaters?
Electric radiators are some of the best heating options to replace storage heaters. Various electric models are available including ceramic core, oil filled radiators and infrared panels. There are several benefits to each design depending on your electric heating system requirements and what works best for your home.
Benefits of modern electric heating
100% efficient

Smart controls

Stylish designs

Safety features 

Low maintenance
Ceramic core electric heaters
Our Milano Tuc ceramic core Wi-Fi enabled electric heaters incorporate state of the art ceramic core technology. Featuring a lightweight, durable aluminium construction with modern minimal details, the Milano Tuc is an energy efficient, attractive ceramic heater with a choice of stylish graphite and clean white finishes to complement your decor.
How do you control ceramic core electric heaters?
The Tuc ceramic core heater is Wi-Fi enabled and comes with a free Smart Life app. It is even compatible with Google Home and Amazon Alexa so it could not be easier to control your heating from anywhere on your phone or tablet. You can also add multiple electric heaters to the app to easily create schedules that suit your routine. 
You can also choose whether to have the ceramic heaters installed as plug-in or hardwired. In terms of heat output, the ceramic core heaters range between 700W and 2000W. This wattage is equivalent to around 2388 BTUs up to 6824 BTUs.
How do ceramic core electric heaters work?
The ceramic core functionality enables the heaters to generate and store heat at the same time until your room reaches the desired temperature. At this point the heater will then power off and use the stored thermal energy to keep your room warmer for longer without using any more electricity. 
This means that they are super quick to heat up and slow to cool down. The main benefit of this is that you can save money on energy bills by utilising the stored heat without wasting additional power!
Unlike old storage heaters, ceramic heaters do not require an overnight charge and rely on the cheaper electricity rate. So the heat can be released any time you need. The automatic switch off is also an added safety feature, so you can be sure it won't overheat.
Another energy-saving feature is the handy sensor mode. When you leave the room and the system detects no movement, it will automatically switch to eco mode. Then when movement is detected again, the ceramic heater reverts to the previous settings.
Glycol filled electric radiators
Our glycol filled electric radiators are the largest collection in the electric range. In fact, almost every hot water radiator we stock has an electric alternative in the same design and colour. So you can choose from modern electric Arubas, timeless Windsors and more popular ranges. We know you don't want to sacrifice style for efficiency and these electric beauties offer the best of both.  
How do you control glycol filled electric radiators?
Controlling glycol electric radiators is quick and easy. But they differ slightly depending on the model. For example, the Aruba electric radiators feature Bluetooth heating elements so that you can conveniently control the heat settings on your mobile or smart device with the Terma BlueLine Next heating app. 
The element is also compatible with external timers so you can set your schedule to heat your home efficiency without wasting energy and cost. It will even remember the previous heating settings to save you having to program it each time. You also have the option to adjust the temperature manually using the buttons on the element if you prefer and the temperature settings range from 30°C – 60°C.
Whereas, the Windsor electric radiators are supplied with a Rotfil heating element and must be paired with an external thermostat such as a Milano Connect Wi-Fi thermostat. Similar to the ceramic core heaters, the electric Windsors are compatible with iOS and Android and Google Home and Amazon Alexa. You can also create zones and manage schedules with the free Smart Life app from App Store and Google Play.
How do glycol filled electric radiators work?
Instead of being filled with hot water like plumber radiators, these electric radiators contain a thermal-fluid called glycol. Each radiator is supplied with one or two electric heating elements depending on the size and heat requirements. 
The high quality elements are submersible electrical resistors that transform electrical energy into heat energy. The radiators are hardwired into the mains electricity which heats up the heating element and the glycol inside. This heats up the radiator surface area and the warm air flow circulates throughout the room via convection.
For more details on the thermal fluid glycol and its benefits, visit our what's inside an electric radiator guide.
Dry heat electric radiators
As the name suggests, our Milano Torr and Milano Aruba Ardus dry heat electric radiators don't rely on fluids or liquids to work. Instead, they feature some of the most advanced heating technology currently available known as dry thermal technology. Combining form and function, these contemporary maintenance-free electric radiators offer stylish black, white and anthracite finish options and matching mounting brackets to complement your home decor.
How do dry heat electric radiators work?
Each panel in a dry heat radiator contains a dry thermal electric heating element. The elements convert electrical energy into heat in a similar way to the glycol radiators. But instead of heating up the liquid, the dry elements directly heat the aluminium radiator panels and push heat around the room. 
This means that they are incredibly quick to heat up as there is no need to heat the liquid first. Plus, aluminium is the fastest metal to heat up and cool down over other radiator materials and the most lightweight. Making them ideal for internal walls or new builds. 
Dry heat electric radiators feature various installation options. For example the vertical Milano Aruba Ardus must be hard wired by a trained electrician. Whereas the Milano Torr offers both plug-in and hard wiring options to suit your preference.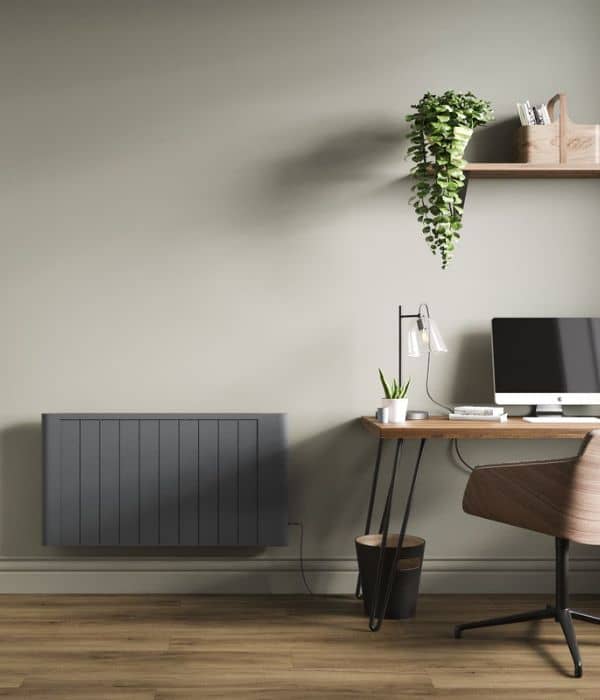 How do you control dry heat electric radiators?
Ranging from 900W to 3000W, our dry heat radiators are ideal for heating a variety of spaces with easy to control temperature settings. If you like to use Google Home or Amazon Alexa, you can connect your dry heat radiator so you can control your heating alongside your other home appliances. 
The Milano Aruba Ardus is also available with a Milano Wi-Fi thermostat with or without a touchscreen display offering a great range of functions that give you greater control over your electric heating. 
All you need to do is use the free Smart Life app on your smartphone or tablet to manage your heating from anywhere at any time. You can even add different users, adjust the settings in multiple rooms and set schedules to suit your routine and save energy waste and cost.
Are electric radiators cheaper to run than storage heaters?
Yes, modern electric radiators in the UK are cheaper to run than old storage heaters. This is due to the development in quality electric heating technology that enables the radiators to convert electrical energy into heat more efficiently and reduce your electricity bill.
In addition to the advancements in quality of the radiators and heating elements, the eclectic heating controls have greatly improved with Wi-Fi thermostats and smart controls as we mentioned earlier.
These functions allow greater temperature control which means less energy waste and reduced running costs. For more information, visit our electric heating running costs guide and make sure to check your electricity tariff.
Can I replace storage heaters myself?
No, it is not a DIY job. You cannot attempt to replace storage heaters yourself. This is a technical job that requires a qualified electrician to complete. 
The storage heater will need to be properly disconnected from the wall via the mains electric. Storage heater bricks are also extremely heavy! So it is important to leave it to the professionals who have the equipment to remove them safely.
Plus, if you order your new electric radiators to arrive before your storage heaters are removed, the electrician will be able to install the new replacements on the same day, saving time and cost.
How much does it cost to replace storage heaters?
It takes around 1-2 hours for an electrician to remove one storage heater. This means it will cost between £45-£60 to replace a storage heater based on the average UK electrician hourly rate. 
However, if you need to replace multiple storage heaters in a full house, the project could take a couple of days. This will cost around £200-£250 each day based on the average UK electrician daily rate.
How much does it cost to replace storage heaters with central heating?
A brand new central heating system is an expensive investment, but one that will certainly add at least £5000 to the value of your property. A full central heating system consists of a boiler, plumbed radiators and connecting pipework. 
Let's do the math.
If you are looking to install a new combi boiler as many UK homes have, this can cost between £500 to £2000 depending on the model and performance. 
An average size home in the UK has around 10 radiators. Standard convector radiators cost around £100 on average, whereas designer models increase to around £300 for an average size.
Then you need to factor in the labour costs to remove the old storage heaters and install the new central heating system. That means that the average cost to replace storage heaters with central heating is around £3000.
Now you have the tools to help you make the swap from storage heaters and understand why it is a good idea for your home, take a look at our stylish, excellent quality electric heating range to get your project started!
Jess has a passion for interior design and wants to inspire people to look at radiators as home decor. She enjoys keeping on top of the latest design and heating trends to ensure the Advice Centre has all the information and inspiration homeowners need to make the best choice for them.