Persian life at Home Thirty Three
Rebecca isn't the only one who loves her Aruba radiators. Say hello to these two beautiful fluff balls!
Meet Ginny and George. A pair of perfect Persians that live the life in Liverpool at @homethirtythree. Have you ever seen a more adorable duo?
Mum, Rebecca, has got her Scandi styling down and has created a beautiful, cosy home with her keen eye for timeless mid century pieces. Rebecca wanted her radiators to reflect her considered interior style intstead of putting up with a boring metal box that interrupts the flow of the space.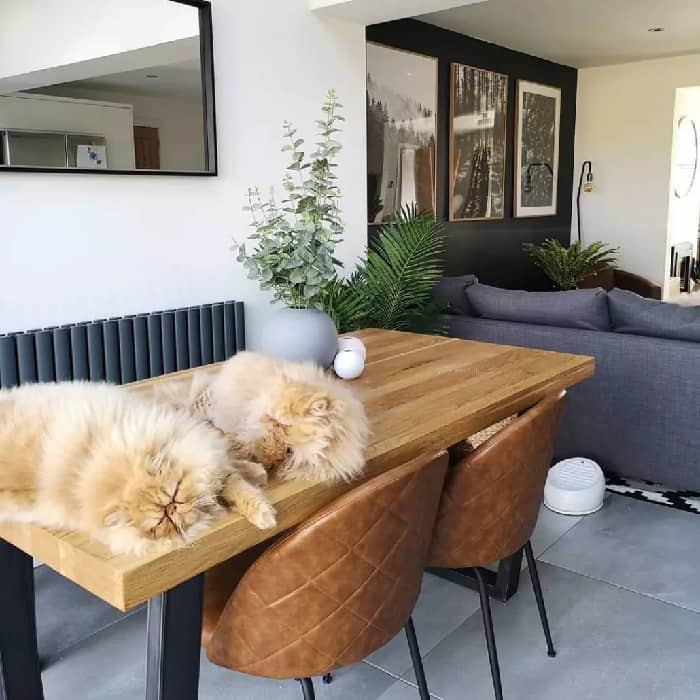 With that in mind, when she came across the Milano Aruba range it was clear that no other radiator would do!
"When we were renovating our house, the builder we used initially ordered some plain white, single panel radiators for us. How my home looks is really important to me, so I told him to cancel that order so I could find some radiators that looked like a design feature by themselves. When I came across the Milano Aruba range in Anthracite I fell in love!"

homethirtythree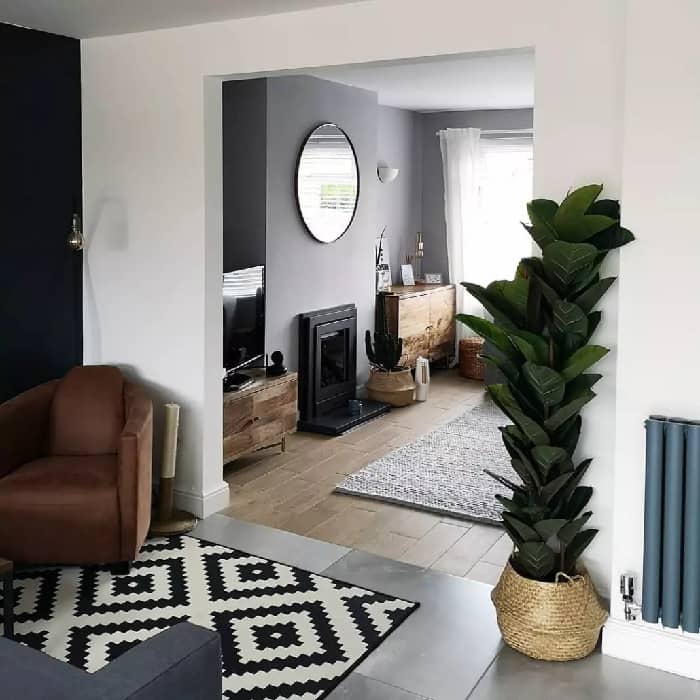 The dining room forms part of a beautiful open plan kitchen area that houses two Aruba radiators to keep the space cosy and warm. We love how the monochrome colour scheme and natural textures combine to create a contemporary space that invites total relaxation.
"My style is scandi minimalism meets mid-century modern. I love using whites and greys with wooden, patterned furniture, lots of house plants and touches of brass accessories."

homethirtythree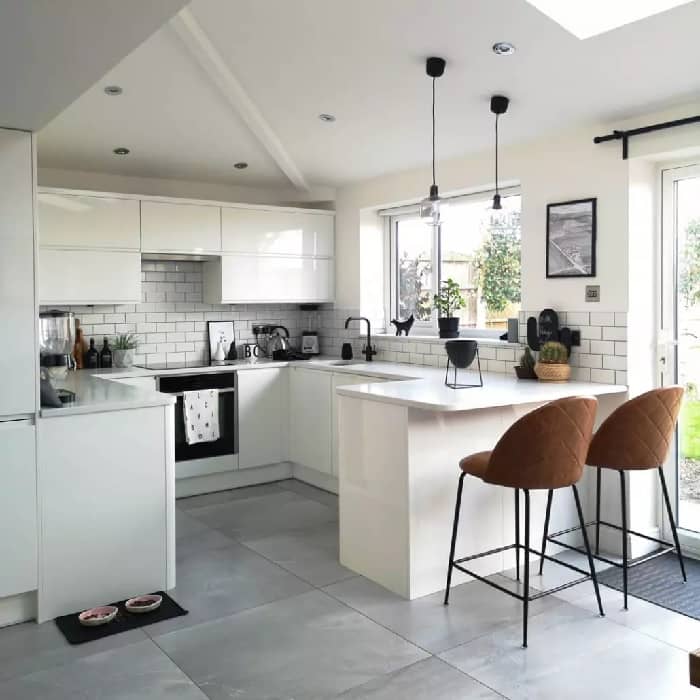 Over in the corner of the living room Rebecca has used every inch of space with a vertical Aruba. This is a great example of how to get as much heat as possible into your room with the space available and still feature your favourite range.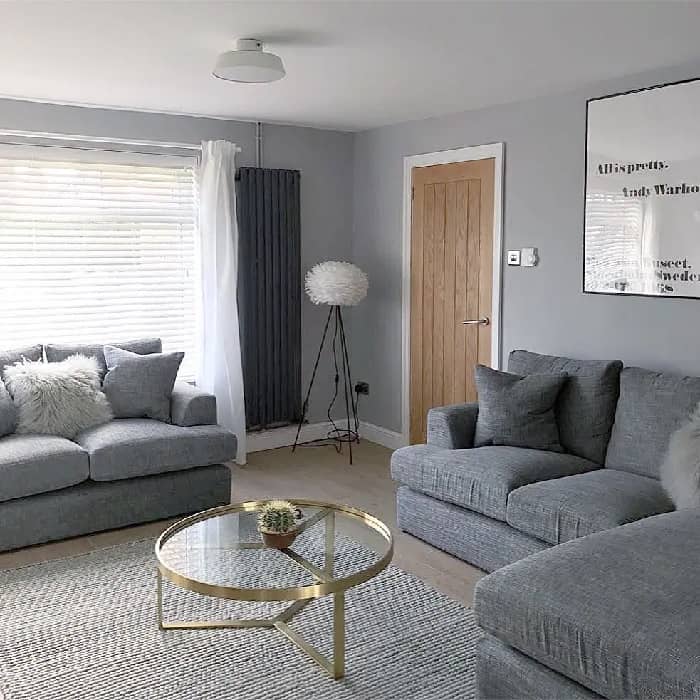 Designer radiators are all about turning an everyday item into a statement feature, and that's exactly what Rebecca has done.
By placing the anthracite Aruba onto a clean white backdrop, the oval panels stand out beautifully and offer another decorative accent feature to the modern minimal decor.
"I chose the Milano Aruba range as I loved the simplicity of the design, and knew they would be able to generate enough heat to ensure the open plan space we had created was nice and warm in the winter months.

I went for the Anthracite colour as it tied in really well with my interior colour scheme and design. The radiator in the dining room was in quite a focal location and so it was of particular importance to get this right."

homethirtythree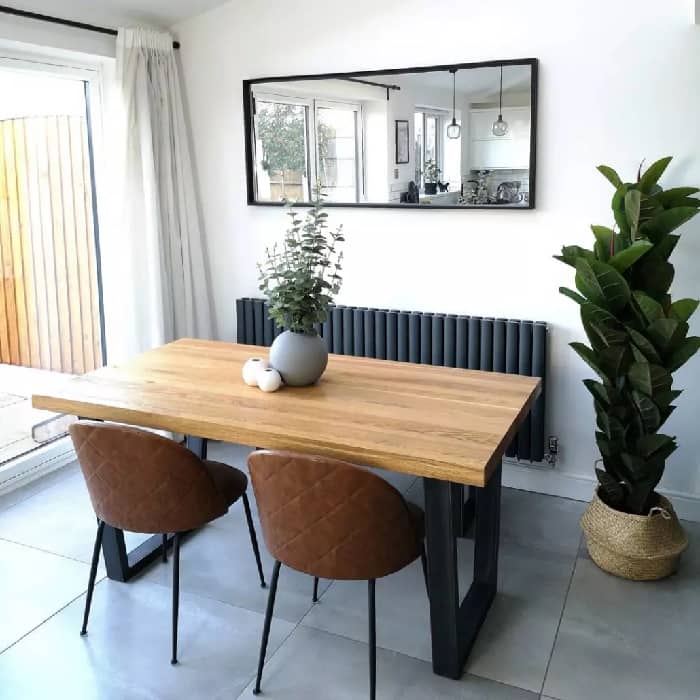 We like to imagine that this photo was taken after this gorgeous Garfield enjoyed a big lasagne before patting his belly and falling to sleep in his favourite spot.
"It's actually one of my most asked about items on my Instagram, and a favourite spot of my cat who loves to curl up on the bench in front of the radiator."

homethirtythree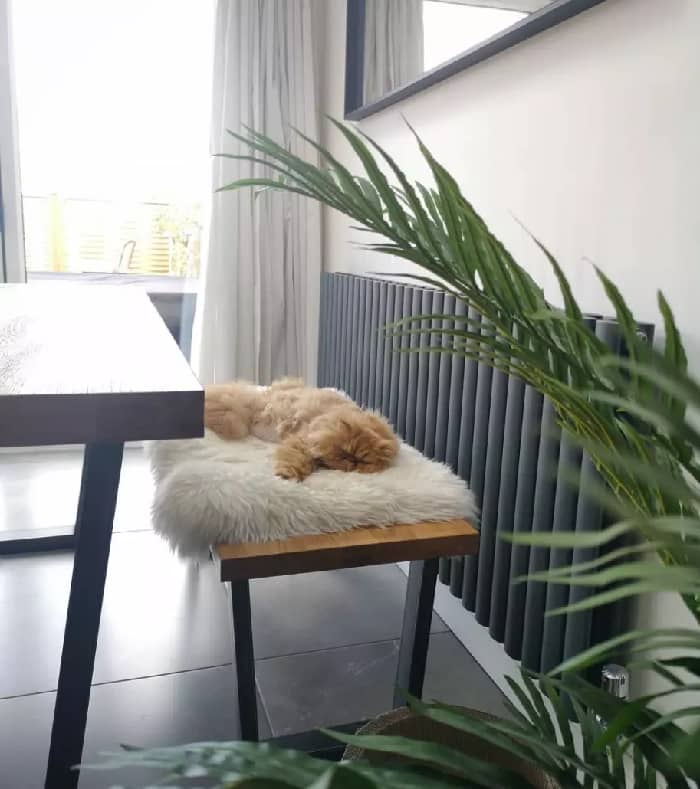 Thanks so much Rebecca for sharing your stunning Scandi home with us and for giving all of us the pleasure of meeting the superstars Ginny and George!
Make sure to follow @homethirtythree for your daily dose of Persian life and beautiful home styling.
Want to get featured here? Tag us in your photos @bestheatinguk and use #mybestheating. If you're one of our favourites we'll be in touch soon!
Jess has a passion for interior design and wants to inspire people to look at radiators as home decor. She enjoys keeping on top of the latest design and heating trends to ensure the Advice Centre has all the information and inspiration homeowners need to make the best choice for them.