Instagram Faves!
So, as most of our regular readers will know, we love Instagram and recently hit a bit of a milestone when we reached 1000 followers on our account.
Well, because we got massively excited here at BestHeating HQ, I thought I'd put together a quick list of 7 of our favourite BestHeating Insta mentions from our first 1000 followers.
To avoid calls of favouritism (and to prevent me getting a load of abuse), I will add that the following accounts are in no particular order, so they'll have to fight amongst themselves to decide who we really think is the best, brightest and most wonderful of the lot.
So, here's BestHeating's Top 7 Instagram Favourites!
Dreambound 1974
Emma from Dreambound 1974 has completely transformed her kitchen/diner and bathroom and kindly shared the results on Instagram alongside a welcome tag for @BestHeatingUK.
Selecting the vintage-style wares of the exquisite Milano Windsor column radiator collection, Emma added a tall white Windsor to her kitchen that draws the eye up and adds to the feeling of space in the room.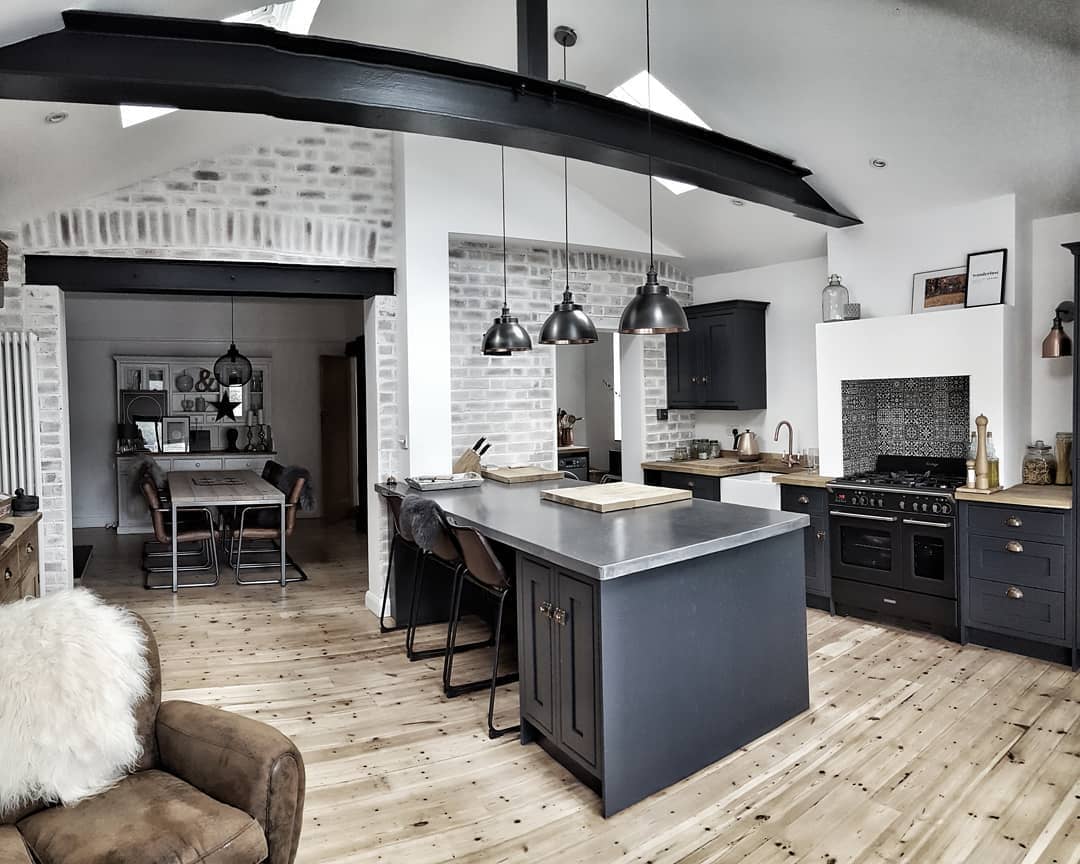 In her truly breathtaking cloakroom space, Emma opted for the darker and more mysterious horizontal anthracite Windsor to go alongside her wonderful tiles (which I personally contacted her about because I LOVE them!)
If you're looking for some serious style inspiration, I really cannot recommend her account enough, it really is filled with amazing ideas and wonderful pictures to get you in the design mood.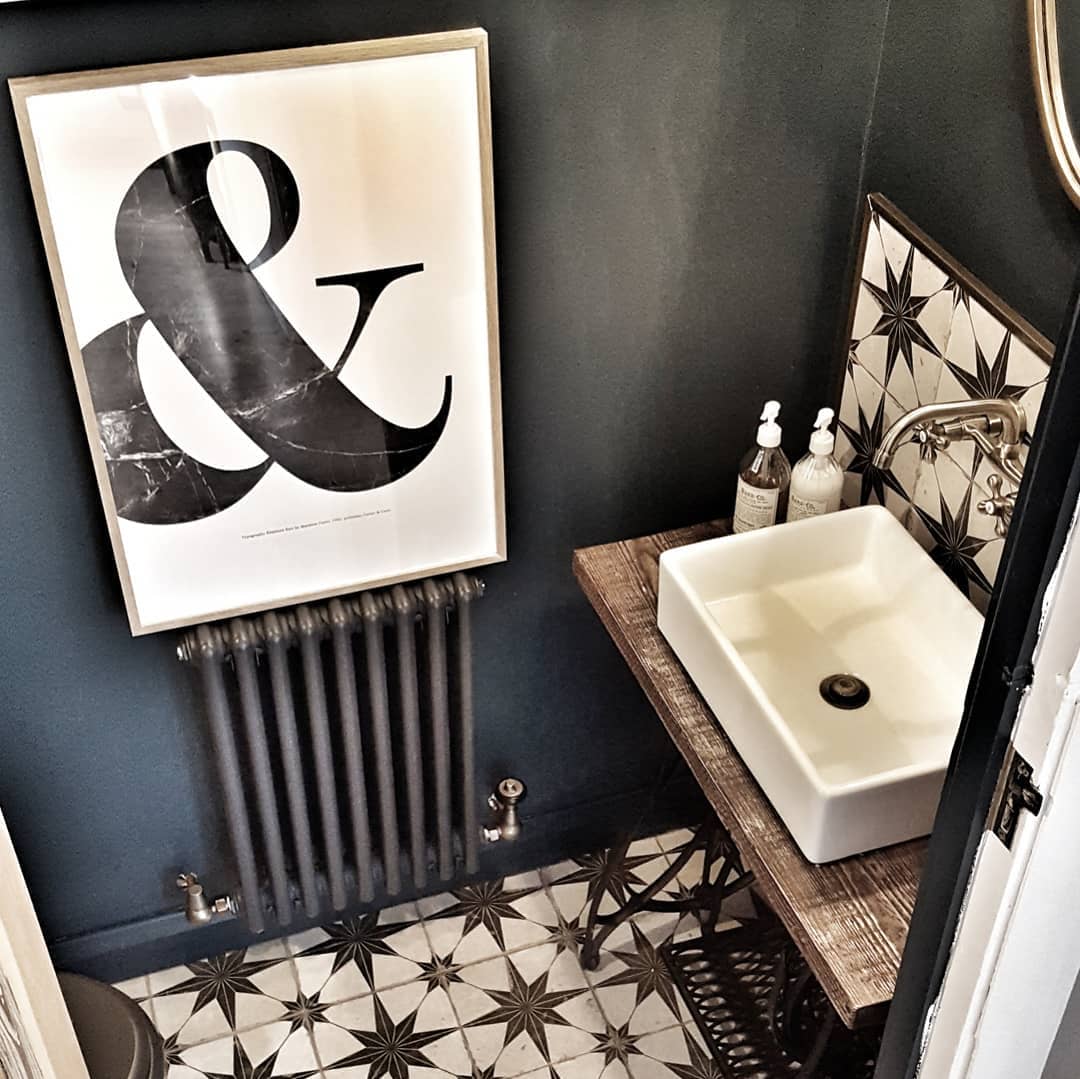 Fixing Up Farnley
If peace, tranquillity and style beyond measure are your sorts of thing, then Fixing Up Farnley is definitely worth a follow.
This space is all about having somewhere to unwind and we love the mix of colours and textures all around the room.
Also selecting a Milano Windsor radiator, account owner Debbie has chosen a radiator that suits the room brilliantly.
I'm not too sure if she repainted it herself, or if there's some sort of filter on the picture, but whatever she's done, Debbie gets our vote for style and imagination.
It's certainly a room that I'm sure you can get plenty of R & R in and one that I know a lot of BestHeating staff aspire to create!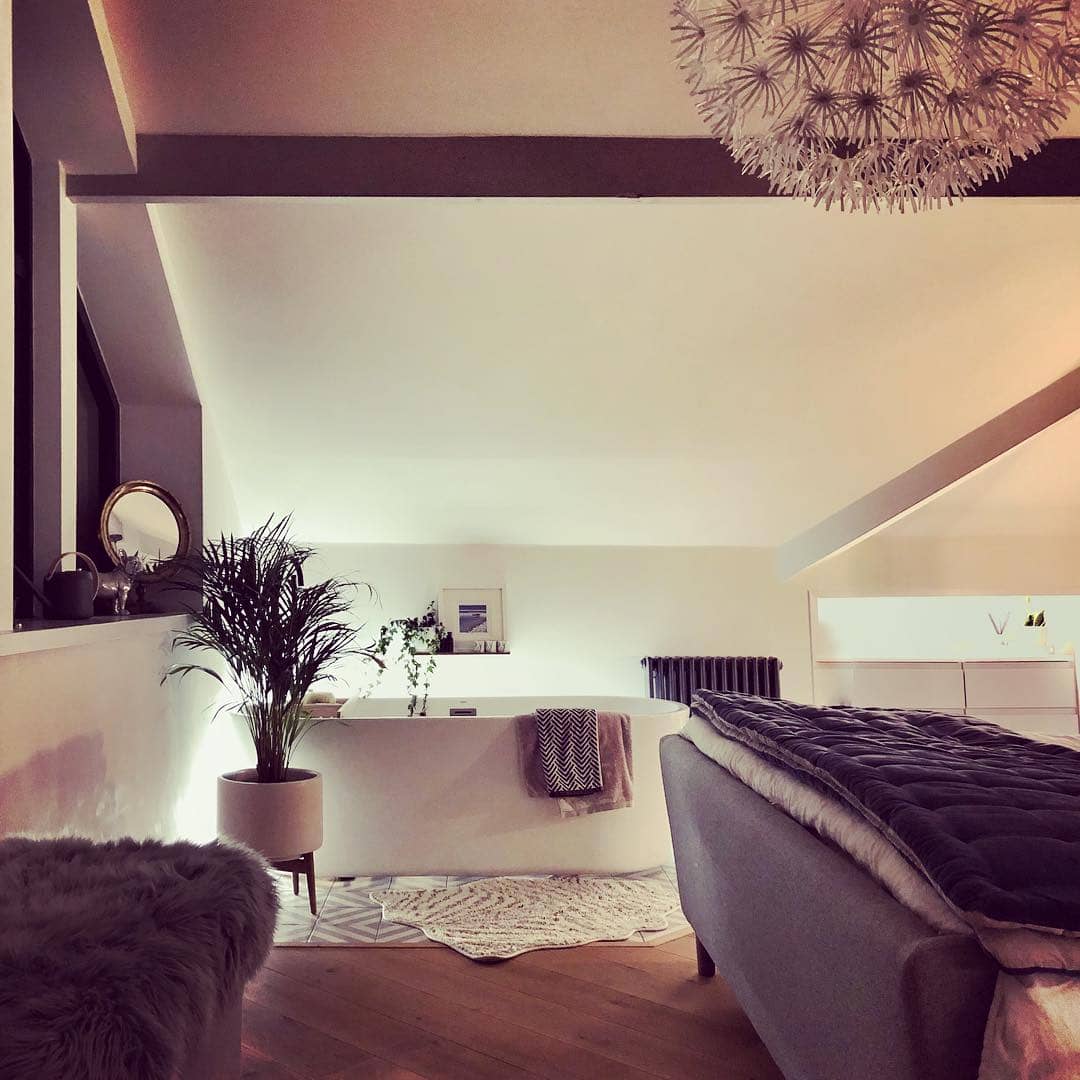 And, not content on filling us with envy at her bedroom space, Debbie also tagged BestHeating UK in this amazing bath/bed shot too.
Again, the Milano Windsor features, but forget the radiator for just one cotton-picking minute and just look at this space!
We instantly fell in love with it, dreamt about being there to enjoy it and then cursed Debbie under our breathe for being so brilliant!
It's a spa day in her own home. Just amazing! There are no other words…
The Girl With The Navy Kitchen
Now, we've been following Amanda, The Girl With The Navy Kitchen, for quite some time and we have seen this hallway get more and more amazing with each and every post.
We're just really happy that the Milano Aruba she has on the wall can hold its own alongside all the other wonderful items in the space.
Amanda has a style that I personally love to bits (just check out her account and look for her picture of the beardy Queen!) and I'm so happy that we've been featured in her amazing home.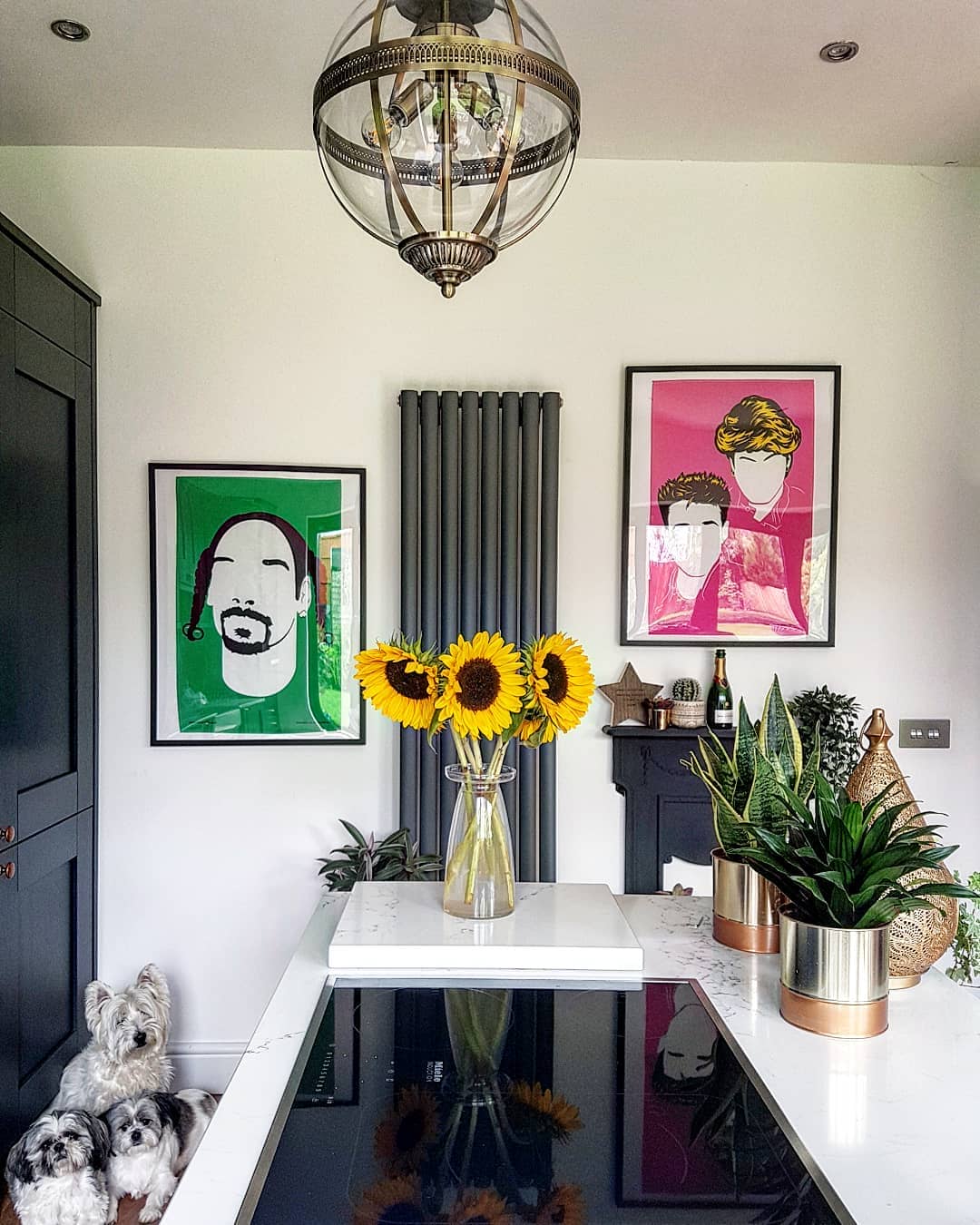 As well as her stunning hallway, Amanda has a centrepiece radiator in her kitchen too alongside some super prints and some rather cute doggos!
There are so many amazing things about this space that we couldn't possibly list them all, so we suggest you go and check out her account and fall in love as we have!
Seasons In Colour
When award-winning blogger Jenny Kakoudakis from Seasons In Colour contacted BestHeating.com to discuss her radiator needs, we were so excited to take part in the project we nearly fell off our BTU Calculator.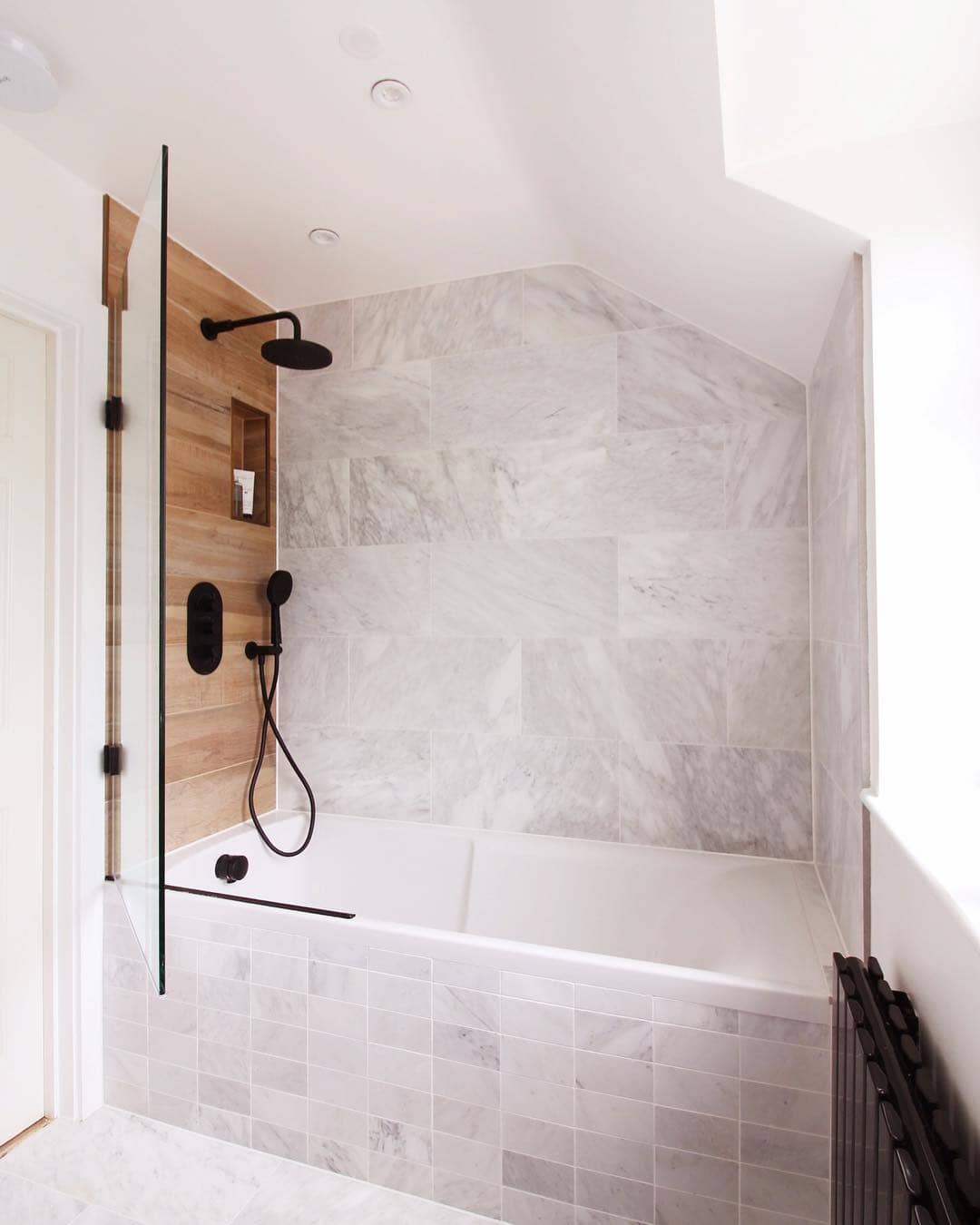 Jenny transformed a tired-looking bathroom space into a stylish oasis and documented the whole thing on Instagram and YouTube.
Opting for a black Milano Alpha flat panel designer radiator, Jenny juxtaposed the dark colour of the radiator with the lightness of the rest of the bathroom fixings, to create a wonderful contrast that we feel really enhances the space.
I strongly suggest that you check out her video and get inspired to do something similar in your bathroom too.
The Home That Made Me
One of our absolute favourites, The Home That Made Me is lovingly created and cared for by the brilliant Charlotte Amor Valentine (amazing name, we're sure you'll agree).
Another fan of the Milano Windsor range, Charlotte has the most amazingly beautiful home and we're proud that the radiators she got from us adorn the walls of such a wonderful abode.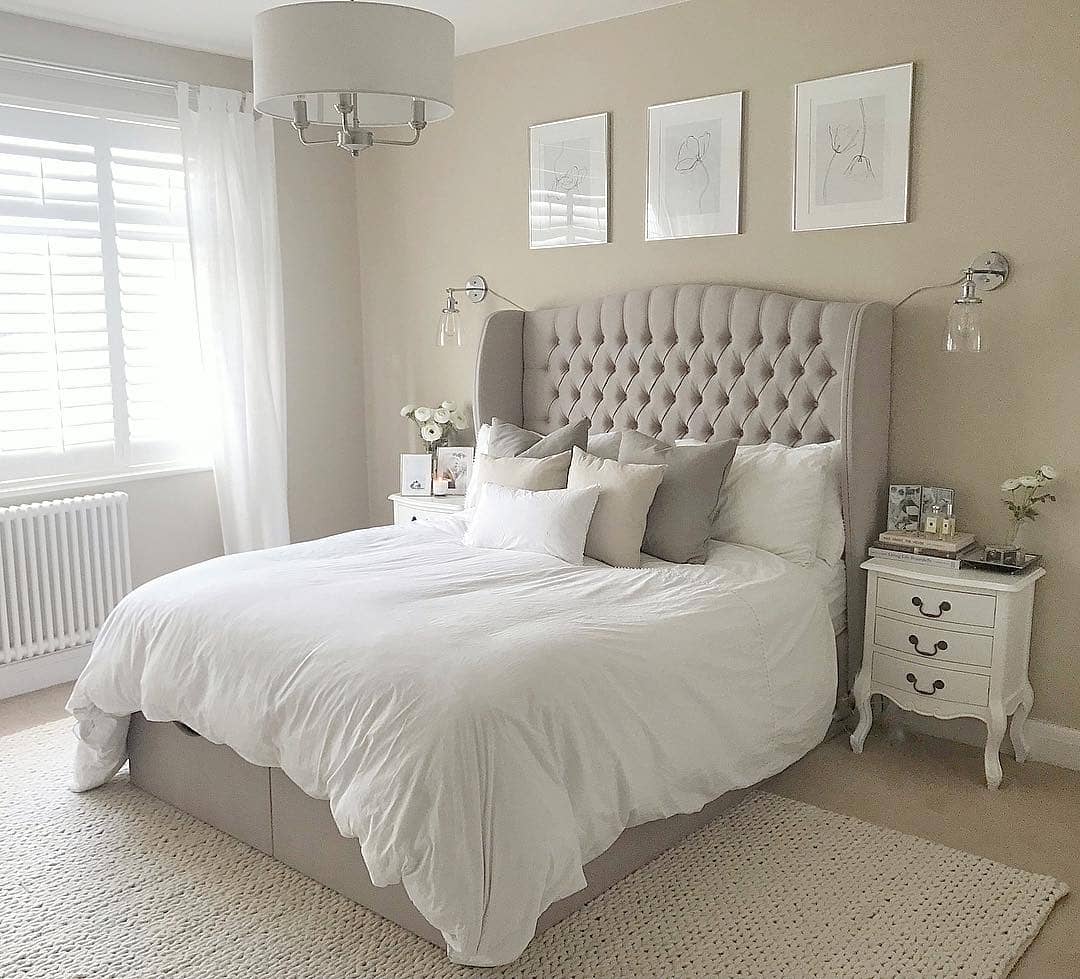 Not happy with the standard panel convectors that were in her bedroom, Charlotte contacted us about the Windsor collection and I was happy to negotiate the release of the one featured in the image above.
She was so happy with the effect the Windsor had on the overall look of the space, that she proceeded to add one to her ensuite too.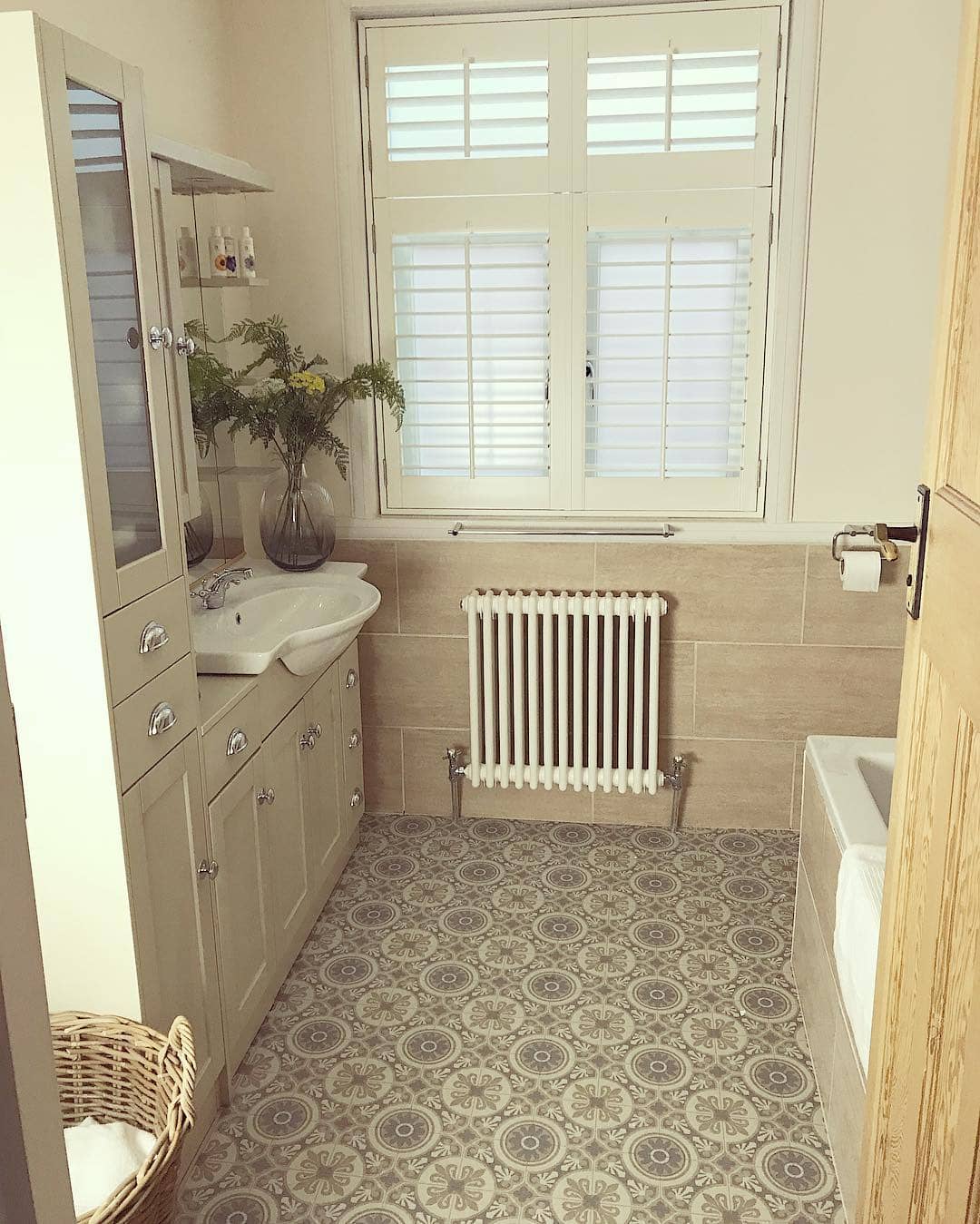 We're sure you'll agree the radiators really add to the look and feel of the space and, we suspect, it's lovely and cosy too.
The Home That Made Me is one of the favourite blogs of the BestHeating team, so we really suggest that you go and give it a visit, like and a share.
Nordicllar
After two years of waiting and not finding a style they liked, Irene and Sammy from nordicllar came across the Milano Alpha on the BestHeating website.
Excited by the prospect of getting new radiators on the wall (and when I say excited, I mean like a kid at Christmas excited!), Irene dropped me a line to discuss a collaboration.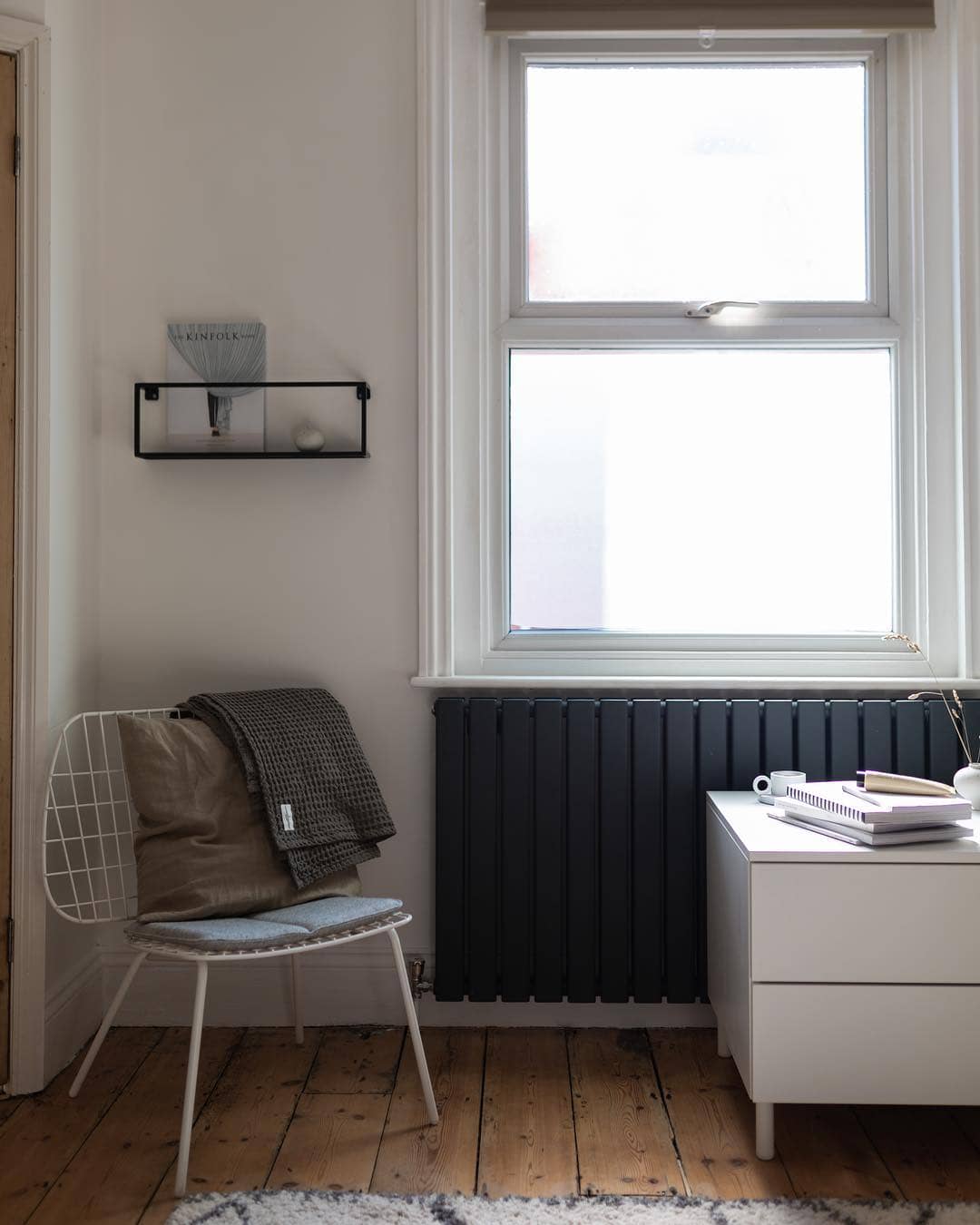 When I visited their account, I instantly said yes because their style is exactly the type of style that we adore here at BestHeating.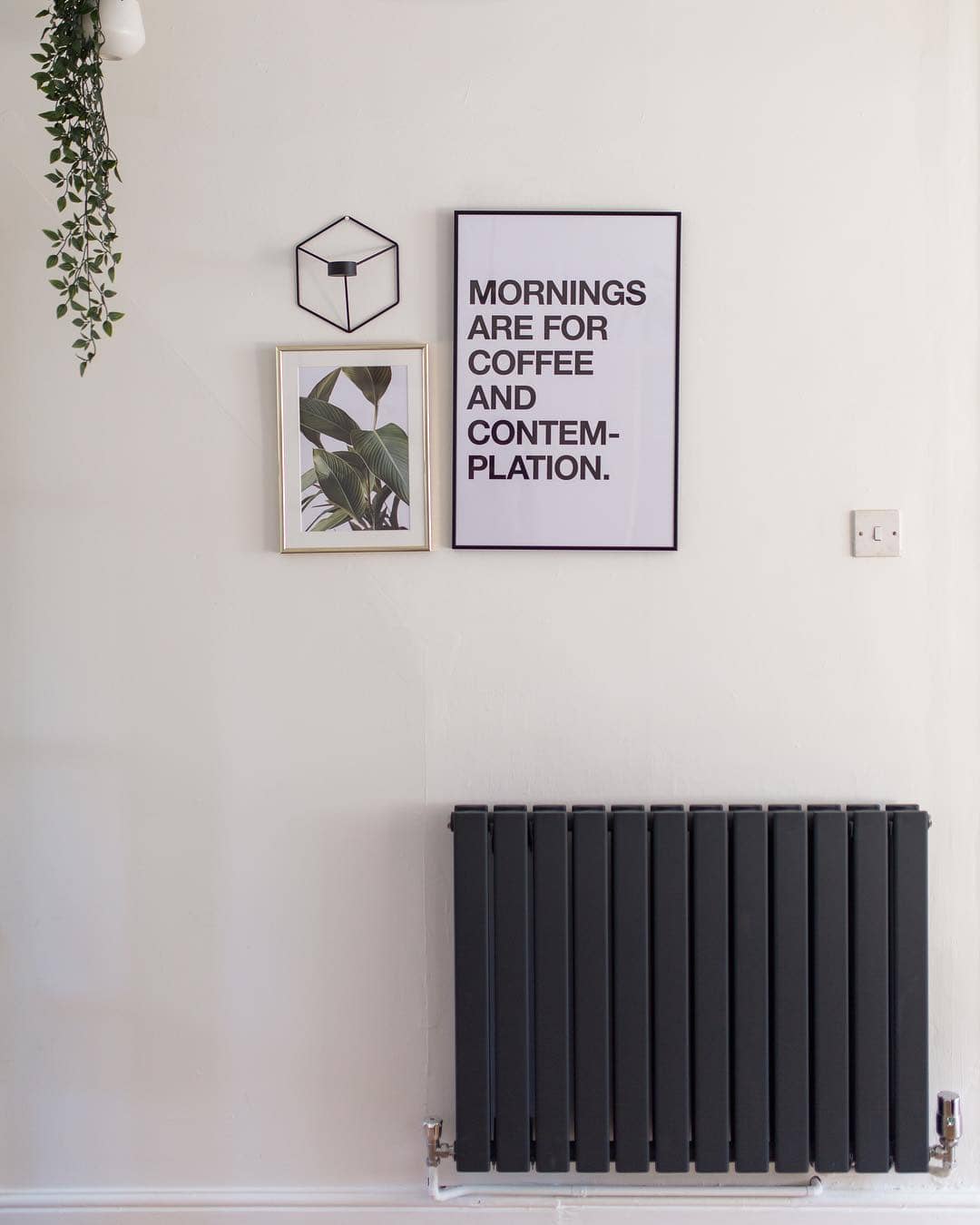 Being a coffee addict of the highest order, simply imagining one of our radiators under the statement in the picture above had me hooked and I was so pleased for Irene and Sammy and the results they achieved, that I think I may have asked if I can move in with them – alas, they haven't come back to me yet!
Please go and pay them a visit and say "hi" from us!
Our Little Church Cottage
And last, but by no means least, Our Little Church Cottage is an account that we have liked a lot and shown a lot of love too, but we're yet to have the pleasure of their acquaintance.
They have a wonderful home and an amazingly attractive Dalmatian named, Dexter and a taste in tiles that almost matches the supernatural powers of Emma at Dreambound1974.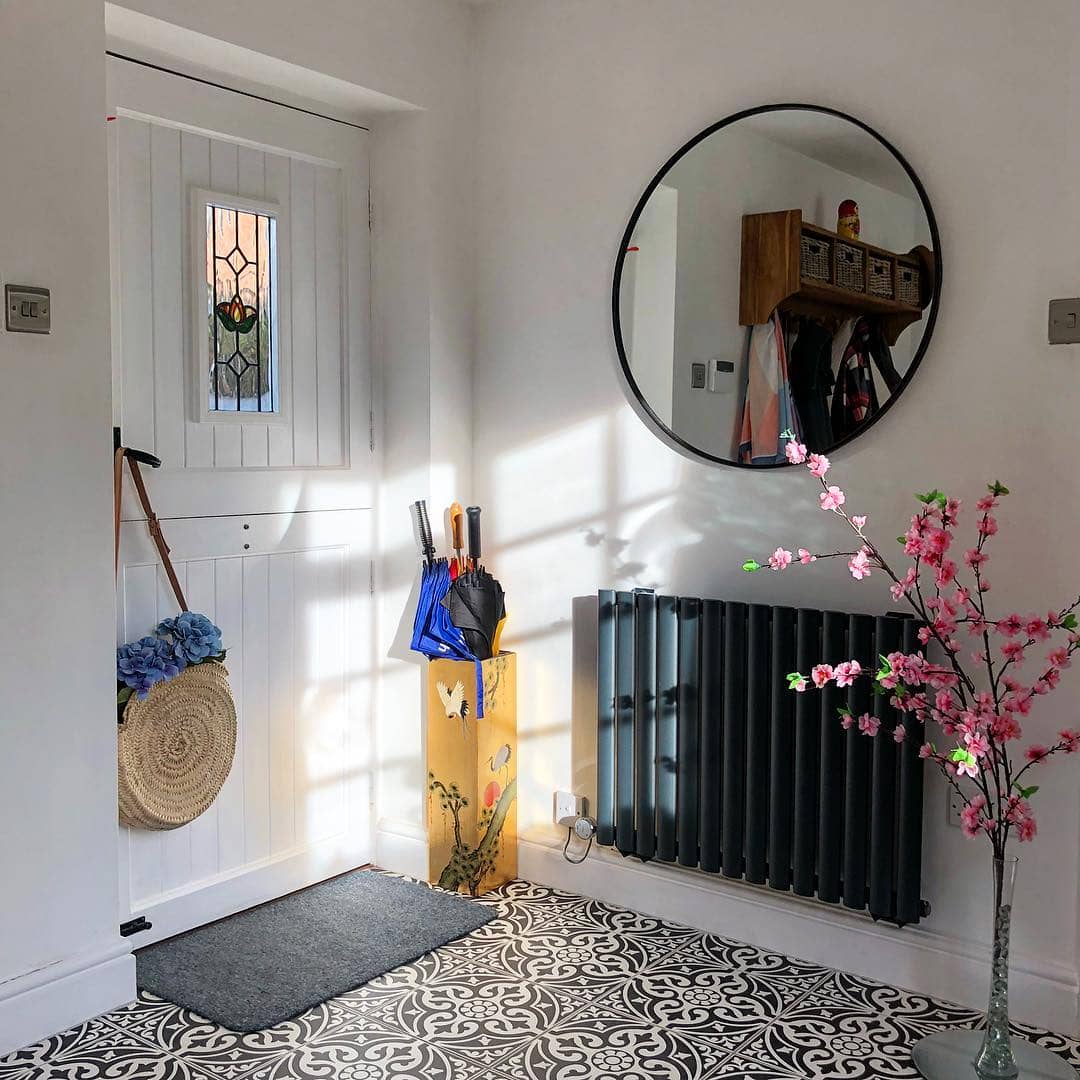 Taking a leaf right out of our Hallway Heating guide, the owners at Church Cottage have created a beautiful and welcoming space with an electric Milano Aruba in anthracite grey.
From the looks of the other pictures on their account, we think Dexter is a big fan of this space and hope he's enjoying the heat from the radiator as much as we enjoy watching him make doggy dens!
Sorry If You Didn't Make The List
So there you have it, 7 of our Favourite Instagram accounts that feature stuff bought and gifted from our store – we're sorry if you haven't made the list, but we will no doubt do some more in the future!
If you have a radiator, towel rail or perhaps a tap, bath, sink or loo that you've purchased from us, get tagging @BestHeatingUK and we'll be sure to show you some love.
If you're a blogger, designer or interior specialist and you'd like to collaborate with us, review a product or discuss competitions, giveaways and more, just drop me an email at john.lawless@bestheating.com – I'm always happy to discuss working with you!
To everybody we've featured, congratulations to you all.
You inspire us, make us proud to be associated with you and put some big shiny grins on the faces of everyone at BestHeating.com, so please keep sharing your amazing rooms and spaces and thank you so much for choosing to fulfil your heating needs with us.

John trained in journalism before finding his way to the BestHeating Advice Centre team. He uses his journalism skills to meticulously research heating topics and bring you the latest news and views on all things home heating related. He'll also beat you at any sport that involves a cue!
https://wpcdn.bestheating.com/info/wp-content/uploads/2018/11/bestheating-gmb-blog-instagram.png?strip=all&lossy=1&quality=70&ssl=1
245
701
John Lawless
https://wpcdn.bestheating.com/info/wp-content/uploads/bh-wordpress-advicecentre-logo-196x50-2.png
John Lawless
2018-11-09 14:23:45
2020-01-16 12:56:58
Our Top 7 Instagram Favourites!