As you all know, we love stylish modern and traditional designer radiators. But what we love even more is seeing them come to life in your beautiful homes!
So when the lovely interior blogger and photographer Lily Sawyer decided to swap her standard convector for one of our cast irons, we couldn't wait to share the transformation with you!
Keep scrolling for some fabulous before and after shots and to hear what Lily has to say about her Milano Mercury makeover.
Before the makeover
Earlier this year, Lily decided to take on a hallway transformation to express her new found love for softer colour schemes.
"I've recently decided to embrace the light in my poorly lit home, now adding lighter and brighter spaces into the dark interiors."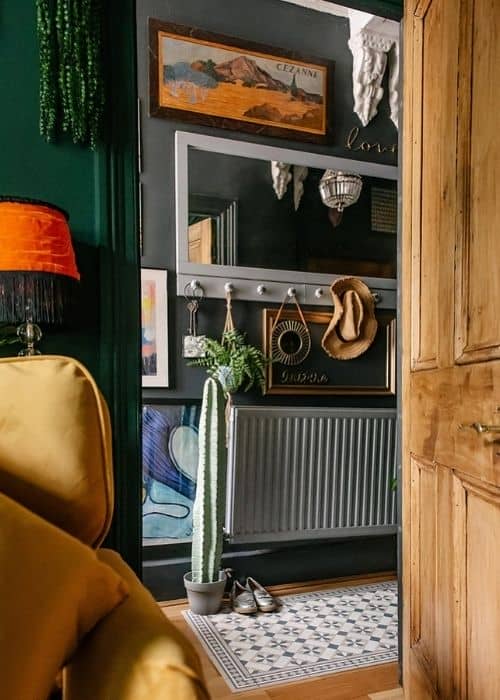 After being cooped up inside during lockdown, there was plenty of time for Lily to consider which details she wanted to revamp and bring a sense of calm and joy.
Although the hallway was still beautiful before the makeover, Lily wanted to play around with lighter colours and contrasts and incorporate features that complement the age of the property.
"This year, I thought I'd take it further into the light and repaint the entire left wall a light colour, retile the floors light and change the dark carpets to the lightest carpet possible."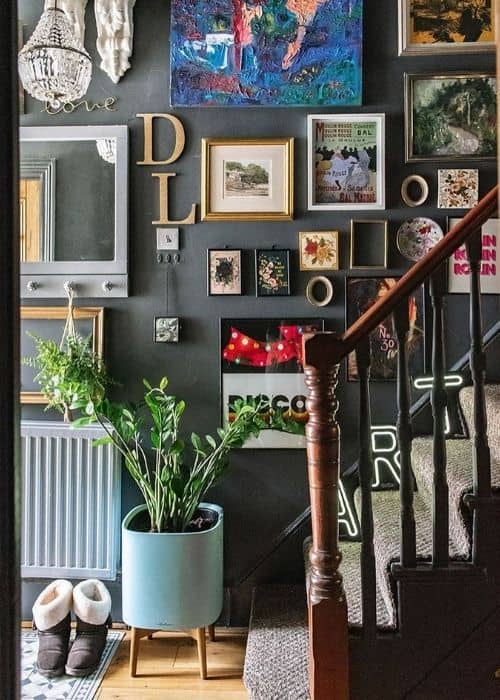 With the plan to paint the wall behind the radiator a lighter colour, this was going to draw more attention to the tired looking radiator.
But the decision to upgrade the radiator wasn't simply for aesthetic purposes, Lily had also experienced some technical issues with the old heater.
"Last autumn my old wonky radiator leaked and tripped our electrics so we were out of electricity on this floor for a week until we could get a plumber to sort it out."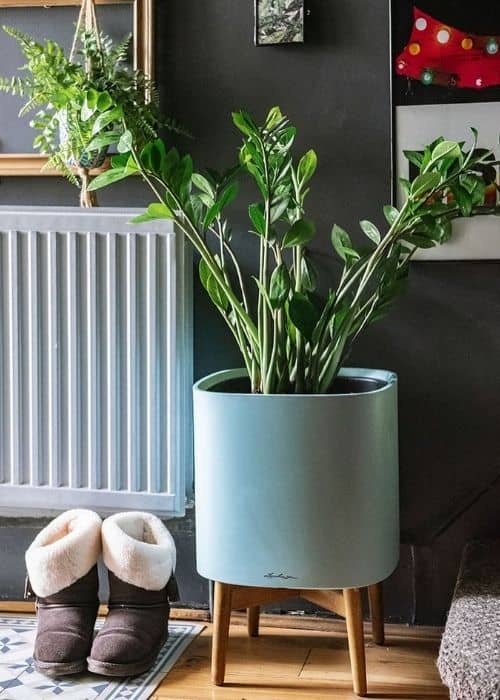 Choosing the new radiator
With any other interior design project, the key to getting it right for you is doing your research! With so many options available, when it comes to choosing a radiator, you might find yourself discovering a different style that you love more than your initial idea, just like Lily did.
"When I was choosing the cast iron radiator for this space, I really wanted the ones with the decorative ornate columns with floral etching design. But when I saw that this Milano Mercury is so slim at only 10cm depth, my mind was made. My narrow Victorian hall needed something slimmer than the old traditional cast iron depth so the Milano Mercury was a no-brainer."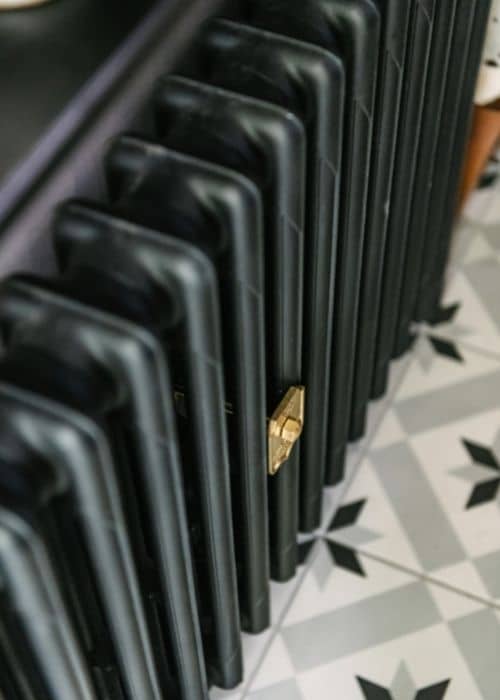 Of course another important radiator feature to research is heat output.
"Old Victorian houses get very cold and draughty especially in the winter. It's really important to retain heat, especially by the front door."
To ensure that Lily's new cast iron radiator would provide enough heat for her Victorian hallway, she used our BTU calculator to work out her requirements.
"I calculated the BTU required for my space here using BestHeating's BTU calculator and my radiator provides more than enough heat at 5048 BTUs for my hallway which opens up to the high ceilings into the first floor."
After the makeover
So once the beautiful mood boards were finalised, Lily set out to create her dream hallway one step at a time. After painting, wallpapering, floor tiling and panelling, it was finally time to install the new radiator!
"The final piece to finish off this space is my super slim – at only 10cm deep cast iron radiator, the Milano Mercury in slate black by BestHeating. After all the hard work we've put into this revamp, the centre feature needed to be really show-stopping and not an old wonky panel radiator."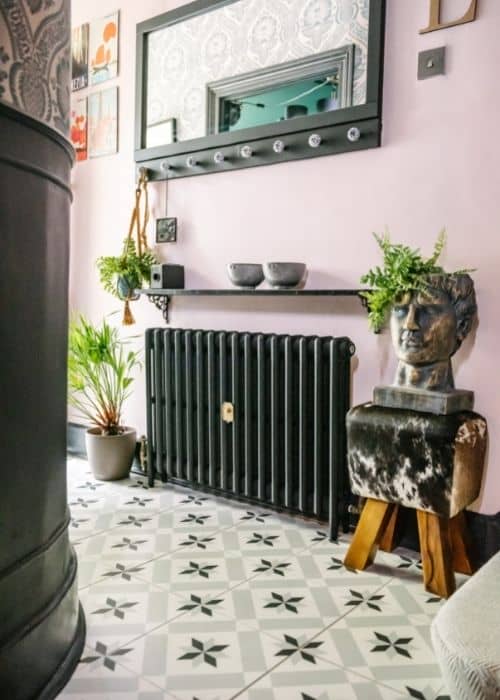 For a final finishing touch, Lily wanted to enhance the small details by selecting accessories that complement the vintage look and feel.
"I chose the matching Milano Antique style valve in bronze and the Milano wall stay in brass to complete the classic look. They complement the slate black and adds to the sophisticated take on a traditional design without the thickness of old cast iron radiators."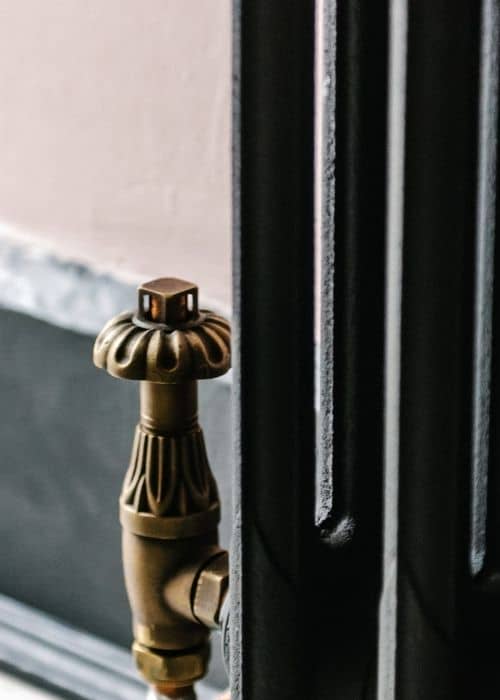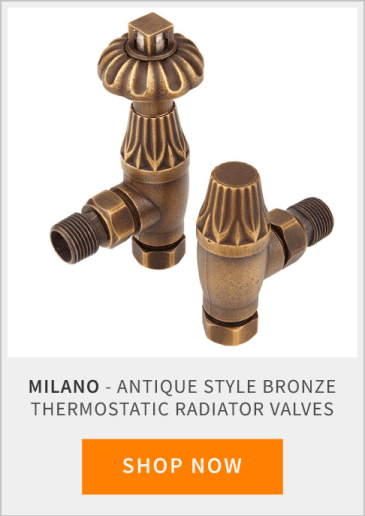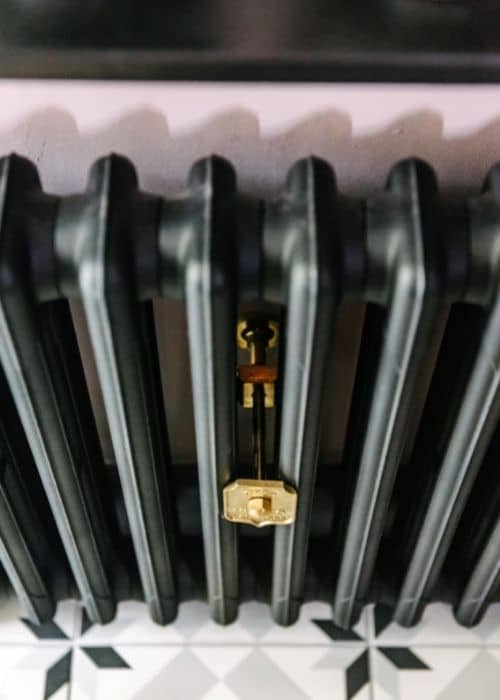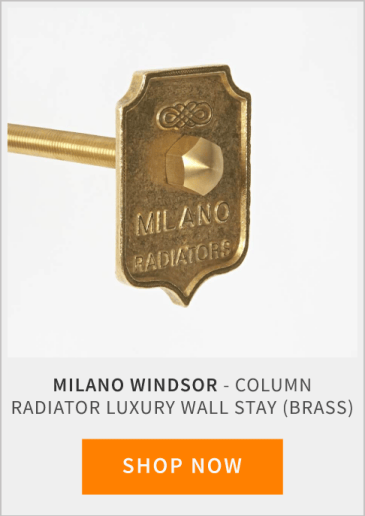 Lily's hallway is now more beautiful and functional than ever and we are so happy to be part of this transformation!
"I decided to put a slim shelf above it to hold storage for house keys and bits and bobs but didn't want it too close to the radiator so as not to cover its beauty. It's a work of art in itself."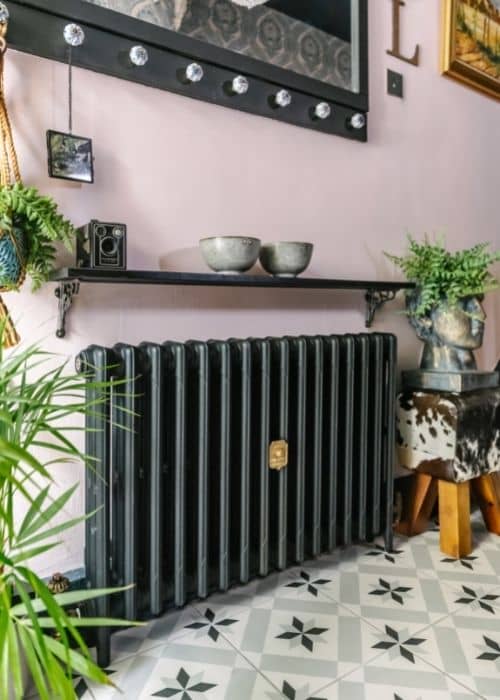 More about the Milano Mercury
If you love the powerful presence that real cast iron radiators provide, but don't want it to take over the space, the Milano Mercury might be the one for you.
"My super slim, super sleek, super hot radiator boasts a high heat output. It's 10cm depth is perfect for my very narrow Victorian entrance hall."
These elegant cast iron radiators are available in five timeless finishes designed to suit every colour scheme.
Slate Black
Burnt Gold
Antique Silver
Antique Graphite
Porcelain White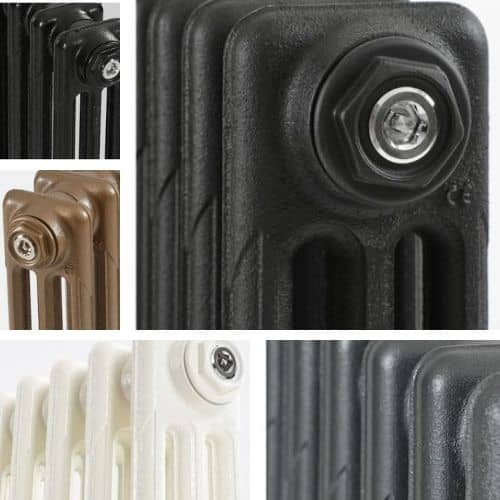 There are also plenty of size options to choose from depending on your available space and heating requirements ranging from 1264 BTUs to 7975 BTUs.
The radiator may be split into two or more sections to ensure that it arrives safely depending on the width of your cast iron.
You will also need an additional piece of kit called a joining tool to connect each section of your radiator together if your cast iron radiator weighs over 100kg.
You can find out more information on how to use the tool in our Cast Iron Assembly Guide.
To learn more about Lily's hallway revamp, head over to her full blog post.
Jess has a passion for interior design and wants to inspire people to look at radiators as home decor. She enjoys keeping on top of the latest design and heating trends to ensure the Advice Centre has all the information and inspiration homeowners need to make the best choice for them.