There's not much to not like about Scandinavian interior design. Cosy furnishings, beautiful raw textures, an abundance of natural light and of course heating that combines form and function.
You can't deny the beauty of simplicity and clarity that comes with this modern minimalist look. It's cool, calm and collected. Instantly making you feel clear and content. 
Everything has a place and just feels under control. Today we're taking a look at how you can achieve the wonderful hygge way of life and see which stylish radiators match these beautiful Scandi living spaces.
What is a Scandi style living room?
So, what is a Scandi style living room? A Scandinavian living room usually consists of fresh white walls filled with natural light and textures and minimal furniture with clean lines. 
The focus of the aesthetic is simple and functional with considered details. Pops of colour and cosy accent features can be used to add warmth and comfort and soften the space. 
Now we are going to show you some simple ways how to make a Scandinavian inspired living room and help you decide which heating suits the Scandi vibe.
Let's do this.
Scandinavian colour schemes are based around monochrome tones with white walls and warm accents. The neutral colour palettes are easy on the eye and create calm living rooms. Stick to soft grey, warm beige and hazelnut tones for furniture and lighting.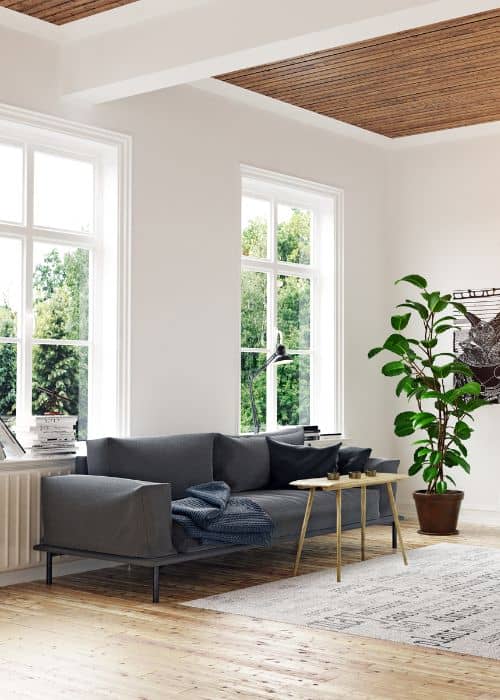 Keep it natural and neutral
There is nothing over the top or in your face about Scandinavian design. Reflecting the appreciation of simple pleasures in life like feeling cosy with a hot cuppa on a winter day. 
Natural, raw materials like wood, brick and iron are so important in Scandinavian interiors. Bringing the outdoors in to promote wellbeing and show respect for nature and its raw beauty. If you're lucky enough to have natural wooden flooring and exposed brick walls, keep it that way! 
One of our favourite designs to complement this look is the chunky vertical Windsors. We love how @hendrixandgray have paired the bold anthracite Windsors beside the big bright window to create a striking symmetrical look and double the heat output. 
This living and dining space is also a beautiful example of using natural textures from the wooden block table to the cosy sheepskin blanket. 
Another texture that has become hugely popular in the Scandinavian interior world is the cosy teddy boucle material. Typically in a soft beige colour, this cosy texture instantly adds warmth and comfort to the look and feel of the room. We love how warm and cosy the living room feels over at @lilliehenriettahome. The curvy boucle sofa and the round white Windsor columns work together beautifully with their smooth sweeping lines. 
Clutter and Scandinavian interiors simply do not work together. Every item has been thought about and has it's own specific place. One of the easiest ways to remove clutter from surfaces is to swap lamps for wall lights. Remove unnecessary stuff and keep side tables just for things you love like a simple book or family photo. 
Another way to create more of an airy, clutter free living room is to incorporate clean lines and angles into your living room decor. Contemporary designer radiators with minimal features such as the Milano Alpha and Capri ranges are perfect for this look. 
These collections have a modern simplicity to the design and offer a range of monochrome that embodies the Scandinavian feel. @thepowellhousex and @housetohome_59 have gone for a vertical anthracite Alpha radiator as a central focal feature against the soft stone wall. 
Vertical radiators are also fantastic at utilising wall space effectively and making the living room feel less cluttered by opening up the space around it. Not sure which orientation to go for? Head over to our vertical vs horizontal radiator guide.
Natural light is of course known for improving our wellbeing, helping us to wake up easier and feel better. And Scandinavian interiors make the most out of every drop of natural light they get using sheer curtains and transparent doors to let the light in. 
If budget and space allows, the best way to maximise natural light in your home is to install a skylight to allow the light to flood the space. That is exactly what @renovation_journeys_ have done in their Scandinavan inspired living room. 
To keep the large open space cosy and warm and complement the minimal decor, they opted for a low level anthracite Aruba radiator. This collection features oval shaped panels which gives the clean lines a softer rounded feel and the low level design fits perfectly under the long window.
Contrast white with bold patterns
Maybe it's the icy snowy mountains that inspired Scandinavian's love for bright white interiors. Or maybe it's way white paint and furniture makes the room feel clean and elegant. Either way, the contrast from the white walls and patterned rugs and wall hangings is incredibly beautiful. 
White walls and ceilings are also a great way to make a room feel bigger, brighter and more open. So, create a blank canvas with white walls. Warm your feet up on an oversized geometric rug or heavy pattern you love. And throw some bold cushions and blankets onto the couch to strike a balance of white minimalism and cosy warmth. 
@renovation_44 has created the perfect balance between cool white walls, warm accents and bold patterns to add comfort and interior to their open plan, Scandi style living room.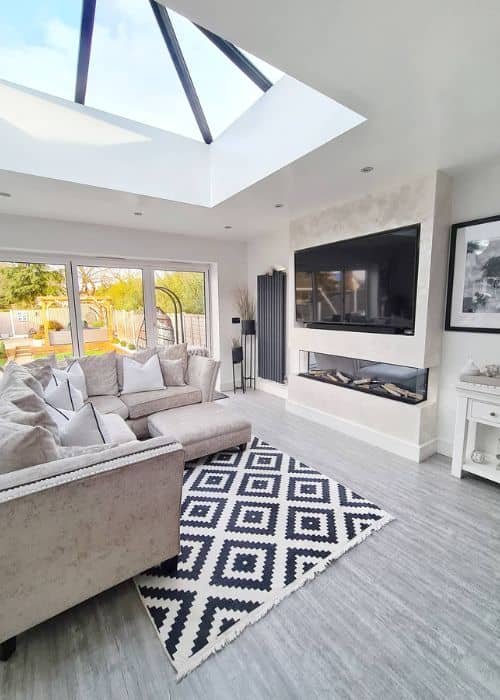 Scandinavian living room examples
Nothing inspires us more than seeing our radiators in your beautiful homes. So with that said, here are some more examples of our dreamy Scandinavian style customer living rooms.
Warm scandinavian living room
Although Scandinavian living rooms are known for being white and minimal, that doesn't mean that they have to feel cold and uninviting. 
In fact, that is the total opposite goal! The living room especially should invite warmth, comfort and hygge moments. 
@foxton_renovation have designed a warm Scandinavian living room with the beige walls, dark furniture and anthracite Alpha radiator that look even more special in the golden hour glow.
Rustic scandinavian living room
It doesn't get much more rustic than the beautiful natural styling over at @ourlondonlistedhome. This rustic Scandinavian living room is filled with cosy rattan textures, cactus plants and chunky vertical Windsor columns. The space has a distressed yet sophisticated look. Simple yet refined. Everything we love about interior design.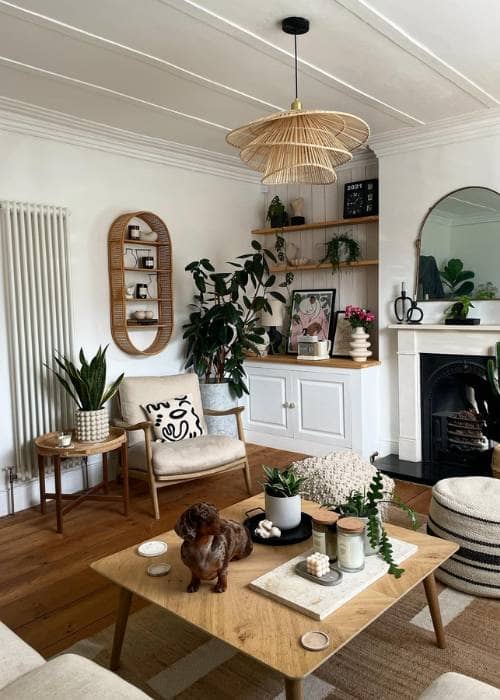 Small scandinavian living room
If space is limited, you can still create a sophisticated Scandinavian living room. In fact, this interior style works particularly well for smaller homes since they remove clutter and only feature practical, functional pieces. 
@homeofthedrummonds have designed a cool Nordic inspired living room and saved even more space by opting for a clean white vertical Aruba. Vertical radiators are ideal for smaller living spaces since they utilise the height of the wall instead of taking up a lot of the width of the room.
From one small Scandinavian living room to another, @cosyhomeaccount are giving us calm neutral details, clean lines and a modern minimal Milano Alpha in a matt black finish to match the other black accent features.
Cosy scandinavian living room
Have we said the word cosy enough yet? We don't think so. Here is another cosy Scandinavian living room at @emilyrachelshouse. Candles instantly bring warmth and hygge into the home and we love the chunky Windsor columns under the white wooden shutters. Simply beautiful.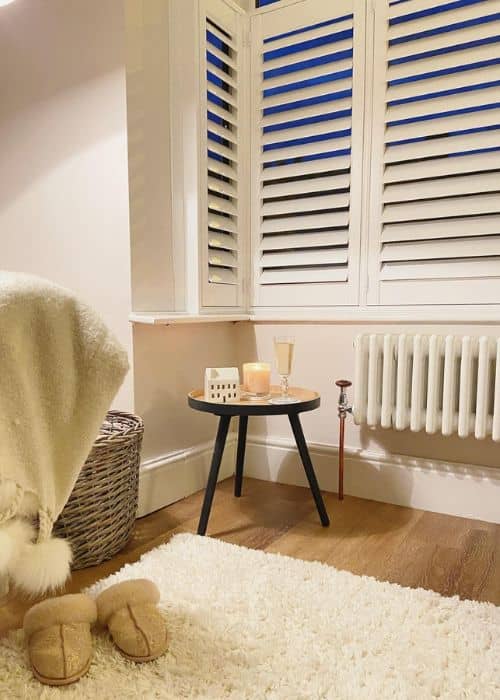 Minimalist scandinavian living room
Interior stylist @dhowelldesigns makes her minimalist Scandinavian living room look so effortless and elegant. With a simple black and white colour scheme, sculputral details and rattan accents, this beautiful space looks straight out of a Nordic design magazine. Donna matched her curvy vases and side table with the rounded Windsor columns to soften the stripped back interior. 
Following this monochrome colour scheme, @interior_styling_18 have gone total minimalist in their Scandi style living room and chosen a clean white vertical Alpha radiator to blend into the interior and complement the minimal, angular storage units.
Boho scandinavian living room
We think it is safe to say that @bamaluzhomedecor is the queen of boho Scandinavian decor. Elle has filled her living room with natural light, making it the ideal space for her abundance of beautiful plants to thrive. 
The neutral colour palette and cosy textures and wooden accents give this Scandi space an authentic boho vibe. We also love the choice of our white Milano Aruba low level radiator which creates a dreamy display under the spectacular window.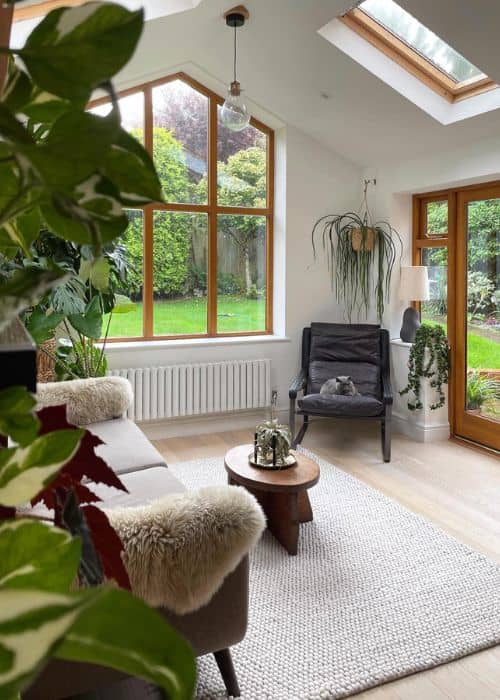 Dark scandinavian living room
So far we have only mentioned that Scandi style is all about white walls and bright light. But if moody interiors are more your thing, you can still bring the Nordic vibe into your home. @mydarkhome_ does this so beautifully in her dark Scandinavian living room with charcoal walls, rich velvet furniture and a cosy anthracite Windsor,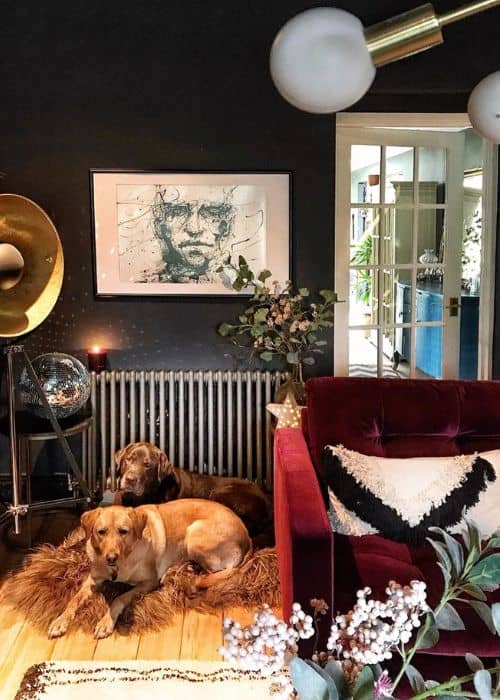 Now we've got you feeling all warm and fuzzy, go and take a moment for yourself. Put on your favourite oversized jumper, get wrapped up in a blanket and soak up the feeling of hygge. Scroll through our Instagram for more Scandi interior and heating ideas with your feet up. Or browse our full radiator range to start curating your own Scandi inspired interiors.
Jess has a passion for interior design and wants to inspire people to look at radiators as home decor. She enjoys keeping on top of the latest design and heating trends to ensure the Advice Centre has all the information and inspiration homeowners need to make the best choice for them.