A guide to calculating BTUs
Buying a new radiator or heated towel rail is a tough enough job to get right as it is, but knowing whether or not the radiator you want and like is powerful enough to heat your space can confuse things even further.
To ensure that a new radiator is going to get hot enough, you must work out exactly (or as close as possible) how much heat you require to make your space warm and inviting.
Thankfully, at BestHeating, our experts love to help you make the most of your home's heating and in this guide, we'll show you how to calculate the correct BTU output for your space, to make sure you never feel the cold again – well, at least whilst your heating's on.
What is a BTU?
We've mentioned this before, but if this is your first time coming across the term BTU (British Thermal Unit), don't worry, it's really simple.
Cast your mind back to school and you might recall that 1 BTU is equal to 1055 joules – or is the amount of energy needed to heat a single pound of water by 1°F.
Put simply – the higher its BTU output is, the hotter the radiator or heated towel rail will be.
For example…
This traditionally styled Milano Windsor vertical column radiator has a BTU output of 7,913 BTUs – making it the perfect heating solution for very large rooms.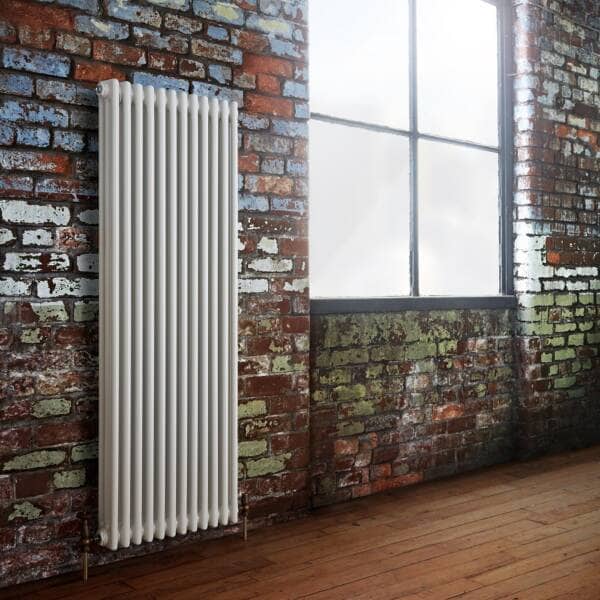 Whereas this Slim Panel Milano Alpha radiator would be better suited to heating a small bathroom or ensuite space, offering a much lower output of 1,120 BTUs.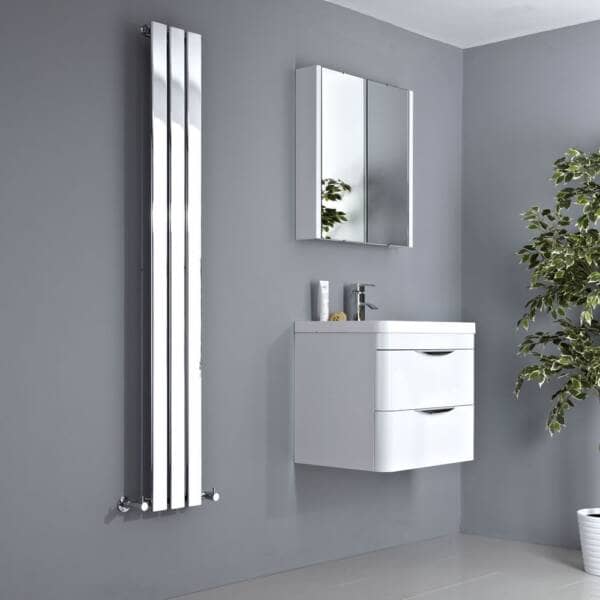 It's important to work out exactly how much heat you need for a room to ensure you are getting the best value for money.
If you buy a towel rail or a radiator with a BTU output that is too high for your room, you will quite literally be burning money on paying for unnecessary energy bills.
Alternatively, buying a new radiator with an output that is too low and there just won't be enough heat coming from it to keep the space warm. In this scenario, you'll need to have your heating turned up to eleven – a' la Spinal Tap.
In order for you to get the most out of your home's heating, it's very important that you know how to calculate your required BTU output.
How do I calculate the correct BTU?
How you heat each room will depend on a number of different factors and where you are trying to heat.
Each room has a different heating requirement and a different 'ideal' temperature, so a radiator that is perfect for one room, may not be ideal for another.
Here are what we would call 'typical' examples of how warm each room should be.
Sitting Room/Dining Room: 21-22°C/70-72°F
Kitchen: 20°C/68°F
Bedroom/Hallway: 18°C/65°F
Bathroom: 21°C/70°F
You might prefer to have your rooms warmer or colder (it really is up to you), these are just simple guidelines that most people tend to follow.
Measure the height, width and length of your space in metres (or imperial measurements in you prefer) and keep these close to hand.
If your room is an unusual shape, divide it into separate rectangles and add them together to get the calculation.
When you have these measurements you'll need to work out how much heat is lost from your room.
To do this, you'll need to answer a couple of simple questions:
Are there any windows or doors?
Are they single, double or perhaps even triple glazed?
What is above and below the room you intend to heat?
Do you have cavity wall insulation or not?
Once you have this basic information, you are primed and ready to perform your BTU calculation.
For a quick and easy solution, enter this information into the BestHeating BTU Calculator to get your required output and a selection of suitable radiators.
Below are a few examples of heat requirements for particular rooms.
What BTU output do I need for my bathroom?
Obviously, bathrooms come in all sorts of shapes and sizes, so we're just going to use a basic example to show you the kind of requirements you might come across.
Let's imagine you have a family bathroom measuring 3m (W) x 2.5m (H) x 2.6m (L) –
it has double glazed windows measuring 2m²
an outside wall and loft space with adequate insulation
a single exterior wall
and a heated room beneath it
Your required BTU output will be 2,050, with a wattage of 600 – making this Milano Nero Black Heated Towel Rail the ideal solution to your bathroom heating requirements.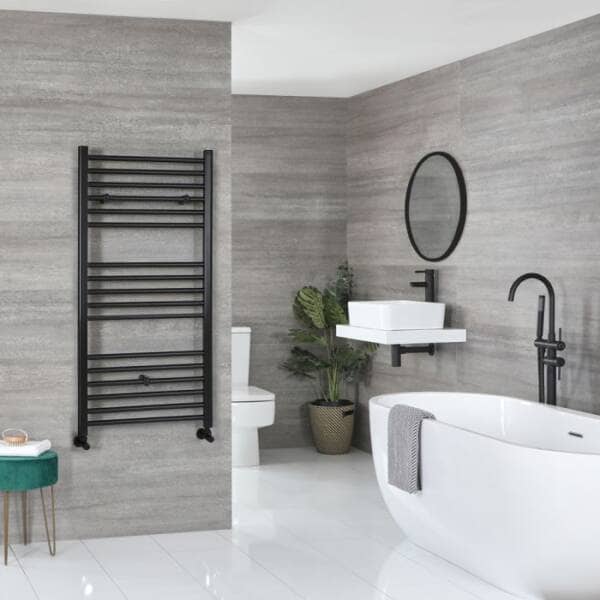 What BTU output do I need for my living room?
When it comes to your living room the look of your radiator is probably as (if not more) important as the heat output, but still, you want to get it right so you have a warm and inviting space in which to relax and entertain.
So let's say your living room has double glazed windows measuring 4m², wooden flooring, a heated room above it, two exterior walls with an insulated brick cavity and the room dimensions are 5m (W) x 3m (H) x 5m (L).
A room with these attributes and dimensions will require a BTU output of 7,200 – or 2,110 Watts – making the Milano Riso flat panel central inlet radiator a prime candidate for consideration.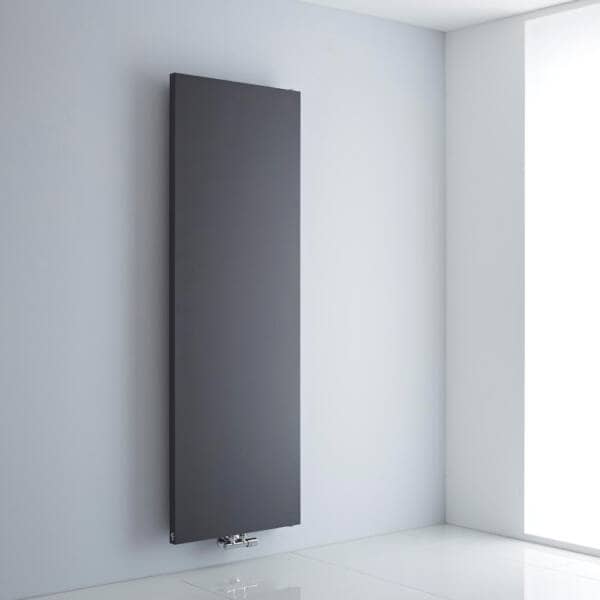 Or, as an alternative, you could split that calculation in half and opt for two separate radiators that – when their outputs are combined – will provide the same heat output as the single radiator.
So if a horizontal radiator style is more your cup of tea (or perhaps you're replacing two old convector radiators), two of these Milano Aruba will do the job just as well as a single radiator; its BTU output of 3,836 (1,124 Watts) easily matching the required 7,200 BTUs when you install two of them together.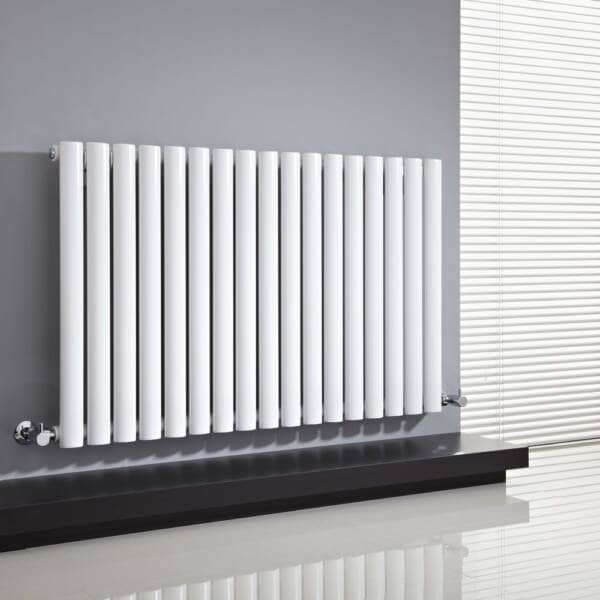 What BTU output do I need for my bedroom?
You may not spend as much of your day in the bedroom (unless you're really lucky) but you still want warmth and comfort to be the order of the day in there, regardless of whether you're a bed-dwelling home-body or not.
A big double bedroom (4m x 5m x 3m) with a large 3m² double glazed window, a heated room beneath it, loft insulation above it and with cavity wall installed on its two external walls will require a radiator with a BTU output of 3,157 or 925 Watts.
That would make a Milano Windsor traditional low profile column radiator an ideal installation for a bedroom of that size and matching it with some period-style thermostatic radiator valves really finishes the look off.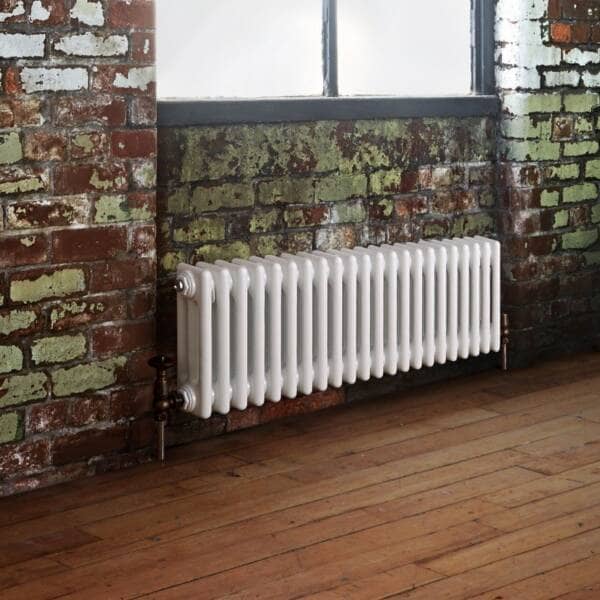 It's time to calculate your BTUs
As I mentioned above, these are just a selection of examples to give you a rough idea of how to correctly calculate the BTU output you require to heat your space and the type of products available to complete the job.
Though many other sites would 'thoroughly recommend' hiring a qualified heating engineer to fully calculate your required BTU output – and to be fair that won't do you any harm – it is without a doubt something that you can do for yourself, particularly with the help of our BTU calculator.
So save yourself some time and money, input your details and find a selection of suitable radiators that will leave your space warm, inviting and looking the part in no time!
Good luck finding the best heating solution for your home.
Stay Safe & Happy Heating!

John trained in journalism before finding his way to the BestHeating Advice Centre team. He uses his journalism skills to meticulously research heating topics and bring you the latest news and views on all things home heating related. He'll also beat you at any sport that involves a cue!